The eagerly anticipated Intel Core i9-10900K has finally had its review embargoes lifted, and retailers are listing it online to buy.
Since the launch of the AMD Ryzen chipsets, the arguments about which CPU is best has become increasingly heated. Typically, Intel has retained the top overall performance for gaming but often at a higher price point and lower multi-core performance elsewhere.
With the launch of the i9 10900K, Intel have finally moved beyond 8-cores for their mainstream line-up, something which AMD jumped past last year with the launch of the Ryzen 9 3900X and 3950X.
So how do things stack up now?
Technically AMD has the 16-core Ryzen 9 3950X sitting at the top of their consumer line-up but this is £160 more than the Intel, and generally, most people don't recommend it for general use and gaming builds. The Ryzen 9 3900X is a better buy for most users, and is definitely the CPU that is closest in spec and price to the 10900K.
I have not reviewed these CPUs personally but taken data from BitTech
PCMark 10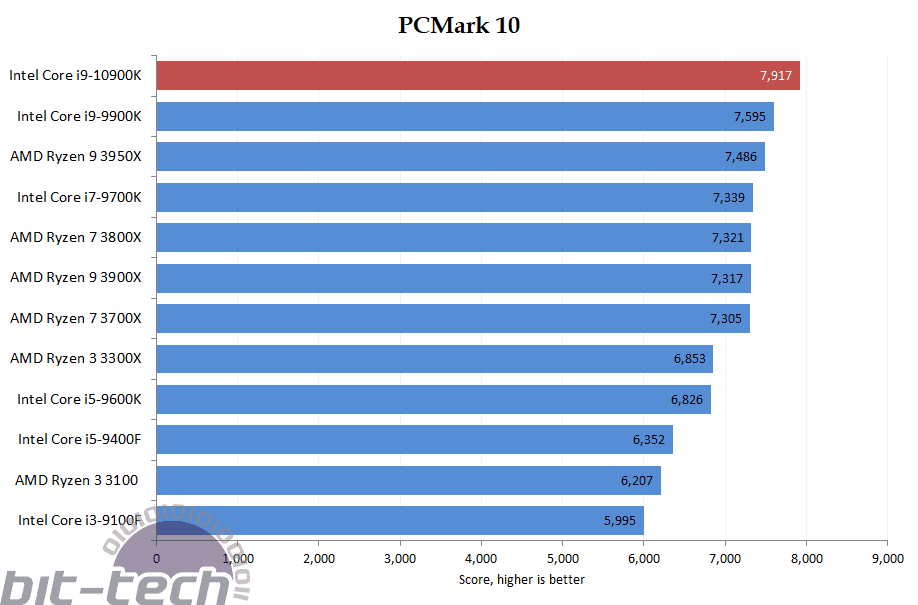 The Intel Intel Core i9 10900K comfortably sits at the top of PCMark 10 with a result that is 8% higher than the Ryzen 9 3900X.
Intel Core i9 10900K – 7917
AMD Ryzen 9 3900X – 7317
Percentage difference – 8%
Cinebench
However, in Cinebench it falls behind fractionally in the one-thread test by -0.7% and then substantially in the multi-thread test by
Single Core
Intel Core i9 10900K – 520
AMD Ryzen 9 3900X – 524
Percentage difference – 0.7%
Multi-core
Intel Core i9 10900K – 6341
AMD Ryzen 9 3900X – 7260
Percentage difference – 12.6%
Blender
It does not fare to well in Blender either with a time that is 16.5% slower than the AMD
Intel Core i9 10900K – 402
AMD Ryzen 9 3900X – 345
Percentage difference – 16.5%
3Dmark Time Spy
Most Intel fans love Intel because they are gamers, and the Intel CPUs have traditionally performed slightly better in games. It looks like this trend continues.
In 3DMark Time Spy Intel is ahead by just shy of 2%
Intel Core i9 10900K – 14344
AMD Ryzen 9 3900X – 14067
Percentage difference – %1.96
Civilisation VI
Similarly in Civilisation VI Gathering Store intel pulls ahead by 7% and 14% in the minimum and average FPS
Intel Core i9 10900K:
AMD Ryzen 9 3900X:
Percentage difference:
Far Cry New Dawn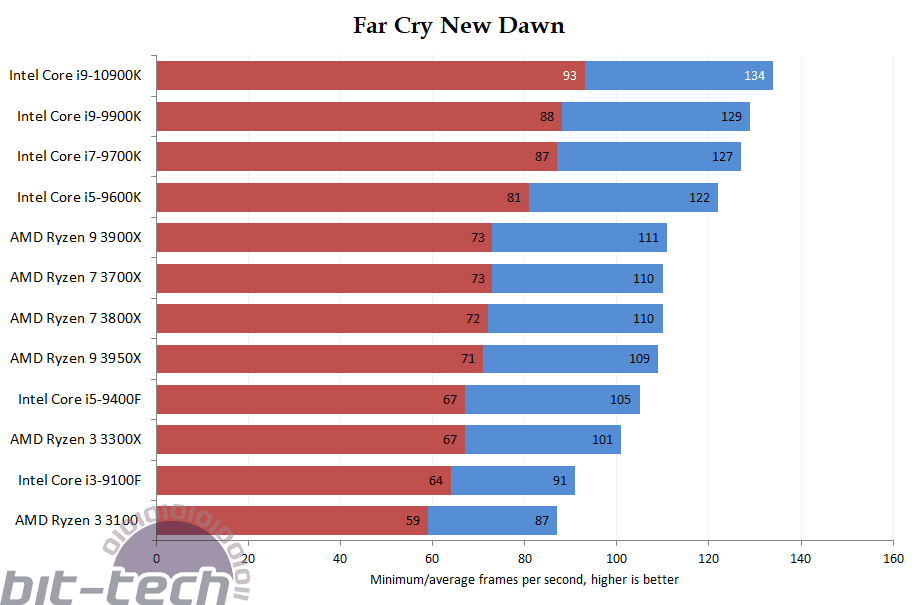 There is a massive advantage with Intel here, 27% higher results for the minimum FPS then 20% for average.
Intel Core i9 10900K:
AMD Ryzen 9 3900X:
Percentage difference:
Shadow of Tomb Raider
Similarly, Intel flexes its muscles here with a 25% and 13% advantage.
Intel Core i9 10900K:
AMD Ryzen 9 3900X:
Percentage difference:
Power Draw
A good example of the confusing nature of TDP numbers here. The Intel is rated at 125W while the AMD is just 105W however at idle intel draws 44W and AMD 52W, then in gaming Intel is at 347W and AMD 363W.
However, in Blender, Intel jumps up to 253W vs 202W for AMD.
Total Cost of Ownership
Unless you like wasting money, or for some reason have a particular need for the absolute best performance, the total cost of ownership is going to be a significant factor. If you can save £100 on the CPU and motherboard, that could then be used to a better GPU which would yield a bigger performance jump in gaming.
Intel is off to a bad start with the CPU price of £530 or £546 on Amazon with free delivery, you can pick up the i9 10900KF for a tenner less at £520. The RRP of the AMD is £460 but you can buy it now for £440 (from Scan) or £411 from Amazon.
The low end of the spectrum for Z490 motherboards is about £150, but you can get the ASRock Z490 Phantom for £145.49.
The AMD X570 landed with a premium price thanks to their PCI-E 4.0 support and a at the low end of that pricing is about £140. However, you can also use B450 and X470 motherboards here and these start from around £105 and £95 respectively.
Even if you use an X570 motherboard, this will give you a price difference of £129 which can then easily be extending to £164 if you opt for an X470 motherboard.
Intel Core i9 10900K – £680
AMD Ryzen 9 3900X – £551
Percentage difference – 23%
Overall
As usual, the is no decisive winner here if you factor in all the factors and put your bias aside. Which is a shame, it is almost like these companies deliberately make products just good enough in specific areas between generations to beat the competitor while leaving plenty of performance on the table for future generations.
In this case, Intel fan boys will be delighted to see Intel still technically being the best gaming orientated CPU.
On the flip side, the lower total cost of ownership and superior multi-core results will likely leave AMD fans arguing that the Ryzen 9 3900X is the clear winner here.
AMD also have the advantage of PCIe 4.0 and a more modern architecture using the 7nm fabrication process, but at the end of the day these arguments are moot if you just focus on gaming performance.