Graphics cards surprisingly hold their value well, which make the ever-increasing cost of a new GPU a little more bearable. Even my old GTX 1070 which I bought for £370 in 2016 looks like it will sell for £150-ish, so £220 for 4 years of gaming is a bargain if you ask me.
With the launch of the new Nvidia GeForce RTX 30-series many people are starting to list their GeForce RTX 2080 Ti cards. While these cards have typically retained their value well, many people on Reddit have reported selling them for nearly RRP, the new RTX 3080 announcements is causing prices to crash.
Even with the new lower prices, I am not sure if buying one would be worth it.
Nvidia GeForce RTX 3080 and RTX 3070 Pricing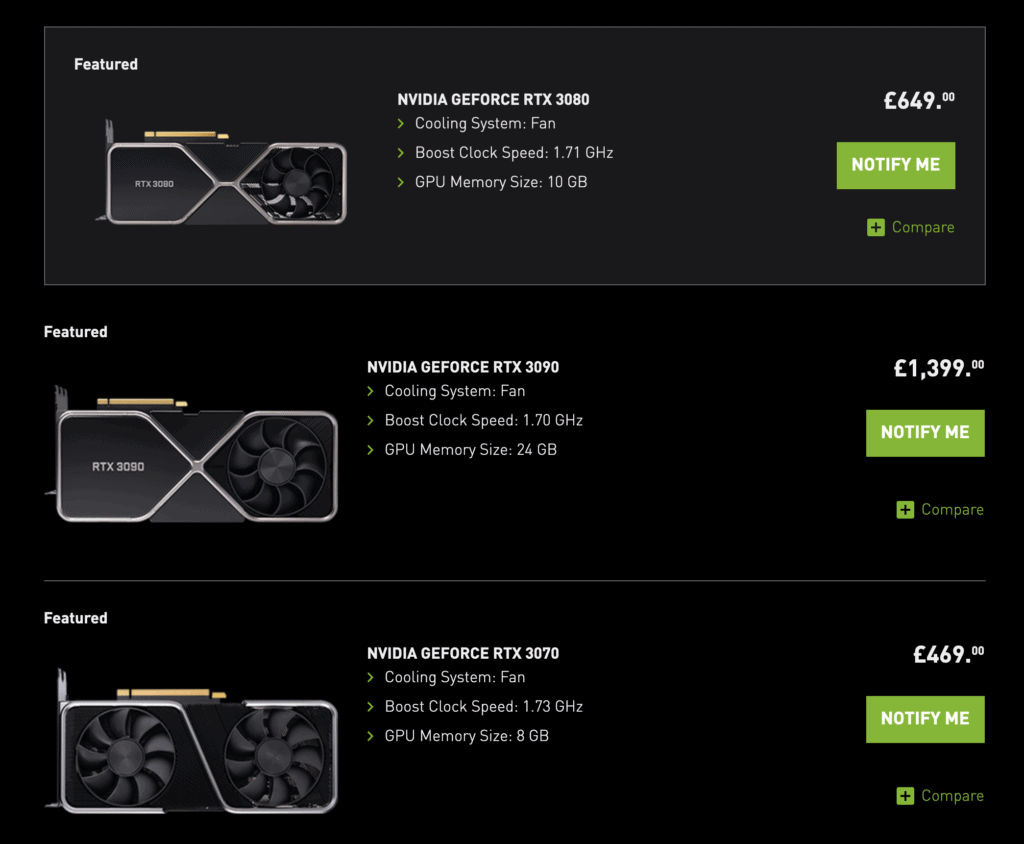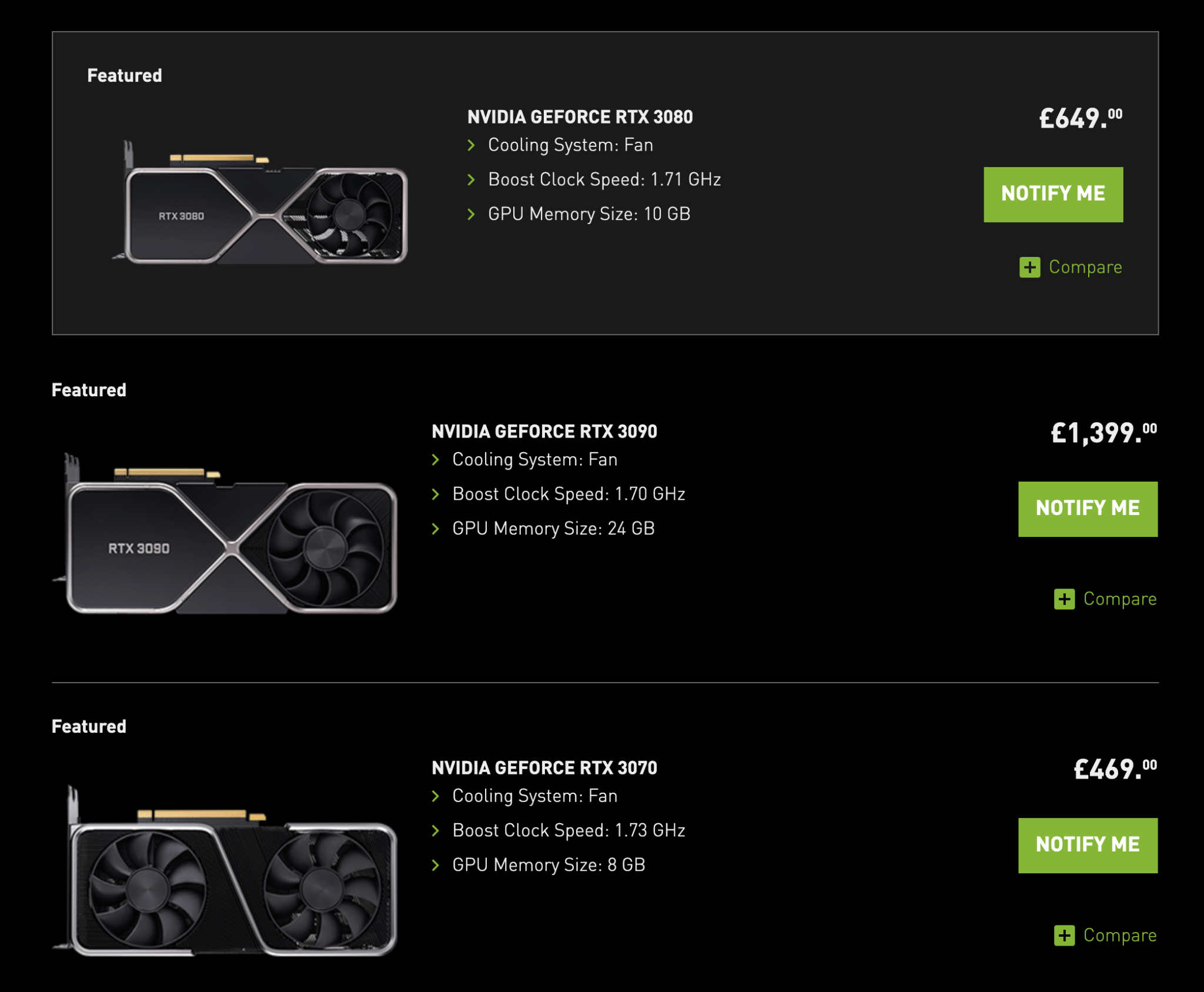 The Nvidia GeForce RTX 3080 has a launch price of $699/£649 and will be available on the 17th of September.
The Nvidia GeForce RTX 3070 will launch sometime next month for an RRP of $499/£470
Custom AIB cards will likely start at those prices and quickly increase depending on cooling and clocks.
Buy it now prices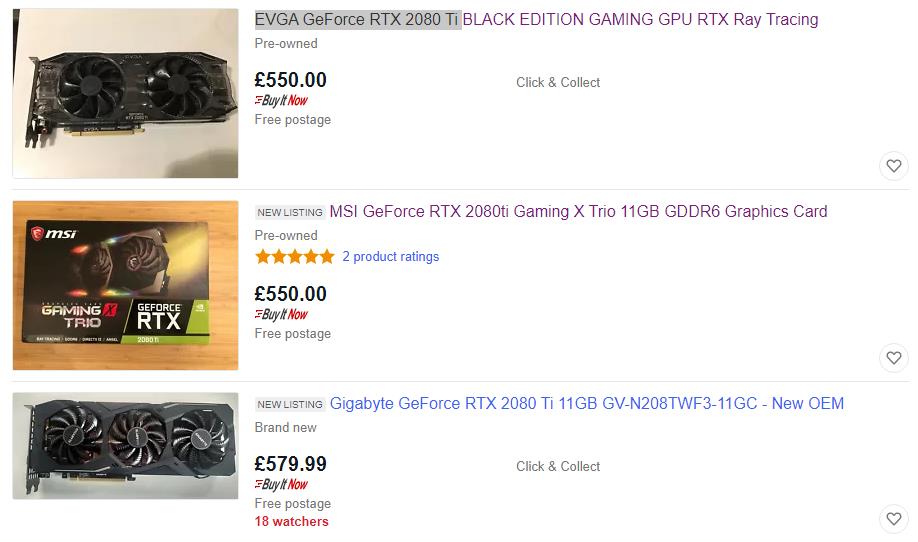 Currently, if you choose buy it now, the cheapest pre-owned options are around £550. That's £100 less than the RRP of the RTX 3080 it is unlikely to offer the same performance, the warranty may not get honoured, and you don't know how the person has treated the card.
That's just the 3 cheapest cards too. They quickly rise to £600 and well beyond the RRP of the RTX 3080.
Admittedly, most of these are AIB cards that will likely offer superior cooler and clocks to the base models,
Someone is even selling a Nvidia GeForce RTX 2080Ti Founders Edition for £600, and he hasn't even bothered to remove the GPU from the case yet!
Auction Prices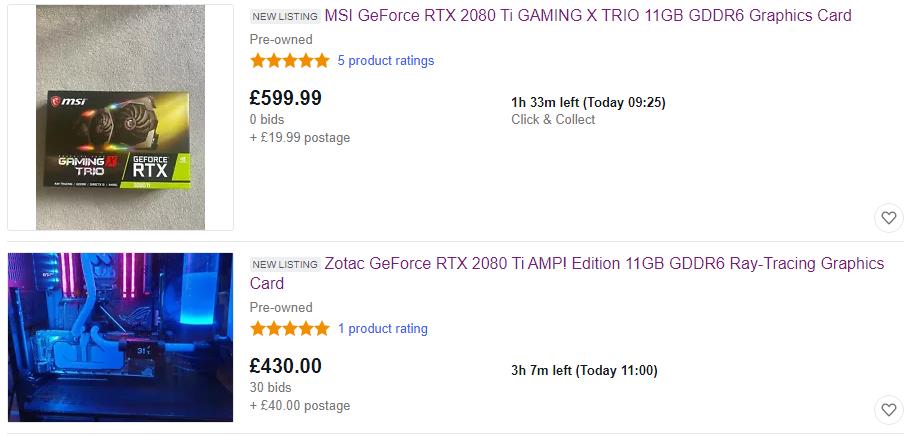 You may have more luck with auctions. At the time of writing there is a MSI GeForce RTX 2080 Ti available for £599 with 1 hour left on the clock with no bidders, so this perhaps indicates what buyers are willing, or not willing, to pay.
The cheapest card with bids on it is a water-cooled  Zotac GeForce RTX 2080 Ti for £430 with 3-hours left.
Then there is a Palit GeForce RTX 2080 TI for £410 with 11 bids and the seller has no ratings.
Overall
Personally, I wouldn't bother with any of the above, at the very least I would wait for benchmarks to come out.
I would also be cautious when buying something so expensive from users with very low ratings. Though if you pay on PayPal you should be protected.
However, if you are in no rush to buy, it is well worth keeping an eye on the listings as you could well bag yourself a bargain.