Creative launched the Aurvana Trio earphones back in 2018 offering high-end features such as a triple driver design and detachable MMCX at an affordable sub-£100 price point.
With many phones now lacking a 3.5mm jack, it looks like Creative have given up on making them with no stock on either the Creative website or Amazon.
However, they have just launched the Creative Aurvana Trio Wireless taking the previous triple driver design and making it Bluetooth.
Most companies are currently obsessed with launching TWS earphones, but the Creative Aurvana Trio Wireless are refreshingly old fashioned, adopting a neckband design with physical buttons.
Features and Specification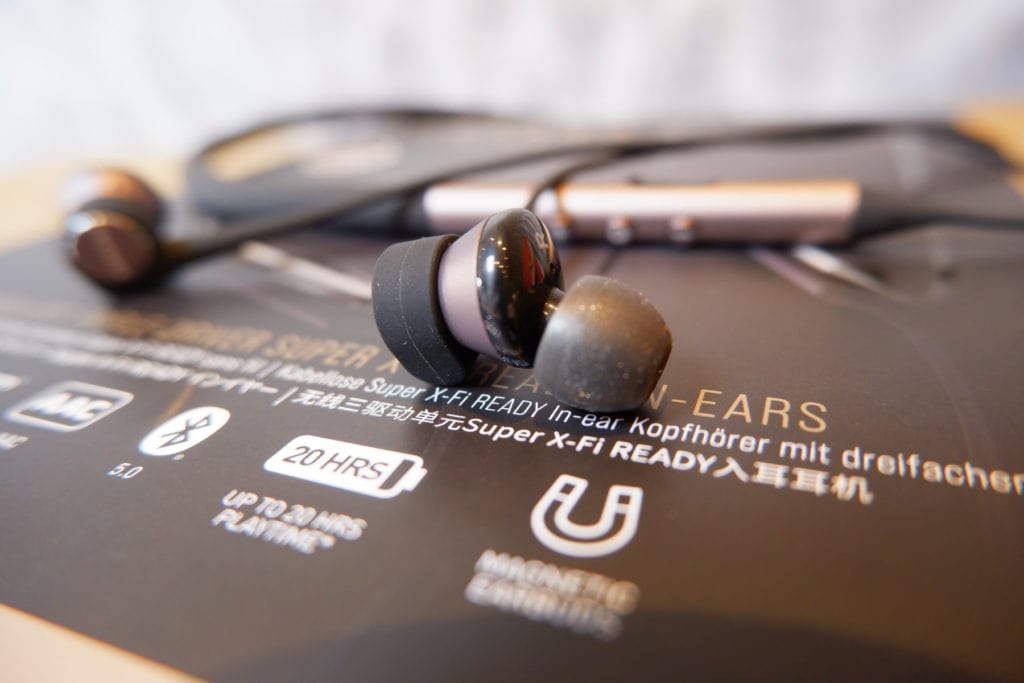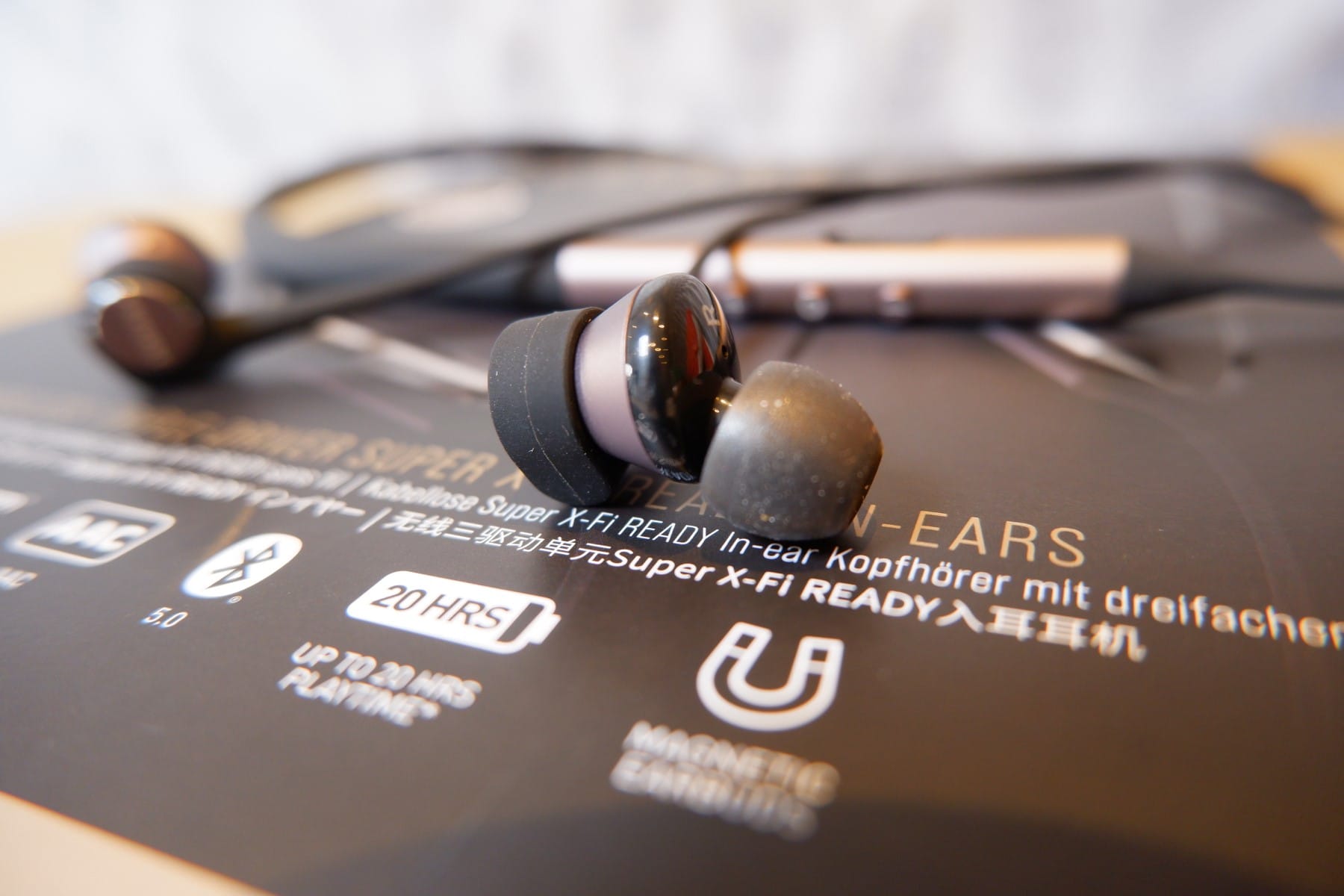 Dual Balanced Armature Drivers
11mm Dynamic Bio-cellulose driver (woofer)
5–40,000 Hz frequency response
Codecs: aptX HD, aptX LL, AAC, SBC
Bluetooth profiles: Supports Multipoint connections for 2 devices, HFP (Hands-Free Profile), A2DP (Wireless Stereo Bluetooth), AVRCP (Bluetooth Remote Control)
130 mAh battery / 20 hours
micro USB
The Creative Aurvana Trio Wireless ticks a lot of boxes; then you get to the micro USB charging. It doesn't ruin the earphones, but it is 2020, and this should not be a thing that is used.
The other downside of these is a complete lack of any IP rating. They are clearly not designed for sports use, but it obviously limits them to be more a specific use pair of earphones vs general.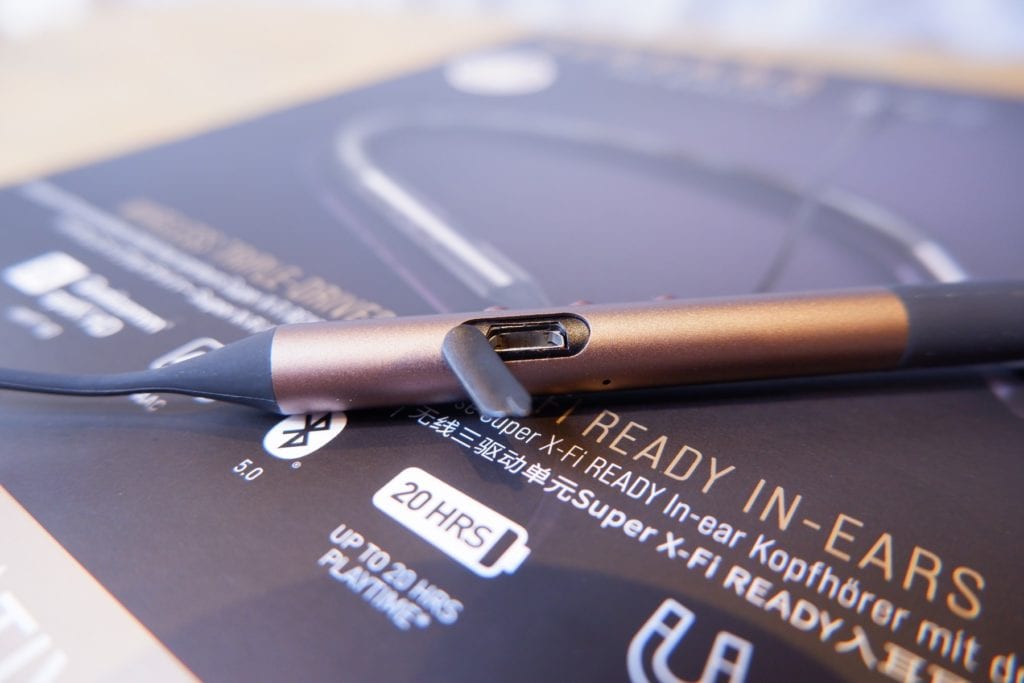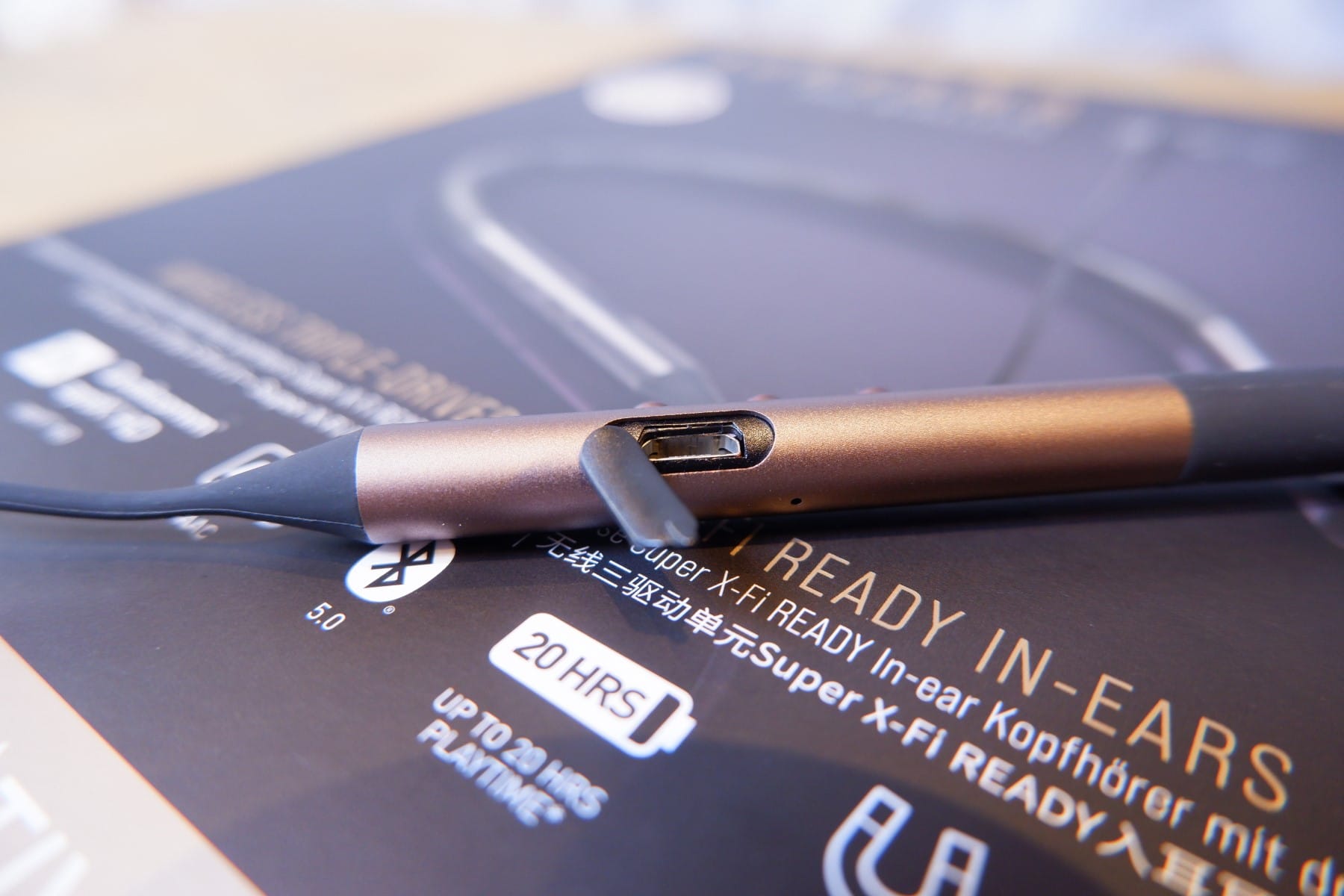 Creative Aurvana Trio Wireless vs 1MORE Triple Driver BT
A pair of triple driver earphones that uses a neckband design draws inevitable comparisons to the superb 1MORE Triple Driver BT which I reviewed almost two years ago.
These launched at £119.99, but you can currently buy them for £89.99 on Amazon via 1MORE, and it is perhaps not coincidental that the Creative Aurvana Trio Wireless also sell for this price.
Apart from the neck band and drivers they also share the same 5–40,000 Hz frequency response then also both come with 6 pairs of ear tips and feature high bit rate codecs.
However, there two significant differences. Creative use Qualcomm codecs including aptX HD and aptX LL then also connect via Bluetooth 5.0. You also get an impressive 20 hours battery life.
The 1MORE earphones use Bluetooth v4.2, and the Sony developed LDAC codec. With these, you only get 7 hours of battery life.
aptX HD vs LDAC
For music, LDAC is technically better offering up to 990 kbps bit rate with a 96 kHz sampling rate, whereas aptX HD has a maximum bit rate of 576 kbps with a 48 kHz sampling rate. However, LDAC is adaptive and requires a strong connection, most of the time, it will adapt down to 660kbps if not lower in some circumstances.
Both of these codecs have around 200ms latency, so when it comes to watching TV/Movies you can suffer from lip-sync issues.
However, Creative also has aptX LL, which offers just 40 ms latency eliminating any issues you face with audio lag.
Even though LDAC may offer superior audio quality, it is dependent on your device supporting it, and the same applies to Creative Aurvana Trio Wireless.
aptX HD appears to be quite widely supported, you can check here. Notable phones include the Huawei P30 Pro, Pixel 3a, LG V60.
Finding a comprehensive list of LDAC phones is harder, but it should also include the P30 Pro, Mate 20 Pro, Pixel 3 (possible the 3a too) and many others.
| | | | | |
| --- | --- | --- | --- | --- |
| Codec Comparison | Maximum Bit rate | Latency | Max Sampling Rate | Max Bit depth |
| SBC | 328 kbps | 170 – 270 ms | 48 kHz | 16-bit |
| aptX | 352 kbps | 120 ms | 48 kHz | 16-bit |
| aptX LL | 352 kbps | 40 ms | 48 kHz | 16-bit |
| aptX HD | 576 kbps | 200 ms | 48 kHz | 24-bit |
| LDAC | 990 kbps | 160-210ms | 96 kHz | 24-bit |
Creative BT-W3 adaptor for aptX LL and, aptX HD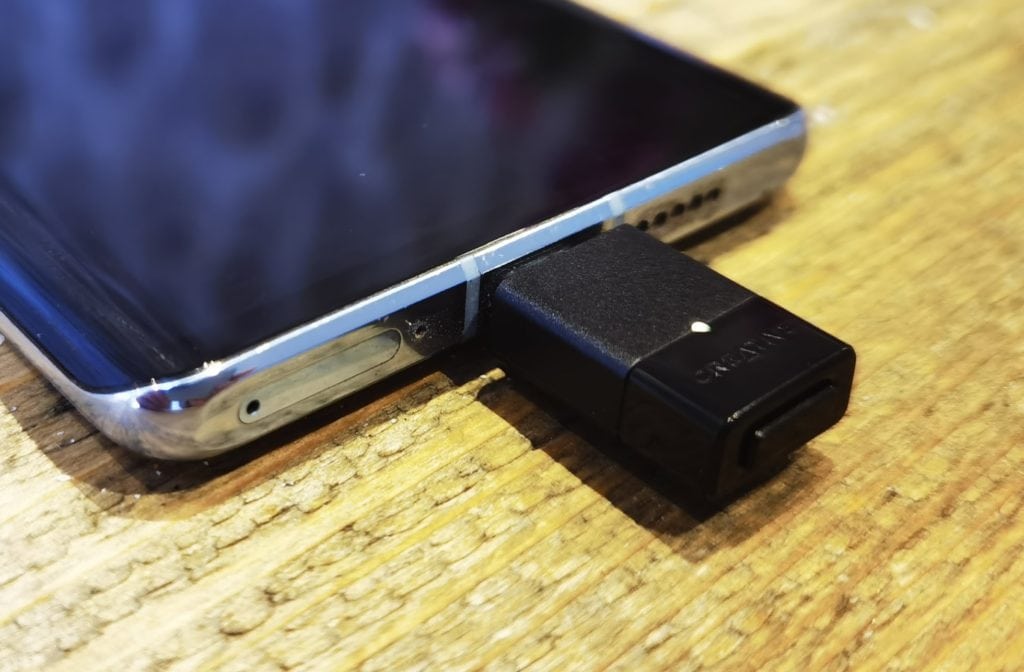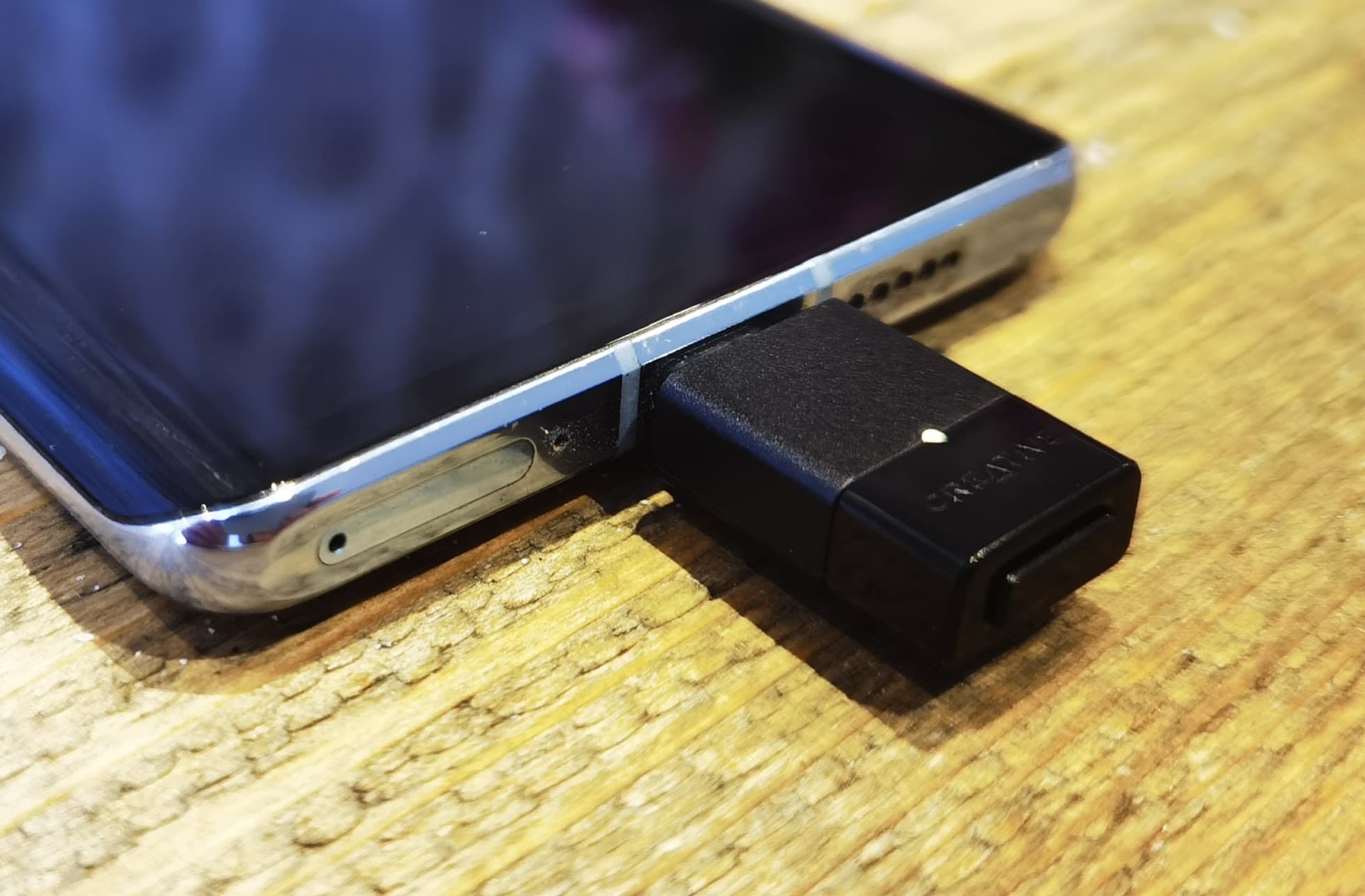 Creative has a clever trick up their sleeve for compatibility; they have also just launched the Creative BT-W3. It is a USB-C Bluetooth transmitter that works on consoles, PC, Mac and phones giving you all the benefits of these advanced codecs. It is surprisingly easy to use, and when the Creative Aurvana Trio Wireless is paired to it you can swap between devices, and it stays paired to the dongle, not the device.
Furthermore, Creative sell the Aurvana Trio Wireless and BT-W3 as a bundle for just £99.99. The BT-W3 by itself is £35, so it is a great deal.
In Use & Sound Quality
Performance is superb, easily the best earphones I have reviewed in the past year or so, though these are also the first none TWS earphones I have reviewed in the past year or so.
I have always liked the neckband design, all the weight of the electronics, controls and battery rest on your neck, keeping the earphones light and less likely to fall out. However, in terms of aesthetics, they are obviously not as nice as something more discrete.
Fit is also superb, the six sets of ear tips gives you a good chance of finding something that suits your ears. The lack of weight on the ears allows them to fit snugly in your ear without them being uncomfortable.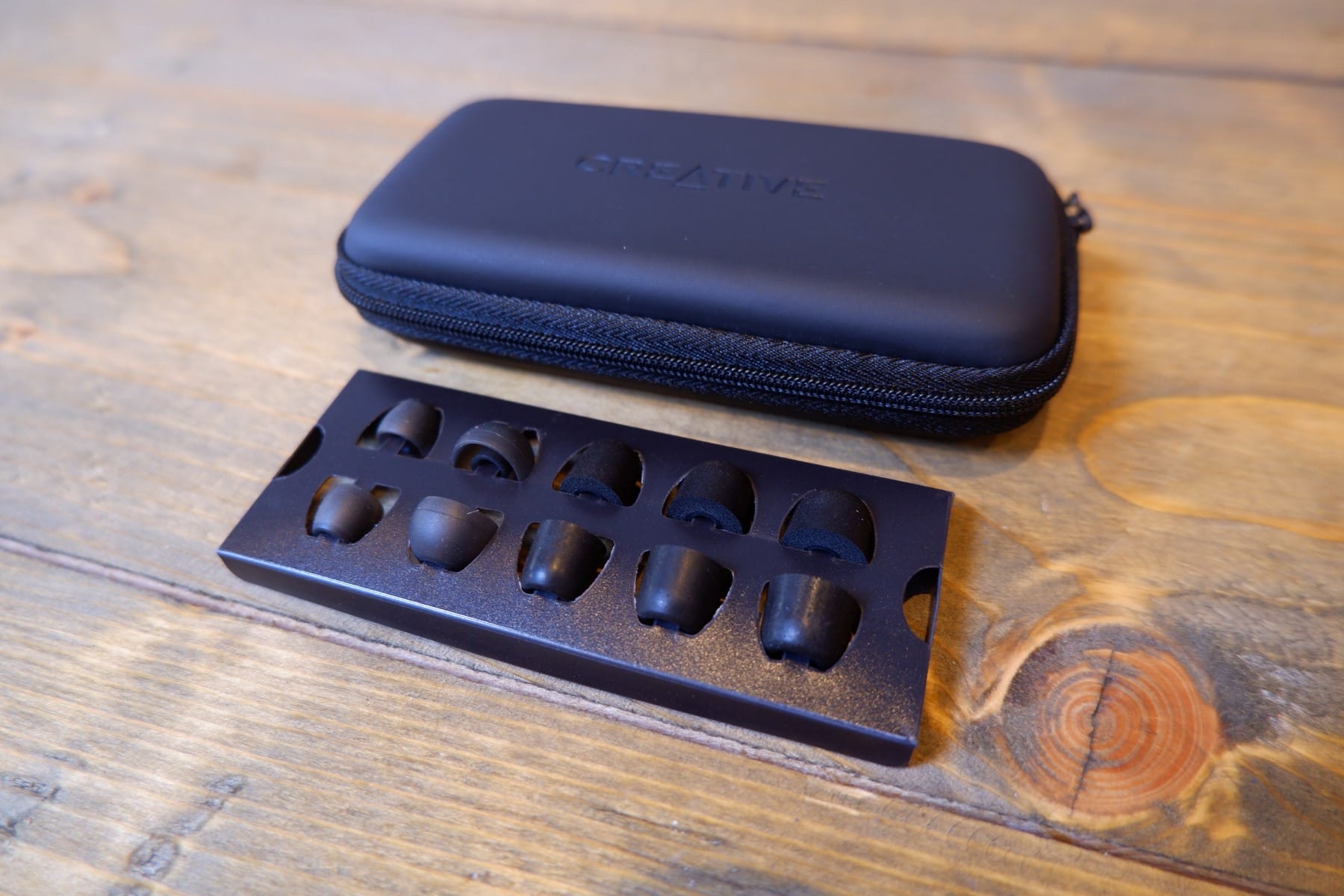 Sound
The biggest difference between these and many other earphones is there ability to produce deep lows without sacrificing other frequencies. Mids and highs still come through clearly on very bassy tracks, and conversely, bass is not introduced during parts of a track that lacks it. This is all thanks to the triple driver design, allowing the drivers to operate independently to produce different frequencies unlike a single dynamic driver design trying to do everything itself.
The end result is a well-balanced sound offering excellent detail and clarity all around. I never experienced any harshness across any frequencies even at higher volumes, or any noticeable distortion.
When combined with BT-W3 or my P30 Pro with aptX HD and listening to Tidal with their master quality tracks, there is a significant difference in what you can hear compared to a less competent setup. Previously, many tracks just merged into one, especially guitar-heavy tracks, but with these and the high-quality audio, it becomes easier to isolate individual components.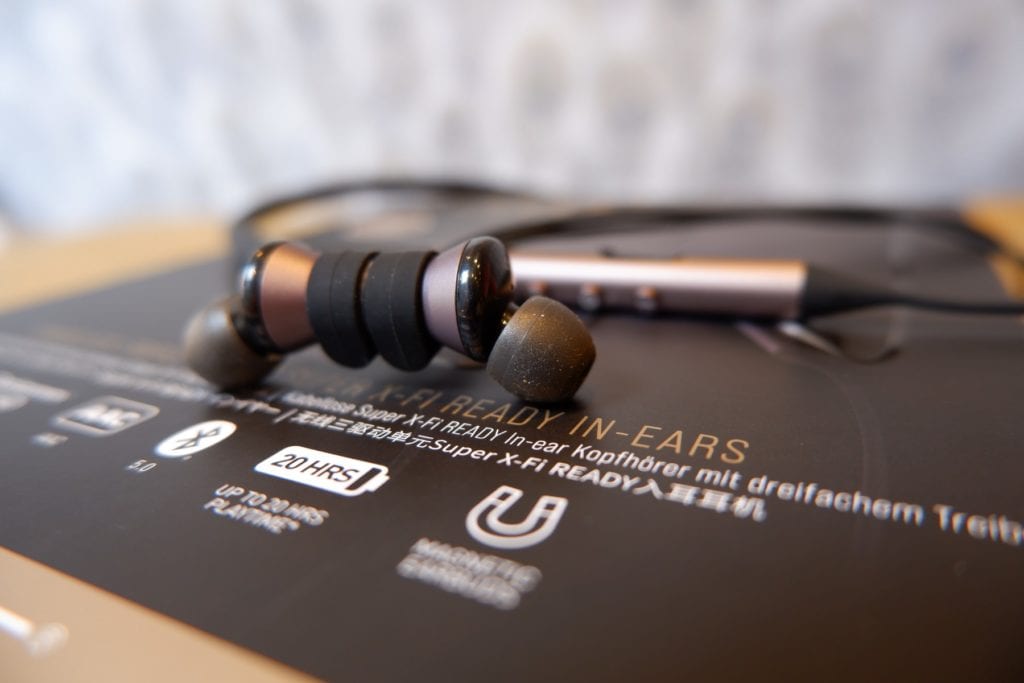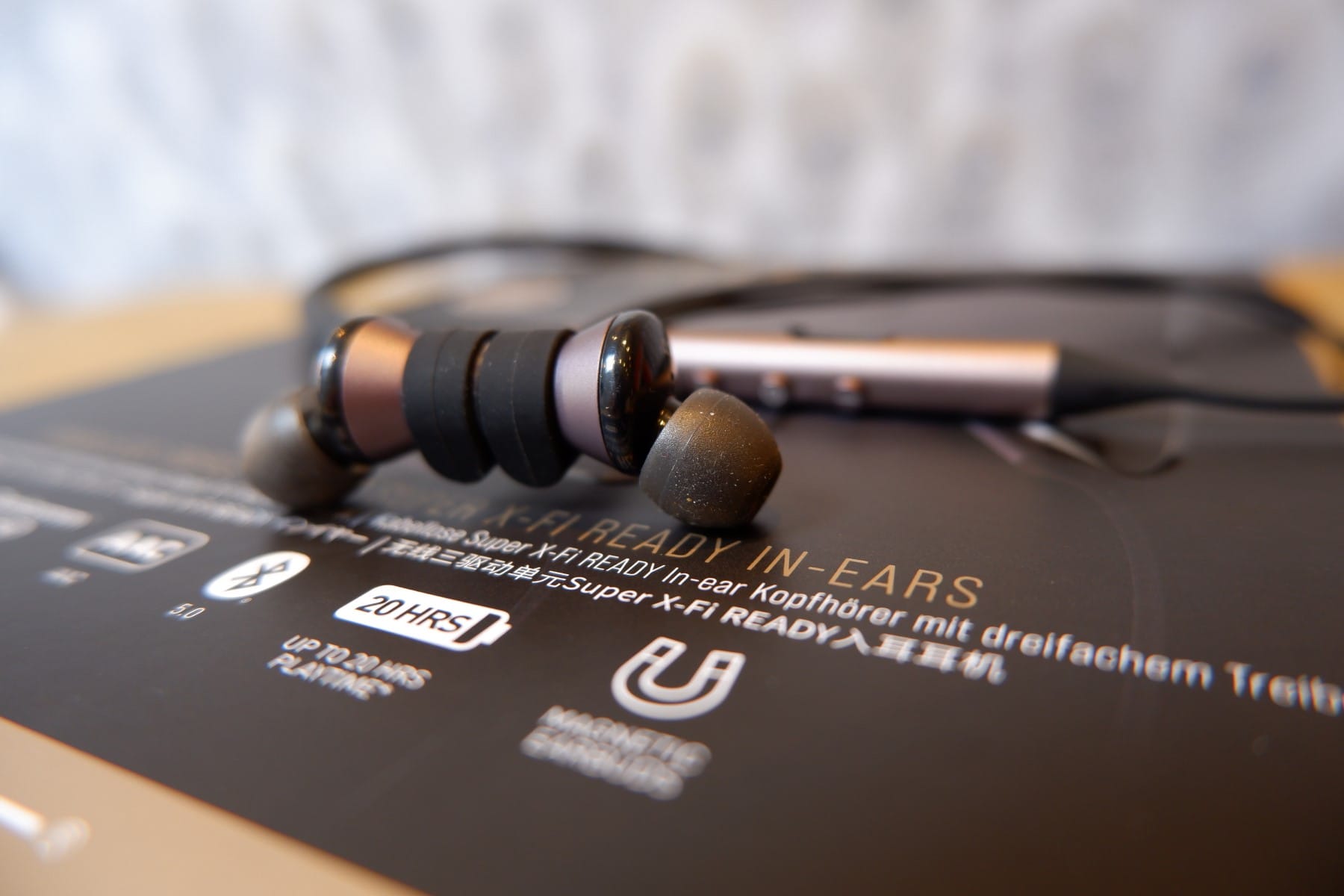 Battery
With TWS earphones typically having around 5 hours, or 8-hour battery life it is fantastic to have 20 hours. I haven't tested exactly, but these easily last me two days of heavy use without charging them. This makes them perfect for travel or office use.
Price and Competition
With these costing £89.99 or £99.99 with the BT-W3 adaptor, the obvious alternative is the 1MORE Triple Driver BT. I can't say which is better overall in terms of sound, but they are both superb. However, the 20-hour battery life means I would opt for the Creative over the 1MORE earphones.
The Sennheiser Momentum 2.0 In-Ear Wireless are well-reviewed and often cost around £90 on Amazon. Similarly, the Sennheiser CX 7.00 BT have also been around £90. Both of these have a shorter battery life, use the older Bluetooth 4.1 and have a smaller range for frequency response.
If you can cope with the open fit design Huawei FreeBuds 3 are the best TWS alternative I can think of, costing about £20 more but offering active noise cancelling and a dual-driver design. They don't sound as good these, but they are much better than other TWS options at this price.
Overall
The Creative Aurvana Trio Wireless are superb, a refreshing change from all the true wireless earphones I get sent to review.
While the neckband design has fallen out of fashion, it allows Creative to offer a triple driver design, advanced audio codecs and exceptional battery life all at a reasonable price.
From my limited research, no TWS earphone offers a triple driver design, with the best you can find being dual drivers similar to the Huawei Freebuds 3.
For anyone looking for in-ear headphones with aptX LL the choices are slim, there is the Aukey B80 and Sennheiser have several options.
Overall, if you want a pair of in-ear headphones and value audio quality and latency over compactness and versatility in use, then these are superb.