Before Mesh WiFi was a thing, powerline was by far the best solution for home users wanting to extend their home network without having to physically wire the house up with Ethernet.
Since the launch of mesh, powerline has fallen out of favour somewhat, and only a handful of company produces hardware feature this technology. However, I know a lot of gamers who still swear by this technology.
Devolo has long been the most reputable company in the business, with TP-Link being the major competitor.
While most companies are now launching WiFi 6 mesh systems, Devolo has only just launched its first WiFi 5 mesh system.
Devolo Mesh WiFi 2 vs Devolo Magic 2 WiFi – Not the same
Devolo doesn't make it very easy to work out what is what and this is made worse by searching on places like Amazon.
I was very confused by the product name devolo Mesh WiFi 2 but most places selling Devolo Magic 2 WiFi.
A quick glance at their product pages proved to be equally confusing, with the Magic 2 WiFi not listed under mesh yet still claiming mesh functionality on the product page. They also offer the same WiFi speeds and powerline technology.
However, they are not the same. The 2-device Magic 2 WiFi uses two different units, the MAGIC 2 LAN Adapter and the MAGIC 2 WiFi next Adapter. The Lan adaptor offers no WiFi. This is instead used to connect your router to the powerline network. So the two pack system won't actually offer mesh WiFi; you would then need to pair it up with another MAGIC 2 WiFi to get mesh functionality.
The MESH WIFI 2, on the other hand, has all its adopters providing WiFI. With the whole point of this being that you switch the WiFi off on your router, then the Devolo does all the WiFi offering seamless roaming as you move around the home.
Devolo Mesh WiFi 2 vs TP-Link Deco P9 – HomePlug vs G.hn PowerLine
It has been a while since I reviewed powerline products properly; during my brief with Devolo, I mentioned the TP-Link powerline mesh system, and I was quickly informed the Devolo uses a better powerline technology.
The TP-Link Deco P9 uses the HomePlug AV2, which they claim can achieve speeds up to 1000 Mbps over your homes electrical cables.
Devolo uses G.hn (HomeGrid Forum), which claims 2400 Mbps (MIMO) or 1200 Mbps (SISO). They also provide some other specs, including a range of 500M.
It is unlikely any of those speeds will be achievable, much like the speeds advertised for WiFi.
Both G.hn and HomePlugAV2 use similar technologies with roughly the same frequencies to transport the OFDM signal.
Both technologies also support multiple-input multiple-output (MIMO) by using alternate ac lines, including the second phase of the 240-V line, neutral or ground for additional signal paths if available. However, it is not clear if TP-Link has implemented it on their system, and the 1000 Mbps transmit speed would indicate they have not.
G.hn extends its functionality beyond PLC and also supports twisted-pair telephone wiring and cable TV coax, but I doubt this is any benefit to this particular Devolo system.
I have also seen some users reviews indicating that G.hn offers much better performance in poor quality conditions, such as extending to sheds and garages.
I reviewed the Deco P9 back in 2019, and since then, my entire house setup has changed. So I can't honestly provide an accurate comparison of performance. It seems like the Devolo system offers better performance, and it technically has a superior specification, with the PCL backhaul being able to connect at much higher speeds, but it also costs quite a bit more. The Deco P9 was a great buy at the time because it offered better performance than dual-band WiFi 5 systems. The Devolo is priced quite a bit higher.
Specification
Delivers wired speeds up to 2400Mb/s & wireless speeds up to 1200Mb/s

2×2 MIMO so 866Mbps on 5Ghz and 300Mbps on 2.4Ghz

Creates a strong mesh network with gigabit WiFi speeds
G.hn Powerline with 2400 Mbps (MIMO), 1200 Mbps (SISO) & 500M range
Tri-band WiFi ensures optimum distribution throughout the home

Tri-band consists of 2.4Ghz, 5Ghz and wired PLC backhaul

Dual Gigabit LAN connections for wired devices such as Smart TVs and game consoles
Utilises the latest WPA3 encryption standard for enhanced security
Passthrough design retains use of the mains socket
Manage and control your network settings with the devolo Home Network app
Setup
The Devolo system is different from most mesh WiFi options, the whole unit is the plug socket and it has a plug pass through. While it is not particularly attractive it offers a cleaner solution than the large mesh WiFI satellites that have a power cable running to them. The downside is that the bulk of the socket may get in the way of other sockets to the side, or anything above the plug socket.
When setting this up, you can use the browser to go to the IP or the Devolo Home Network App. The app itself is just a wrapper for the web interface, so it is a little clunky compared to the competition, but it works fine.
I thought these would be pre-paired so you plug them in and way they go, but this was not quite the case for me. You plug them in then press the powerline button and they will pair up with a random encryption key, or you can assign your own.
Unlike a lot of mesh WiFI systems, this is technically just a set of access points; there is no DHCP or any other features your find in routers. This is the only way I ever run mesh systems for personal use, so it worked well for me.
WiFi options are very limited. In particular, this doesn't offer a way to properly separate 2.4Ghz and 5Ghz into unique SSIDs. The main SSID is either one or the other, or coexisting. You can cheat this though by setting up a guest network to use 2.4Ghz.
Mesh WiFi is enabled by default, for the best experience, you may want to enable 802.11r Fast Roaming.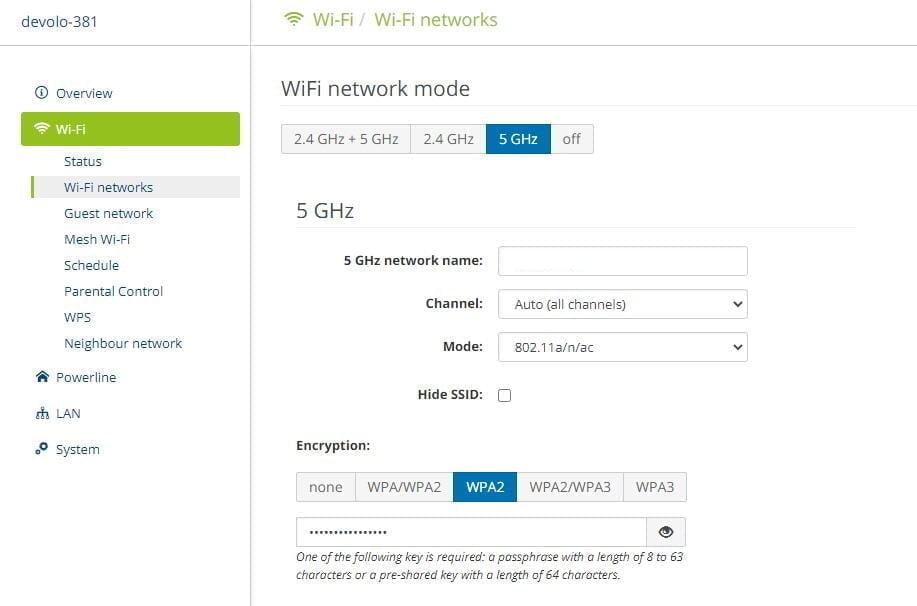 Optimising the speed
My initial results with this system were quite disappointing, the performance of the satellite in the living room offered considerably less throughput than both tri-band and dual-band mesh WiFi systems I have used in the past.
Within the Powerline settings is a compatibility mode, by default, it is set up to offer the best compatibly possible and avoid interference introduced by VDSL broadband connections.
As I use Virgin fibre, I assumed that this wasn't necessary for me, and I, therefore, set the mode to MIMO Full Power. This then significantly improved the registered transmit and receive speeds.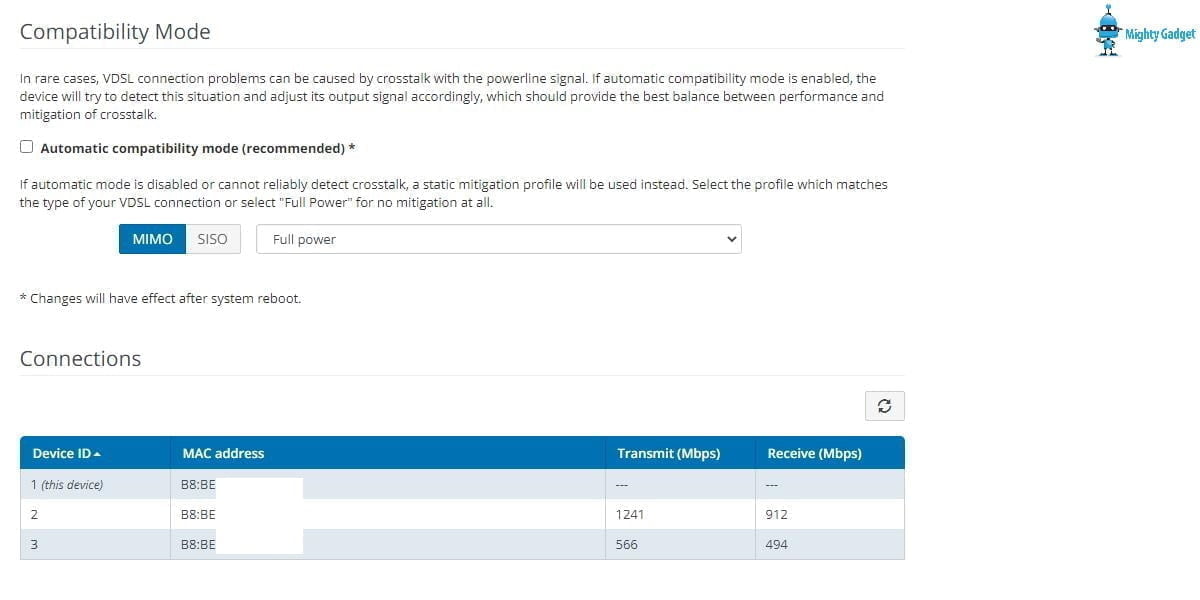 Performance
I have quite an old home with not the best wiring, so my results may not demonstrate the full potential of the Devolo. However, a lot of homes in the UK are in a similar position.
Router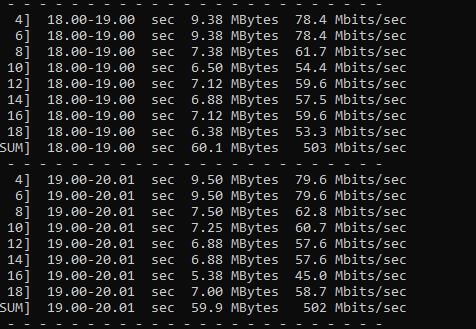 From the router in my office connecting to my desktop via the built-in WiFi of the MSI Unifi X570, the performance was OK. Once I disabled all the other WiFi access points in the house to reduce interference I was able to achieve around 500Mbps reliably using iperf connecting to my server.
OpenSpeedTest was a little more forgiving, with speeds over 600Mbps. This makes it around 10% faster than the Taotronics Tri-Band AC3000 Mesh WiFi Router I reviewed back in January.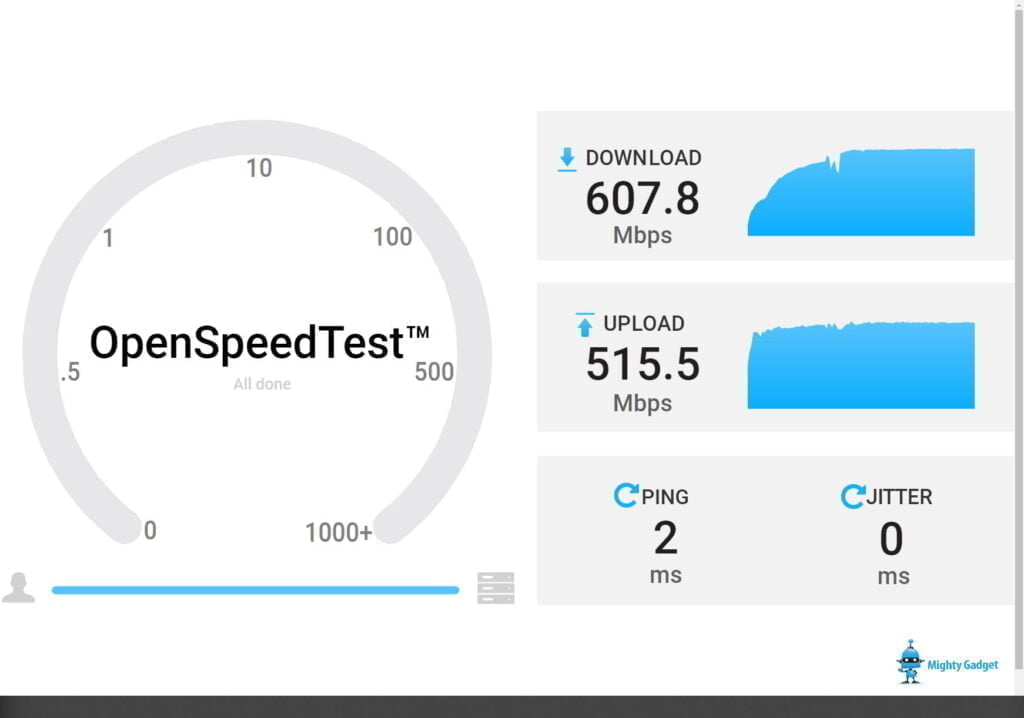 Set Up one – My standard configuration of office, living room, garage
I try to keep my mesh system and access point placements consistent, allowing me to offer some sort of accurate comparison to previous results. It did not work out very well in this scenario.
Likely due to my old wiring, the connection between my office and the other plugs was not the best. I was unable to get a connection in the garage (which I had low expectations of anyway), and the living room only offers around 100Mbps WiFi.
Set Up – Living Room, Media Room, Kitchen
Switching the config around yielded better results. In this scenario, I had one in the front living room where the router is, another in the middle of the house where my TV/media room is, then another in the kitchen.
With this setup and the system running at full power MIMO the devices registered a transmit speed of 1046Mbps for the media room, then 566Mbps for the kitchen.
Real word results were not that fast, though, with speeds of around 300Mbps from the media room device then 225mbps from the kitchen.
[Update] Garage
My initial test with one of the devices in the garage was a complete failure. After posting the review, I realised I hadn't retried it with the new setup. In this scenario, it did work; the speeds were not amazing but far better than the vast majority of mesh WiFi systems I have tried.  With this just used a normal internet speed test and I was able to achieve 60Mbps down and 30Mbps up.
Looking at the TP-Link review, which also managed to extend to the garage, it offered slightly lower speeds for the download.
Range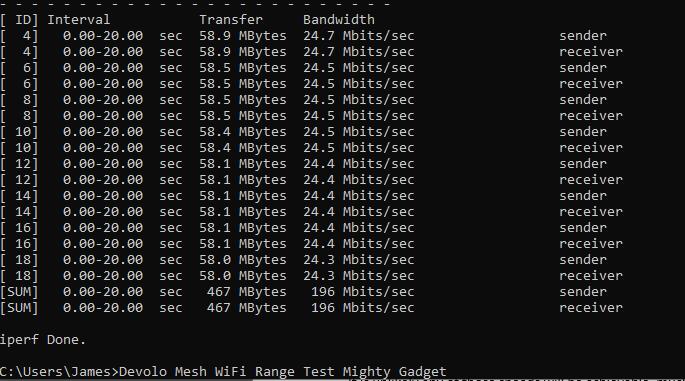 Range of the devices seems to be quite good. With the second setup in place, connecting my office PC to the WiFi offer just under 200Mbps via iPerf and a 225Mbps download with OpenSpeedTest. While that may not be an amazing speed, in relation to the speed up close to the corresponding device, the drop in speed isn't that much at all.
Of course, with mesh systems, you have a lot more leeway with the range of individual devices. A three-piece mesh system should cover most 4 bedroom homes with a reliable signal.
Price and Competition
The Devolo Mesh WiFi 2 three pack sells for £299.99 at full RRP but is available for £288.49 on Amazon
The TP-Link Deco P9 would be the closest like for like competitor also being a powerline equipped mesh WiFi system. This uses  HomePlug AV1000 rated backhaul, so technically a bit less than the Devolo, however, it is £100 cheaper, currently.  
At £300, there are four other stand out options:
Netgear Orbi RBK23 offering tri-band WiFi 5 with a 5Ghz backhaul for a touch over £300, or currently the RBK50 is £350
Linksys WHW0303 Velop Tri-Band, again triband WiFi with 5Ghz backhaul for £275
Netgear Nighthawk MK63 dual-band WiFi 6 mech system for £295. While this is only dual-band, the increased speeds of WiFi 6 makeup for it a little, and the main router will outperform all the other options.
Then there is the TaoTronics Mesh WiFi which is £209 for a two-pack + £109 for an addon. So £307 in total, I'd be inclined to stick with Netgear/Linksys at this price, though.
Overall
My results may not paint the best of pictures for the Devolo Mesh WiFi 2, but it is important to realise that systems using PCL or a 5Ghz backhaul channel each have their pros and cons.  
Fundamentally, you are reliant on the quality of your backhaul channel; a 5Ghz backhaul will be prone to interference from other networks in your area, radar interfering with DFS channels and the overall construction of your home. Wireless systems will often see dips in performance due to varying levels of interference being introduced
This powerline system is then reliant on the quality of your home wiring, and this too can suffer from performance dips due to interference. However, in this scenario, it will be your home devices introducing this interference, so you at least have some control over trying to fix this. Another factor that can affect powerline is AFCI breakers which, to the best of my knowledge, only affects people in the US, I am not sure if the UK has an equivalent wiring regulation.
Overall though, the Devolo Mesh WiFi 2 performed reasonably well even in less than ideal conditions. It comfortably provided WiFi speeds well in excess of what most UK ISPs can provide to your home, and it allowed me to have usable WiFi throughout my home, handling high bandwidth applications.  
It offered comparable performance to the Taotronics Tri-Band system I reviewed in January. Pricing is comparable too, with that costing £209 for two devices and this £300 for three.
Posted by Mighty Gadget Blog: UK Technology News and Reviews
Thanks for reading, check out Mighty Gadget Blog: UK Technology News and Reviews for more Tech news!