I was impressed with the Doogee S95 Super back in June; it offered plenty of performance to be used as a daily phone while offering the benefit of an IP69K rated rugged phone.
The S88 Pro, sits a little lower down the ladder with a less powerful chipset but one of the biggest batteries on the market today.
So what is a phone that weighs over 370g like?
Specification Overview
Display: 6.3" 1080p
Chipset: MediaTek Helio P70
RAM: 6GB
Storage: 128GB storage with microSD
Camera: 21MP IMX230, 8MP ultra wide, 8MP depth, 16MP selfie
Battery: 10,000mAh with a claimed life of  7-8 days between charges or 19 hours of 3D gaming. 24W fast charge, 10W wireless charging, 5W reverse wireless charging.
Rugged Features: IP69K rated, can handle extreme temperatures
Other Features: NFC
Dimensions: 171.6mm x 85.5mm x 18.7mm
 Weight: 372g
Design and Display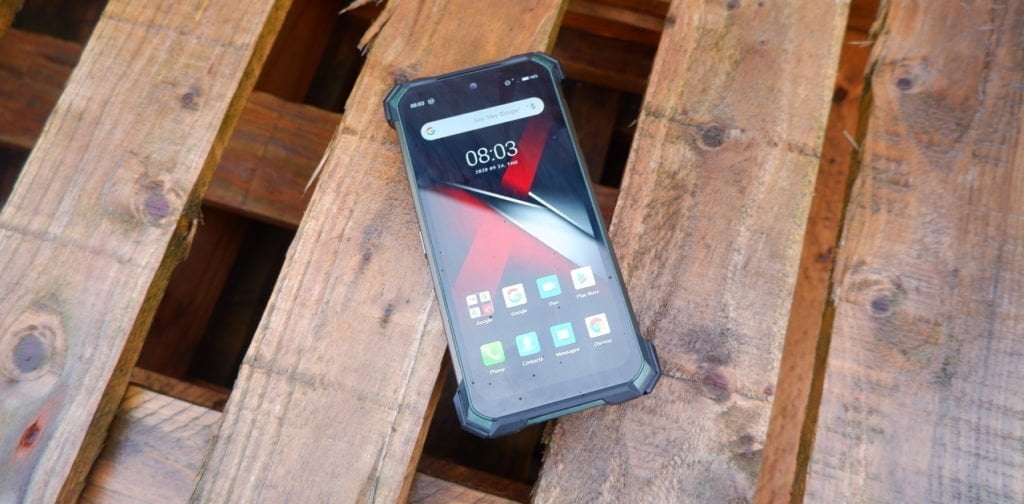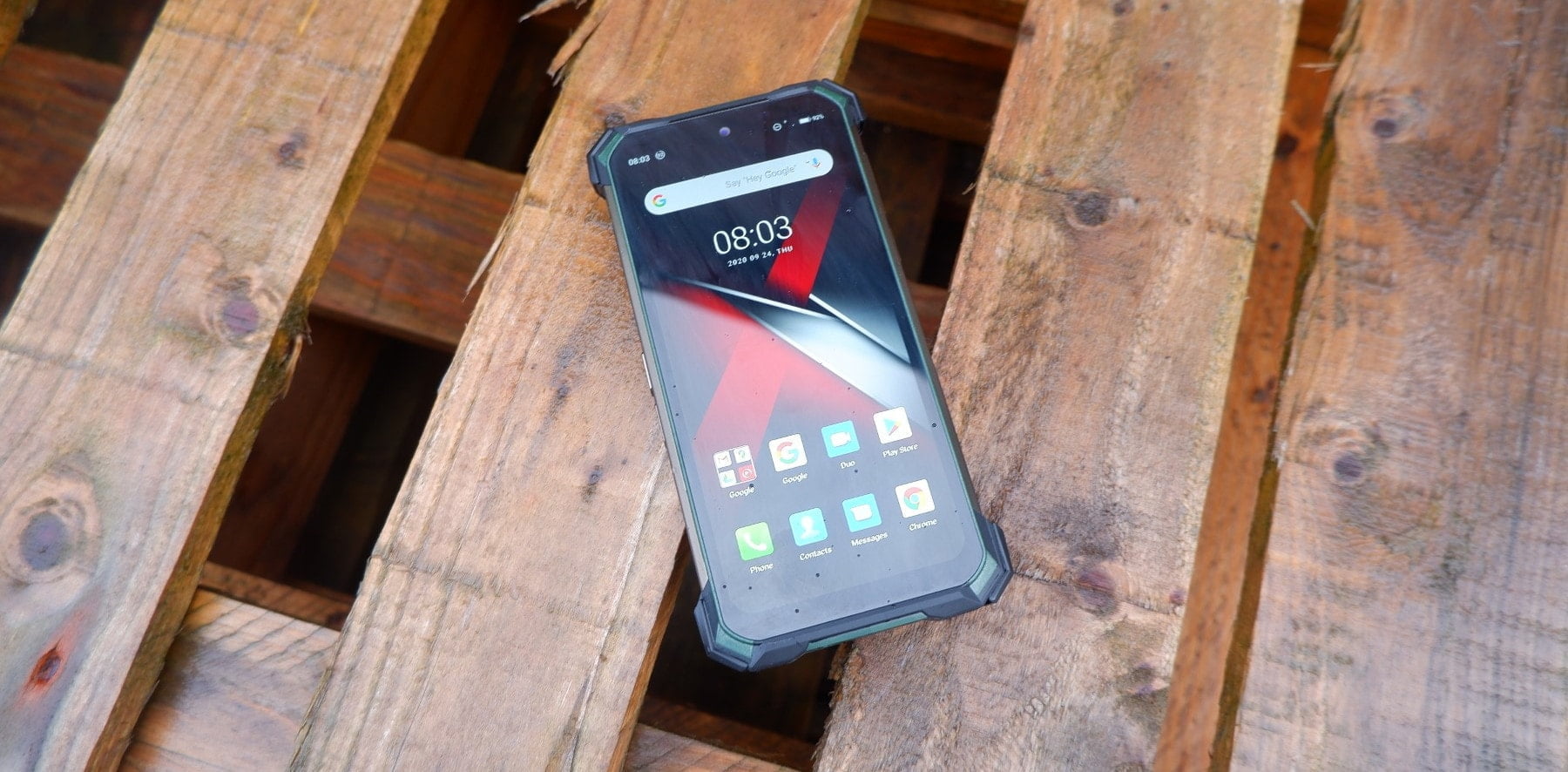 It is safe to say this isn't the most attractive phones on the market, no rugged phone is. Even before you take in the rugged features, the stand out part of the phone is how thick and heavy it is. Sadly battery technology hasn't progressed as quickly as the likes of computer chips, so the bigger the batter, the bigger the phone.
At 372g it is easily the heaviest phone I have ever used, but the Huawei P40 Pro+ weighs 226g and I have no problems carrying that around, so surely another 146g won't be that bad?
Unfortunately, it is extremely noticeable, you can feel the weight in your jeans, if you are wearing looser pants, they phone will bounce around, and good luck trying to fit this into skinny jeans.
Apart from the thickness, the phone isnt that much different than the S88 Pro, with big fat bumpers on the corner, a cover for the USB-C port. The rugged features have been tested by dropping the phone 1000 times showing that the phone can handle drops from 1.5m height on a rough surface and 2m height on a smooth surface.#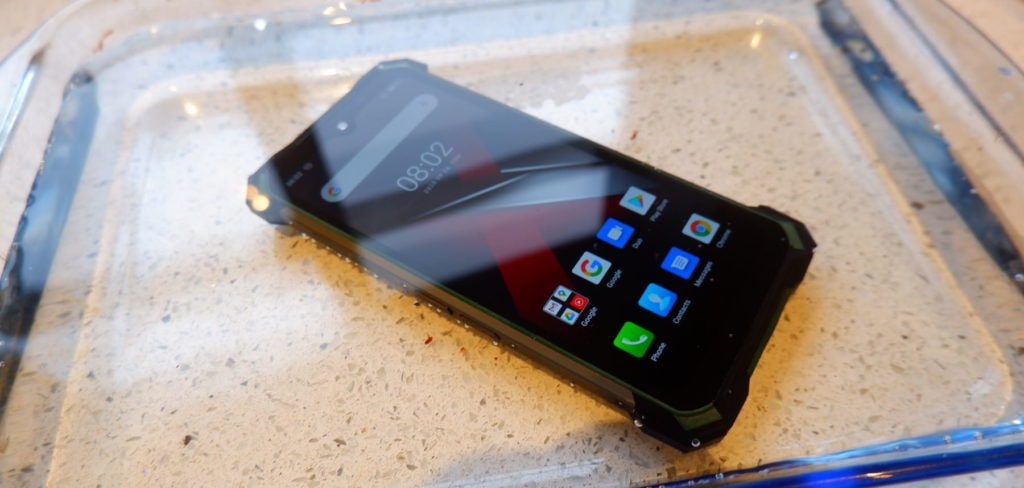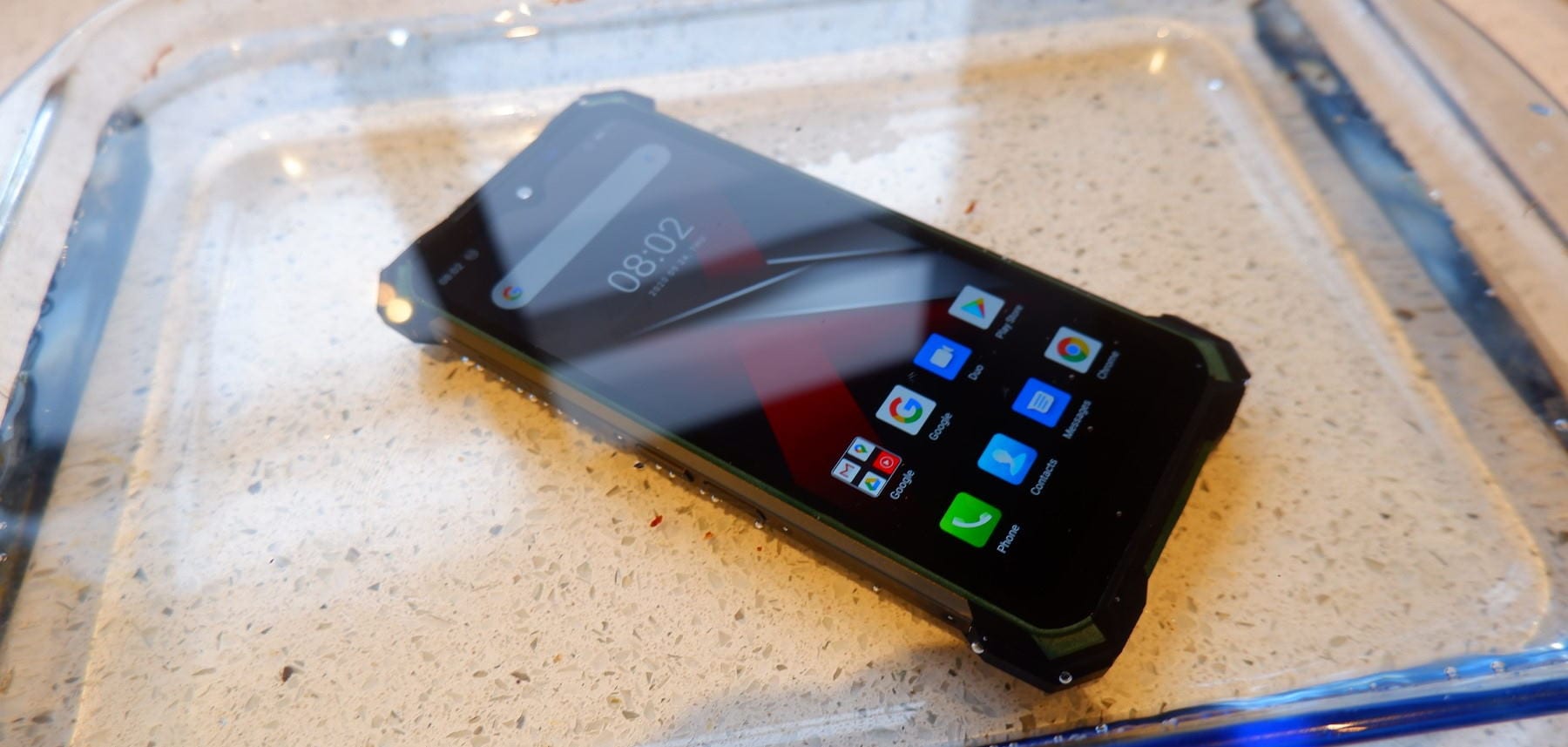 The IP69K rating allows it to handle 2 hours at 1.5m depth or up to a full day at 1m underwater, it is can even handle direct high-pressure water sprays. It will even handle extreme temperature such as -55°C for 4 hours. So this could be appealing to mountaineers or people working in extremely harsh environments.
Even though it has massive bezels, you still get a notch for the selfie, getting in the way of the notification bar.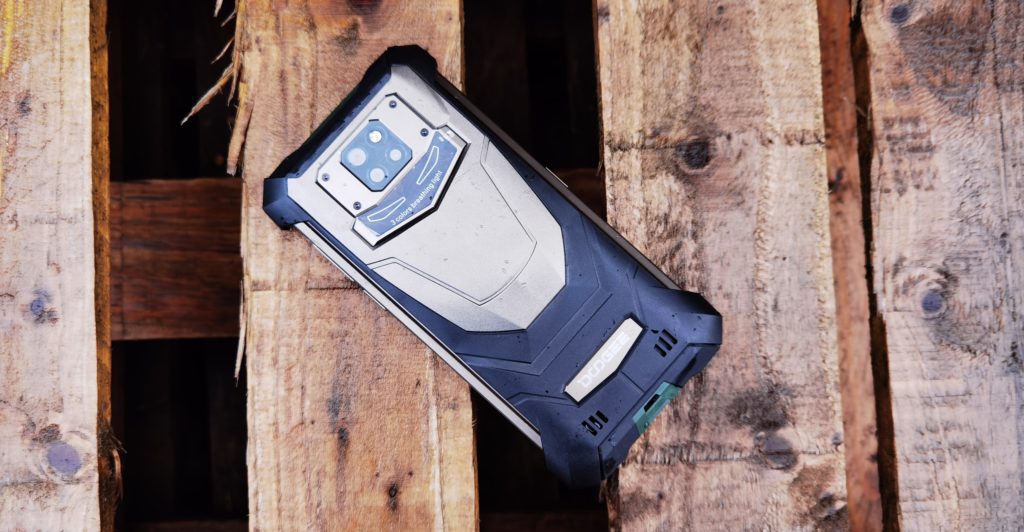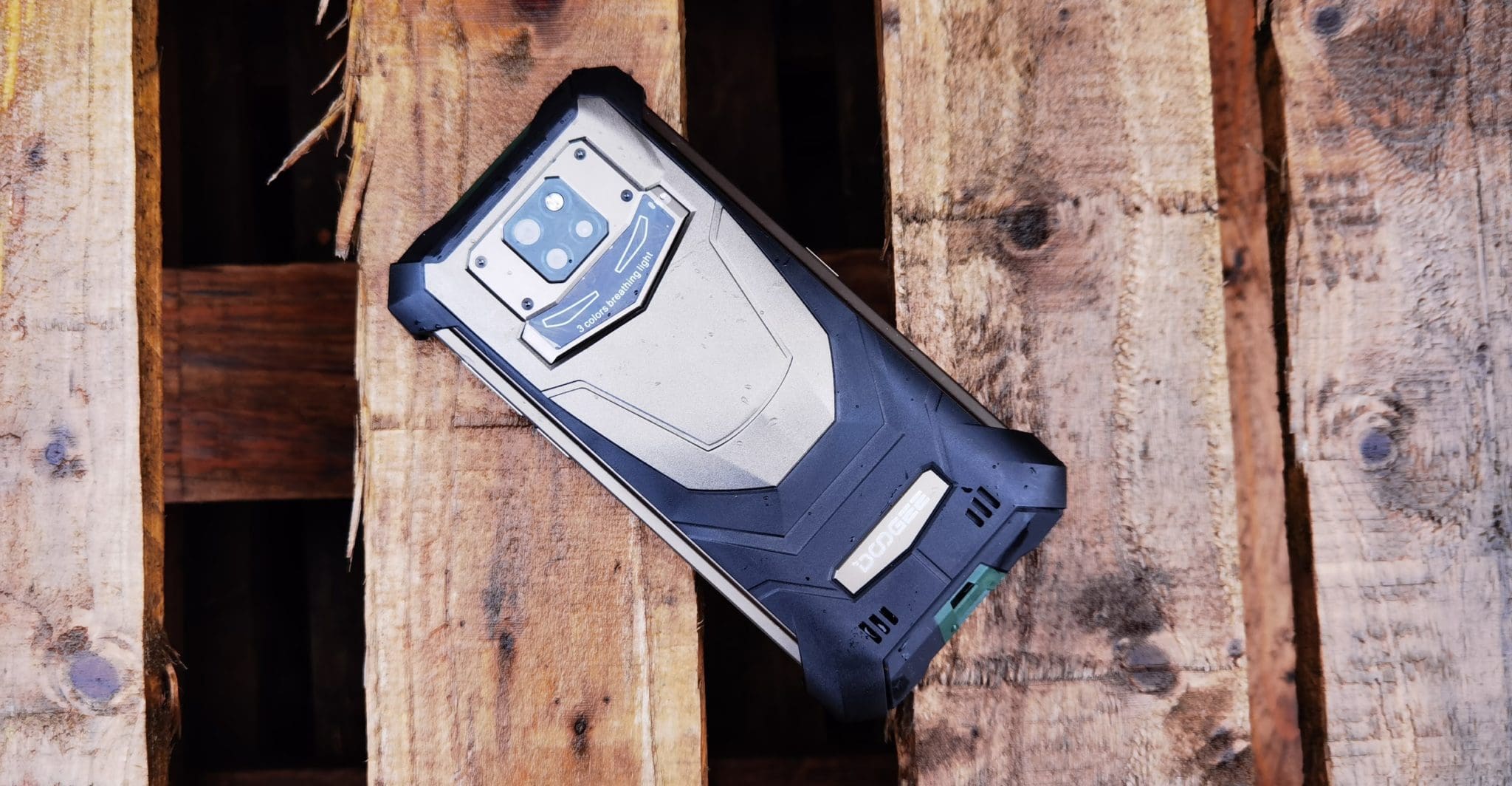 Doogee have made the weird decision to market this as "The Power Soldier" with glowing mechanical eyes on the back in an attempt to pass itself off as something to do with Iron Man.
Camera
The primary camera in this is a 21MP Sony IMX230 sensor, that may seem like an odd number,with most phones using 48MP sensor now. Well, for some reason, Doogee opted to use a sensor that was launched back in 2014 and was seen on phones like the Xperia Z3+.
Photo quality is passable, it can take shots that look OK on the phone, and if you are using it in a work environment, the quality of the images have enough detail for you to capture everything you need. However, the overall quality is sub-standard compared to most non-rugged phones and the ultra-wide lens has some awful barrel distortion.
Photo Gallery
Performance and Benchmarks
Real-world usage is not that bad actually, the only frustrating performance issue I found was using the primary camera. Each shot had a significant processing delay. I am not sure if this is a chipset or camera sensor issue, but there was maybe 0.5s between pressing the button and the phone saving it. This didn't occur on the lower resolution ultra wide-angle lens.
For other day to day activities, it works fine, sending emails, replying to messages and browsing the web or social media all work perfectly well without performance hiccups.
For synthetic benchmarks, they were not the best, but not awful either. In particular, in 3D Mark, the score slightly bettered the Mediatek Helio G80 on the Realme 6i, but it fell short in comparison to the Geekbench and PC mark scores.
I'd say the overall performance is about what you would expect from a £250 rugged phone.
Battery
Due to the sheer size and weight of this, I haven't used it as my main phone as much as I would have liked, so an accurate opinion of real-world usage is a little hard.
Using the synthetic PC Mark battery test, the results were quite disappointing with a result of just 15 hours. This is a long way off 19-hours worth of gaming advertised by Doogee.
However, it is 50% higher than the S95 achieved, and one of the higher scores I have seen this year, it is just that most other phones have a sub 5000mAh battery. One possible reason for the poor performance is the Mediatek chipset may be setting the frequencies higher than it should, knowing a benchmark is running.
Software
One impressive thing about this phone is that it uses Android 10. This shouldn't be an impressive feature, but many phones within this specific niche run very out of date versions of Android (including the S95 I reviewed).
The is still frustratingly no app draw so I would be inclined to switch to a third-party launcher.
Thankfully there is nothing installed in addition that I would class as bloatware. There is the Toolbag app which is one app that contains multiple tool orientated apps.
Pricing & Alternative Options
Pricing is confusing on Amazon, Doogee has at least two different listings. One is for £250, which is an OK price but not amazing, the other is £225 with a £15 off voucher making it £210. This would make it priced better than compting options
The OUKITEL WP6 with the Helio P70 and 6GB RAM as well as a 10000mAh battery is a little more expensive at £230. It has a better camera but slower charging or any wireless charging.
The Ulefone Armor 7E is also more expensive at £259, it has a smaller battery but also a lot lighter. It has a better P90 chipset and camera specification but less RAM.
The Blackview BV9700Pro is £230 with a similar specification but just a 4380mAh battery (though lighter).
Conclusion
The Doogee S88 Pro is OK, its main selling point is the massive battery, but during my tests, the performance doesn't quite match the claims during benchmarking. The battery is still good, with a 50% longer on the PC Mark test than the S95, but I am just not sure if the weight is worth it.
The MediaTek Helio P70 offers serviceable performance, as is the camera. For general day to day activities, the performance should be OK, but for anything more demanding, it may struggle.
Overall, this is a very niche phone, if you have a specific need for multi-day battery life and a rugged phone, this ticks those boxes. The weight of this would make it hard for me to use it as a daily driver, but others may feel otherwise.
If I did anything more physical or exciting than sitting in front of my PC all day, then I could see the appeal of having this as a second phone dedicated for when you are working outside, or perhaps for adventure enthusiasts off hiking, climbing, skiing and the like.
The phone is also priced right in relation to its competitors, so if a 1000mAh battery does appeal to you then this is the option I would go for.