In the past few weeks, I have been inundated with new affordable true wireless earbuds to review.
The ErarFun Air is the first pair up for review, I have already previously reviewed the EarFun True Wireless Earbuds finding them to be a decent option for the price your pay
The new EarFun Air are priced a little higher at around £55, they were temporarily on Amazon but currently unavailable.
They come in a new design adopting the AirPod-esque design with a stem but using silicon ear tips for improved sound isolation.
Key Features

Enhanced 4-microphone for crystal clear noise-canceling call
Superior Sound with Dual Graphene Drivers
IPX7 Waterproof with Sweatshield Technology
In-ear capacitive detection technology(the music pause automatically when you remove the earbud from the ear)
Intuitive touch control (conduct all the control by touching)
Single Earbud Mode-Right or Left
All-in-one Volume Control
Fast charging, 10 Min Charging for 2 Hours Play Time
30-Hour Battery Life: 6- hour playtime + 24 hours with Charging Case
Wireless charging and USB-C charging
Secure & Ergonomic Fit
Activate Voice Assistant

Earfun Free vs AirPods vs Jabra Elite 75t vs Samsung Galaxy Buds
| | Eafun Air | AirPds 2 | Jabra Elite 75t | Samsung Galaxy Buds |
| --- | --- | --- | --- | --- |
| Bluetooth | Bluetooth 5.0 | Bluetooth 5.0 | Bluetooth 5.0 | Bluetooth 5.0 |
| Single Use | Both | Right only | Right only | Both |
| Waterproof rate | IPX7 | IPX5 | IPX55 | IPX2 |
| Battery Life | 7 hours + 28 hours | 5 hours + 18 | 7.5 hours + 20.5 | 5 hours + 15 |
| In-ear capacitive detection | Yes | Yes | Yes | Yes |
| Calls | 4-microphone for noise cancellation | 4-microphone for noise cancellation | 4-microphone for noise cancellation | 2 microphone |
| Charging | Wireless charging | Wireless charging | N/A (new model does) | Wireless charging |
| Control | Touch | Touch | Touch | Touch |
| Price | £55 | £130 | £170 | £90 |
Earfun have specifically made comparisons to these in their marketing material, so I thought I would include them here.
The comparisons do make them look good, but none of this relates to the audio quality. These also lack an app or the advanced features you get when using the Airpods with an iPhone.
Fit and Audio Quality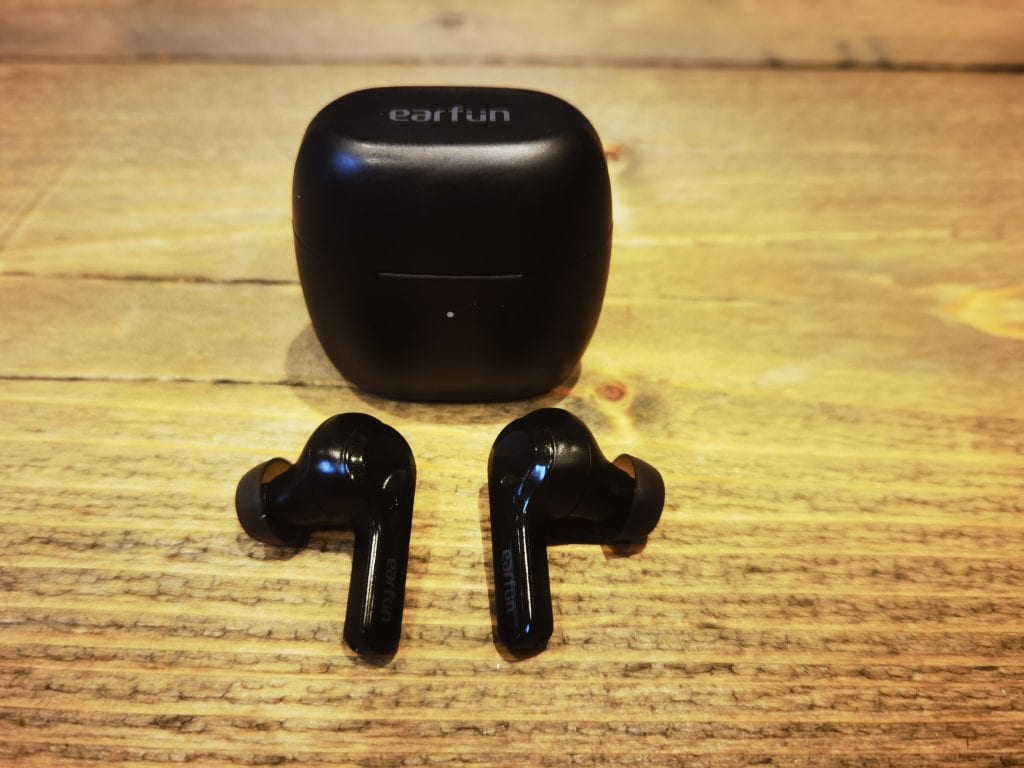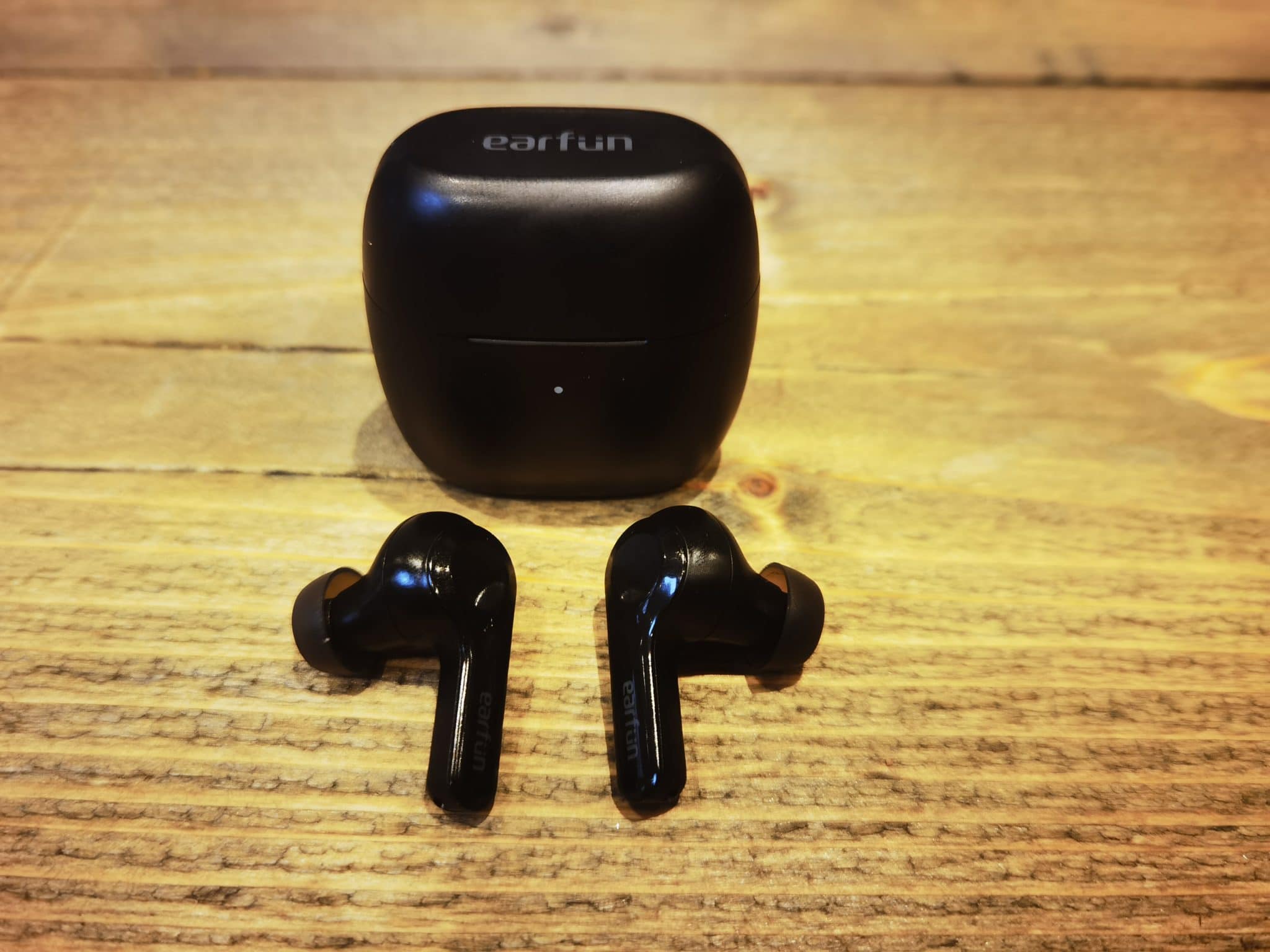 I tend to always need larger eartips and the same applies here, with the largest tips that are included the fit is just OK, I can move around without too much risk of them falling out, but I wouldn't want to go for a run with them.
I managed to improve things considerably by swapping out the eartips for the ones I use on the Jabra Elite 75t, however in this scenario I can't put them back in the case without removing the eartips.
With a good fit, the sound quality is good, they lean towards the bassy side of things, but don't quite compete with the lows of the Jabra Elite 75t. I have noticed some other people comment that these lack bass, but with a good seal, these have more than enough bass for me. Playing Ju$T by Run the Jewels I have to turn down the volume a little as extremely low bass notes are too much at high volumes.
Similar to most cheap earphones I find that some highs can feel a little harsh, especially in the presence of accompanying bass, the balance isn't quite right.
Apart from that minor issue, the other frequencies sound good and are well represented, they transition from hip hop to metal and less extreme genres perfectly well.
Due to the overall good sound quality, reasonable price and IPX7 rating I have found that I have started to use these more frequently compared to the other earphones I have (including the Jabra).
I am not overly fond of touch-sensitive controls on any earphone, so the same applies here. However, I find the controls less annoying than many other earphones I have to hand. In particular, adjusting the volume makes sense by pressing down on the relevant ear depending if you want to increase or decree volume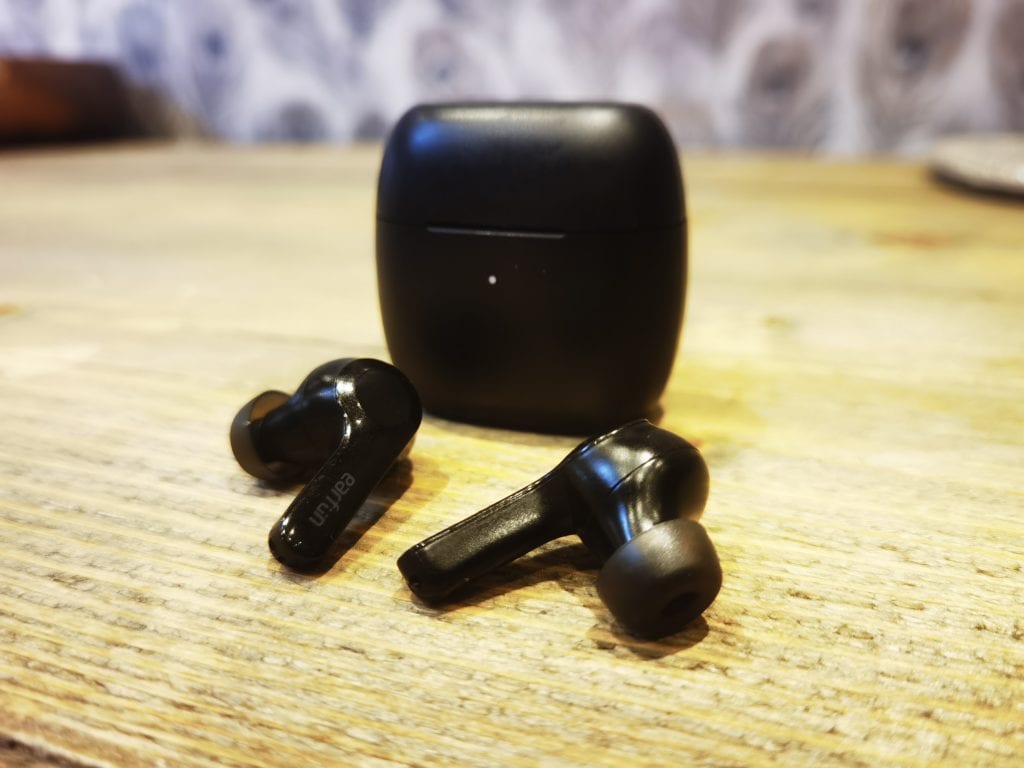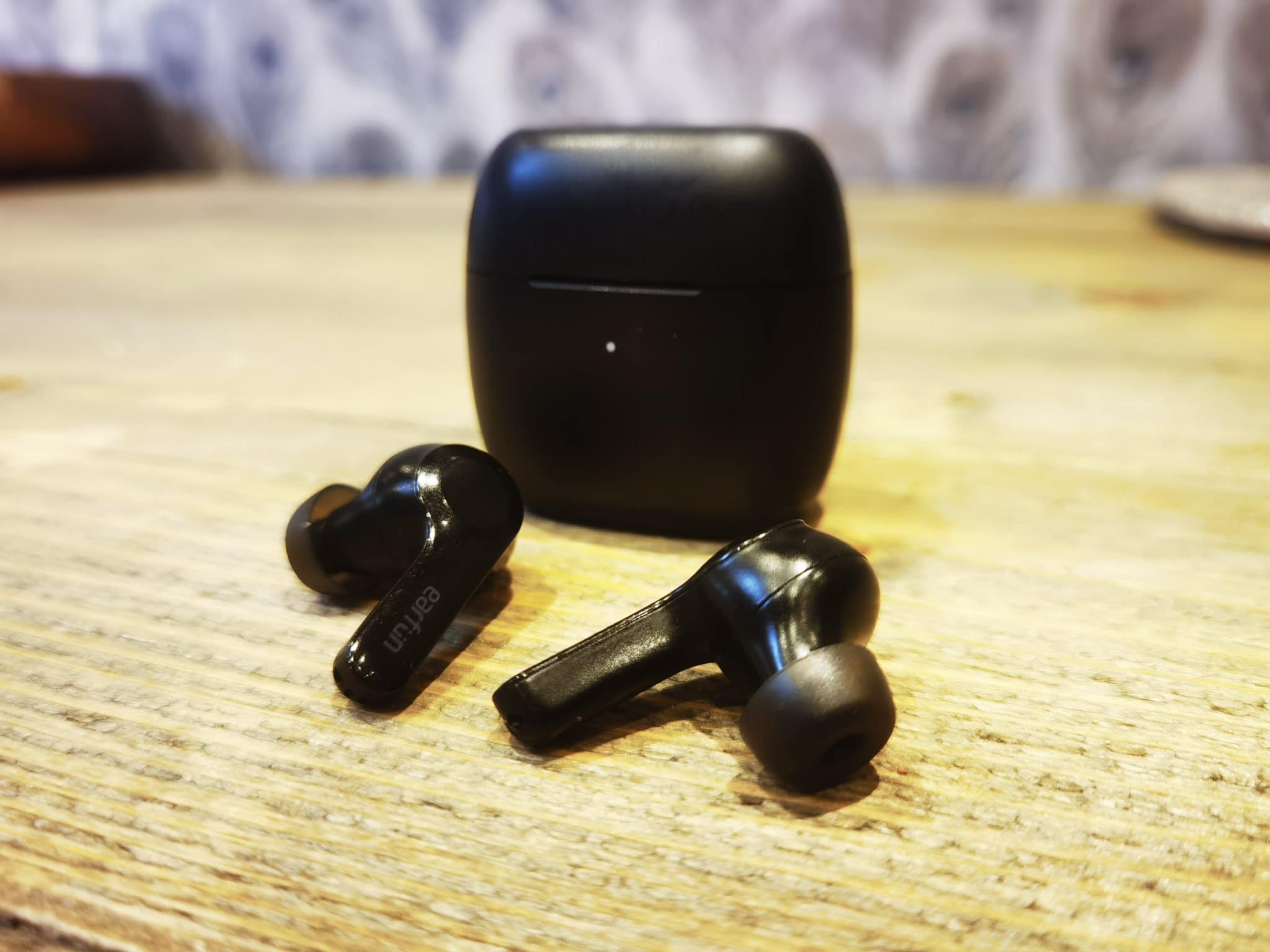 Price and Competition
At this price, there are hundreds of options, mostly from random brands. The Anker sub-brand Soundcore are likely your best bet with options such as:
Overall
Assuming these will become available again at £59.99 they are a good pair of earphones, superior to the previous pair of EarFun earphones I reviewed,
The long battery life and IPX7 rating make these an appealing choice for fitness, and once I got a good fit they stayed in my ears during vigorous exercise.
Sound quality is good, with an excellent level of bass, but not as good as some of the earphones they have tried to compare themselves to.