Elka is a relatively new name to the electronic scooter industry. Still, they are unique in the fact they are one of the first companies to use a removable battery, offering you the potential for unlimited range.
The Model T Pro is their latest bike, launching in just five days. It has an RRP of £595, but if you buy early, you can get £150 off and have it for £445, which makes it cheaper than the Xiaomi Mi M365 and its Pro variant.
Electric Scooter Legality
I will preface this review stating that electric scooters are not legal to ride on the road or pavement. The Government are reviewing this, and currently, it seems most police are turning a blind eye to it as long as you are responsible.
So, wear a helmet, don't go at max speed on busy pavements, or jump traffic lights and obey the highway code.
Specification – Top speed and range
Max Speed – 25kmph (15.5mph)
Range – 25 – 30km with standard batty, 35 – 45km with Plus sized battery
Removable battery technology
Push and go acceleration
Automatic cruise control
700w (legally capped at 350w) brushless hub motor
Shock-absorbing, puncture-resistant tires
Aircraft-grade aluminium frame
Ultra bright LED front and rear lights
Regenerative braking system
Front and rear disc brakes
IP54 rating
Set-up
This is my first electric scooter review, and I have to admit, I was pleasantly surprised at how easy this was to set up. The scooter is almost fully assembled, just you raise up the steerling column, lock it in place, attached the batter then screw on the handles. I was done in under 5 mins.
When finished with a ride, you can unlock the steering column, folding it down, where it will lock in place for easy carrying and storing.
The battery can be charged while it is attached or you can remove it and charge it, saving you dragging the scooter to the nearest plug socket.
Build Quality and Design
I was equally impressed with the build quality, albeit mine did arrive with a broken throttle which I will cover next. I have only used Lime scooters before, and I was expecting an affordable consumer solution to be lightweight and low quality.
Everything seems to be solidly built; there is no rattling or any loose bits that I can find.
The Model-T Pro uses vacuum-sealed tubeless tires, this means there is no inner and they are more durable and puncture-resistant than other air-filled tires.
There is a single hydraulic disc brake on the rear wheel, this offers superior braking power than a foot brake, lower maintenance and generally a more natural movement than trying to apply a foot brake.
Broken Throttle
My sample unit arrived with some damage to the plastic throttle, the plastic part that turns around was snapped through which then made the throttle loose. This made my first ride a little scary.
You get a 12-month warranty, and there is a repairs app which will connect you with mechanics that can help you on-demand with any repairs related enquiries. The combination of the recent lockdown and me being based in Blackpool meant getting it fixed has been a little slow, but I expect this will improve when the product is launched. The head office is based in London, so I would expect people located there can get it fixed extremely quickly.
In use and speed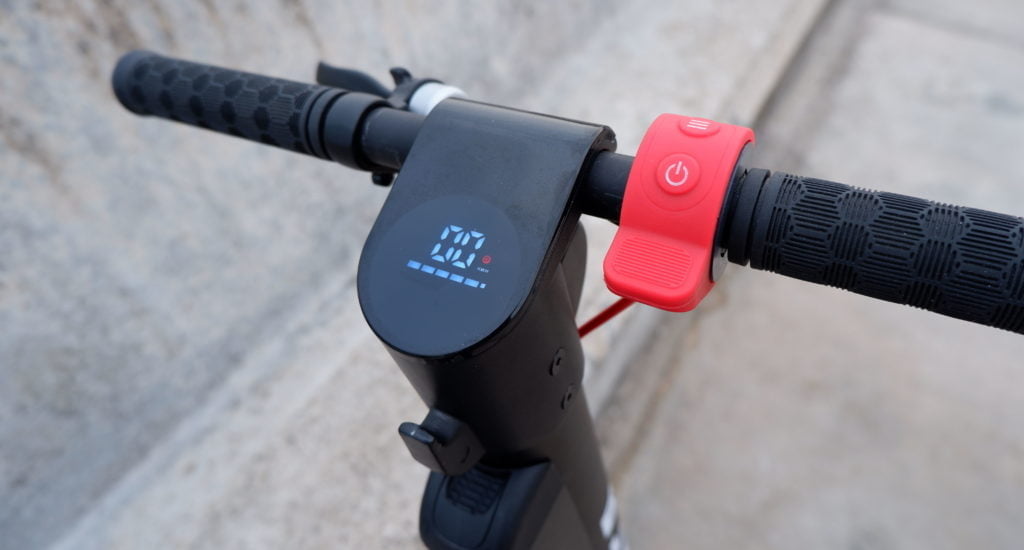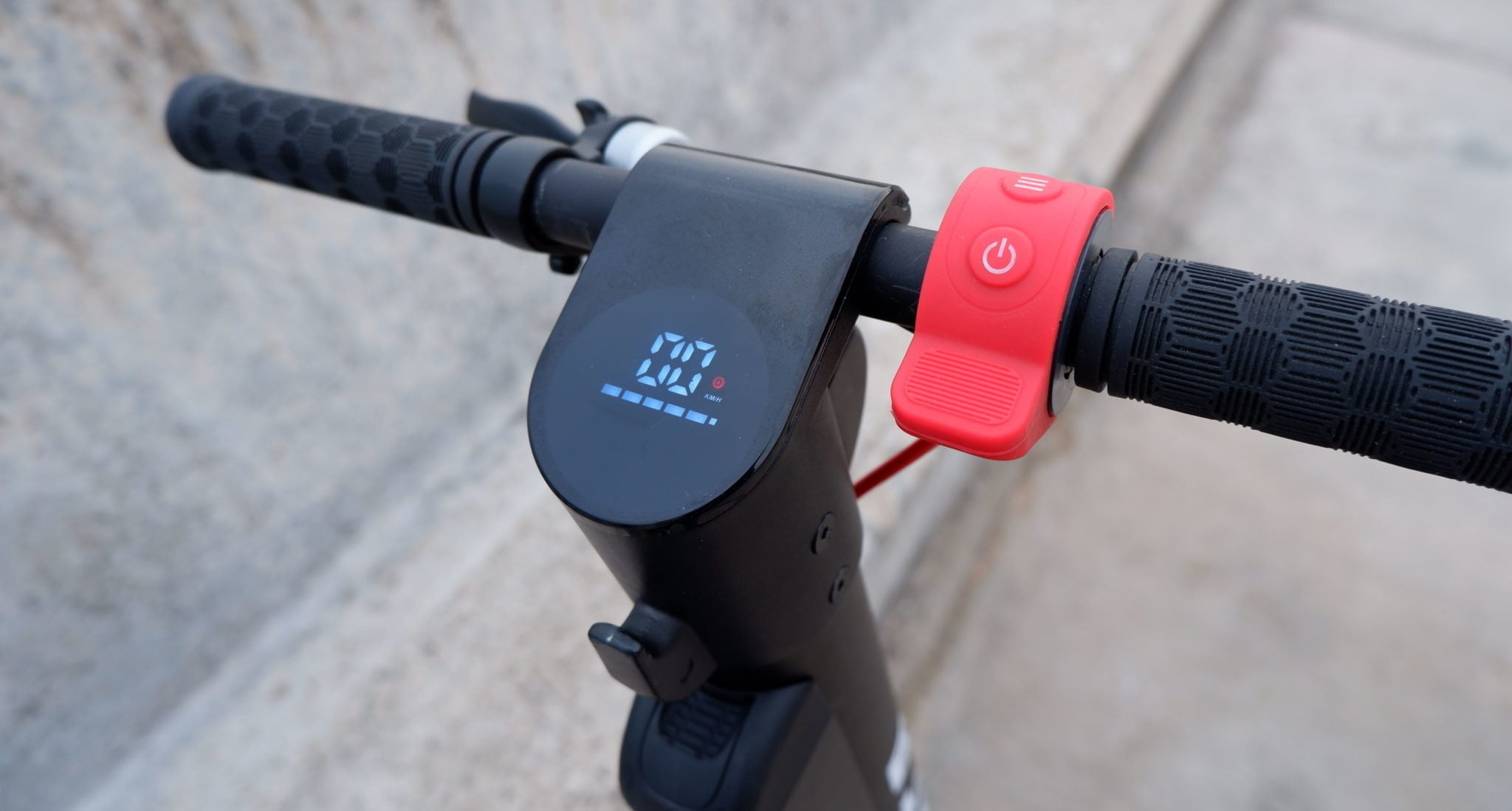 The scooter has three-speed modes, eco which goes up to 10km/h, drive which goes up to 16km/h and sport which goes up to the legal guidelines of 25km/h. This works out at 15.5mph, which, as a cyclist, is not extremely fast. However, the max speed of this feels a lot faster than me cycling 16mph on my road bike; the acceleration can be surprising with me having to get used to positioning my weight without feeling I am being pulled off it.
During my testing, I tracked my rides with my Garmin Fenix 6 Pro and this indicated a max speed of 14.7 mph, this could by GPS inaccuracies, or maybe I am too heavy to achieve 15.5mph. It was still more than fast enough for my liking.

If you hold the current speed for 6 seconds, it will enter cruise control, maintaining that speed without the need of the throttle.
Uphill performance is good too, there is a steep on/off slope which goes down to a promenade, and the scooter easily handled this without feeling like it was struggling.
Shortly after this, there is a large but lower graduate hill, I lost a little speed, but the scooter maintained 24kmph for the full distance of it.
Braking is excellent thanks to the hydraulic disk brake system compared to foot brakes you find on some competing brands. This braking system also uses regenerative eABS technology which then feeds energy back into the battery, I am unsure how much this helps with range though.
It is worth noting that the scooter is IP54 rated this means it is protected against dust and limited ingress, then protected against water splashed from all directions. So this should be safe to ride in the rain, but it is not something I would want to expose to too much water. I wouldn't recommend leaving it out in the rain.
Battery life – Range performance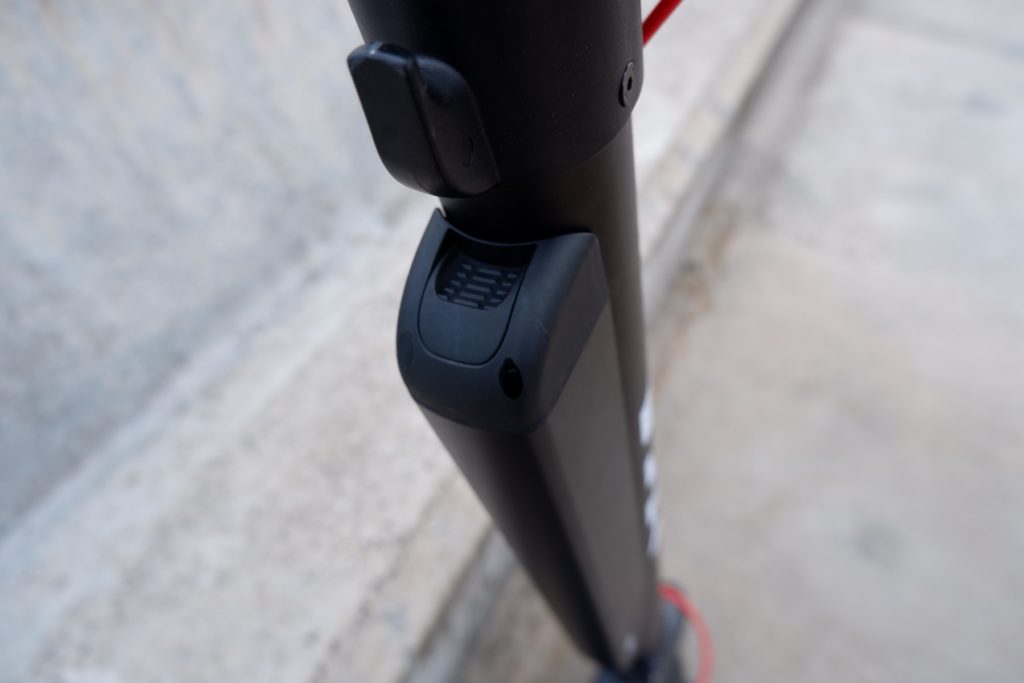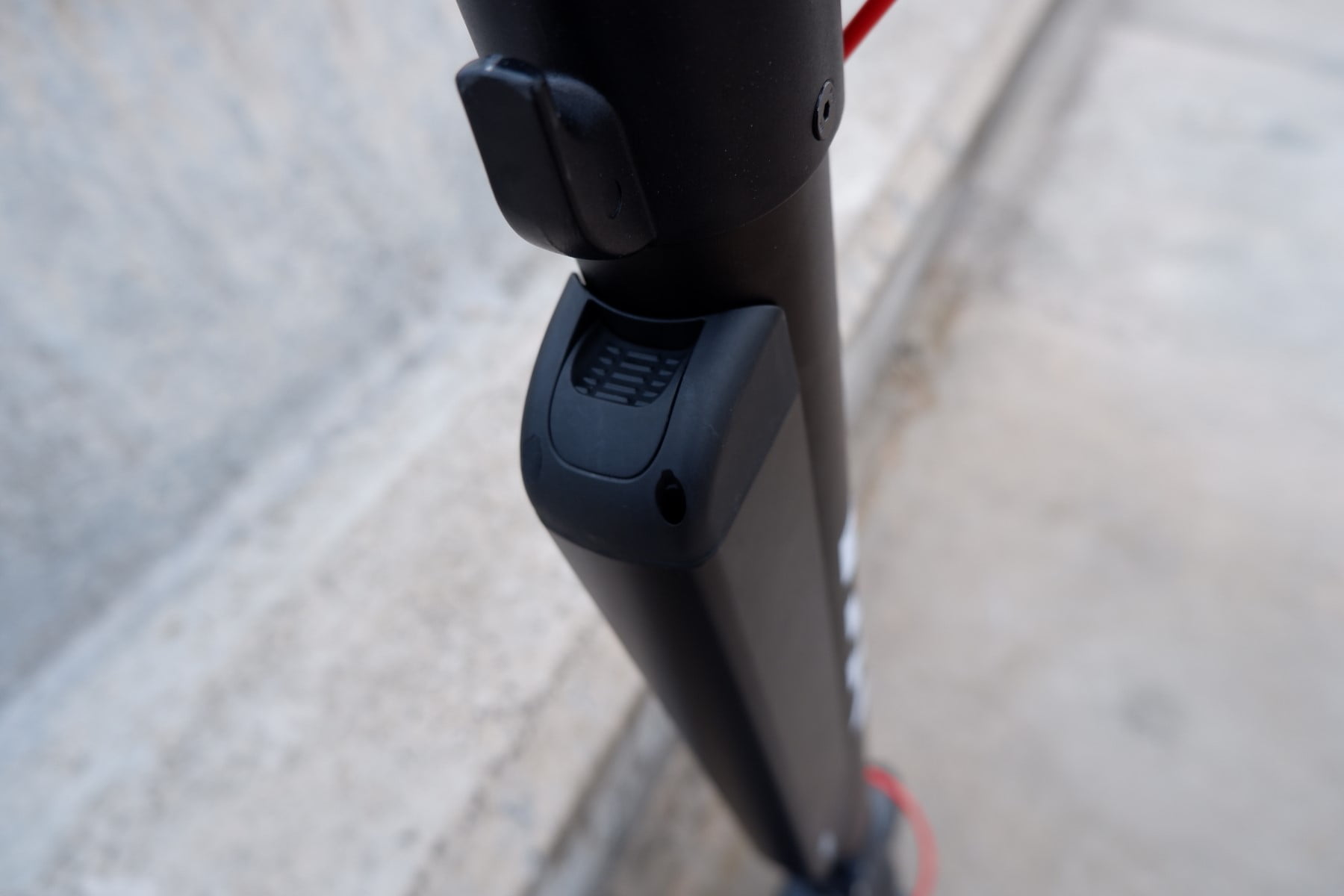 Unlike my road bike, this can happily hold that speed for a prolonged period of time, Elka claims a 75Kg rider travelling at max speed (25km/hour) on flat terrain with the 10.8aH standard battery can achieve 25 – 30 kilometres on a single charge.
It takes 4.5 hours to charge the standard 10.4aH battery from 0 – 100%.
So, in theory, you could easily do a 20km commute to work every day, charge during the day and get home with no range issues at all.
I am 82kg, and when I used it, I would say these figures are probably close. I have made a couple of 10km+ journeys, and the battery doesn't go below 50%, though I am not going flat out for the full journey.
With this using a removable battery, you could upgrade the battery with a 12.8aH which extends the range to 35-45km on a single charge. This battery will set you back £229.00 though. You can also buy this with the 12.8aH instead of the 10.4aH and will cost you £100 more at £545.00.
Alternatively, you can buy a second 10.4aH batter for £179.00, you could either carry this with you, or if you commute to the same place each day, just switch it over when you get there.
Price and Competition
You can order the Elka Model-T Pro for a limited time at £445, but there is an RRP of £595. The longer-ranged model is then £545.00.
This would make it cheaper than the Xiaomi Mi M365 with the discount price, but £130 more at RRP.
It would then be around the same price as the Xiaomi M365 Pro
There are a lot of other options on the market, but few of these are comparable in spec. For example, the City Bug 2 available from Halfords has a low 10.5mpg max speed, 11miles(17km) range, uses a footbrake but costs more than the RRP of either Elka or Xiaomi.
Elka Model T Pro vs Xiaomi Mi M365
Maximum Speed : 15.5mph
Maximum Range :18.6 Miles / 30km
Approx. Charge Time : 5 Hours
The Xiaomi Mi M365 is £469 on Halfords, and you can get it for a little lower on some other sites, this makes it £20 more than the current Model-T Pro price. They are very similar in spec, but the Xiaomi uses air-filled tires and lacks the removable battery, but they do have a 2-year warranty.
Elka Model T Pro vs Xiaomi Mi M365 Pro
Maximum Speed : 15.5mph
Maximum Range : 28 Miles / 45km
Approx. Charge Time : 9 Hours
This matches the range of the upgraded 12.8aH Elka Model-T Pro. Amazon sells it for £533.94, but it is out of stock and Halfords sell it for £599. So similar prices. Again the Elka Model T Pro has a slight advantage with the overall spec having tubeless tires and a removable battery, but Xiaomi has a superior warranty.
Overall
Apart from my throttle issues, the Elka Model T Pro seems to be an excellent electric scooter. Range and speed are excellent, and the option to swap out batteries gives you range options above and beyond anything else on the market.
It is easy to assemble initially, and more importantly, easier to pack away by dropping the steering column, making it practical to take on public transport.
Living in Blackpool and working from home, I never really got electric scooters at first, but since using them in Berlin at IFA, I am a convert. Technically you should only ever ride an electric scooter on private property, it is likely that this law will change soon.
For major city centres, they have the potential to completely change your daily commute, even in Blackpool, during the week it can be hard to travel north to south during the week due to heavy congestion. With this, I could easily get from my house to the business centres in south shore by going down the spacious promenade in about 20 mins, whereas can take up to an hour for my partner to do this during rush out, and typically around 40 mins.
In a post-pandemic world, it is likely we will see more pressure on the Government to allow alternative transport, we have already seen a boom in bike usage. Electric scooters are a perfect alternative for anyone wanting to avoid getting sweaty on their commute to work.
Overall, this looks like one of the few scooters on the market that offers realistic competition to the Xiaomi Mi M365, and it has the added advantage of the removable battery and tubeless tires. I would recommend inspecting the condition of the scooter upon delivery though, my issue was probably just bad luck, but it will be easier to get any problems fixed before you set it up and ride it.