I have reviewed a few EnGenius products now and have been impressed with what they have to offer. Recently they have been shifting to a new licence-free cloud-managed approach, compared to the ezMaster/SkyKey that was used with some of my previous reviews.
EnGenius Cloud has some significant advantages over competing brands. This is completely licence free with no features fenced off, unlike Zyxel, and unlike Ubiquiti UniFi there is no need to purchase or set up a cloud controller.
The EnGenius ECW230 is their latest and top of the range access point providing Wi-Fi 6 with 4×4 MIMO and 2.5GbE. With a price of around £400 in the UK and $600 in the US it is not cheap, but it is less expensive than comparatively specced access points from the other cloud networking providers.
Engenius Cloud Features vs ezMaster
Engenius have two hand tables comparing the cloud system to their own ezMaster, then another table comparing their system to two unnamed competitors.
Specification & Features
Dual concurrent 802.11ax architecture & backward-compatible with 11ac/a/b/g/n client devices; 4×4 antenna
Supports up to 2,400 Mbps in 5-GHz frequency band & 1,148 Mbps in 2.4-GHz frequency band
2.5 GbE for greater throughput and supports 802.3at & 48V PoE input for flexible installation over 100 meters (328 feet)
Uplink and downlink of OFDMA improves transmission to APs and client devices.
Target wake time for power-saving of client & IoT devices
Quick-Scan Device Register & Configuration and Remote Monitoring & Troubleshooting
Cloud Manage an unlimited number of AP's from Anywhere with the EnGenius Cloud App
Mesh Wireless Support Simplifies Setup, Optimises Signals & Self-Heals
Real-time system metrics, deep-dive analytics and remote configurations
No Access Point Licensing or Subscription Fees
Advanced wireless security WPA 3 Personal (SAE), WPA3/WPA2 Personal mixed and WP3/WP2 Enterprise with Suite B Support.
Multi-gig (2400Mbps) speed not possible due no 160Hz
When I glanced over the spec sheet, I got excited at the thought of an access point with a multi-gig port with claimed 2400Mbps speeds.
However, I was mistaken, while the 2400Mbps is technically accurate, it requires a client with a 4×4 radio, these do not exist.
To achieve 2400Mbps, you would need to use a 160Hz channel width, but this does not support it. So the maximum theoretical speed it 1200Mbps. Which, to be fair, is standard for most Wi-Fi 6 access points.
There is one exception though, Zyxel is rolling out 160Hz support for their equivalently specced access point
While this can't reach the same throughput as some consumer devices, the 4×4 radio and 2.5 GbE port will be useful for higher density environments. In a household of 2, this is not something I can test.
Set-Up


This comes without a power adaptor or a POE injector. If you are installing £400 access points, I would assume this is a business environment, and you are using POE switches, so it is not a major issue, but worth mentioning.
If you want to make the most of the 2.5 GbE, that POE switch will need to be multi-gig too. So if you want everything cloud-managed you will need either the £780 ECS2512FP POE switch with 8×2.5G ports and 240W power or the ECS5512FP which is the same, but with 420W POE budget, I can't find this for sale anywhere.
This is strictly cloud-only, you can't switch it to local management. You will need an account with cloud.engenius.ai to get everything set up, and the process is not dissimilar to Zyxel Nebula, which is very simple.
You can either scan the QR code via the EnWiFi app, or add the device manually to your system using its serial number. You can then assign it to your organisation.
I have previously reviewed the ECS1008P POE Switch & ECW120 Access Point so both of these are within my system and I can manage everything as a whole for Engenius Cloud.
Web Interface & Features
With me being a SOHO user with a network of 3-devices, there is not much for me to do to manage the system, with this offering more than I could ever need.
SSID Settings


With multiple access points on the system, you can set up your SSIDs, and this will automatically apply to all of them. Within the SSID settings you can do all the usual stuff including setting security, separating it off into its own VLAN, limiting bandwidth, having captive portals, splash pages, a schedule and access control.
Under the advanced settings, you can tweak the roaming settings be assigning the RSSI Threshold.
Radio Settings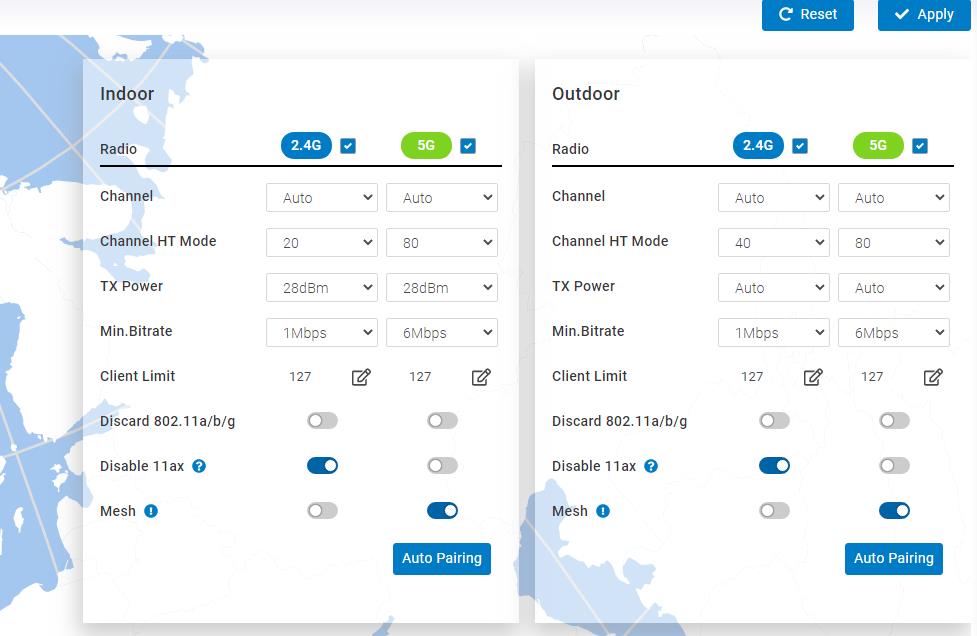 Then under the separate radio settings, you can assign the channels, channel width, TX power and if it should use mesh. As mentioned earlier, there is no 160-hz option
Access Point Settings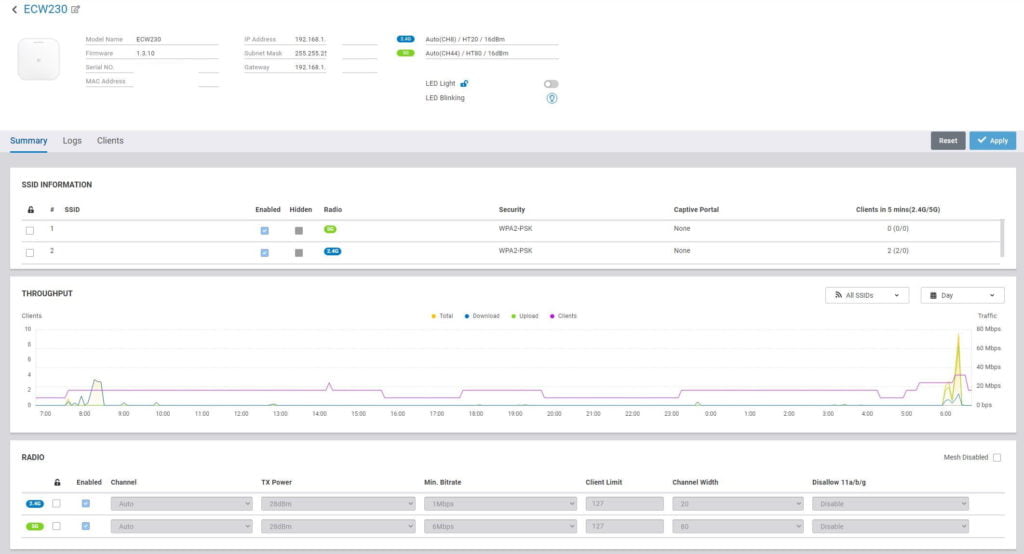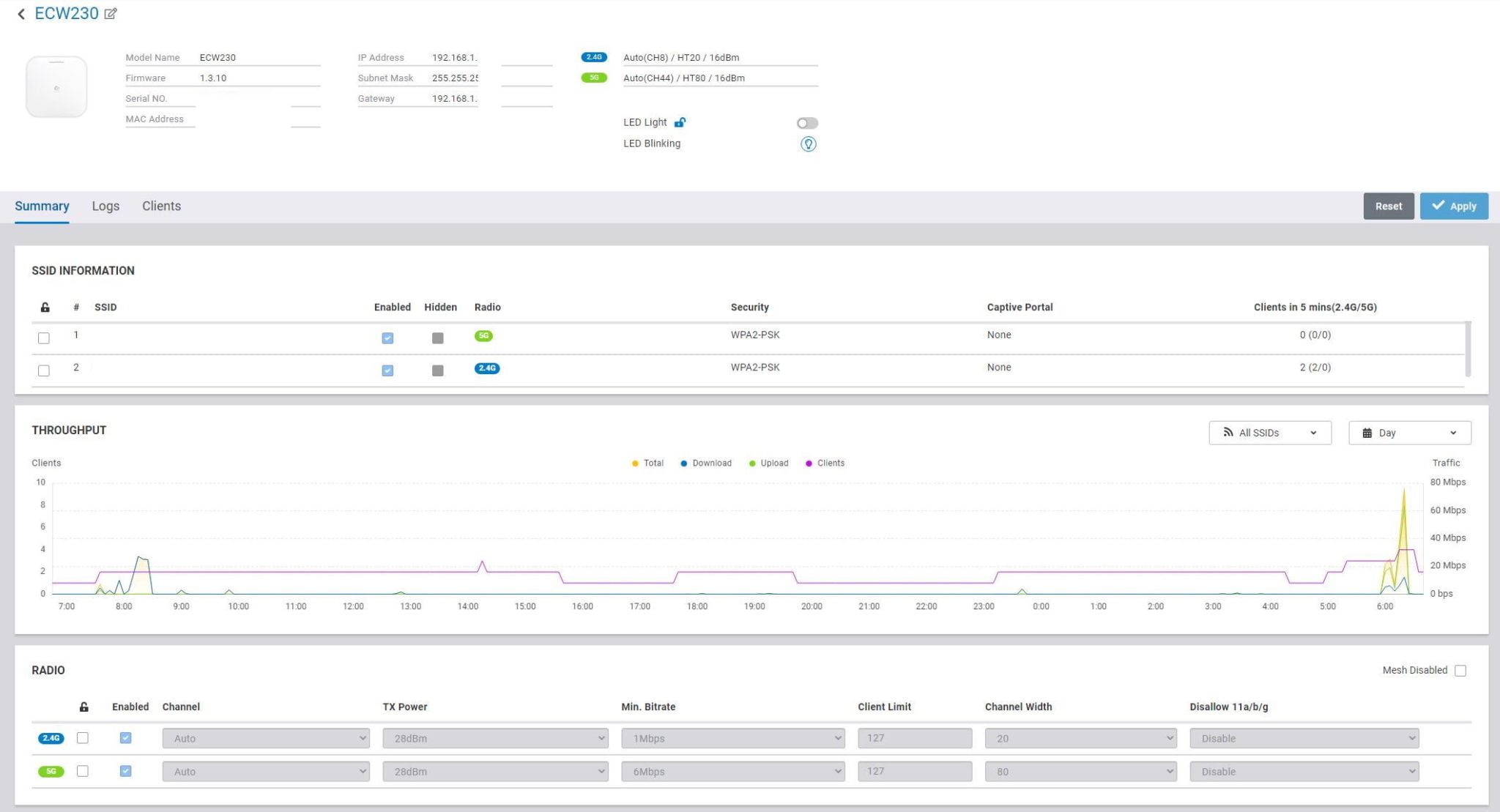 Then under the access point page, you have the granular controls of that specific access point, allowing you to override the organisation-wide settings. So, for example, I can disable specific SSIDs or hide them. You can then disable or modify the specific radios too.
You can also disable the LEDs on the access point, something very useful to me in a home environment. Or in a work environment, you can use the LED Blinking button to help identify the access point.
Finally, there is the various logging, analytics and client management so you can see throughput plotted against time, a log of events and any errors the system may encounter, then a list of the clients.
The client data is quite good showing you detailed information of each device, allowing you to name it, favourite it, view the IP, RSSI and band. You can optionally assign it a VIP status, which I assume is a form of QOS, or you can kick or block the device.
Network Overview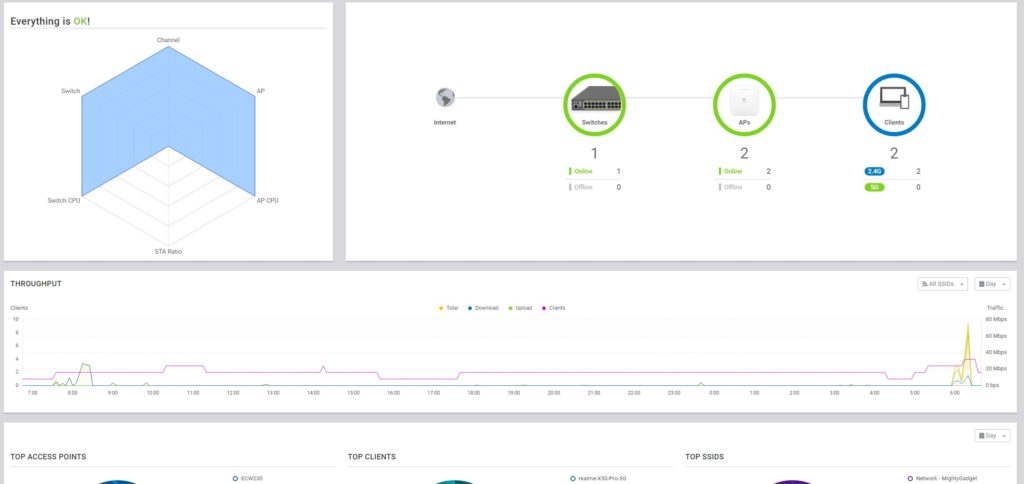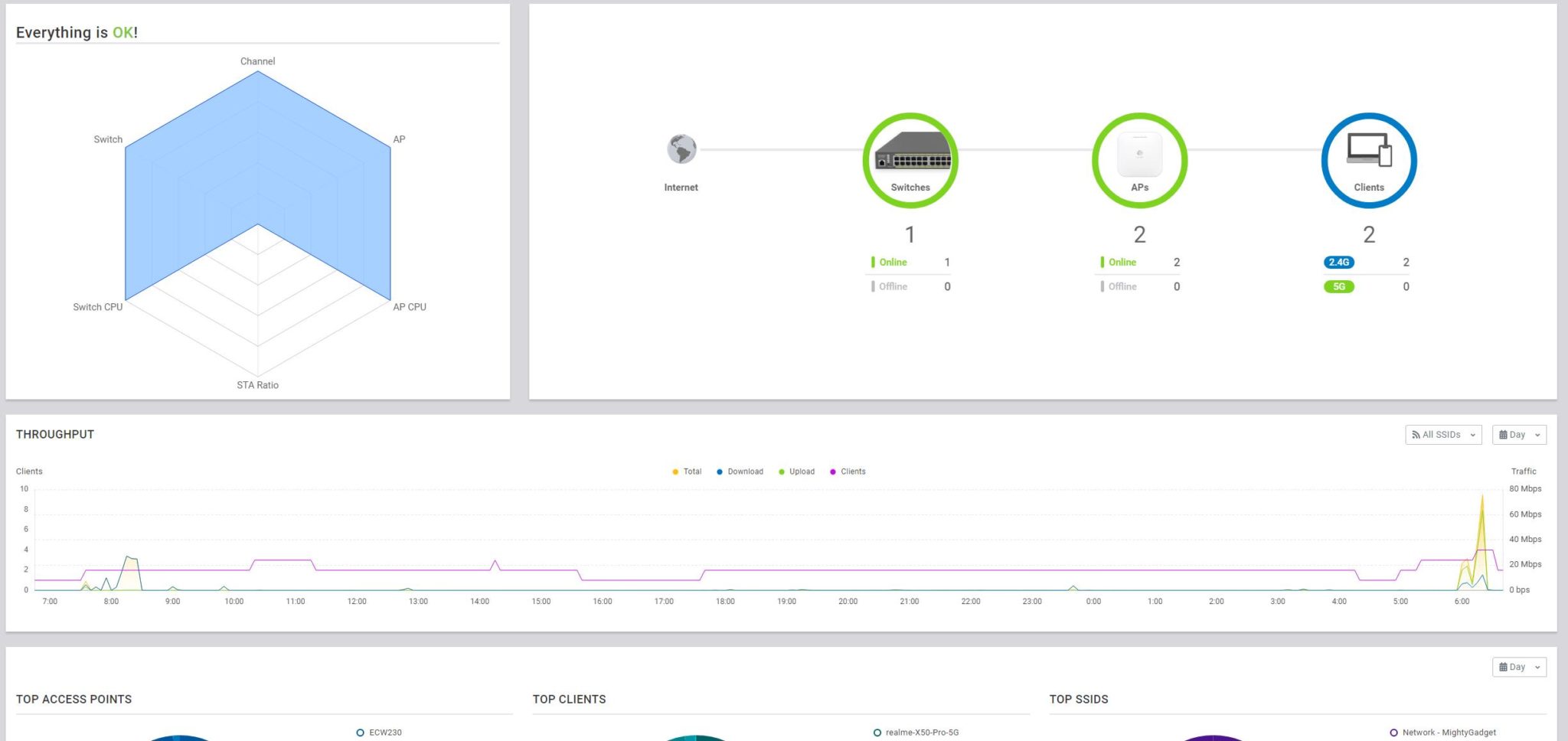 My tiny network and less than 5 users doesn't really require me to pay much attention to the network as a whole, but this is obviously one of the selling points of cloud networking.
From the home, you can view all the devices online and if there are any faults to address. You can view all the clients, data on the access points and applications with their bandwidth data.
Things like firmware updates can be handled automatically, or you can manually apply them yourself.
Performance
Taking into account that this is limited to 1200Mbps using a 2×2 client, performance is good. Comparable to the Zyxel Nebula WAX650S (on 80hz) and a little better than the Netgear Orbi WiFi6 AX6000. I would say the range of the single access point is superior to most others I have tried.
With the AP located centrally in my four-bedroom brick built semi, I was able to achieve:
Same room: 895 Mbit/s on the low end, 925 Mbit/s on the upper end
Office directly above:  529Mbit/s
Living room furthest away via 2 brick walls: 100Mbit/s
Bedroom furthest away (above living room) 69Mbit/s
So with one AP, I was able to cover my entire house, though I would benefit from a second AP for faster speeds throughout. Achieving a usable throughput in every room in my house is one of the best results I have had from any Wi-Fi device, so the range is excellent in my opinion.
The second AP I own is located in the garage which is converted to a home gym across the garden. So with that in place, I have seamless Wi-Fi across all my property.
Price and Alternative Options
Being priced at over £400 in the UK and $599 on Amazon.com this is not something home users/SOHO or many small businesses would likely opt for.
However, the EnGenius ECW220 with its 2×2 radio is more attractively priced at around £350
Compared to the Cisco 9115AXI and Zyxel WAX650S, this is quite a bit cheaper, plus no cloud management costs at all. However, it is worth noting, for people looking for affordable options the Zyxel NWA110AX 2×2 Wi-Fi 6 AP is cheaper than the 2×2 ECW220.
Ubiquiti don't currently have a Wi-Fi 6 AP widely available yet, but the UniFi 6 Lite and UniFi 6 In-Wall should be available at some point in the future.
Overall
I like the new EnGenius Cloud system as a whole, it offers licence free cloud network management with no cloud key or any features fenced off in a premium subscription. This makes it an appealing alternative to Ubiquiti and Zyxel Nebula.
The hardware spec of this is very similar to the Zyxel WAX650S while offering a much lower price point; the one caveat is that the Zyxel now has 160-MHz which will give it superior performance if you can get it working OK.
Overall, for any business wanting to roll out new Wi-Fi access points with the best performance possible in high-density environments while keeping the costs reasonable, this is a superb option.