I previously reviewed the flagship consumer-orientated Netgear Orbi WiFi 6 RBK852 back in May. It is one of the most advanced and fastest mesh WiFi systems on the market, with a price to match.
In September, Netgear announced the Pro model, which takes all the next-generation WiFi technology from the consumer device and gives it business-orientated features such as the Insight remote management solution, multiple SSIDs and VLAN support.
Netgear Orbi Pro WiFi 6 SXK80 Specification & Features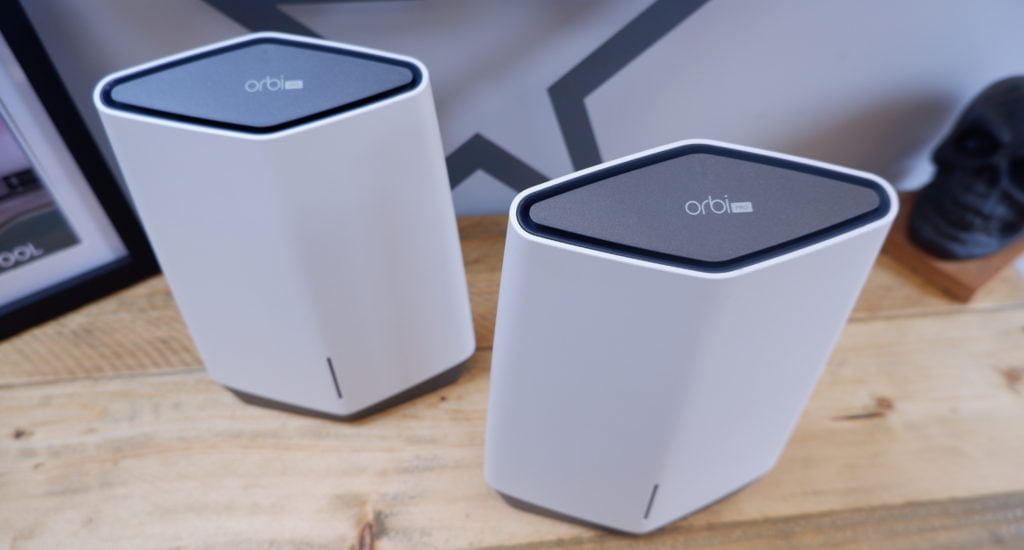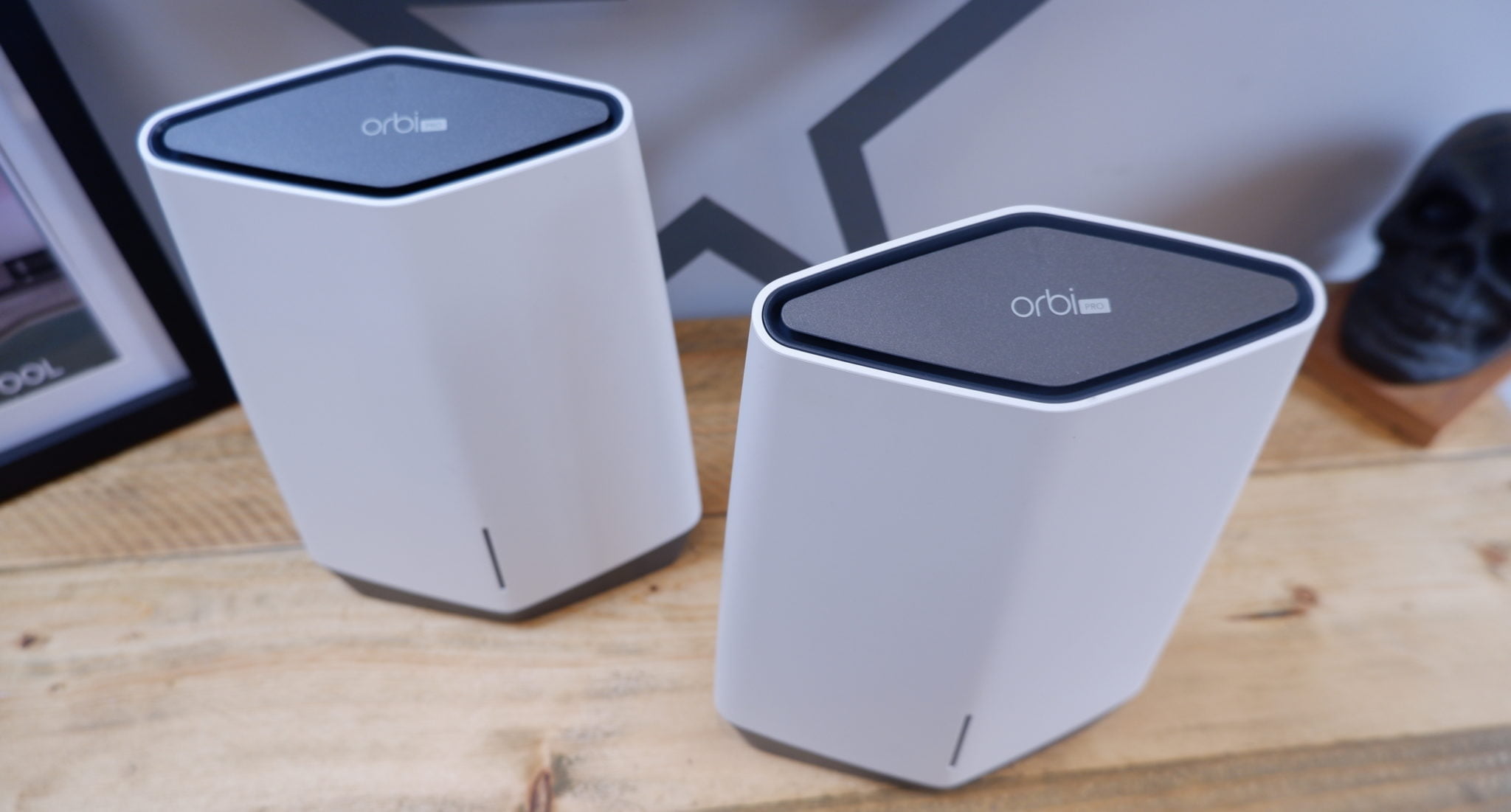 Tri-band 4×4 WiFi 6 AX6000

2400 Mbps (5 GHz) + 2400 Mbps (5 GHz)+ 1200 Mbps (2.4GHz)

4 SSIDs
Cloud managed via Netgear Insight or local web interface
WPA/WPA2/WPA3
OFDMA and bi-directional MU-MIMO WiFi 6 throughput
Ethernet for all devices: 1x 2.5Gbps LAN/WAN port, 4x Gigabit LAN ports
No PoE
Link aggregation possible on 2nd and 3rd LAN ports
Wall mounting brackets are included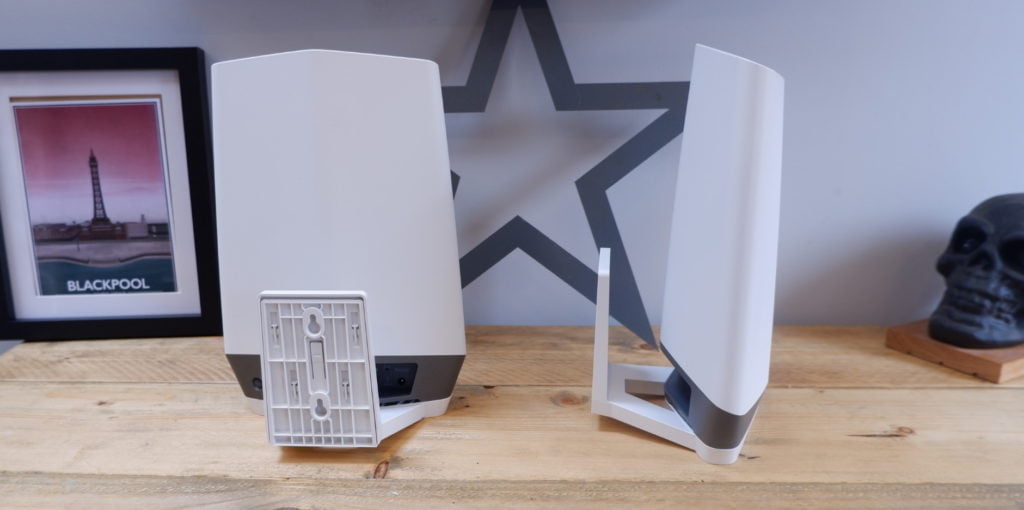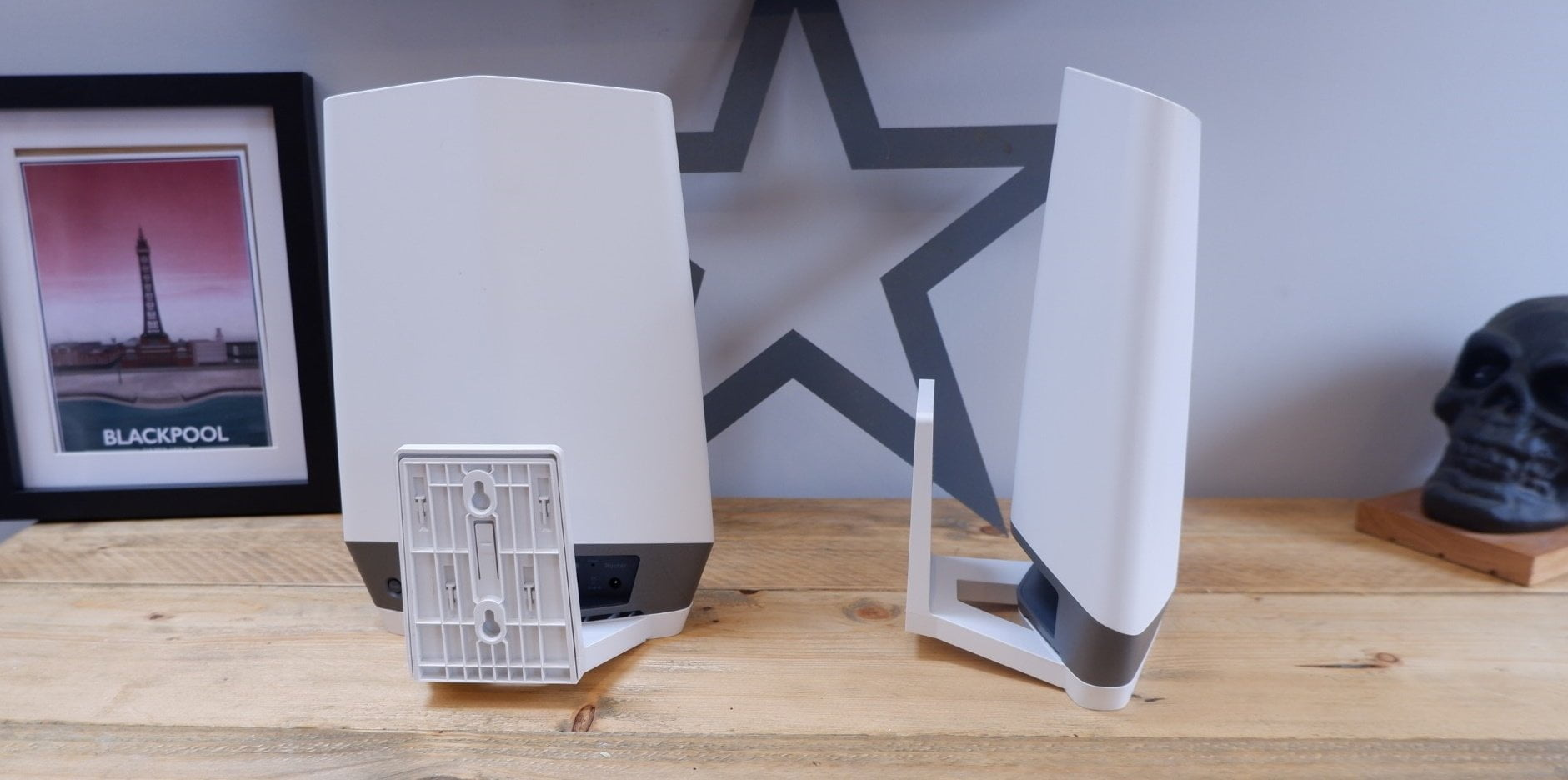 Netgear Insight Pricing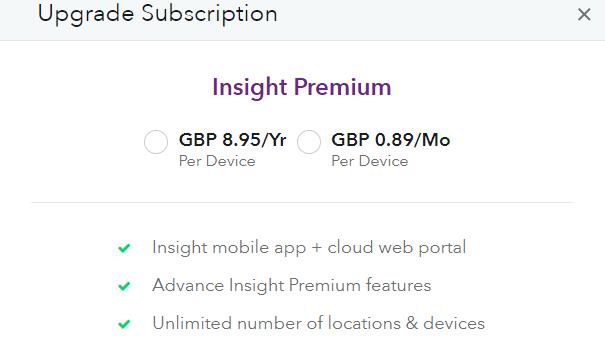 Since April 27, 2020, all devices sold that use Netgear Insight come with a 1-year free Premium licence.
Things have changed a bit since I first reviewed Netgear Insight two years ago. Back in 2018, I reported the pricing as £4.47 per year per device for basic, £8.95 for premium (desktop access and POE scheduling).
The basic plan was mobile app only. This seems to still exist, but Netgear don't make it easy to find. The support page which was updated in May 2020 suggests you can still get it and Insight Basic is still free for the first two devices.
So if you are running this 2-pack  system, you can technically use Netgear Insight for free once the year expires, just via mobile only.
Insight Premium is then still the same price at £8.95/Yr, and you can bring this down a touch by purchasing packs in multi-years.
A 5 device credit pack for 5 years is £216.84 or £419.67 for 10 devices. That works out at £8.67/ £8.39 per device per year.
For a small business, I don't think these prices are too bad, but it is less appealing for SOHO and prosumers when competing cloud-managed services are free to use or require you to buy a cheap cloud key.


SXK80 vs RBK852 – More 2.5GbE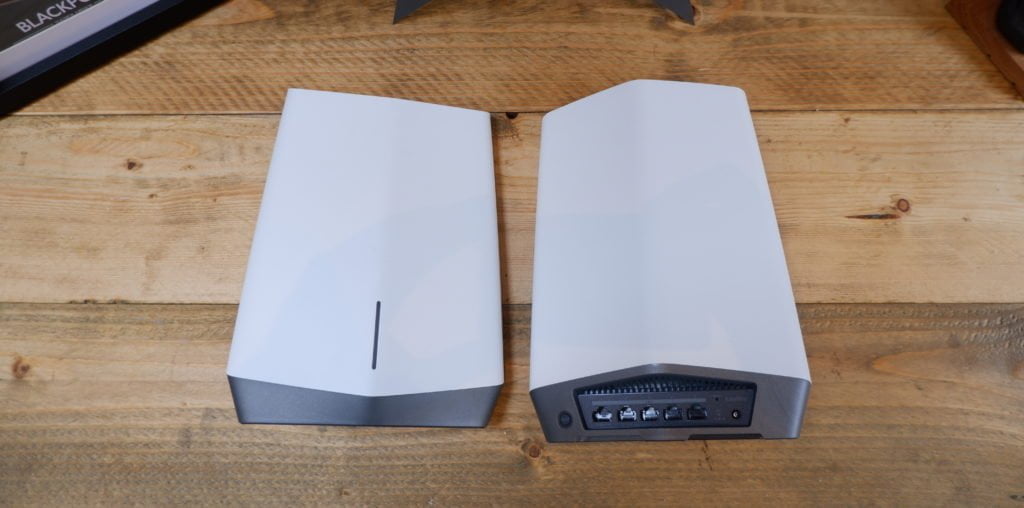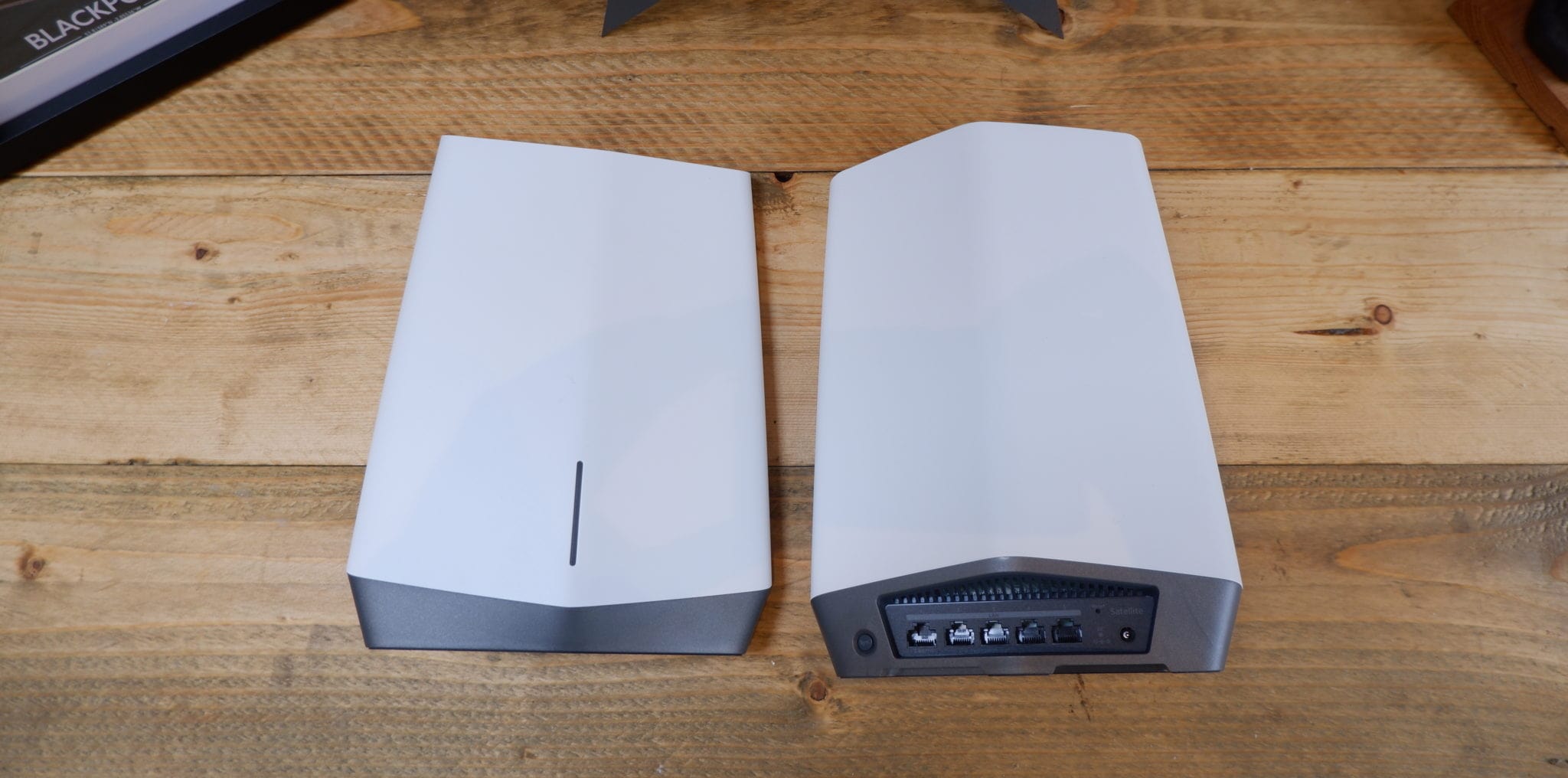 There is one significant hardware feature difference between the SXK80 Orbi Pro and the consumer RBK852 Orbi. This system has a single 2.5GbE port on all the devices.
On the router, the 2.5GbE port is also the WAN port, so if you want to make use of that for the LAN, you will need to use it in access point mode.
It is also worth noting that you can add up to 6 satellites to the system, I assume the same is true for the RBK52. While it is unlikely consumers would ever need 7 devices on one system, this should scale well for SMBs
Beyond that, it all comes down to the consumer RBK852 being managed by the somewhat limited Orbi app and web interface vs Netgear Insight & local web interface.
Insight offers more SSIDs, VLANs and complete control over all Insight networking gear via one interface.
If you have multiple locations, you can also create VPN groups between them, the 1-year free licence includes 1 years worth of VPN use too.
Still no 160Hz support
Just like the RBK852 this does not support the 160Hz channel width, so the maximum connection speed of clients will be limited to 1200Mbps on the 80Hz channel.
For commercial installations this is probably not too much of an issue, you have a limited number of 160Hz channels so it would make sense to stick to 80Hz anyway.
Pretty much all access points are limited to 80Hz; the only exception is Zyxel which has 160Hz available on some APs as a beta service.
With this being a 4×4 system, the backhaul channels will connect at 2.4Gbps, and the 4×4 design on the client-side will can be used to handle a greater number of users vs 2×2.
Setup
There are some quirks in the setup process. The satellite appears to be pre-paired, but if I wanted to add another one, I can't do it via Insight I need to do into router dashboard directly. It is not a massive issue, but it makes me think that Orbi isn't really designed for Insight in the first place. Having to access devices locally defeats the object for a cloud-managed network.
The Orbi system itself appears to work as one unique device within Insight.
The initial set up is straightforward enough, once you have the Insight app you scan the QR code and follow the basic set up procedure.
Local Web Interface
It is a little odd that some of the functionality is restricted to the local web interface. Zyxel/Ubiquiti/EnGenius can all manage everything via the cloud.
On the upside, it does have a local interface, which some options like the web-based EnGenius devices lack.
Netgear Insight Features
I am a big fan of cloud-managed networks, it makes life so much easier. For IT companies, you can manage everything remotely, but it also allows a business to manage their network much easier themselves.
Personally, I prefer the web browser interface over mobile, it's just easier to manage a network on a big screen. However, the mobile app is brilliant for when you are out and about without easy access to a computer.
One of the highlights for me is getting notifications about the network status. You find out immediately if and when your entire network or one specific Insight device goes down.
SSIDs & Vlan
Apart from the Insight cloud management, one of the main things that differentiate this from the consumer model is the ability to set up four SSIDs and sperate them off into their own VLANs.
So you potentially have four sperate networks all running on the same hardware, you can assign VLANs to the specific Ethernet ports too, so wired devices can remain separated as well as WiFi.
For businesses, you can set up basic captive portals which offer a link to the host's website, supports marketing messaging, baseline usage data, and time limits for guest devices.
If you want advanced captive portals, you will incur a few of at least £68.00. This is another area where it looks like the Orbi system was never designed for Insight. The pricing is per AP, even though this is 2 devices, Insight only registers 1 property, so in theory, I think you could get away with paying for a one AP licence (saving you quite a lot of money).
Performance
My testing is somewhat limited, with me living in a household of two and not having access to dozens of WiFi 6 devices. I am unable to replicate real-world WiFi 6 usage in a business environment.
For testing, I used a mixture of file transfers and TamoSoft Throughput Test. TamoSoft is a little quicker and easier to set up than the popular iPerf.
For reference, my Zyxel AP that I use in my office provides speeds of around 55MB/s or 440Mbps.
WiFi 6 Performace on the Router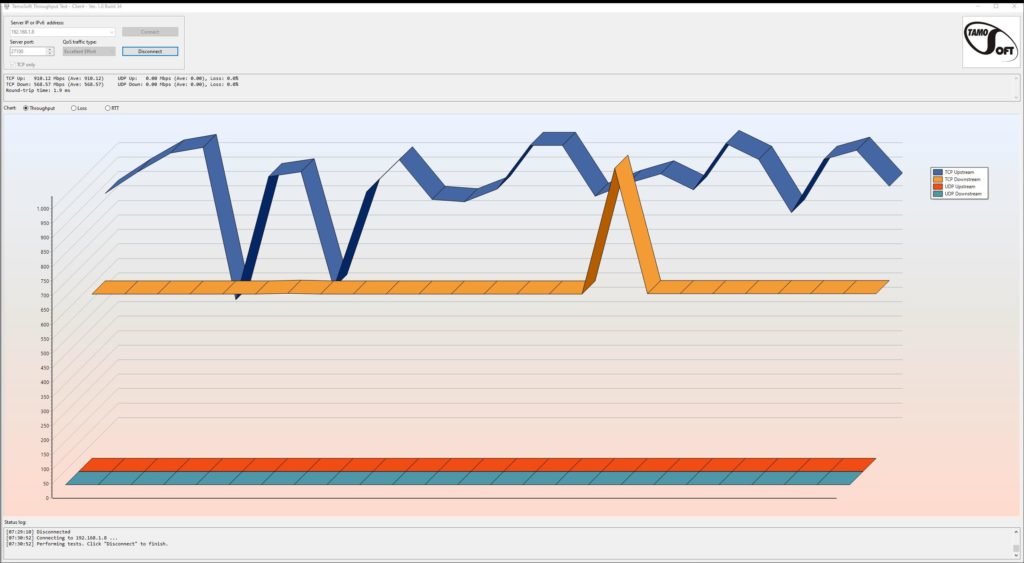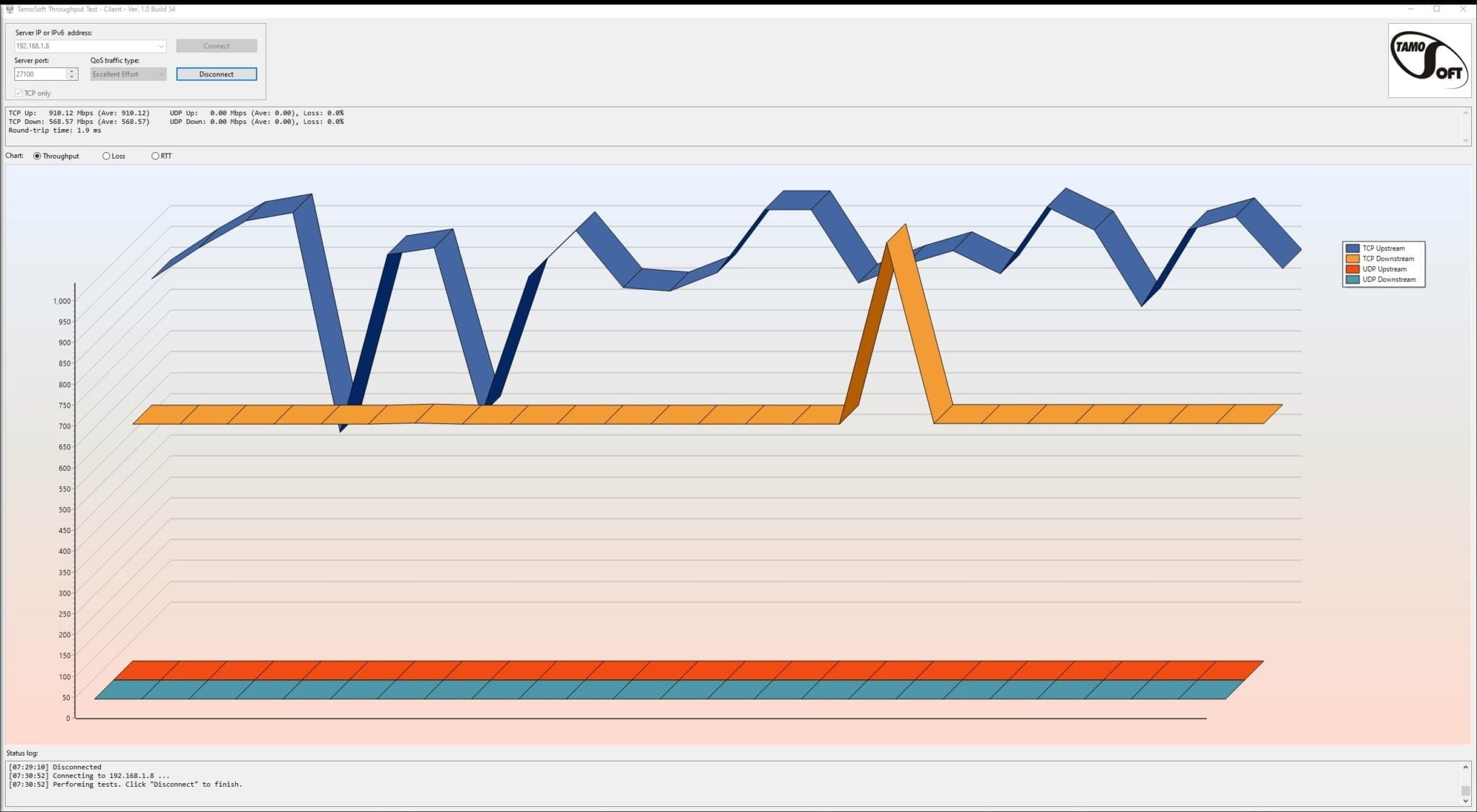 Testing with the router in my office and desktop within a couple of metres, the throughput test shows speeds in excess of 900Mbps on average.
Transferring a large MKV video from NVMe to SSD, Windows indicated higher speeds achieving 1Gbps in task manager and 113MB/s in file explorer.
I think this would make it the faster speed I have achieved on the 80Hz channel and the fastest performance from a mesh system overall.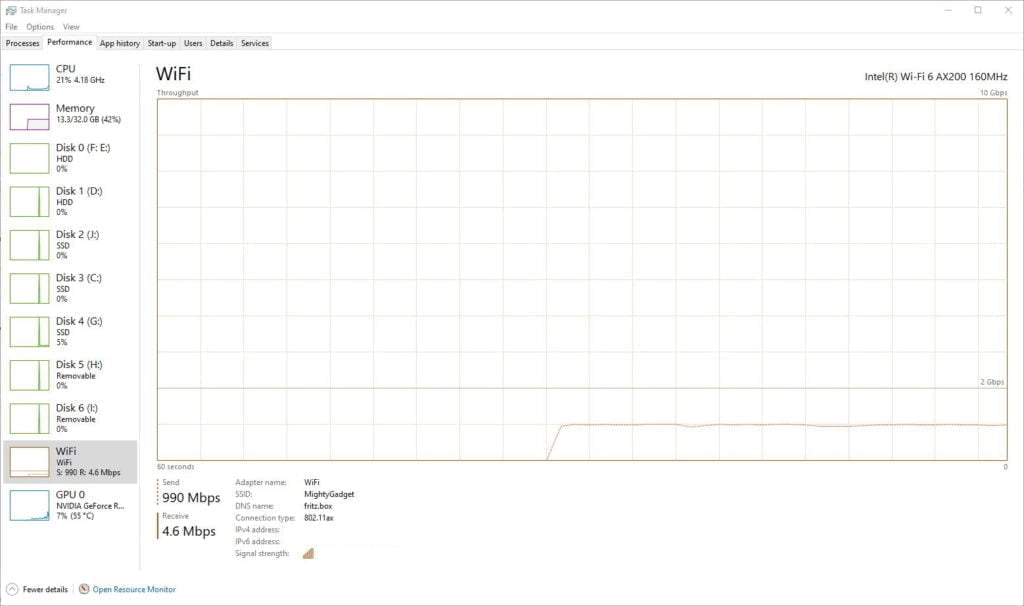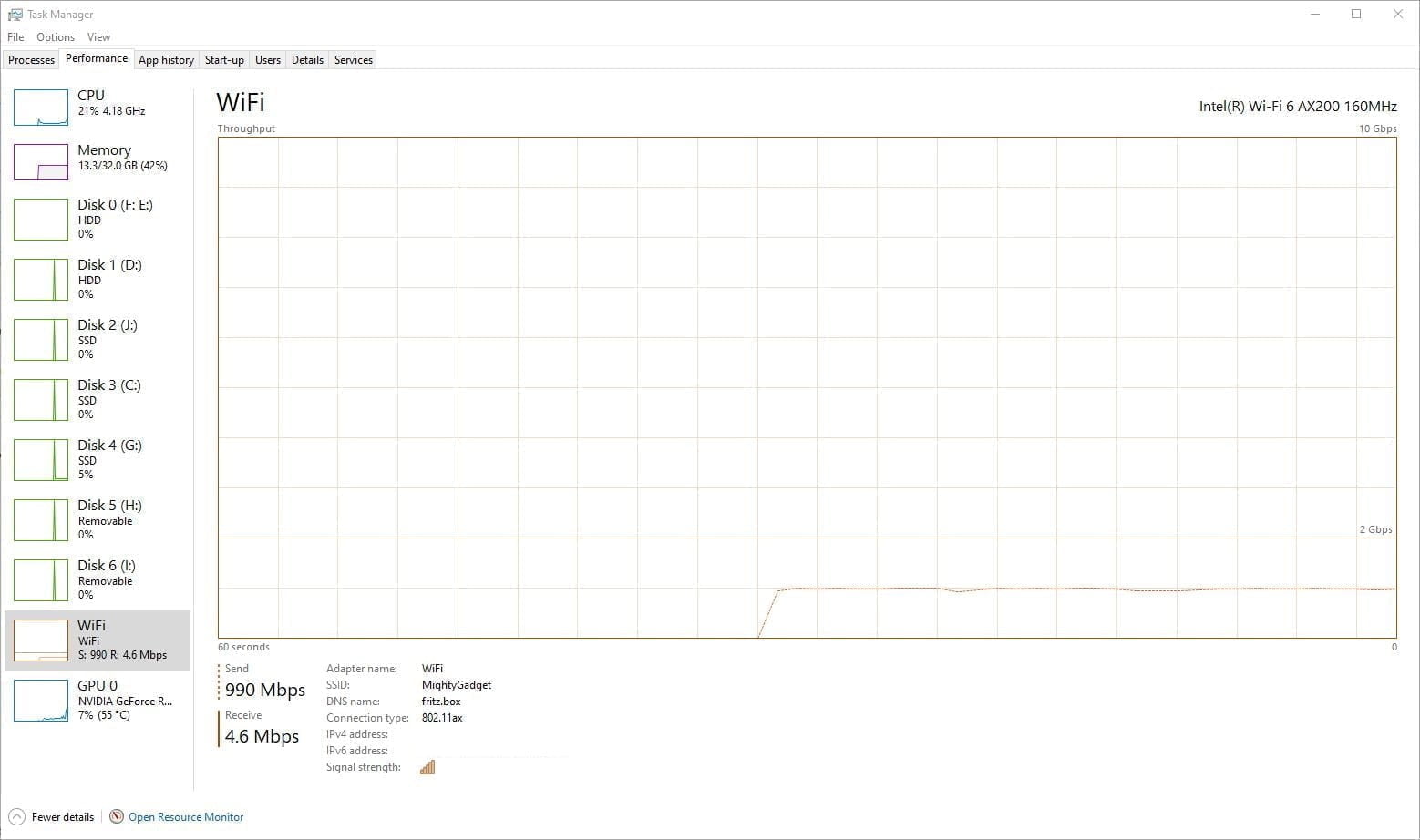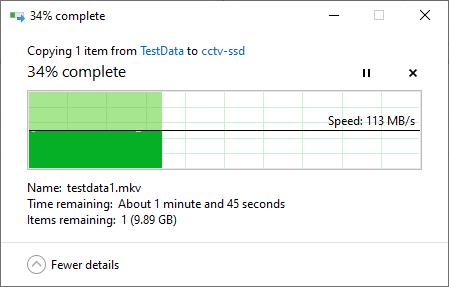 WiFi 6 Performance on Satellite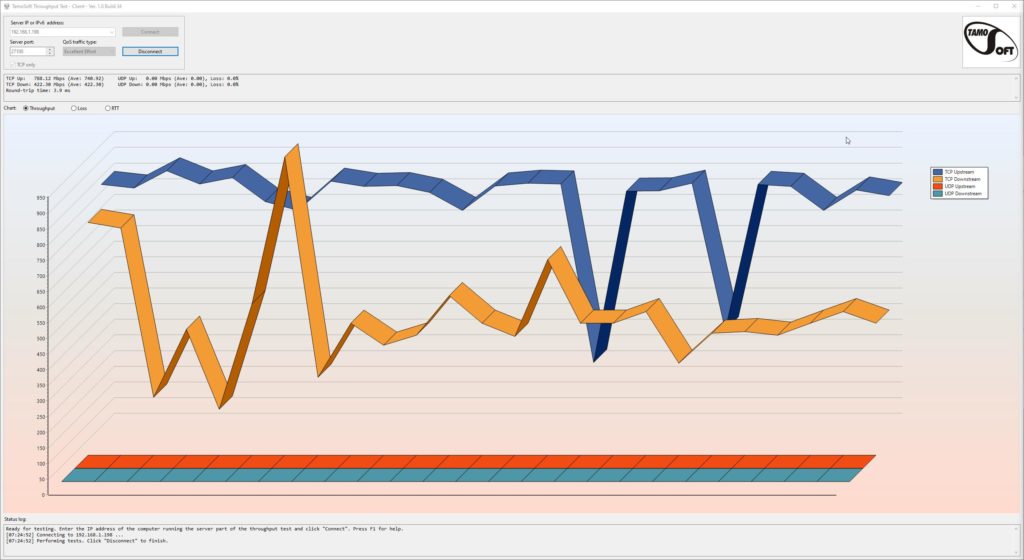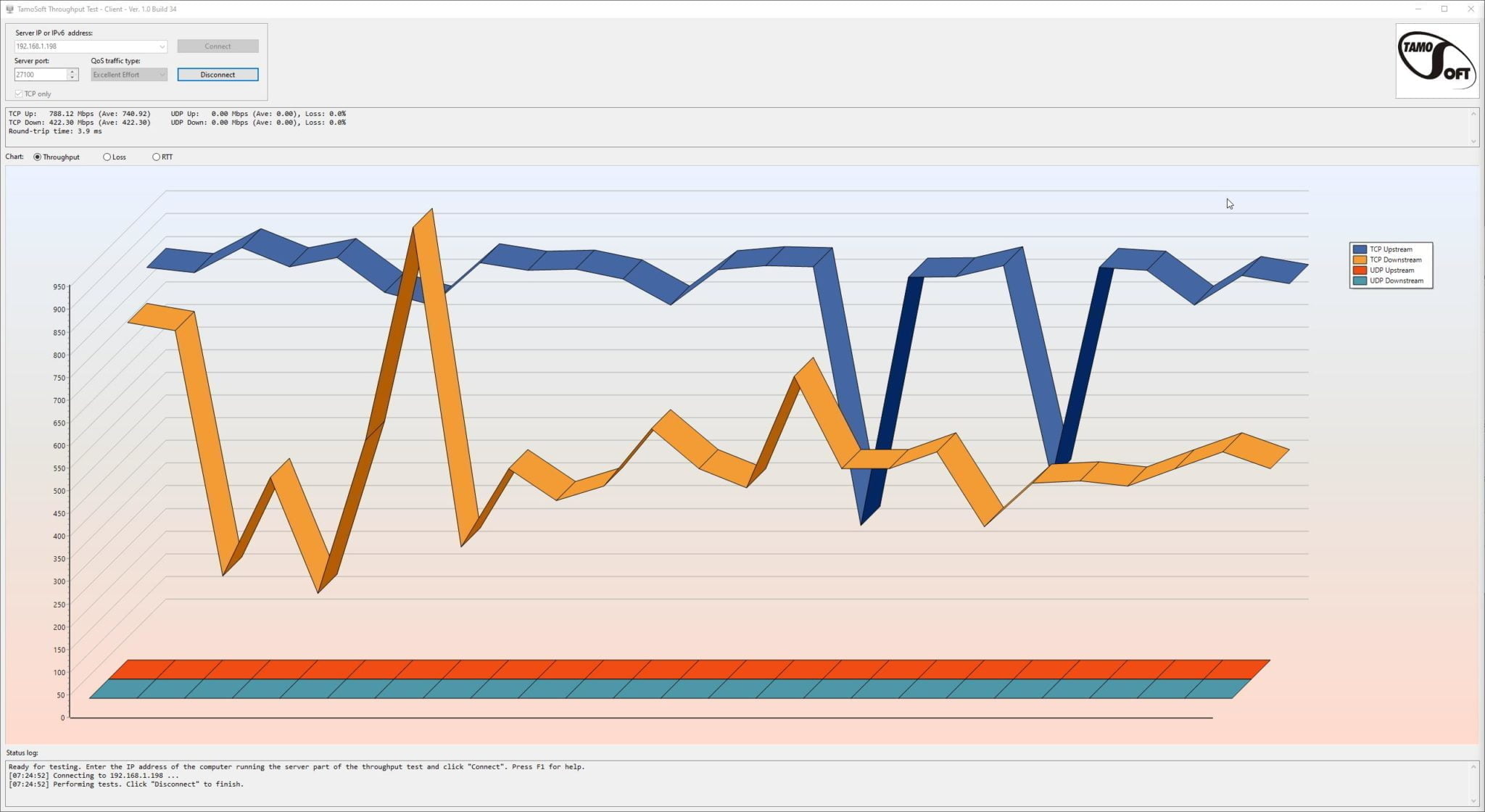 Testing was done with the router in my server room, on the same floor, but two rooms away through two brick walls.
Using the throughput test, I was consistently able to achieve over 700Mbps. This was reflected with file transfers too, transferring a large MKV video file was constantly over 700Mbps in task manager or over 85MB/s.
Wired Performance on Satellite and Router with wireless backhaul
With my laptop wired to the satellite and server wired to the router, I tested the performance of the wireless backhaul.
This again achieved speeds of in excess of 900Mbps on average.
Price and Alternative Options
The two-pack system of the SXK80 is £799.99 while the 3-pack system will set you back about £1000 though the availability of this one is a bit low.  This is about £100 more than the consumer model, with the additional business features and extra 2.5GbE ports, I think this is a reasonable markup-up.
The older WiFi 5 Orbi Pro SRK60 is quite affordable at just £307.
There are not that many businesses orientated dedicated mesh WiFi systems on the market, so Netgear has a bit of a niche going for them.
Zyxel is the only other brand I know of making a business variant a normal mesh system with the Zyxel Multy Plus, but that's WiFi 5.
The best alternative, for a business, would be access points. Many brands, including Netgear, offer mesh functionality with their APs. The caveat here is that APs are dual-band so won't offer quite the same mesh performance as the SXK80, they generally don't provide additional ethernet ports, and you will also need a router to control the network.
Pricing off access points varies significantly too, the affordable ones are 2×2 while 4×4 options typically set you back £400+
For Netgear, they only have 2×2 options currently, but they are affordable, the WAX610 is just £159.99, the WAX610Y is the same but designed to go outdoors priced at £239.97. Or there is a tri-band WiFi 5 WAC540 for £200.
Similarily Zyxel Nebula and Ubiquiti have several mesh options. The ZyXEL NWA210AX is the cheapest 4×4 WiFi 6 AP I can find at around £205
Overall
The Orbi Pro WiFi 6 feels like a bit of a niche device. Being premium-priced targeting businesses, I would think most companies with a moderate IT budget would opt to go for hard wired access points.
However, for businesses that don't want to go down that route, this is the most advanced solution on the market. It has also offered superior performance vs any WiFi 6 AP I have tried to date. The price of this system isn't that unreasonable when you compare it to 4×4 WiFi 6 access points, either.
One way to justify the cost of this is that you don't really need an IT company to come in and do any work. Anyone with a basic understanding of IT should be able to set this up and create VLANs separating your sensitive private networks and publically available.
I would imagine this works particularly well in hospitality, either hotels or restaurants, where you may have a nice but old property that is impractical for wiring up with ethernet. You can then keep the public off your work network while also providing the best WiFi performance possible.
With Netgear Insight potentially incurring long term running costs, this is perhaps a system that many SOHO/enthusiast users wouldn't want. Unless you particularily need to sperate SSIDs into VLANs then the RBK852 maybe a better solution, or even the newer more affordable RBK752 if you only have a few users.
Overall, for small business, this is a superb system offering high-end performance with the installation-friendly convenience of mesh connectivity.
Posted by Mighty Gadget Blog: UK Technology News and Reviews