Today Amazon has announced Blink Outdoor and Indoor – Blink's all-new flagship wireless smart home security cameras that run on two AA lithium batteries for up to two years, making them easy to use and maintain.
Normally, I would go into a long post about the differences between these new models and the existing Blink XT2 and Blink Indoor, but I am struggling to find much different.
From the press release:
The cameras boast a sleek new hardware design and offer 1080p HD video, IR night vision, motion detection, and two-way audio.
Indoor has been improved, but the Bling XT2 appears to be identical
When I originally wrote this, I only looked at the spec of the XT2 which records at 1080P, the indoor camera only records at 720P. So now they both record at 1080P.
No more free cloud storage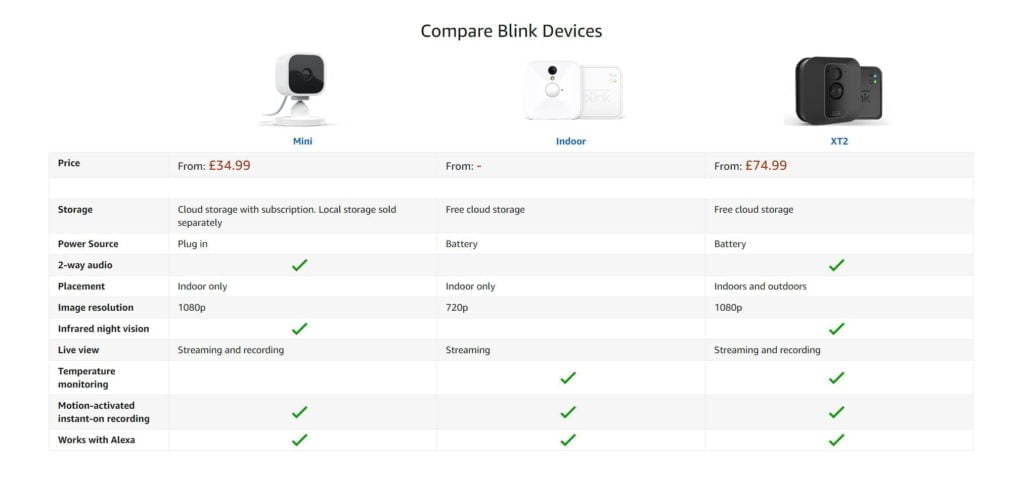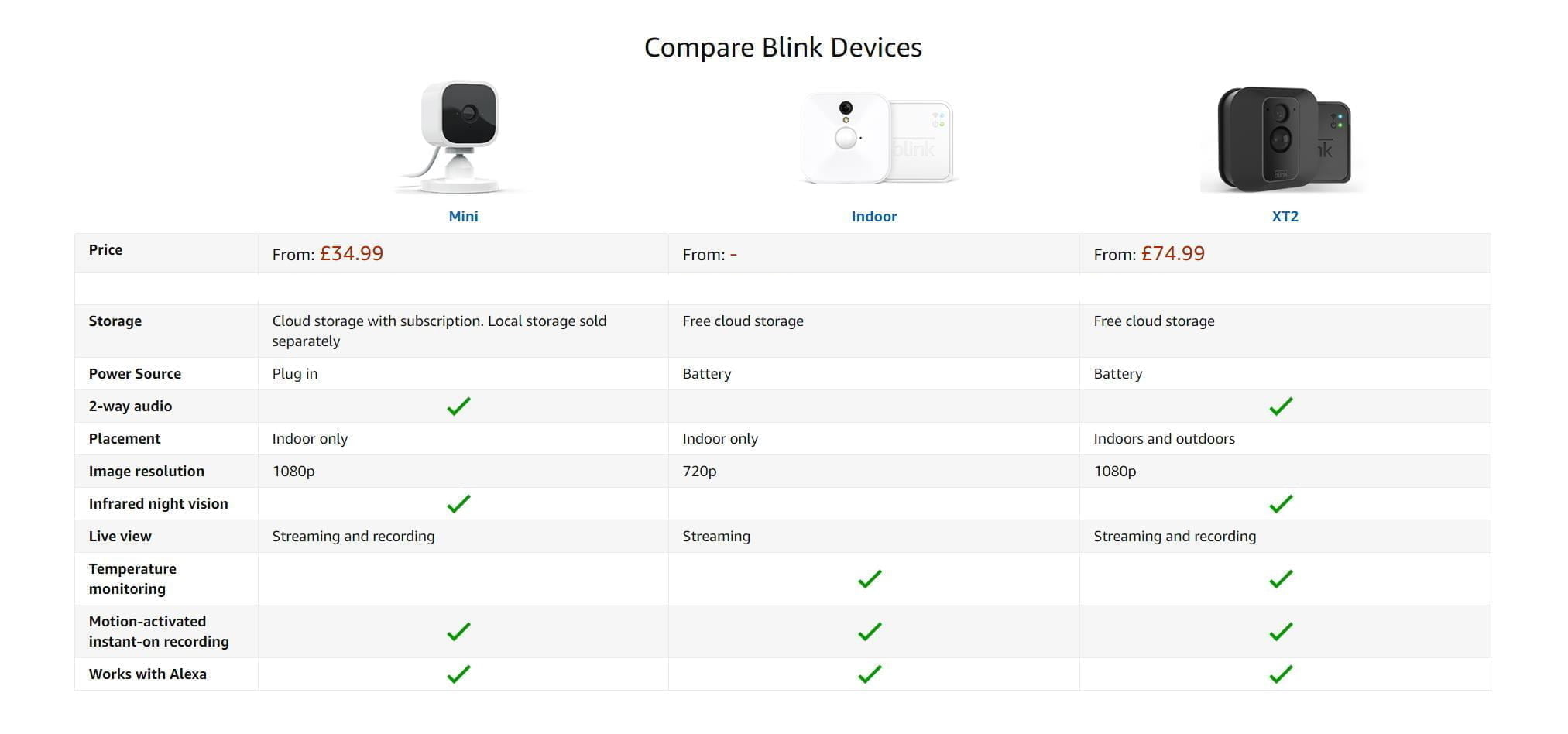 Additionally, it looks like the free cloud storage is no longer a thing. I assume this rolled has rolled out previously but Amazons own comparison states free cloud storage for the Indoor and XT2 cameras but Cloud storage with subscription for the mini.
You will get a free trial until march 2021 then you are on the hook for £2.50 a month for one camera or £8 a month for unlimited cameras at a single location, with no long-term contract required.
You can optionally record locally via a USB stick attached to the sync module
Different Design
Blink XT2 already does all that, but I will give it to them, the hardware does look slightly different, the camera is now centrally located with the spherical motion sensor now being local above the lens (or what I assume is the motion sensor)
Same battery life and Blink XT2 has the same resolution
Normally when a camera gets upgraded the images quality, battery life and/or storage gets upgraded, but it's still the same, and to be fair, still quite impressive.
Two AA batteries will get you around 2 years worth of use dependant on how often motion triggers the camera.
The lens records at 1080p HD, there is IR night vision, I assume it is standard black and white night vision, unlike some of the fancier colour night vision cameras.
You can also upgrade the local storage by attaching a USB drive to the Sync module (home base) that ships with the cameras.
You also have two-way audio.
Battery Expansion Pack
I am not sure if this is specific to the new cameras. Still, you can double the battery capacity with a battery expansion pack that allows cameras to run on four AA lithium batteries instead of two.
Works with Alexa
Blink Outdoor and Indoor are Alexa compatible. Customers can ask Alexa to arm and disarm their cameras, watch recorded motion clips, or say "Alexa, show me the front door camera" to see a live view through their Echo Show, Fire TV, or Fire tablet. Customers can also set up motion announcements and customised routines, like triggering smart lights when a camera detects motion. For hassle-free battery maintenance, customers can have Alexa send reminders when batteries run low and set up smart reorders
Pricing and Availability  
Blink Indoor is available for pre-order starting today at £79.99, and the outdoor model will be £99.99. This is the same RRP as the older models; however, they sell for less.
Currently, the XT2 since the camera system is just £74.99 while you can get a 2-camera indoor system for £97.99
Overall
Unless I am missing something, there is no point getting the new Blink Outdoor camera when you can pick up the same spec with the XT2 for £25 less.
The Indoor camera has been upgraded, though personally, I would have just bought the XT2 for indoors and outdoors, so you have the flexibility to move them wherever you want.
It has been a while since I reviewed the original Blink XT, but it was a pretty good camera, offering a very attractive price point with low maintenance and running costs. So it is a good choice for anyone looking for some affordable and easy to implement surveillance.