The Nvidia RTX 3070 card becomes available this week on Thursday, 29th of October with a RRP of £469 for the Founder Edition.
Following the insane demand of the RTX 3080 getting an AIB card for the same price is proving to be impossible. The cheapest option on Overlockers is the  INNO3D Twin X2 or the Palit Gaming Pro, both at £518.99.
Early benchmarks indicate that the RTX 3070 offers almost the same performance as the RTX 2080 Ti.
If £500 is still too expensive for you then you may not have to wait long for the next step down, the RTX 3060 Ti.
Matthew Smith from TechPowerUp has revealed a GPU-Z validation entry for the Nvidia RTX 3060 Ti which indicates most of its specification.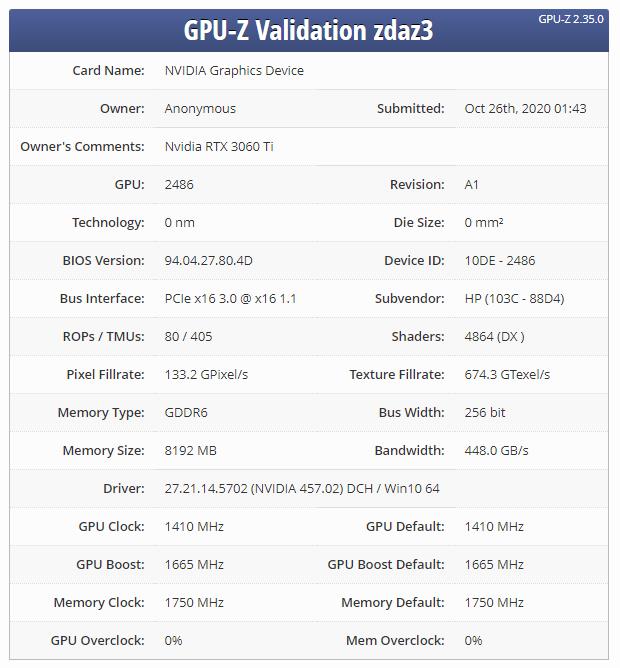 As you might expect, this is a cut-down version of the RTX 3070. It uses the same memory configuration using 8GB GDDR6 running at 14 Gbps with a 256-bit memory bus.
The cuda cores have then been reduced by 1024 or 17% taking them from 5888 to 4864.
It has then had the base and boost clock reduced from 1.5/1.73 GHz to 1.41/1.665 GHz
For theoretical performance, the pixel rate drops from 165.6 GPixel/s to 133.2 GPixel/s, which represents a 19.5% reduced performance.  Shader performance drops from 20.4 TFLOPS to 16.2 TFLOPS
It is expected that the GPU should offer around the same performance as the RTX 2080 or even the Super variant.
It should launch for around £400, the currently RTX2060 Super is £380+. In comparison, the RTX 2080 Super sells for £700+
It is expected that the Nvidia RTX 3060 Ti will launch within the next month (before December).
| | | | | |
| --- | --- | --- | --- | --- |
| Nvidia | RTX 3090  | RTX 3080 | RTX 3070 | RTX 3060 Ti |
| Node | 8nm | 8nm | 8nm | 8nm |
| CUDA Cores | 10496 | 8704 | 5888 | 4864  |
| Base Clock | 1.4 GHz | 1.44 GHz | 1.5 GHz | 1.41 GHz |
| Boost Clock | 1.7 GHz | 1.71 GHz | 1.73 GHz | 1.665 GHz  |
| Tensor Cores | 328 | 272 | 184 | 152 |
| RT Cores | 82 | 68 | 46 | 38 |
| Shader Performance | 35.7 TFLOPS | 29.8 TFLOPS | 20.4 TFLOPS | 16.2 TFLOPS |
| Memory | 24GB GDDR6X | 10GB GDDR6X | 8GB GDDR6 | 8GB GDDR6  |
| Memory Speed | 19.5 Gbps | 19 Gbps | 14 Gbps | 14 Gbps |
| Memory Bus | 384-bit | 320-bit | 256-bit | 256-bit |
| TGP | 350W | 320W | 220W | Unknown |
| Recommended PSU | 750W | 750W | 650W | Unknown |
| Pricing (UK) | £1,399 | £649 | £469 | £400? |
Posted by Mighty Gadget Blog: UK Technology News and Reviews