Merely days ago, I wrote about the Xiaomi Mi 10T Lite being the UKs cheapest 5G phone. So Realme has inevitably retaliated with their own affordable 5G phone.
Their claims of the most affordable 5G phone in Europe are a little misleading, there is no other phone with 6GB/128GB for this price, but the Xiaomi available for less.
Between the two brands, the affordable end of the market has become quite congested with a relentless launch schedule of phones all with minor incremental differences. This has become a little bit exhausting and confusing, both for myself, and no doubt consumers alike.
However, this aggressive competition has led to some amazing buys for the consumer, with price points and specs to suit everyone's needs.
So what's new with the Realme 7 5G?
Where is the Realme 7 Pro 5G
First up, you may be wondering why the Realme 7 gets upgraded to 5G and not the Realme 7 Pro? I certainly was, as I much prefer the Pro model, so would have loved a more powerful 5G model.
It looks like Realme was conscious about releasing too many phones all at once; instead, they are spacing them out. Coronavirus has introduced a lot of logistical issues too.
Madhav Sheth has indicated that in the new year they will launch more new models and these will use AMOLED displays. The Realme X7 is the likely candidate for the 7 Pro, however, that uses the Dimensity 800U, which would match the new 7 5G, so we may see a tweak here. I am also still eagerly waiting for a Realme X3 Pro.
Realme 7 5G Specification vs Realme V5 & Realme 7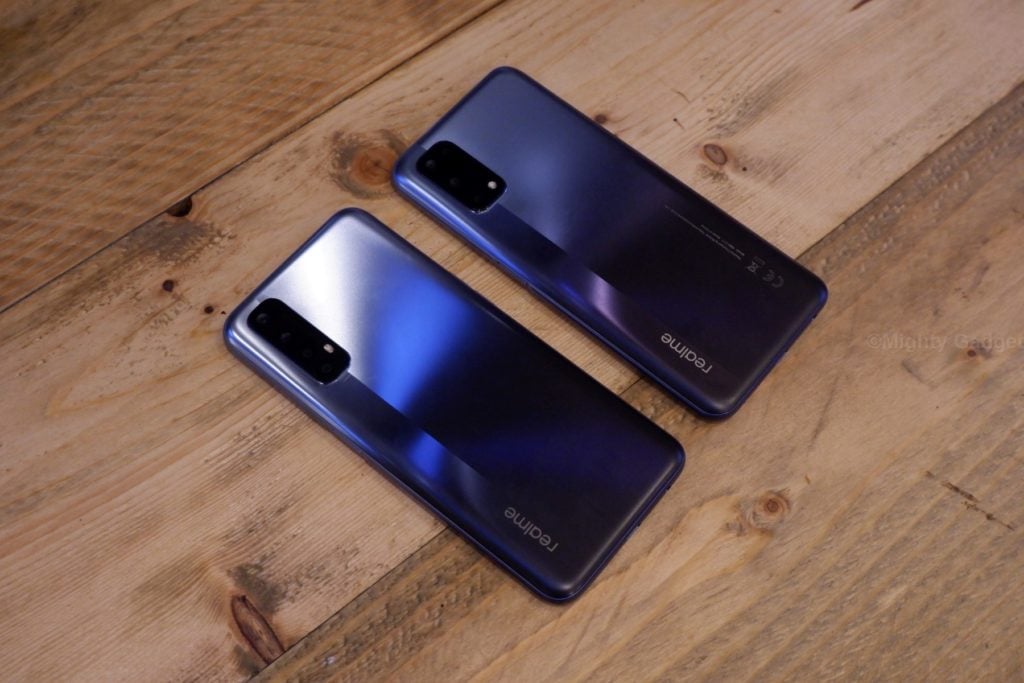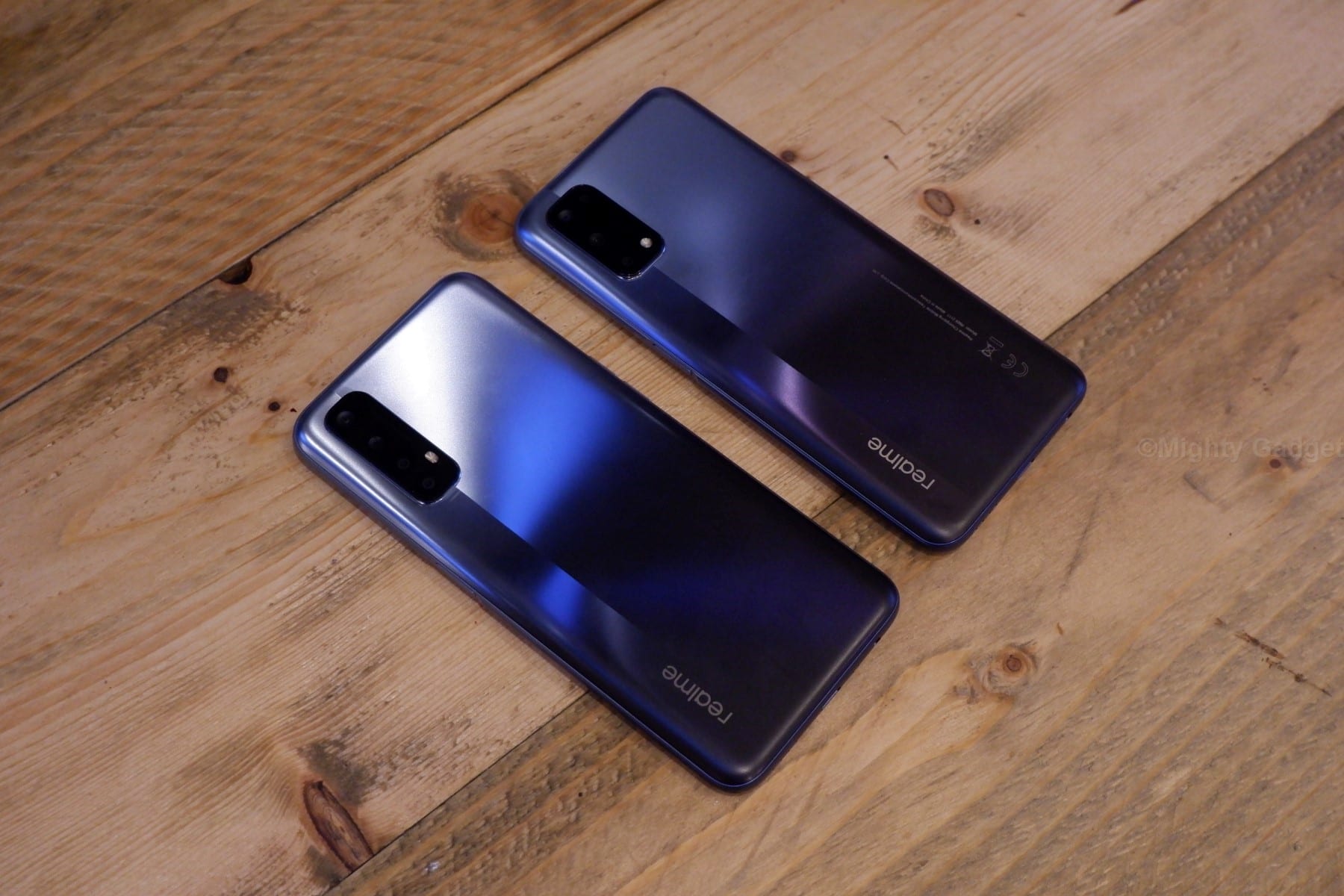 Display: 6.5 inches, 2400 x 1080, 120hz
Chipset: Mediatek Dimensity 800U
RAM:  6G
Storage: 128GB
Rear Camera: 48 MP, 8MP, 2MP macro, 2MP depth
Front Camera: 16 MP
Battery: 5000mAh 30W charging
NFC
No IP rating
The Realme 7 5G is not just the international version of the Realme V5 5G, which has been rumoured for the past months.
It is almost the same but the chipset has been switched to the Mediatek Dimensity 800U, which offers a 20% improvement on frequencies on the two A76 cores.
Then the display has been bumped up to 120Hz vs 90Hz.
As for the Realme 7 I previously reviewed, that had the Mediatek Helio G95 chipset with a 90Hz display.
It is worth noting that my review sample came with 6GB/128GB for this phone. The Realme 7 came with 8GB/128GB. The alternative more affordable configuration for the Relame 7 is 6GB/64GB. I am unsure if the 5G model will come in multiple variations
Design and Display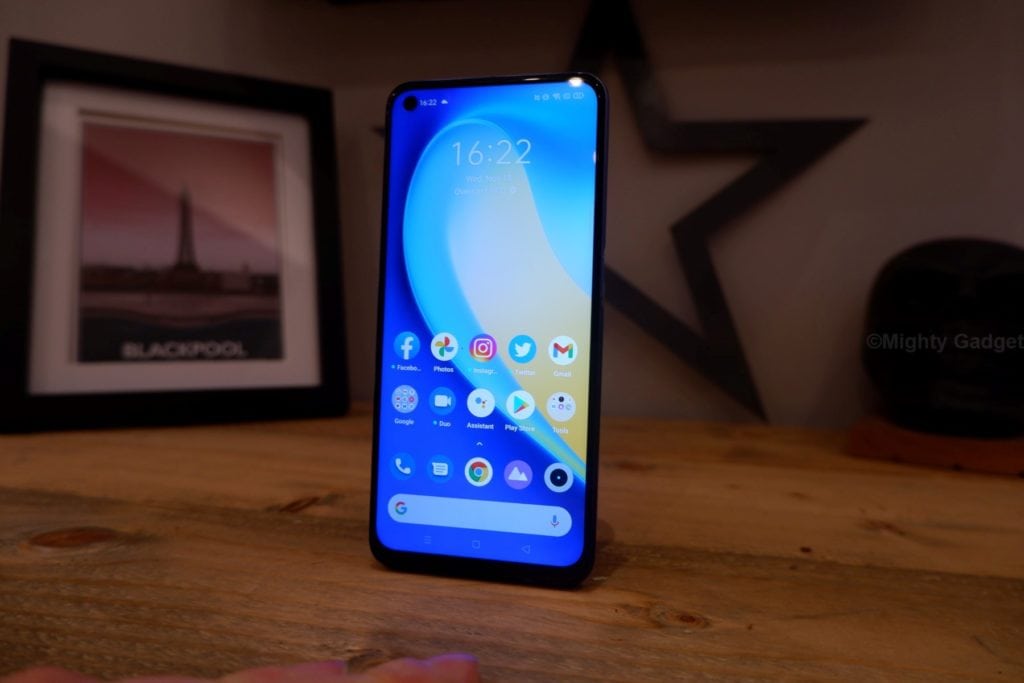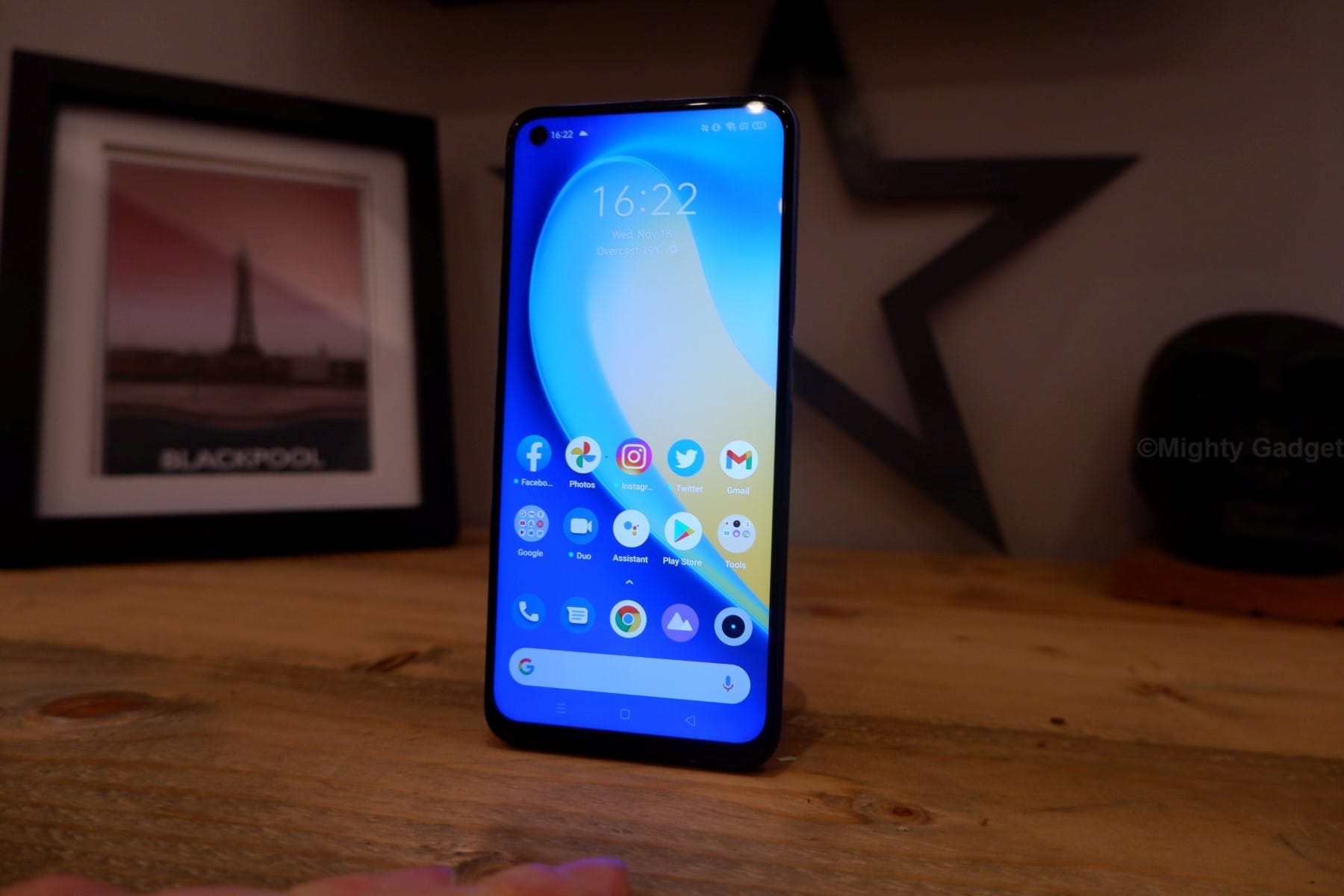 While this is is a minor upgrade to the Realme 7 it has a slightly different design with the camera arrangement in a shorter and wider rectangle
Oddly, the Realme 7 lacked things like CE markings whereas the 7G then has them. It is a minor gripe, but it is a less clean look.
I am not sure of the full range of colours at launch, but I was provided Baltic Blue, and for the Realme 7 I had Mist Blue. They are almost identical and have the same brushed but slightly reflective rear.
All the buttons are in the same place, they both use a side-mounted fingerprint scanner, and they both have a 3.5mm headphone jack on the bottom.
The display is also same, both being 6.5 inch IPS displays running at 2400×1080 with a 120Hz refresh rate. Back when I reviewed the Realme 7 I moaned a little about the screen visibility in bright light, it is now November in Blackpool so sunny days are few and far between. I imagine in the middle of summer it will also suffer from the same problem, like most IPS displays.
Beyond that issue, the screen is excellent; the 120Hz refresh rate makes everything feel ultra-fast and responsive, it feels like you are using a phone three times the price.


Camera
The camera is the same as the Realme 7, so you get a 48MP Samsung sensor for the main sensor, 8MP ultra-wide, a 2MP depth sensor to improve portrait images and then the largely useless macro lens.
For the front, you get a 16MP wide lens.
This can shoot video up to 4K or 1080P/60FPS, in comparison, the similar, but more expensive Oppo Reno4 Z caps out at 30fps for all modes.
There's no optical image stabilisation, but you do get an electronic stabilisation on video recording and Realme offers a max stabilisation mode too.
Just like the Realme 7, camera performance is OK, like most cameras nowadays, in good conditions, it can take great shots, but the software processing doesn't seem to be quite as good as the Oppo which has the same lens. Nor is it as good as the 64MP Sony sensor on the Realme 7 Pro.
Camera Samples
Performance and Benchmarks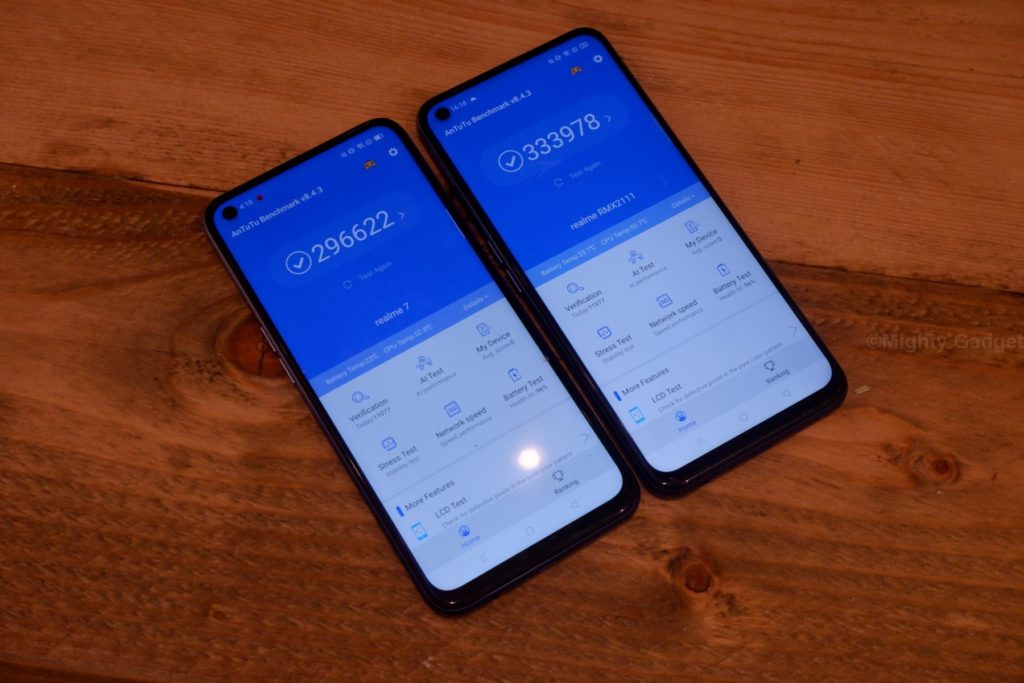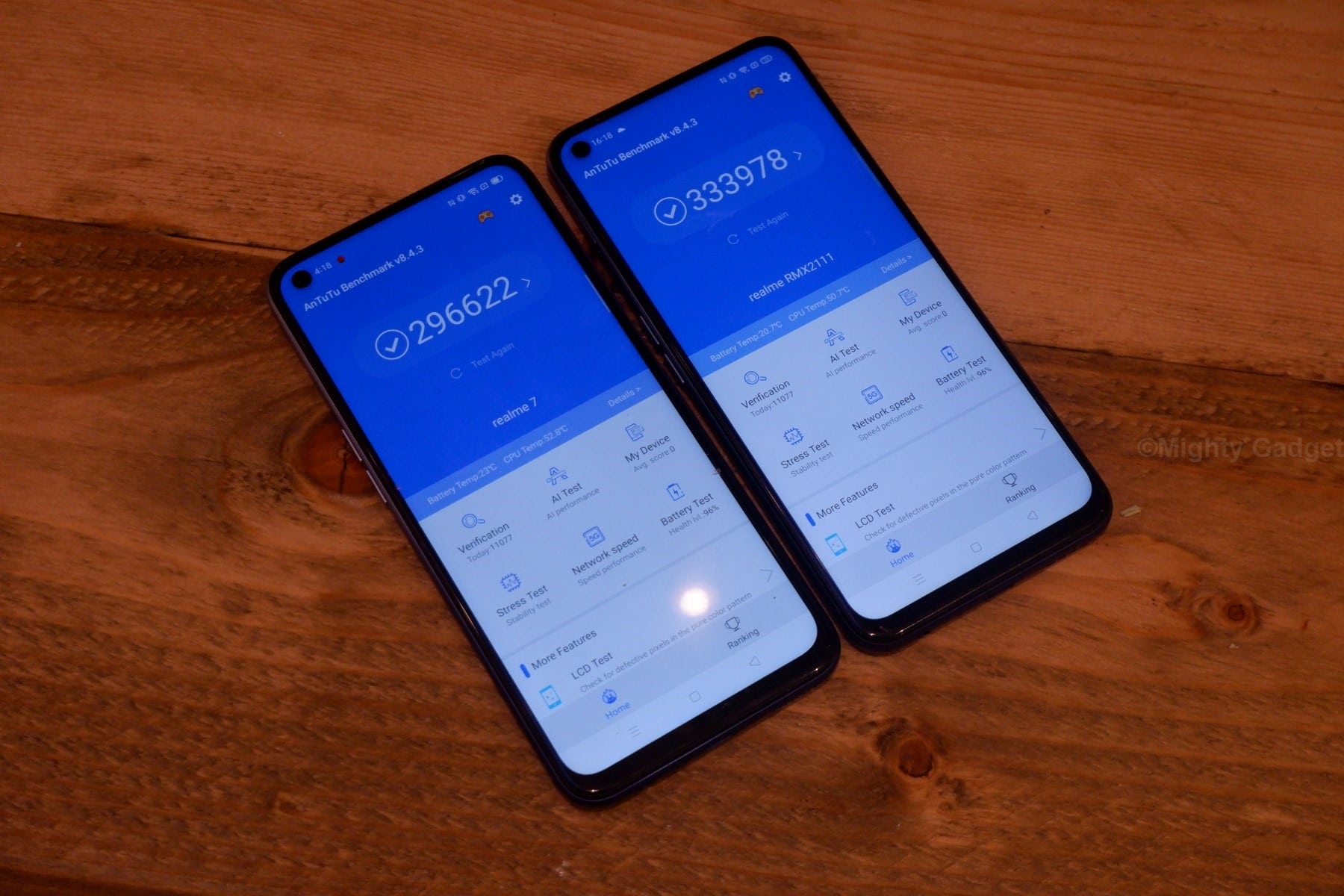 The smart performance mode of Realme phones does something a little odd with benchmarks; in this case, it outperformed the better specced Dimensity 800 and SD765G in Antutu. This is a good example of why relying on benchmarks can be bad.
Then, just to really throw a spanner in the works, the Realme 7 achieved a PCMark Work Performance score of 9807, which is 22% higher than the 8009 this scored.
With the PC Mark score for the 7, you can literally see the phone aggressively setting the frequencies at 2Ghz constantly throughout the test. Whereas with the Realme 7 5G it fluctuates in a much more realistic manner. 
In 3DMark, things look a little more realistic with it coming in a touch under the Oppo Reno4 Z and Realme X50.
In terms of real-world performance, it is amazing, it is not just the chipset, but the 120Hz display offers incredible responsiveness and no lagging or jitteriness anywhere.
It is more than competent at gaming too, and the combination of massive battery and 120Hz display will make this particularly appealing for gamers on a budget.
Battery
In another set of conflicting synthetic benchmarks, this managed 13 hours in the PC Mark test, which is fantastic and expected from the massive 5000mAH battery, but the OPPO squeezed out 15 hours on a 4000mAH battery.
Looking at the numbers, Realme once again scores higher than the better specced OPPO, with an average score of 8009 vs 7863. So it looks like Realme is at the very least a lot more aggressive towards achieving the maximum performance, at the sacrifice of battery.
However, it still has a 5000mAh battery and can easily get you through a day of heavy usage, which is all most of us need.
Realme continue to be one of the best companies for fast charging; this retains the 30W charging found on the Realme 7, which is good for a full charge in a little over an hour. I haven't really needed fast charging this year, being stuck at home, but on holiday or when working away, being able to charge this quick is a huge benefit.
Software
With me reviewing so many Realme phones recently, I won't dwell on the UI and software aspects too much. My sample devices for the Realme 7-series arrived with a more refined OS than the Realme X50 with less bloatware.
Realme UI is a little more streamlined than ColorOS it is based off. There is no option to log in to HeyTap, and I can see any pre-installed apps at all. You get GameSpace and Phone Manager, that's about it.
Realme have been quite good with updates too. Realme UI 2.0 based on Android 11 currently has rollout plans going back to the Realme 3 Pro which launched April 2019. The company released its first phone in 2018, so it is hard to tell what long term support will be like.
Price and Alternative Options
The Realme 7 5G launches at £279 but will be available for a Black Friday special offer at £229. This is not quite aggressive as I was hoping for. Realme have stated this is the most affordable 5G smartphone in Europe, which is not accurate, the Xiaomi Mi 10T Lite is. However, if you pick a like for like 6GB/128GB spec, then the Realme has a lower RRP.
Based on the above RRP, the Realme X50 5G is the logical alternative, the SD765G chipset is better, there is a dual selfie if you like that sort of thing, but the battery is smaller. I also found the OS on the X50 a little unrefined vs the 7, but that was likely my early review sample.
Dependant on current pricing and the spec you choose It could be argued that the existing Realme 7 might be a better buy. The 6GB/64Gb is £199 RRP, but if you need 128GB storage, it is £239, at which point you may as well spend a little extra on the 5G model.
Then Xiaomi Mi 10T Lite use the SD750G and can frequently be had for under £200. It has a battery camera, and the SD750G should be slightly better, however, again this is dependant on spec. The equivalently specced 6GB/128GB model is £299 RRP.
Similar to the Realme 7,  the Poco X3 is a logical alternative too. Do you really need 5G on the phone at this price point? But again, for the 6GB/128GB that is £249
While it is not competitive with SIM-free pricing, you can pick up the Oppo Reno4 Z on some amazing contract deals which can bring its effective cost lower than the Realme.
Overall
The Realme 7 was good; this has a faster chipset, faster display and faster connectivity, so it is a better phone overall, but it incurs a moderately large price hike.
The price leaves it is a bit of a funny position for me, it isn't too expensive for me to suggest you opt for something different. Still, the overall spec/price/performance is close enough to the Realme 7, X50, and Xiaomi devices that there is no clear best option.
With the constant yo-yoing of prices due to sales, the best solution is to look at the prices when you want to buy and pick the best for your budget based on current sales.
At £229 on the Black Friday price, this is an easy recommendation, and it would be daft to buy it at full RRP at launch.
Posted by Mighty Gadget Blog: UK Technology News and Reviews