This week Apple finally announced their over-ear active noise-cancelling headphones. Apple has always charged a premium for its products, justifying it with the just works argument or the premium design.
While it is inevitable the AirPods Max will be good; they set a new standard for premium pricing from Apple. In the UK we get $/£ parity so lucky Brits get to fork out £549 should they wish to experience a perfect balance of exhilarating high-fidelity audio and the effortless magic of AirPods
A minimum of 57%+ Apple Tax vs Sony WH-1000XM4 & Bose 700
At £549, there is a significant disparity between competing brands, compared to the RRP of the Sony WH-1000XM4 ANC headphones, which are often regarded as the gold standard in this segment, there is a 57% price hike.
Apple products rarely get much of a discount, but the WH-1000XM4 has been as low as £299 on Amazon, giving you an 84% difference.
Bose was traditionally always the go-to brand for ANC headphones, their flagship Bose Noise Cancelling Headphones 700 also has an RRP of £350, and if you keep an eye on deal sites, you can often grab them for around £279 on Amazon making the Apple headphones more than double the price.
Last but not least is Huawei. They entered the ANC market with the Freebuds 3, but it was the in-ear Freebuds Pro that allowed them to play with the big boys. They have recently launched their own over-ear Huawei Freebuds Studio. I have not used these yet, but they are just £229.00 on Amazon making the Apple AirPods Max 140% more expensive.
With me not using them I won't make any audacious claims of the Freebuds Studio being better than the others, but like most things in life, there is a law of diminishing returns. If I were parting with my own money, I'd be looking to pay under £300 for any ANC headphone.
AirPods Max vs Huawei Freebuds Studio vs Sony WH-1000XM4 vs Bose Noise 700 Active Cancelling Headphones Compared
Moving on from my price gripe, how do these headphones compare?
Well, it's a little hard to compare accurately. Most of these companies don't publish the noise-cancelling performance, just make vague statements. Audio quality is also difficult; it is generally highly subjective. One thing is for sure, Apple are not regarded as a company that produces audiophile-grade gear.
Design
I don't personally like the design of the AirPods Max, but at least they are not generic black. I quite like the headband, but the earcups look weird. I also like that they have used mesh textile on the ear cups rather than PU leather, I get hot ears easily and feel like this would help.
It is this Apple design that will likely win buyers over; it is obvious that you are wearing AirPods Max, and it will become a status symbol. Apple also have five different colours; they even make a passive-aggressive dig at others stating: "Five colours. Anything but monotone".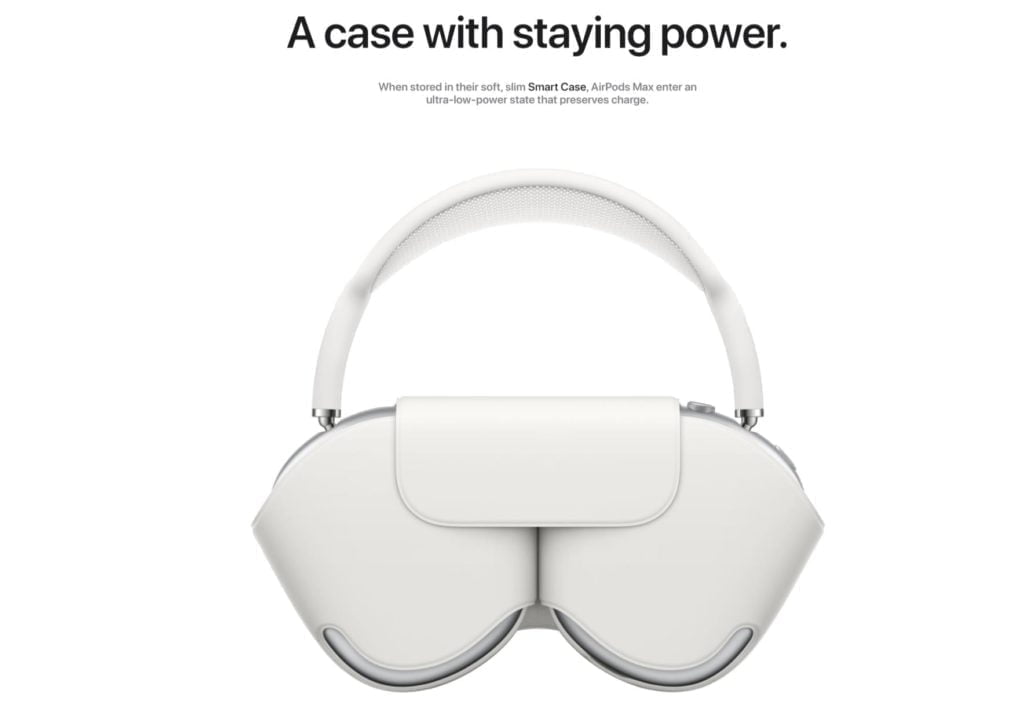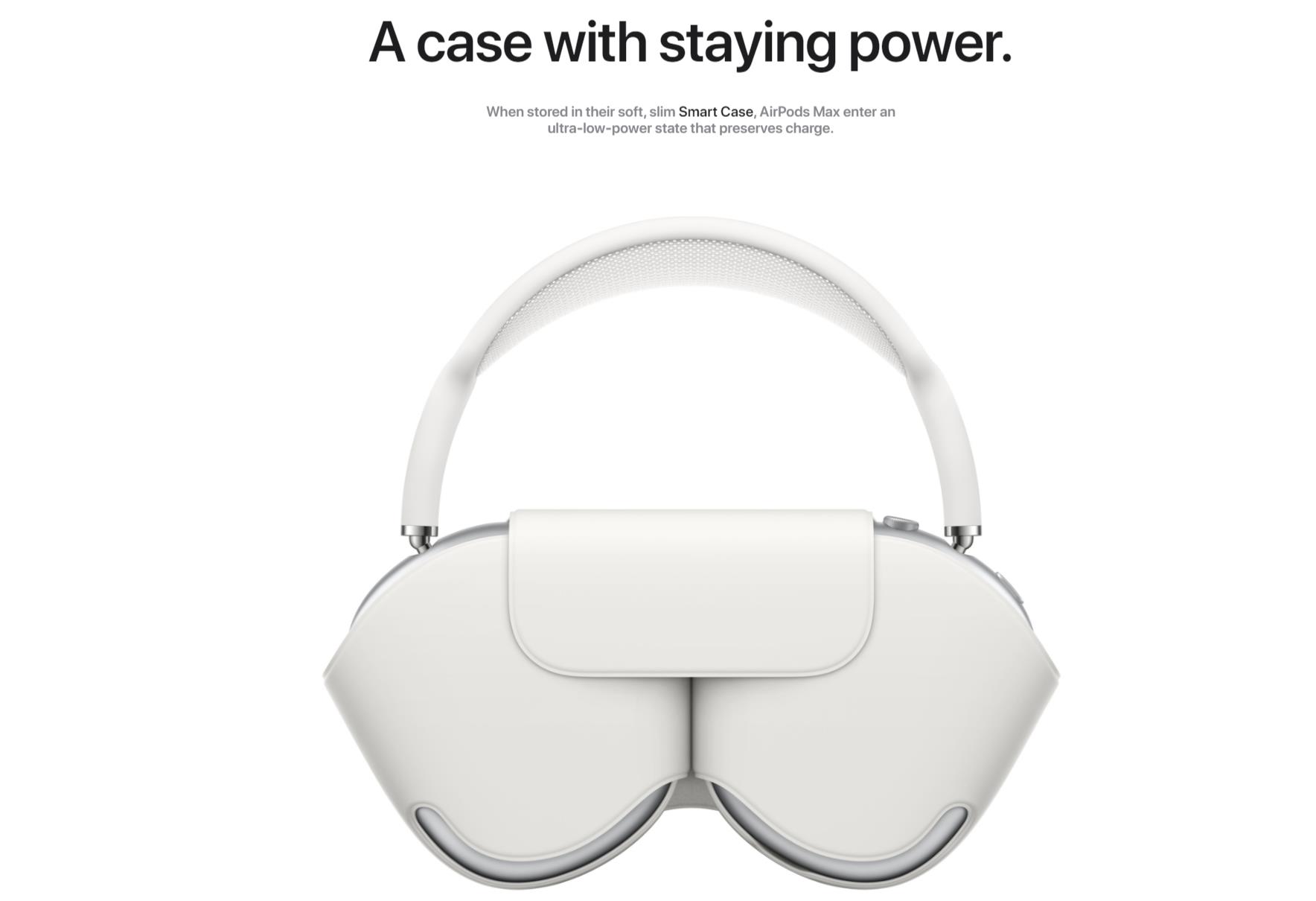 The Sony headphones look the most generic of the bunch, either in Silver or Black. I doubt anyone could tell you are wearing Sony headphones from a distance. For some (including myself) this is often a good thing. I don't need to scream about what brand I am wearing.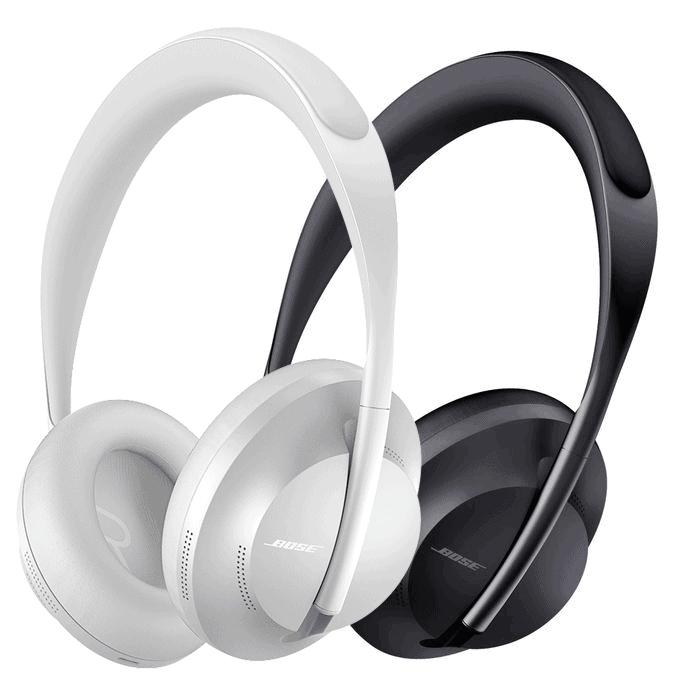 Bose and Huawei are not dissimilar, choosing to not blend the headband into the earcup. With Bose, you have black, silver and triple midnight, which is a sort of blue colour, I think.
Huawei is black and an attractive gold/sand colour.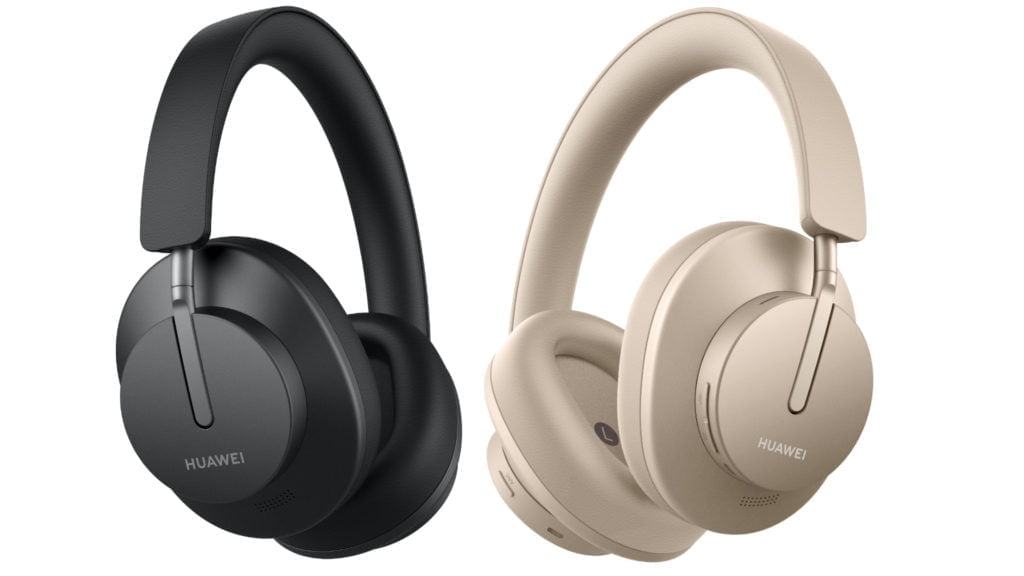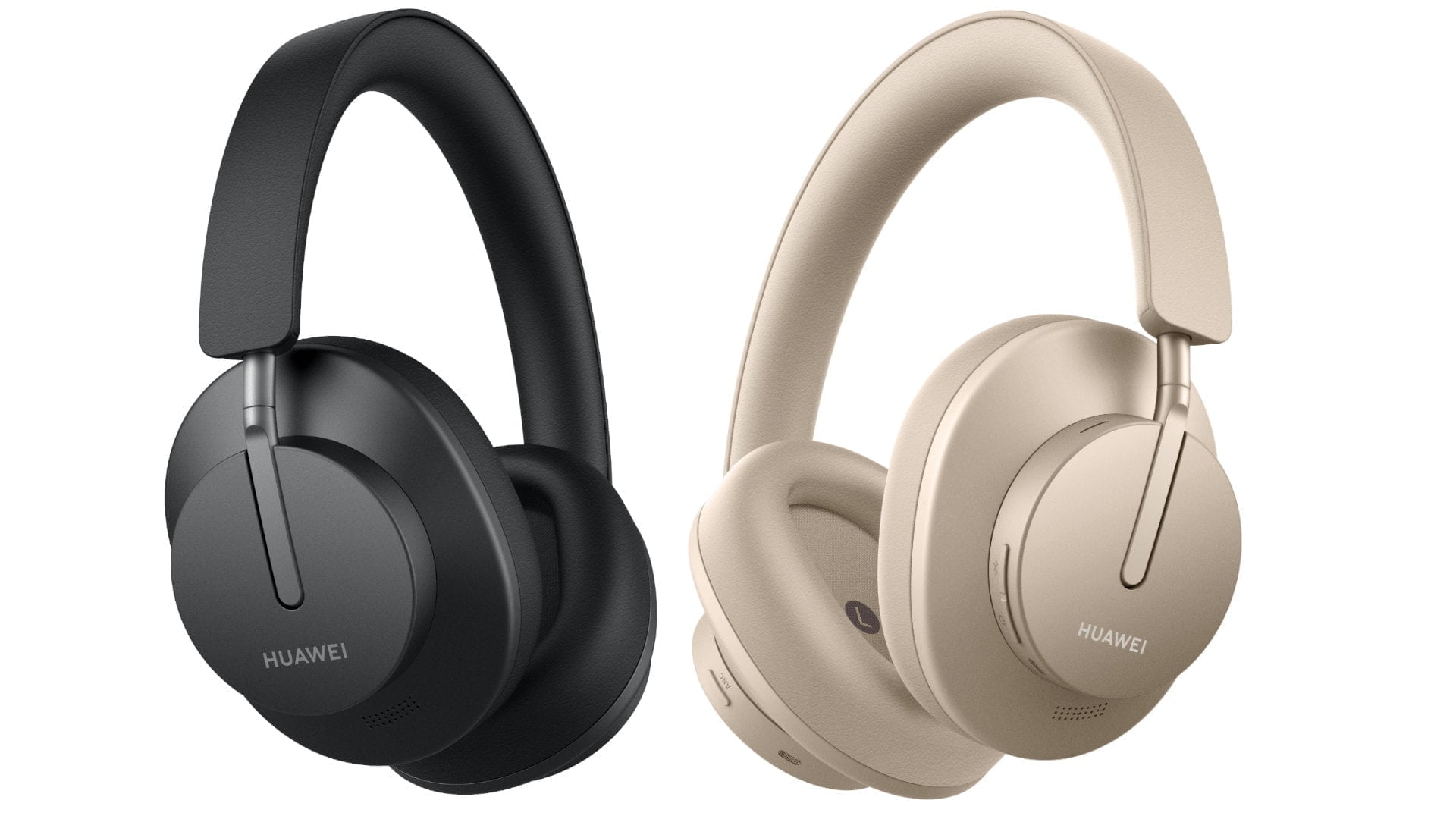 Driver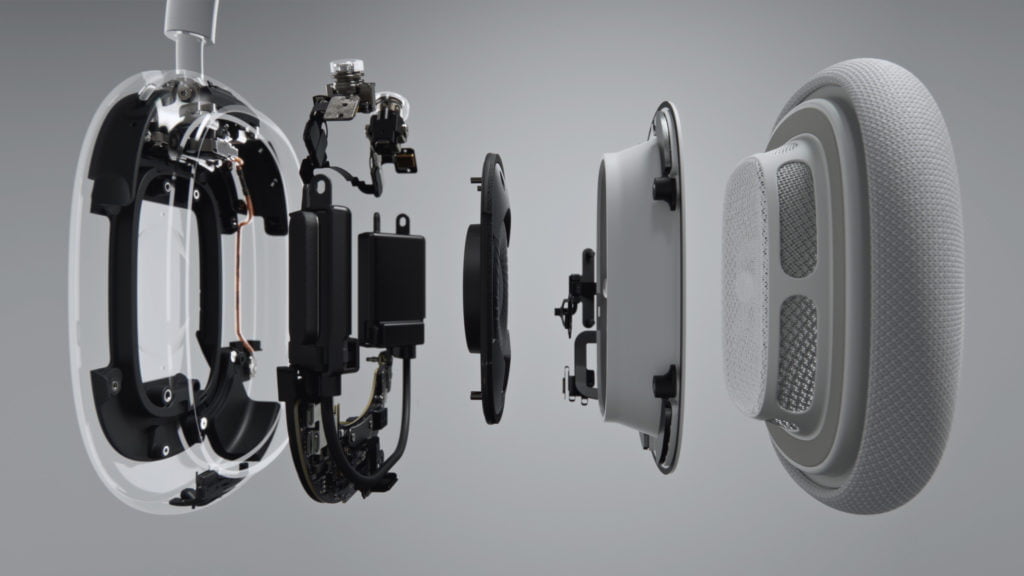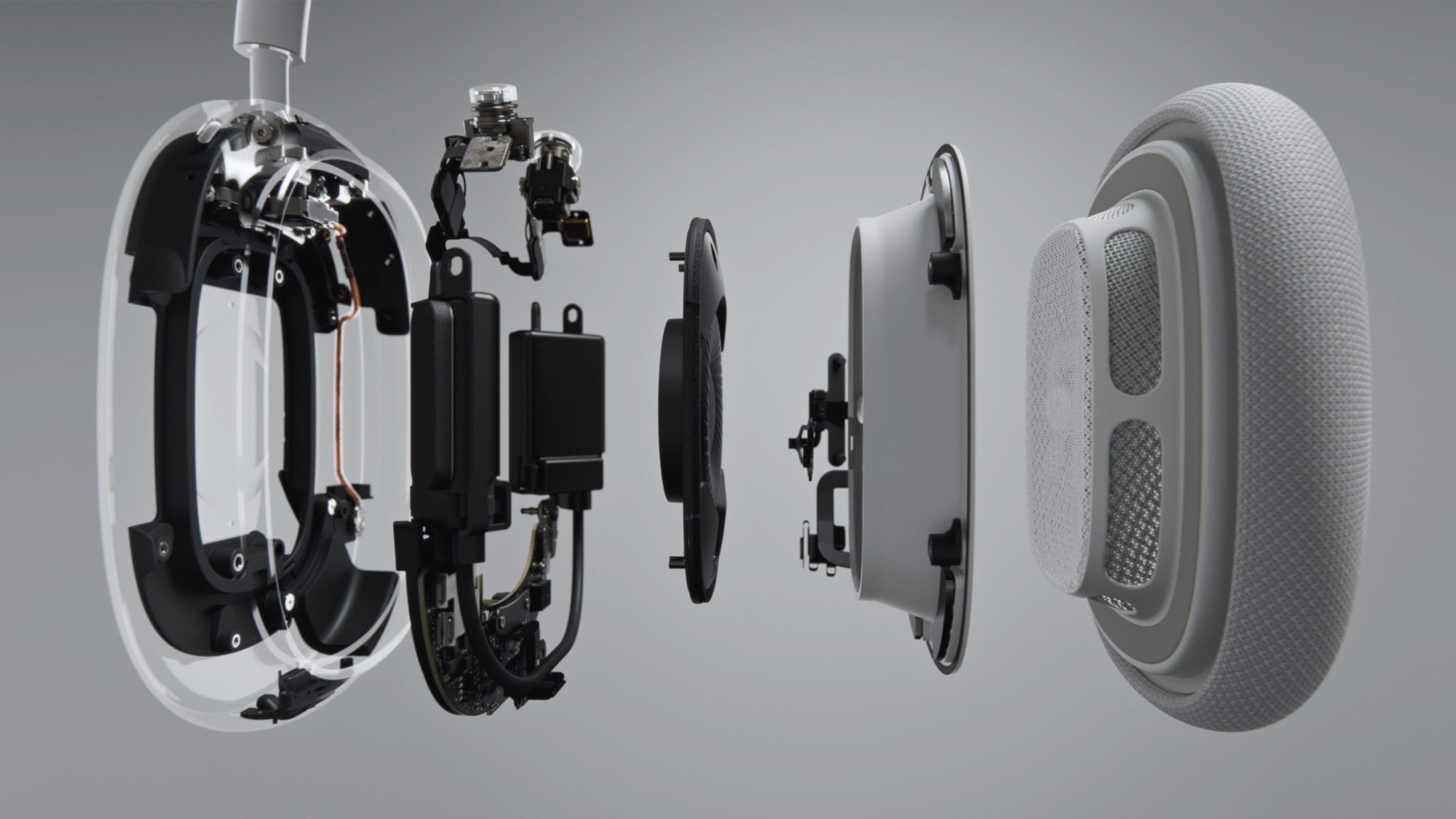 This is where you can't really compare specs on paper. While you can sometimes get the driver spec, it doesn't necessarily mean much.
Apple state:
Each part of their custom-built driver works to produce sound with ultra-low distortion across the audible range. From deep, rich bass to accurate mids and crisp, clean highs, you'll hear every note with a new sense of clarity.
The Apple-designed dynamic driver produces a wide frequency range that uncovers the rich details of every sound — delivering your favourite songs with previously unheard texture and accuracy.
Modelled on those in high-end floor-standing speakers, the driver's dual-neodymium ring magnet motor minimises total harmonic distortion across the entire audible range. The result is consistently clear playback, even at full volume.
For Sony, we have a bit more technical data vs marketing fluff. The Sony WH-1000XM4 feature a 40mm dynamic driver with a frequency response of 4Hz-40,000Hz and sampling rate of up to 20Hz – 40,000Hz.
Or directly from their site:
A built-in analogue amplifier integrated in the HD Noise Cancelling Processor QN1 realises an unmatched signal-to-noise ratio for low distortion and exceptional sound quality for portable devices. Powerful 40mm drivers, with Liquid Crystal Polymer (LCP) diaphragms, make the headphones perfect for handling heavy beats and can reproduce a full range of frequencies up to 40kHz.
Bose also don't reveal too much about their driver spec nor do they have much marketing fluff about the sound quality on the product page.
Huawei state they have a 4-layer 40 mm polymer diaphragm with an ultra-wide frequency response range from 4 Hz to 48 kHz.
Microphones and Active Noise Cancelling
Again, the best we get from Apple is:
To cancel unwanted external sound, AirPods Max use a total of six outward-facing microphones to detect noise in your environment, and two inward-facing microphones to measure what you're hearing. Beamforming microphones help isolate your voice on phone calls, so it's heard clearly — even in windy situations.
Industry‑leading Active Noise Cancellation counters external sound with equal anti‑noise, allowing you to immerse yourself in what you're listening to.
So no claims of ANC performance but you have 8 microphones in total
Bose have a similar spec with 8 total microphones, 6 microphones for Active Noise Cancelling (ANC),4 microphones for Voice Pickup (2 are shared with ANC). While Bose do not state the ANC reduction, competing brands have claimed they offer 32dB.
Similarly, Sony is not very specific. It looks like there are 2 microphones on each earcup and they mention 5 microphones for their voice calling. So somewhere between 4 and 9 microphones, maybe.
Again, competing brands state they can achieve 38dB noise reduction
Huawei has an omnidirectional 8 microphone system, which seems to offer two outward-facing mics, one near the bottom and one inside the earcup. They claim up to 40db of ANC.


Battery Life
One thing you can't hide behind ambiguous statements is battery life.
Apple states 20 hours of listening, movie watching or talk time — with Active Noise Cancellation and spatial audio enabled.
Then a 5-minute charge via a Lightning connector will give you 1.5 hours of listening.
Sony dominates here; you get 30 hours with ANC on, 38 hours off. USB-C charging, they don't mention a quick charge but 3 hours is good for a full charge.
Bose match Apple with 20 hours use, then a 15 min charge for 3.5 hours. They have the advantage of using USB-C, though.
Huawei offers 24 hours playback on 1 charge (with ANC disabled) and 20 hours with it on, then 5 hours playback with a 5 min charge with ANC on.
Bluetooth
Apple uses Bluetooth 5.0 and will use the AAC codec, though they don't explicitly state this.
Sony uses A2DP, AVRCP, HFP, HSP. Importantly, they support SBC, AAC, LDAC. LDAC is made by Sony and arguably the best audio format possible, but there is a caveat, if your phone doesn't support it, you will have to use SBC. The older Sony headphones supported AptX.
Bose use Bluetooth 5.0 and only support SBC and AAC
Huawei uses the latest Bluetooth 5.2, they then use LHDC which seems to be supported by less phones than the Sony LDAC but allows a bit-rate of up to 960 kbps compared to SBC's bit rate of 345 kbps or LDAC 990 kbps. Only Huawei phones with EMUI 11 or later support this function, including Huawei Mate 40 and P40 series. I assume you fall back to SBC for everything else.
Overall
Costing double the price of competing options, if you are reading a comparison of the AirPods Max vs Bose, Sony, Huawei, then you probably shouldn't buy them.
Unless these somehow true audiophile quality I can't see how anyone with a good conscious could recommend spending £550 on a pair of ANC headphones. Most £500+ headphones are not even aimed at general users.
That's not to say you shouldn't buy the AirPods Max. If money isn't an issue, then they will no doubt be amazing, and I am sure they will be as good if not better than Sony or Bose. However, I fear that some less affluent but devout Apple users may fall for the marketing hype and opt for these over something that is £200 cheaper.
Specification Comparison Table
 
Apple AirPods Max
FreeBuds Studio
Sony WH-1000XM4
Bose 700
Driver
Unknown
Unknown
40mm, dome type
Unknown
ANC Performacne
Unknown
40dB
38dB
32dB
Frequency Response
Unknown
4Hz-40,000Hz
10 Hz – 20000 Hz
Sampling
Unknown
20Hz – 20,000Hz (44.1kHz Sampling)
20Hz – 40,000Hz (LDAC 96kHz Sampling, 990kbps)
Sensitivity
Unknown
105dB
95 dB/mW
Charge Time
Unknown
5 hours
3 Hours (Full charge)
Up to 2.5 hours
Battery Life
20 hours
20 / 24 hours
38 hours(ANC OFF), 30h ANC On
Up to 20 hours
Bluetooth
5
5.2
5
5
Microphones
8 total microphones
8 total microphones
4 for ANC, 5 for calls
Some probably shared
8 total microphones
Audio Formats
AAC, SBC
LHDC, SBC, AAC
SBC, AAC, LDAC
SBC and AAC
Price
£549
£229
RRP £350
RRP £350
Amazon £279

Posted by Mighty Gadget Blog: UK Technology News and Reviews