With the growing market of content creators, Acer realised they could expand their existing range of gaming PCs and desktops, into a more professional orientated line-up.
The specification I have been sent will not be available in the UK. There is either the ConceptD 3 Ezel Pro with a  4GB Quadro T1000 for £1999 or the 14" model with 512GB NVMe and a GeForce GTX 1650 Max-Q 4GB for £1,799.97.
Specification and Features
CPU : Intel Core i7-10750H processor
GPU : NVIDIA GeForceGTX 1650Ti / 1650 supporting NVIDIACUDACores
RAM : 16GB DDR4 memory
Storage : 1TB / 512GB PCIe NVMe SSD
Screen: 14" / 15" FHD 1920 x 1080 Pantone Validated high brightness display with 100% sRGB wide color gamut – 340 nits – 16:9 aspect ratio – 60Hz
Pen input: Quick charging AES dockable pen
Battery : Up to 18 hours of battery (57.5 Wh 4-cell Li-ion battery ; 74 Wh 4-cell Li-ion battery)
Audio: DTS X:Ultra Audio
Connectivity: Wi-Fi 6, Gigabit Ethernet, Bluetooth 5.1
Ports: 1x USB 3.2 Gen 2 up to 10 Gbps
Display Output: HDMI 2.0 port with HDCP support, DisplayPort 1.4
Dimensions: 358 (W) x 249 (D) x 18.9/23.9 (H) mm
Weight: 2.1 kg with 4-cell battery pack
Design & Display
With so many black gaming laptops lit up with RGB on the market, this makes a refreshing change.
As far as 15" laptops go, this is one of the best looking I have used with its minimalist styling, matt white finish and exceptional overall build quality.
The display is obviously the stand out feature. You have your standard hinge to open the laptop but then a second "Ezel" hinge in the middle which smoothly adjusts in between the various other modes such as laptop, float, share, pad, stand and display
The display has an anti-glare matte finish featuring tough, damage- and drop-resistant Corning Gorilla Glass 5 that helps reduce glare, distracting "mirror" reflections, and fingerprint visibility, while also enhancing contrast so can you view your screen clearly and comfortably in any setting.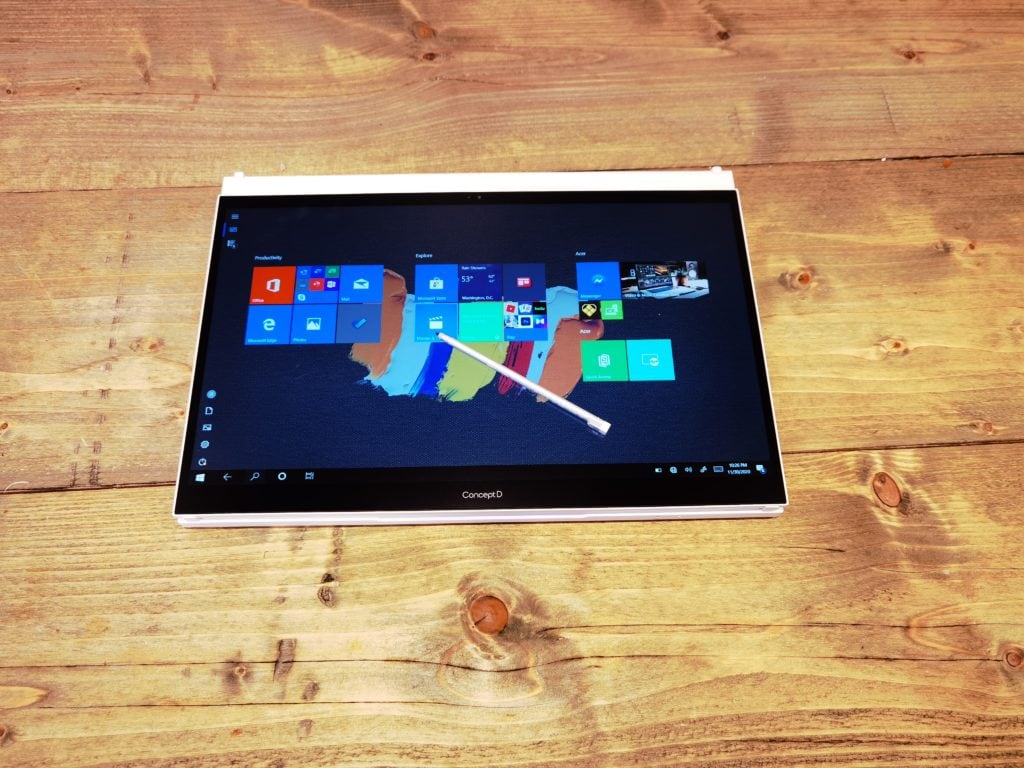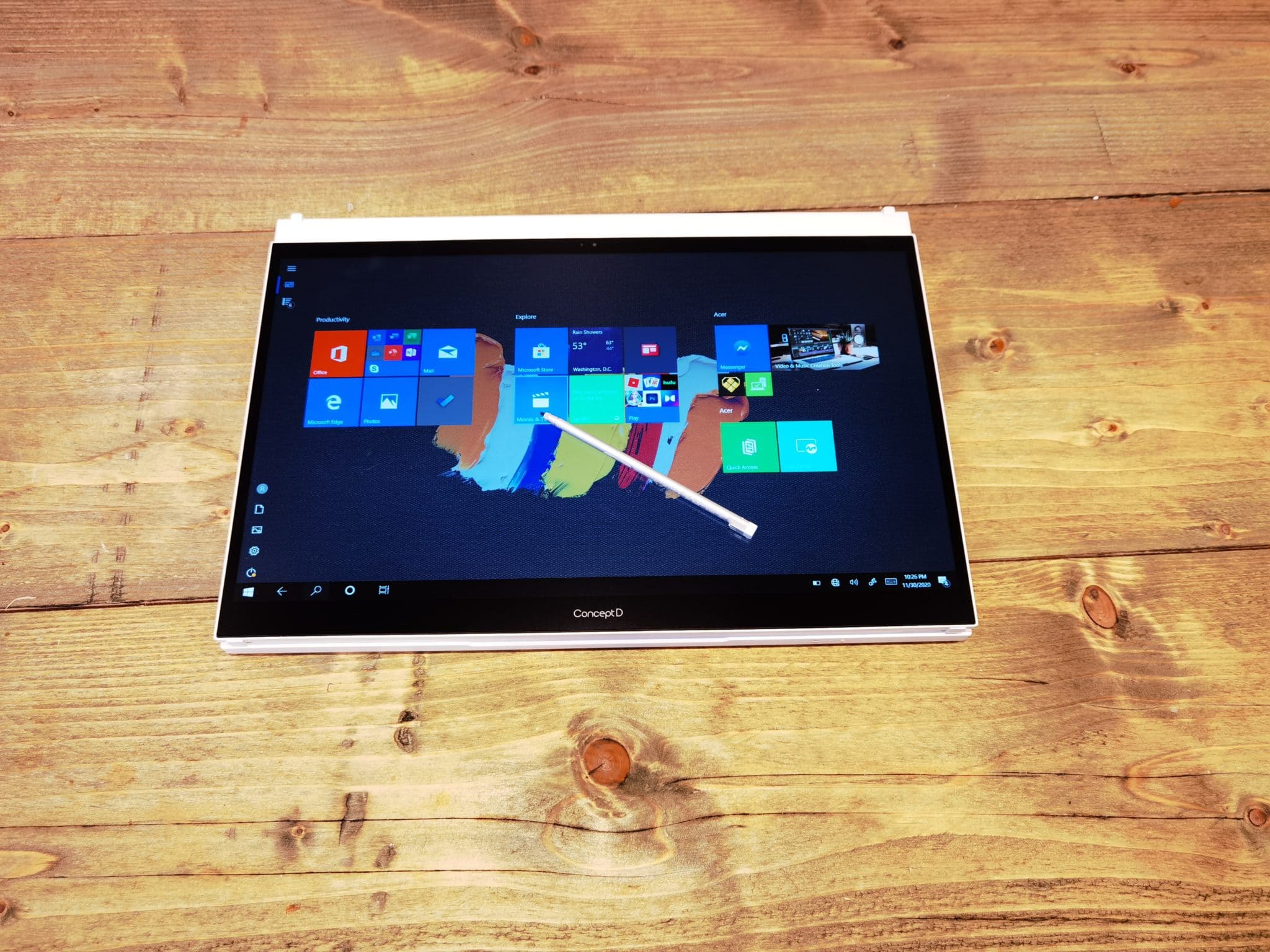 This range only has 1920 x 1080; you need to move up to the ConcepD 7 if you want 4K. However this is not some generic 1080P laptop display, it offers 100% sRGB colour gamut and has been factory calibrated to achieve a low Delta E average of <2 to reproduce true-to-life colour accuracy.
Being productivity orientated, you get plenty of ports. This includes dual USB 3.2 Type-C Thunderbolt 3, it's not something most people would take advantage of, but for creators, it allows you to daisy chain devices such as monitors and storage. You then get a standard USB 3.2 Type-A, an SD card reader plug HDMI and mini display port.
The 15-inch model gets gigabit Ethernet, but the 14-inch model lacks it. With this being targeted at creators it would have been good to see 2.5GbE, though you don't even get it on the ConceptD 7.
Keyboard, Trackpad and Wacom Stylus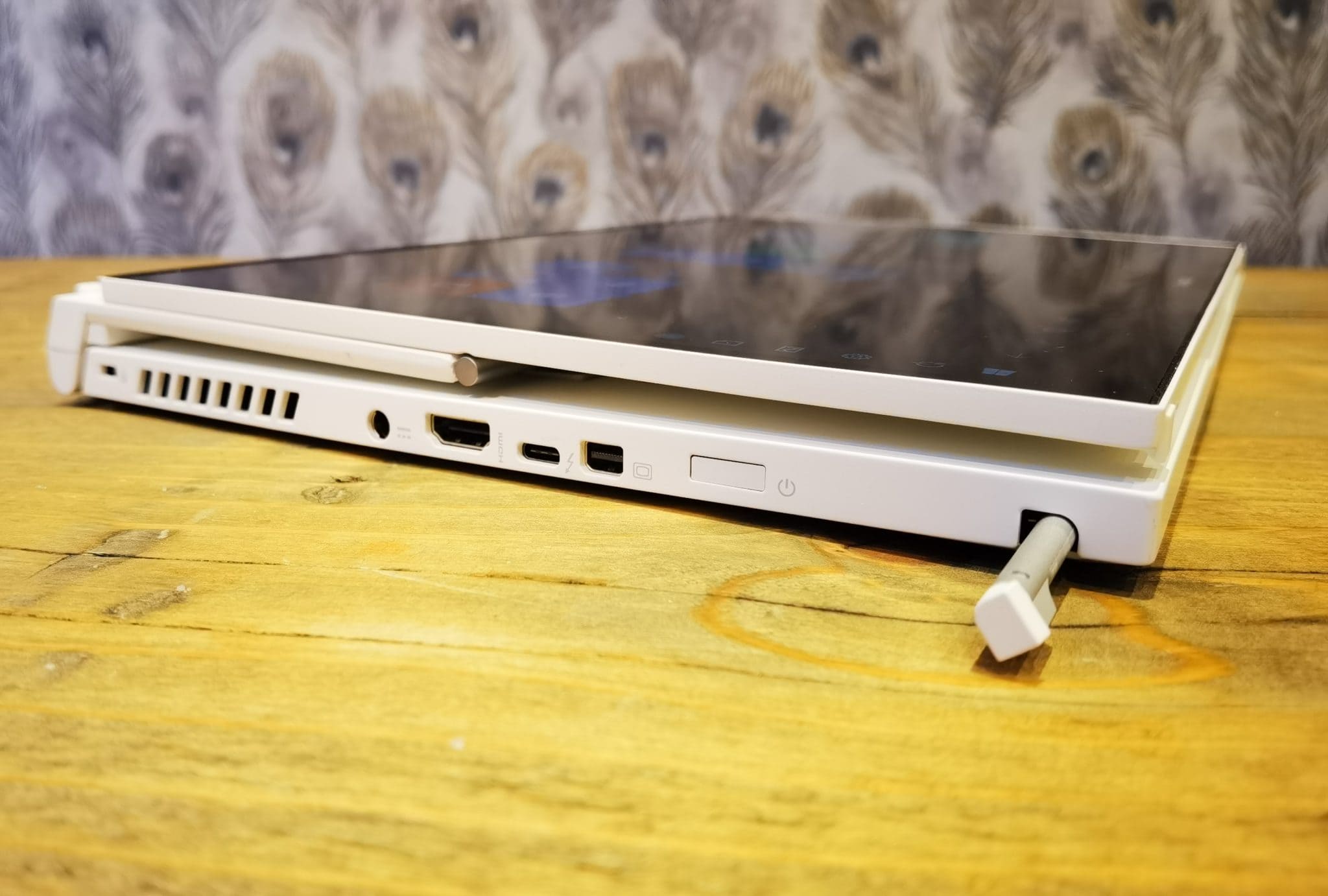 The keyboard uses individual hard keycaps and a scissor mechanism with 1.55 mm travel which I have found pleasant to use, both casually and when typing up work. Generally, I try and avoid typing on any laptop keyboard for extended periods of time, but this is about as good as I have used in recent times.
There are some handy shortcuts built into the keyboard. I use screenshots all the time, now the print screen button auto loads the Snipping tool (though I use ShareX).
Then there is the ConceptD key which opens the colour picker window (default setting). Users can customise more shortcut preference control setting via the ConceptD Palette.
The addition of the media keys does mean the keyboard is a little off centre, which can take a little getting used to.
You get a large trackpad too, Acer claims this is 27% larger compared than the previous generation.
I lack any artistic skill whatsoever, so the dockable Acer Active Stylus which uses Wacom AES technology stylus is a little wasted on me, but it is one of the standout features of the laptop.
The pen features over 4,096 levels of pressure sensitivity for quick and accurate control while its sturdy design protects itself from accidental drops.
I am not familiar with Wacom technology, but if you need the electromagnetic resonance (EMR) based stylus, you will need to move up to the ConceptD 7.
Performance
With my review sample not being available in the UK, it feels a little pointless benchmarking the laptop. However, the specification performs well, I am more of a gamer than creator, and this can handle most games at decent settings using the 1080P resolution the display has.
The 6 core 12 thread i7-10750H offers plenty of performance for all CPU intensive applications.
Like most decent laptops nowadays this features an NVMe drive, so everything is ultra-fast, this will be particularily useful when dealing with large videos or lots of photos.
As far as benchmarks go:
3DMark Time Spy : 3267
3DMark Fire Strike Extreme : 3739
PCMark 10 : 4552
CineBenchR15
Crystal Disk Mark
Battery
Battery life appears to be excellent, I was easily able to complete a full day of work using it, nothing too strenuous, mainly Chrome, Word, and Outlook but also some photo editing.  
Acer claims this has up to 18 hours with the 74Wh 4-cell Li-on battery, but this uses the out of date MobileMark 2014 test which is not particularily realistic of real-world usage.
Fan Noise & Other Bits
Acer has made a big deal about the cooling efficiency of this laptop.
They state:
The ConceptD 3 Ezel laptop utilises a custom-engineered thermal cooling technology with a strategically placed air intake and exhaust system to generate an aerodynamic 'Vortex Flow' within the device.
You get two of the Vortex Flow Technology fans combined with three heat pipes. Air is drawn in through the top and bottom, then blown out of the fan vents on the side and back.
This apparently results in noise levels to less than 40dBA while keeping the components cool enough for moderate CPU boosts.
I don't have an accurate sound meter, but the laptop is reasonably quite. The fans are always on from what I can tell, so don't expect a silent computer, but the sound profile is not too annoying.
During more intensive activities, they do spin up to be quite audible but much less so than the equivalent gaming PCs.
Acer Software – Some Bloatware
Most brands install something on their laptops, the worst offender on this laptop is Acer Jumpstart which will use push notifications asking you to install games and other crap. I am not a fan at all. It is easy enough to disable, or better, uninstall, but I don't think it should be there in the first place.
You also get the Acer Collection and Norton Anti Virus. Acer Collection doesn't seem to nag you with anything, I'd prefer not to have Norton pre-installed, but I guess it can be useful for some people.
On the bright side, the ConceptD Palette seems to be adapted from the Predator software and offers some useful monitoring and customisation features.
Price & Alternative Options
Scan has the 15" ConceptD 3 Ezel Pro with a  4GB Quadro T1000 for £1999 or Box has the 14" model of this with a lower spec GTX 1650 for £1,799.97
Then there is the Acer ConceptD 7 with a 4K display and GeForce RTX 2070 £2825 on Amazon.
One of the reasons ConceptD was created was that a lot of creators were buying gaming laptops. So you have to go with a lower specced device with stylus support, or even an iPad Pro, or go for a gaming laptop.
The Microsoft Surface Book 3 is about as close as you will get to this, pricing is similar. The 13.5" model with i7-1065G7 & GeForce GTX 1650 MaxQ 4 GB is currently £1649 via Amazon. The Surface Pen is sold separately at around £70. The Surface Book 3 has the advantage of being quite a bit lighter.
If you are willing to sacrifice the stylus and Pantone validated touchscreen display, then you can get a better laptop for less money.
The Acer Predator Helios 300 with i7 10750H and GTX 1660Ti is considerably cheaper at £1100.
Closer to the budget of the Acer, at £1700 you can buy the Razer Blade 15 with i7 10750H and RTX 2070 Max-Q.
So, Acer is charging a premium for those value-added features.
Conclusion
I like what Acer has done here, rather than churning out another gaming laptop where the market is saturated, they have targeted a specific niche.
The lack of like for like competition is what makes this great. If you work in digital creation, there isn't really anything out there with a beefy GPU, stylus support or an accurate colour calibrated display.
Build quality and the overall look of the laptop are impeccable. The Ezel functionality works perfect, and it looks like it would be genuinely vs using a laptop in tablet mode. 
The caveat is that this comes with quite a large price premium compared to similarly specced gaming PCs. The display and stylus will no doubt add the production cost quite a bit, so this is somewhat justified. However, this does limit the appeal of this laptop to its target niche.
Overall, if you are a creative professional that works on Windows then this laptop, or any of the ConceptD Ezel range, should be a serious consideration.
Posted by Mighty Gadget Blog: UK Technology News and Reviews