With the high bandwidth and power rating of USB-C there has been a growing number or portable monitors become available in recent years.
They are a great investment for anyone needing to set up a temporary monitor. Anyone working from home in the past year that doesn't have a permanent home office set up would likely appreciate the ease you can set these up and pack them away.
The Acer PM1 was launched last year with an RRP of £169.99, making it very affordable, being one of the cheapest options on the market. However, it is regularly available at a discount, and Amazon has had it for £109.99 on and off since January. It is only since March it has shot back up to £169.99. At £110, it is by far the cheapest option on the market.
Specification
1920 x 1080 Full HD
800:1 contrast ratio
USB Type C with microUSB for optional power
60Hz / 7ms Response Time
Panel Type: IPS
Portable
970g in weight
377 mm x 234.7 mm x 20 mm
Design and Build Quality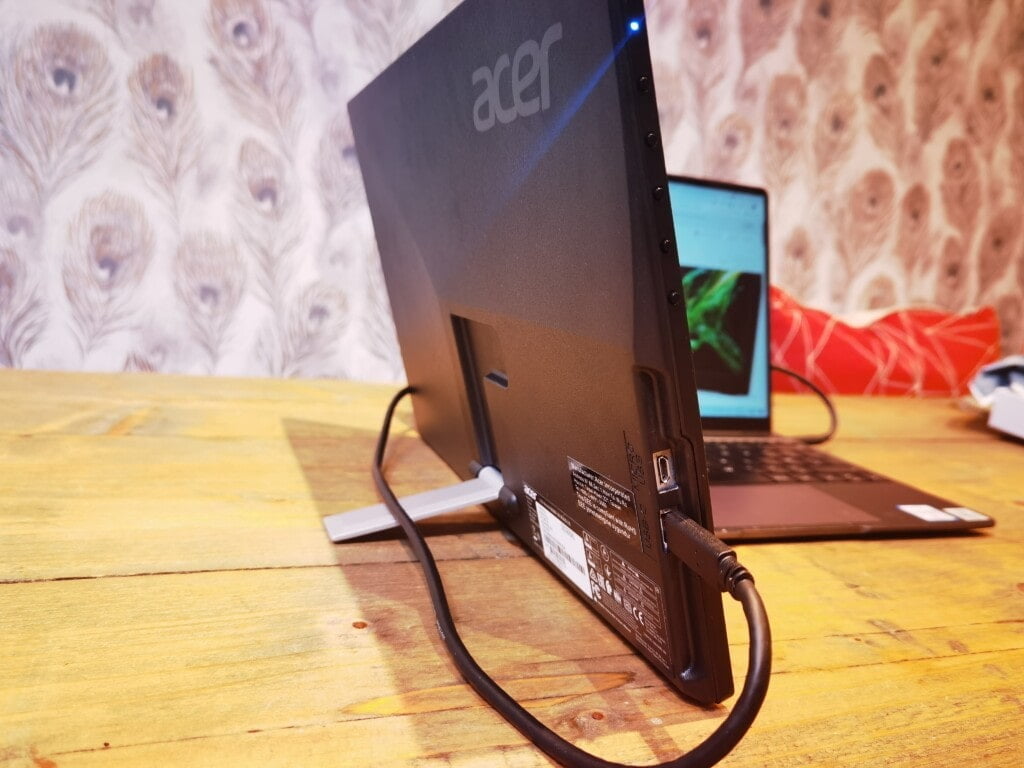 This is an affordable portable monitor, so the overall build quality is as expected. It is very plasticky and feels a little cheap. The plastic construction helps this be ultra-light though, at just 970g, this is ideal for travelling with, should you need a multi-monitor set up when working away.
The monitor comes with a foam type laptop sleeve, which will offer some protection, but if you plan to travel with it properly, you will likely need some sort of hardcover to protect the display itself.
The rear of the monitor has a little plastic pull-down stand allowing it to stand up on its own without having to attach anything. The two ports are then located on the left-hand side of the monitor. The microUSB port is for power only.
Set-Up – Compatibility Issues thanks to USB-C DP Alt Mode causing no signal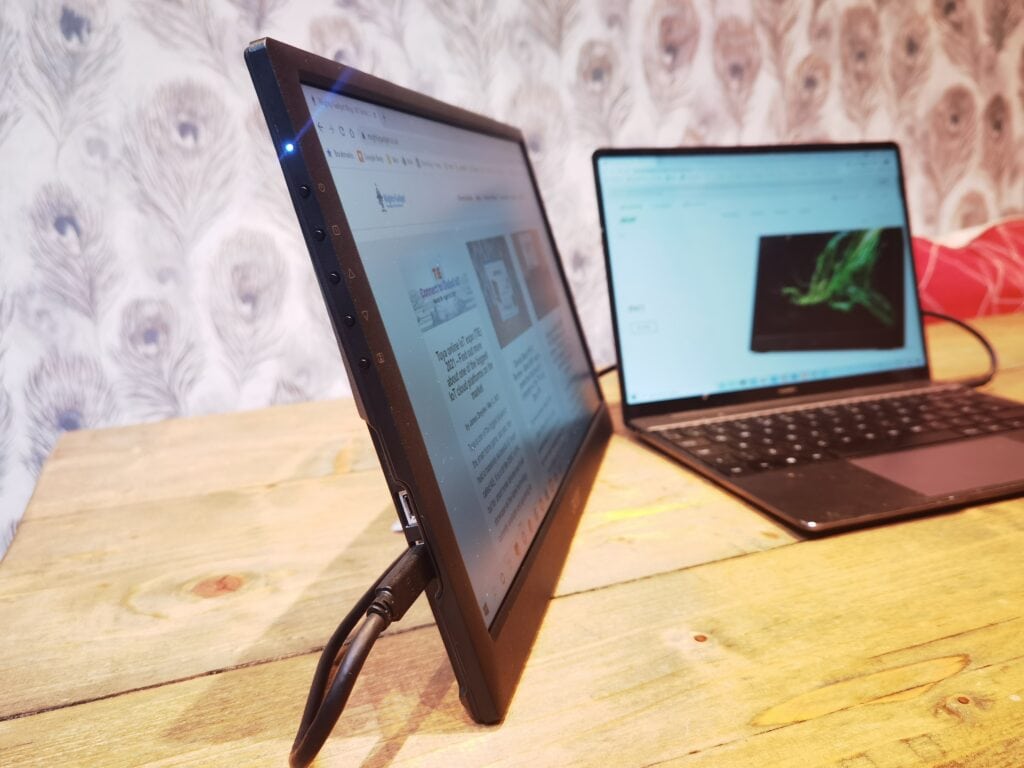 I first tried to use this monitor with the Gigabyte AORUS 15G YC I most recently reviewed. It didn't work, stating I had no signal. At first, I thought Acer had sent me a dud, then I blamed the USB-C port on the AORUS. However, a quick scan on Amazon revealed others with a similar issue.
The likely explanation is that the output device needs to support DisplayPort over Alt Mode (DP-Alt) mode, which is generally not listed on the spec sheet of devices. Acer themselves hide the reference to DP-Alt function in the footnotes of the product page. Retailers make no mention of it, just listing a massive list of confusing product numbers that it is designed for.
Giving it a second shot, but this time with the Huawei Matebook 13, the monitor worked immediately. I then also tried with my own P30 Pro and the Huawei P40 Pro, both worked fine.
I then thought maybe an HDMI cable to USB going from the laptop to monitor might work, sadly not.
Most professional reviewers just casually mention that you need USB-C DP Alt mode, but it doesn't reflect the extent that this problem effects devices. Looking at user reviews from Amazon, Google, Very and eBuyer indicates this has a lower user rating, and all the 1-star reviews are from people that couldn't get this to work.
I don't have extensive experience with portable monitors but coincidentally I am reviewing the Mobile Pixels Trio portable monitor and this works without issue with the AORUS.
As I finalised this review I re-setup the monitor, only to find it wasn't working with the Huawei, after faffing around for a while it turned out the left USB-C port isn't compatible with this monitor but the right is. The Mobile Pixels Trio works on both ports.
Apart from this issue, setting it up is easy; you plug it in like any other monitor, and it auto-detects. Laptops should be able to drive the monitor via the USB-C, but mobiles will likely need external power. Acer supplies a woefully short microUSB cable for power, so you will probably need to replace that.
In Use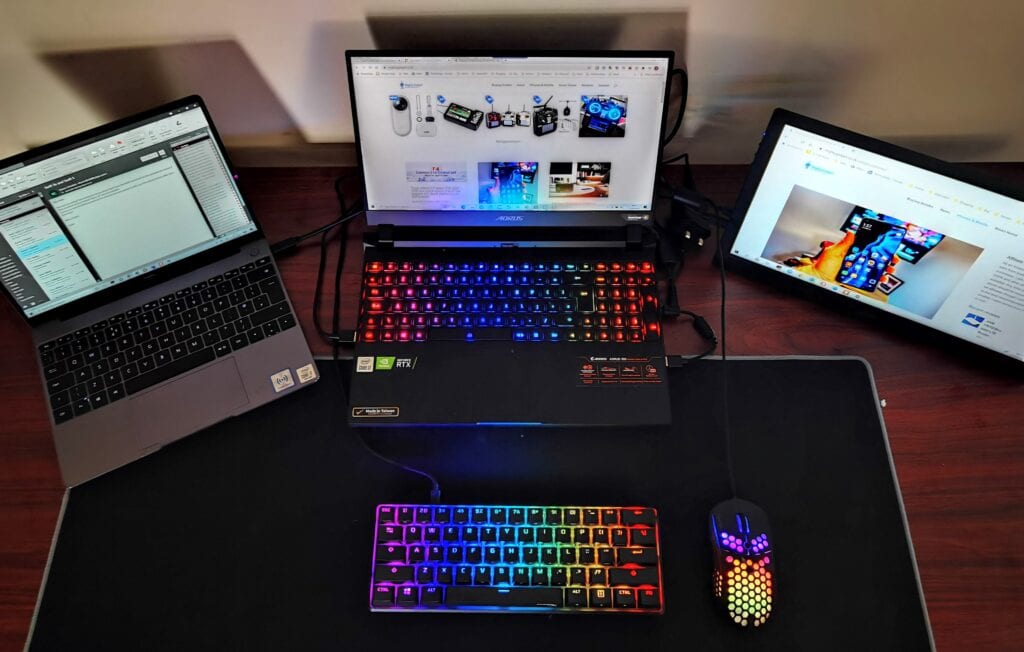 With it set up, it works just as you would expect a budget monitor to work. It is not exactly a colour accurate high refresh rate display, but it is more than adequate enough to work from or watch media.
The 15″ size works out great, I mostly use the ultraportable Huawei Matebook 13 now, so this not only offers a second screen but a bigger display, making working from it for long periods a little easier on my eyes. With it being IPS, you get good viewing angles, and this will work well if you need to share the screen for meetings etc.
In my office, I had to turn down the brightness, like most monitors, but the actual peak brightness is quite low. So if you fancy setting up your home office outside on a sunny day, you may experience some visibility issues.
Price and Competition
Currently, the Acer PM161Qbu is £169.99 from most retailers, which seems to be the RRP. Looking at Amazon price history and this is regularly sold for closer to £110
The ASUS MB169C+ is then around £155, there is also the ASUS ZenScreen MB14AC, but that's around £210.
The ThinkVision M14 seems to be a popular recommendation, but in the UK it is around £245.99.
You then have dozens of noname options on Amazon. The UPERFECT 13.3 Inch is well-reviewed and looks quite good at £170.
I am also reviewing the Mobile Pixels Trio which is £300 and mounts on the back of your laptop.
Overall
My results with this were obviously a bit of a mixed bag. I mostly like it though, assuming it works with your device, this is a super cheap ultra-lightweight monitor that is ideal for temporary work arrangments. It will be great for work from home solutions, and when I finally get a chance to go on holiday, this is the sort of thing I intend to buy so I can set up a work station (no days off when you are the only member of staff).
The main issue this has is that it may or may not work on your laptop, it is likely this problem will affect many portable monitors, but from my limited experience, it doesn't affect all of them.
Apart from that, the build quality feels a little cheap, and it's a bit ugly, nor is it the best overall display quality, but these are all things I would expect from a budget portable monitor, and its plastic build is what makes it so light and portable.
The main selling point of this monitor is its attractive price, it is far from perfect but by significantly undercutting the competition, it buys a lot of leeway from me.
If Amazon still listed it at the discounted rate, I'd probably buy it myself and likely will when it drops again. Just make sure you buy it from a retailer that offers easy returns.
Posted by Mighty Gadget Blog: UK Technology News and Reviews
Thanks for reading, check out Mighty Gadget Blog: UK Technology News and Reviews for more Tech news!