Following on from the superb Acer Nitro 7, I have been sent the Acer Predator Triton 500, which is the next step up in terms of pricing and performance.
I was actually expecting the new i7-9750H model which currently retails for £1,699.00 however I was sent the slightly older model which Scan still sell for £1,749.98 and Amazon £1,743.14. So we can already rule out buying the exact specification as you can get the newer model for less.
£1,799.99
in stock
2 new
from £1,799.99
Amazon.co.uk
Free shipping
£1,499.99
in stock
2 new
from £1,499.99
Amazon.co.uk
Free shipping

Last updated on 6th August 2019 7:49 am

Specification
This is a £500 more or a 41% increase in price than the
Nitro 7, and for that, you get a NVIDIA GeForce RTX 2060 6 GB and an additional
8GB of RAM, as well as an overall superior build, including a thinner design and
100 grams lighter
From what I can tell the only difference between the model I
received and the newer i7-9750H model is the CPU.
CPU: Intel 8th-gen Core i7-8750H
Memory: 16GB DDR4/2666 in dual-channel mode
GPU: Nvidia GeForce RTX 2060
Display: 15.6-inch, 144Hz, 1920×1080 screen
Storage: 512GB NVMe SSD
Dimensions: 179 x 390 x 266 mm (H x W x D)
Weight: 2.1KG according to my scales, PC World lists it as 1.9KG
I was unsure if this was a Max-Q model or not, but apparently,
there is no Max-Q RTX 2060, but it is obviously much lower specced than the
desktop variant. The desktop card has a base clock of 1365 MHz and a boost of
1680 MHz, with GPU Boost taking the GPU even higher. The laptop variant is
clocked at just 960 MHz with a boost of 1200 MHz.
The display runs at Full HD 1920 x 1080p with a refresh rate
of 144 Hz display and supports Nvidia G-Sync. The display itself doesn't have
G-Sync, but it will work with an external G-Sync monitor.,
You get a 512 GB NVMe SSD, and there is a second M.2 slot if
you are brave enough to open up the chassis and remove multiple components.  
As usual for gaming laptops ports and connectivity are
excellent. The right side features two USB-A ports, a miniDisplayPort, and a
Thunderbolt 3 port.
The left side of the Predator gives you a full-size HDMI port, analogue mic and headset jack, a third USB-A port, a dedicated charging port, plus ethernet with support for 2.5 Gigabit using a Killer E3000 controller.
While you get multi-gig ethernet, the same is not quite true for wireless as this still uses Wi-Fi 5. The  Killer Wireless AC-1550 is capable of 1.736 Gbps max connection using the 160 MHz channel, but I always find 160 MHz to be temperamental at best. 
Pricing & Comparisons
Most other i7-8750H & RTX 2060 laptops have an RRP of £1799 or higher while this is £1,749.98. At the moment most competing i7-8750H options have a sizable discount as companies try to shift old stock. The MSI 15″ Raider GE63 can be had for just £1,499.99 though has a smaller NVMe drive and weighs half a kilo more.
With the i7-9750H model, you get a much better buy compared to the competition. The ASUS ROG Strix G531GV is the best alternative at £1,699.99 but weighs half a kilo more. The Gigabyte AORUS 15″ costs an extra £100, but you get more RAM and a mechanical drive.
Amazon also sells the Triton 500  but with more storage using 2 x 512GB SSD in RAID for £1,799.99.
PC World Business lists the i7-9750H as being 1.9KG, which
makes the Acer the lightest model I can find. My sample weighs 2.1KG, which is
still a fair bit lighter than competing options. The Razer Blade 15 2019 model
is listed at 2.03 kg but that costs £1,899.98, though also has 32GB RAM.
Build and Design
With the Predator name comes and improved build and design,
though the Nitro 7 was excellent, so there is nothing hugely better about this.
This is, however, a more portable device, even with its higher spec. It is
rated as 0.1KG lighter than the ACER Nitro 7 while being less thick and less
wide. This comfortably fits into my bag for when I need to travel, the main
issue is the size of the power brick needed to power it, which adds a fair
amount of heft.
The chassis is made out of aluminium giving it both a lightweight
build and premium feel, the big giveaway that this is a gaming laptop is the
backlit Predator logo on the lid.
Similar to the Nitro 7 there are large angular air vents on
the rear and partly down the sides, these are coloured blue and the aluminium
fins have the appearance of a heatsink, which may help with the cooling.
Opening up the laptop and switching it on will greet you
with a brightly illuminated keyboard. This one is fully programmable so you can
choose the lighting scheme to fit your tastes. If you are less fond of bright
RGB you can tone the brightness down to nothing.
This laptop lacks the full number keypad that the Nitro 5
had, perhaps due to its slightly smaller frame, the result is that the keyboard
has a little more space left and right, and the touchpad is a bit more central.
The keyboard also includes a dedicated key for PredatorSense
and then another button above the keyboard for enabling the Turbo fan mode.
Typing on the keyboard is surprisingly good. The keys are
well-spaced and offer enough travel that it's easy to get accustomed to typing
on this laptop. The arrow keys are all full-sized, although they do shrink the
right shift key, that's generally not an issue.
A quick look inside this laptop reveals it is a lot less friendly for upgrades, this will be due to the thinner chassis. For example, to gain access to the M2 slots you will also need to remove the battery and several other components. I wasn't willing to do this on a review sample, but a Reddit user posted some pictures, and you basically have to remove the entire motherboard as it is upside down in the chassis.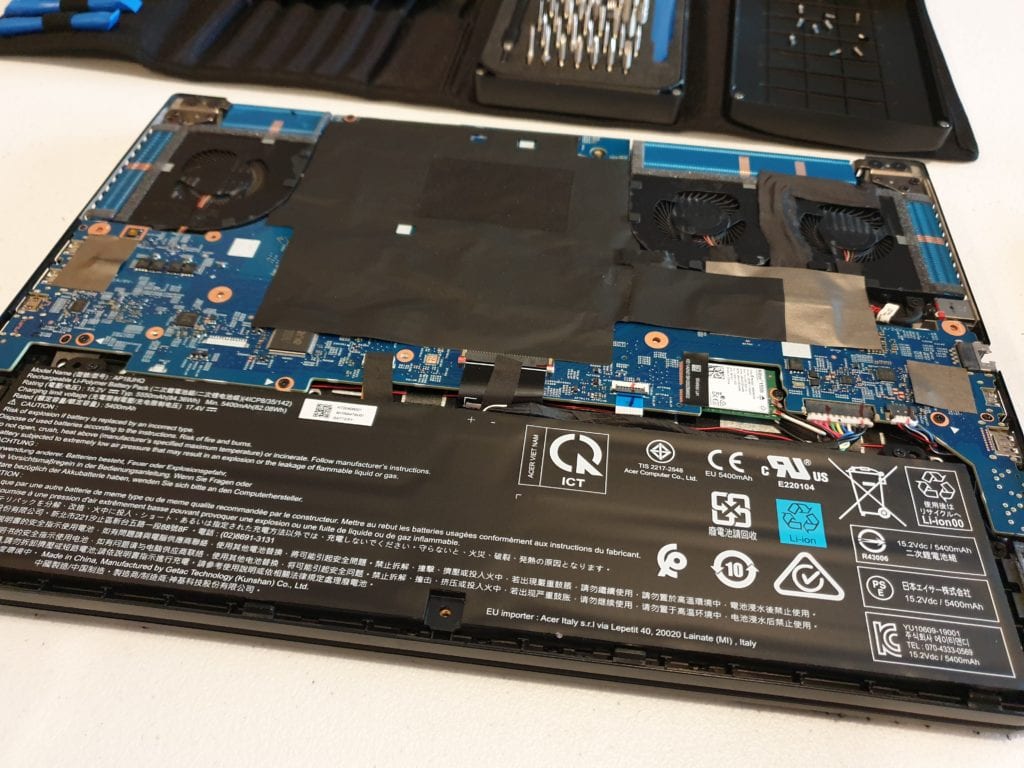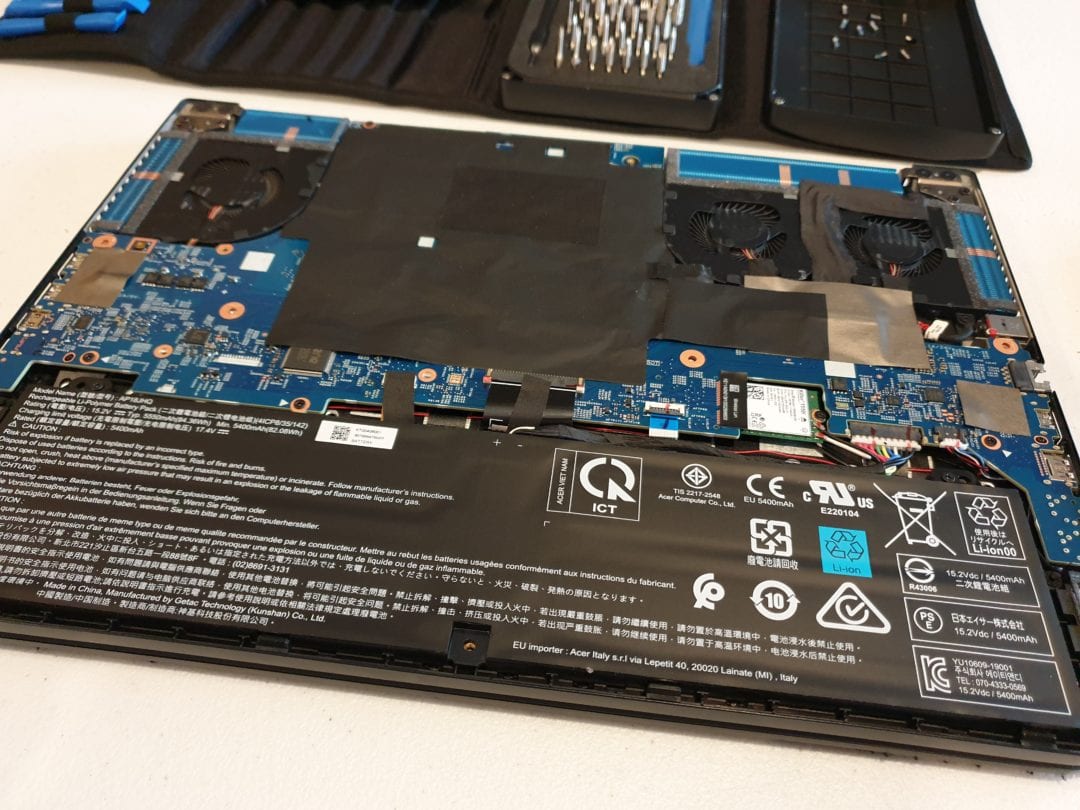 Performance
Within Predator sense there are some basic overclocking
options that should increase the GPU clock. I have had mixed results with this,
and I suspect it will be due to the ambient temperature of the room. My first
round of tests revealed no changes in Time Spy, but doing the tests again the
next day in a marginally cooler room had a small boost in scores.
3DMark 13 – Fire Strike: 13736 (Graphics – 15222, Physics – 15104)
3DMark13 –

Time Spy (normal):  5765 (Graphics – 5889 , CPU – 5146 );

Time Spy (GPU extreme & fans max): 5948(Graphics – 6037, CPU – 5495)

GTA V – 64 FPS
Shadow of Tomb Raider – 70 FPS
Far Cry 5 – 79 FPS
Deus Ex Mankind Divided – 60 FPS
Metro Exodus – 43 FPS
Experimenting with Throttlestop to try and reduce the
thermals a little I set the underclock to -125mV, set the GPU to max, and
turned the fan speeds up.
This made little to no difference in the results achieved in
TimeSpy but the max temperatures which higher across cores, so for prolonged
gaming underclocking could be beneficial to performance.
Using the Turbo button to max out fan speeds helped keep the max temperatures to 90-degrees versus 92-degrees on auto.
Due to the power of this laptop, battery life is middling at best, it certainly can't compete with an ultra-book. That being said, for general office work and light load applications, you should easily be able to get 6+ hours out of it.
Fan Noise
Similar to the Nitro 5, the fans are always on, but with a light load, they are barely audible. The fans are eager to spin up as the load increases, and during gaming, they become very audible. I don't have both laptops to compare, but I would say this is marginally louder/easier for the fans to spin up. Likely due to the thinner nature. While not very accurate, for future comparisons, using a sound measuring app on my phone, with the fans at max I measured 54dB, during light gaming 40dB, and light load 21dB.
Overall
The Acer Predator Triton 500 is another superb laptop from
Acer. As it currently stands the i7-8750H is more expensive than the newer one,
so don't get that, it is worth keeping an eye out on prices though, if it was
£200 cheaper, then it is probably worth it over the newer model.
Comparing the new i7-9750H model to other brands, Acer continues to be one of the best value companies on the market and that therefore makes it highly recommended from me if you really want an RTX 2060 laptop.
It is a well-made and attractive laptop, that easily handled
everything I threw at it. The slim and light nature of it means it is perfect
for people that like to travel and game. In particular, for me, it works well
as an all-round device, transitioning from an office to gaming at home with
ease.
Personally, I am not too sure if the Triton 500 RTX 2060 is
really worth the price premium over the Nitro 7 GTX 1660Ti but if you are a
keen gamer you will probably think otherwise. The RTX models should have more
longevity for playing games at high settings which in turn could save money by
prolonging upgrades. You also pay extra for the superior build with a thinner
chassis and slightly lighter weight.
Post from: Mighty Gadget – Gadget and Technology Blog
Acer Predator Triton 500 Gaming Laptop Review with Nvidia GeForce RTX 2060