The Acer Spin 513 is the first Chromebook to feature the new Qualcomm Snapdragon 7c, which aims to offer increased performance and superior battery life compared to existing Arm based MediaTek Chromebooks while keeping things affordable.
Acer Spin 513 CP513-1H Specifications
Operating System: Chrome OS
Processor: Qualcomm Snapdragon 7c

2x Kryo 468 Gold (Arm Cortex A76)@ 2.4GHz

6x Kryo 468 Silver (Arm Cortex A55) @ 1.8Ghz?

Display: LCD 33.8 cm (13.3″) 1920 x 1080
Memory: 4 GB LPDDR4X
Storage: 64 GB eMMC
Connectivity: WiFi 5,  Bluetooth 5.0
USB:

1 x USB 3.2 Gen 1 Type-A Ports

2 x USB 3.2 Gen 1 Type-C Ports

Battery: 4670 mAh / 14 Hour
Dimensions: 15.55 mm (h) x 310 mm (w) x 209.4 mm (d)
Weight: 1.29 kg
Design & Display
The Acer Spin 513 is a little bland looking, but this is a sub-£400 Chromebook, so to be expected.
Build quality is good; even though the plastic shell feels a little cheap it feels durable and I expect it will handle being bashed around in a laptop bag without much concern.
The display is good for a device at this price. With it being a touch screen, it is very glossy, so screen glare could be an issue, but it generally looks good, goes quite bright, and the bezels are thinner than cheaper models.
With this being a Spin, the display rotates fully, allowing you to use it as a tablet or in tent mode when watching media. The touch screen is nice and responsive, and I found myself using it in tablet mode quite frequently when reading feeds or browsing social.
It is also a lot lighter than it looks. At 1.29 kg this is about the same weight as most premium priced ultra-books.
There are just enough USB ports, 2 USB-C and one USB-A. So you can have this on charge via USB-C then attach just about any device without having to resort to hubs. You also get a 3.5 headphone jack, something I found quite useful when watching media with it propped up in tent mode.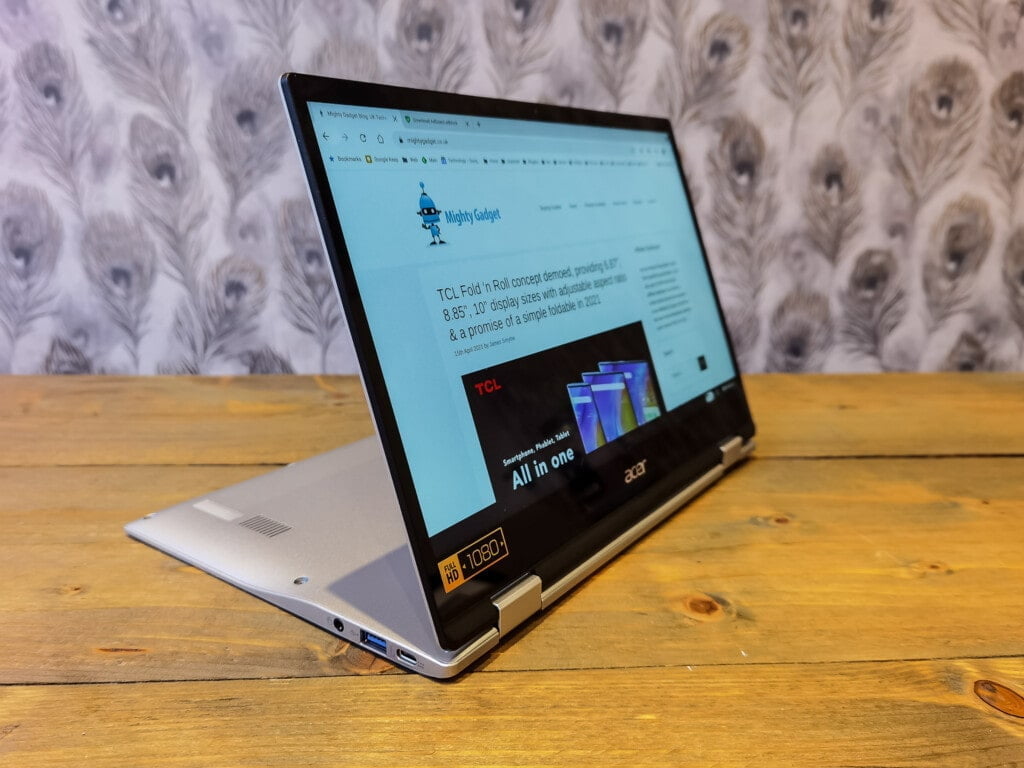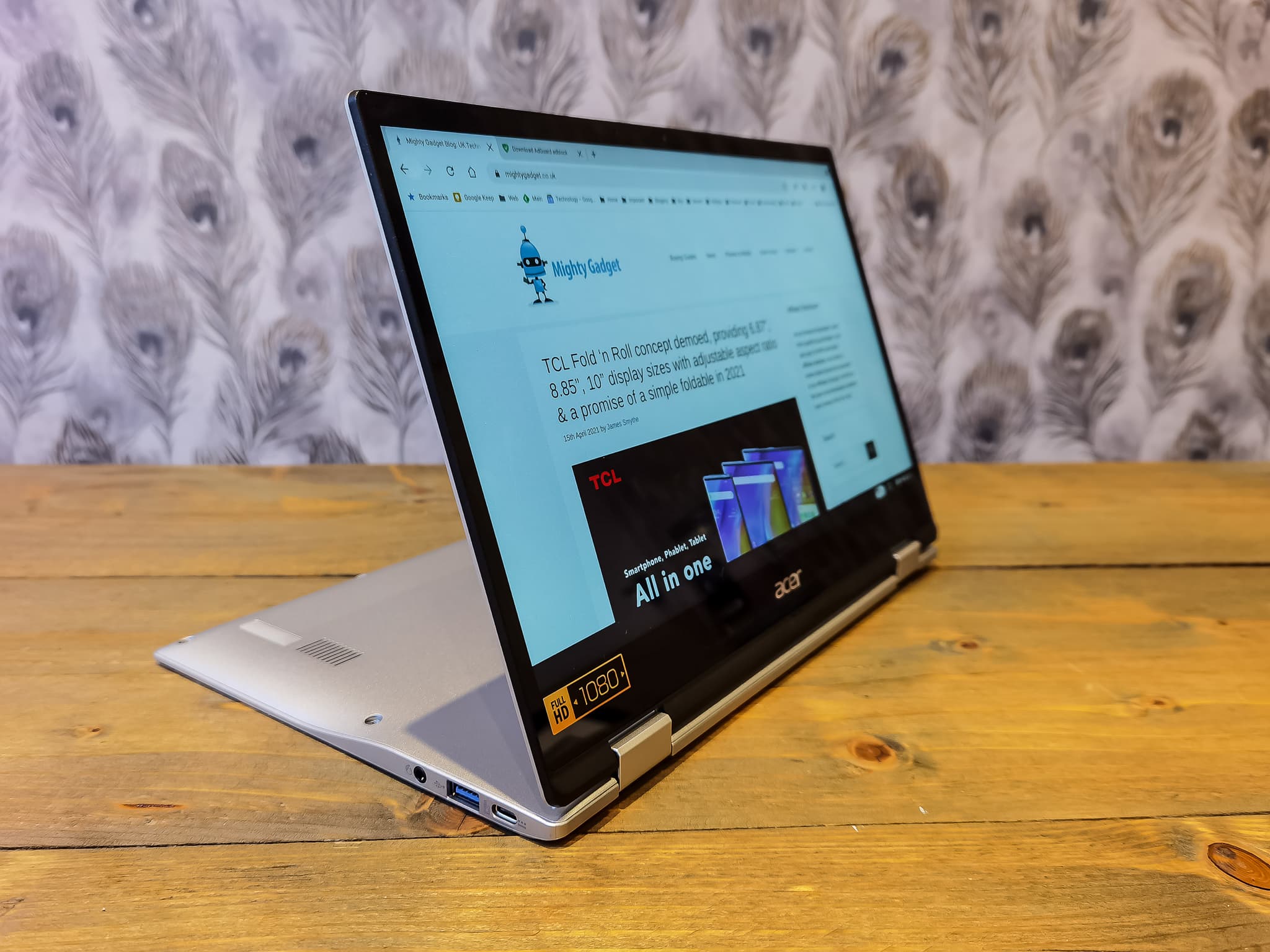 With this using the power-efficient Qualcomm Snapdragon 7c there are no fans. So, this is beautifully silent when in use.
Performance & ChromeOS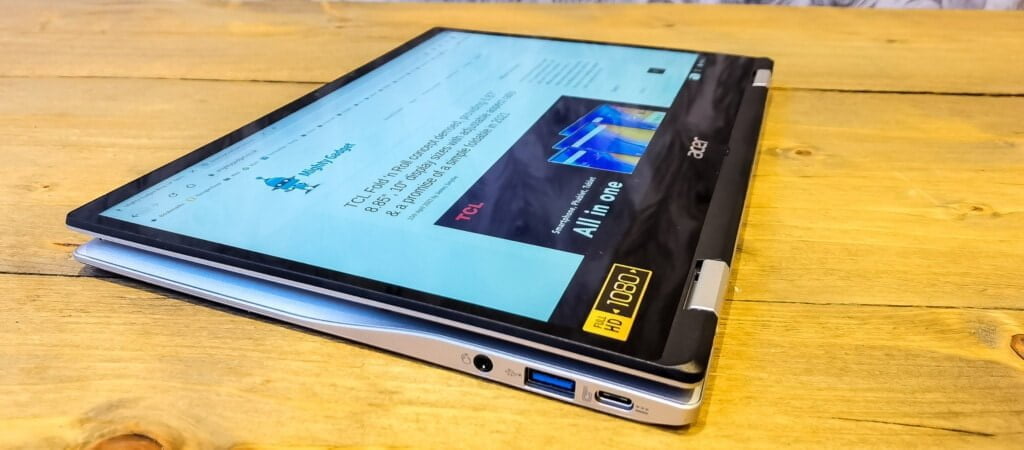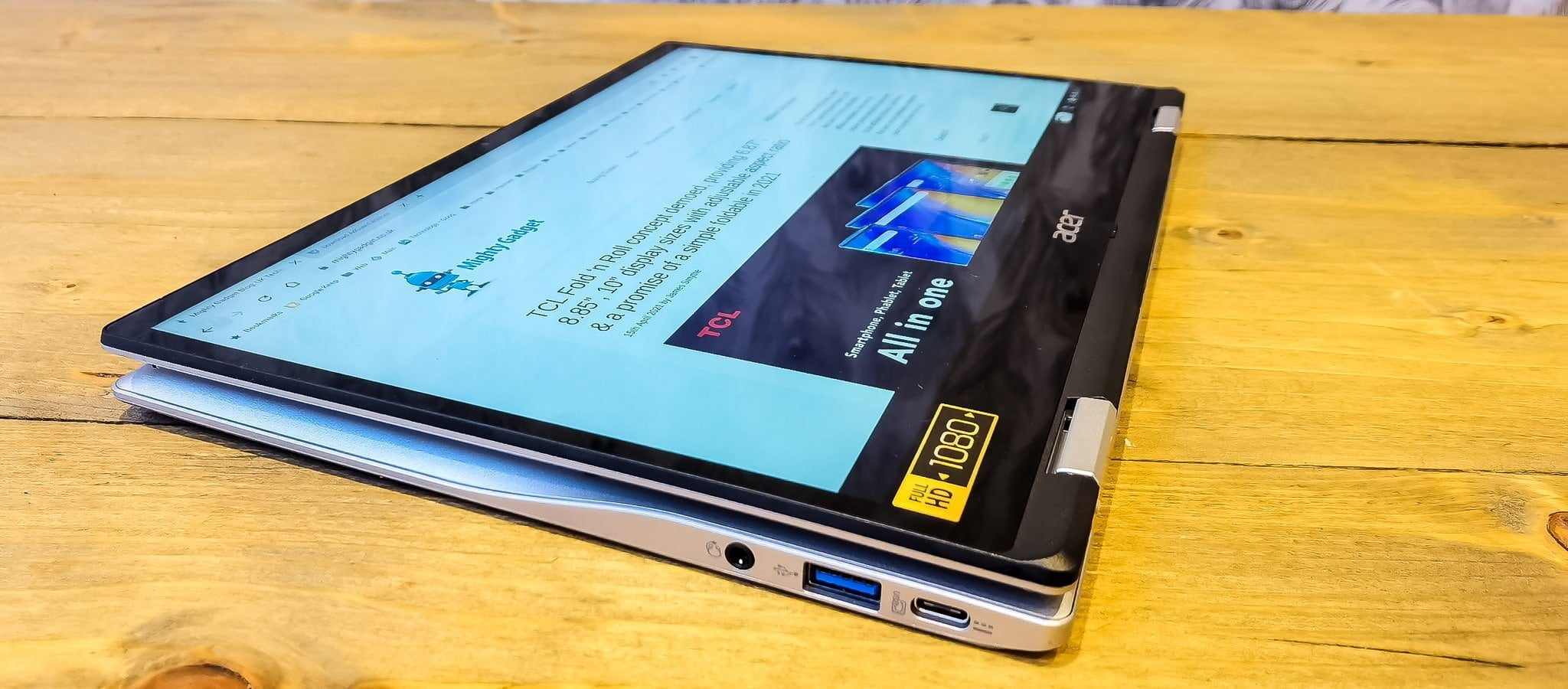 The Spin 513 uses the 32-bit version of ChromeOS, which is far from ideal. By all accounts, all ARM-based Chromebooks still use the 32-bit ChromeOS, and this can have negative consequences on performance.
One of the selling points of the Qualcomm Snapdragon 7c is the LTE connectivity. However, this base model lacks this form of connectivity.
It was hard to find the exact specs of the Snapdragon 7c, but it appears to be 2x Cortex A76 @ 2.4GHz then 6x Cortex A76 running at an undisclosed speed. Device Info from the play store indicates these are 1.8Ghz.
It is a reasonably low spec chipset, but it is a big jump up from the MediaTek MT8183, which you will find on the affordable Acer Spin 311 or the MediaTek P60T on the popular Lenovo IdeaPad Duet.
This would also make this the most powerful ARM-based Chromebook on the market. At least until models with the new MediaTek chipsets come out.
The performance itself is OK, I experienced no major issues with anything I did. On devices like this, it is predominantly all Chrome. One noticeable thing I can think of is that scrolling down on websites was often a little jittery, but there were no delays in loading things or obvious slowdowns.
I also found apps very slow to download and install; this is likely due to the eMMC storage more than chipset performance.
Games such as Asphalt 9 were just about playable; while racing, the gameplay was smooth most of the time, but cut scenes or other things loading up would sometimes be a little laggy. I wouldn't say this is the sort of laptop you would be for gaming.
Most of the Android apps I use are quite basic, social media, messaging and email, which the Spin 513 handles perfectly.
Running benchmarks didn't work quite as expected; some just wouldn't run.
In Geekbench, the laptops scores 496/1468; looking through my Android phone benchmarks, this is around the level of performance you get from the Mediatek Helio G95 or sitting between the SD712 and SD730G
3DMark Wildlife won't run as I get a warning this needs Android 10 or higher, and the other tests don't support Vulcan. However, it scores 1747 on the OpenGL Sling Shot Extreme test and 2709 on the normal Sling Shot.
PC Mark Work 2.0 Performance achieved a score of 6902.
Battery
Battery life is superb, Acer claims 14 hours, I didn't time the performance, but it comfortably lasted a week with me using it for 1-2 hours per day in the evening.
Price and Alternative Options
The Acer Chromebook Spin 513 CP513-1H with 4GB of RAM and 64GB eMMC is available widely for £399.00 (£392 from Amazon).
The 14″ Acer 514 is just £229 from Currys, it doesn't have a spinny display, it has less storage, weighs more and uses an Intel chipset
The ASUS Flip C433 14″ costs the same, uses a more powerful Intel m3-8100Y Processor, and I assume 64bit ChromeOS has the same RAM and storage but weighs more.
Overall
The Acer Spin 513 is mostly good, I like the fact that it is very light, completely silent with superb battery life, and £399 seems quite affordable.
However, the Qualcomm Snapdragon 7c is far from the most powerful chip used in Chromebooks, and you can get more performance for your money with the Intel CPUs. At this price point, you have to choose either something that's powerful or portable and efficient.
It is disappointing to see that ChromeOS is still using the 32-bit version for ARM devices. This is not the fault of Acer but Arm/Google.
I found that this offers plenty of performance for casual use, in particular, browsing the internet and doing light work while watching TV in the evening was preferable on this vs my Huawei Matebook 13, due to the lack of fan noise.
This is also the sort of laptop I'd use for travelling/commuting, it is cheap enough I am not going to cry if it gets broken, and the battery life + lightweight design make it great to carry around all do and work as and when needed.
Acer Chromebook Spin 513 CP513-1H Review Rating
Overall
Posted by Mighty Gadget Blog: UK Technology News and Reviews