The new Acer Swift 3x is one of the first laptops on the market to launch with the new discrete Iris Xe Max GPU. It is far from a gaming GPU but instead aimed at aimed at improving performance for GPU orientated productivity such as photo and video editing.
 The Xe Max GPU will therefore go up against the various Nvidia MX GPUs on many laptops.
My Huawei Matebook 13 has the i7-10510U and the MX250, which I have used for some performance comparisons. There are of course 11th gen Intel laptops running the MX450, such as the HP ENVY Laptop 13-ba1013na. However, I don't have that laptop, so you get what you get given.
Specification
CPU: Intel Core i7-1165G7
GPU: Intel Iris Xe MAX
RAM: 16GB 
Storage: 1TB SSD
Display: 14-inch, 1080p
Weight: 1.37 kg
Design & Display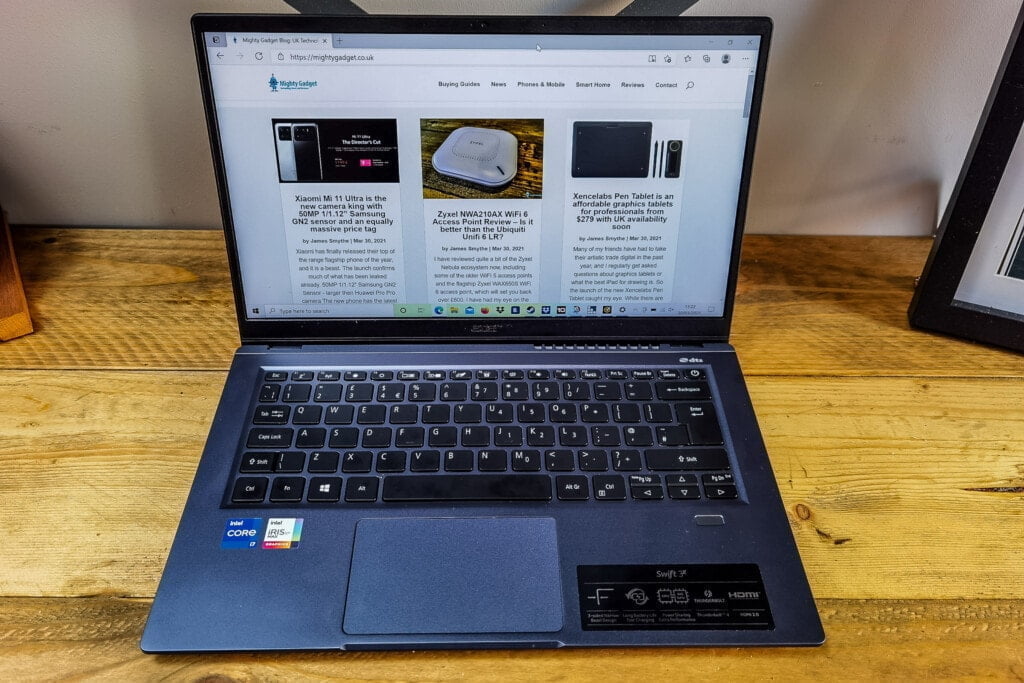 Acer has added a splash of colour to the Swift 3x, opting for blue vs black or grey with a brighter cyan hinge. The rest of the design is quite generic, though, and the 14″ design is more of a petite 15″ laptop rather than ultra-portable. It is a decent size, though, easier to fit in your bag than the 15″ counterparts, and with a weight of 1.37 kg, it will hardly weigh you down.
With it not being super thin, you get a healthy range of ports, much better than my Matebook. On the left side are three ports: HDMI 2.0, USB Type-A 3.2 Gen 1 and Thunderbolt 4. Then on the right, a USB Type-A 3.2 Gen 1 port, a headset/mic jack.
I also like the inclusion of a fingerprint scanner, but I do prefer the way Huawei build it into their power button.
The keyboard is good, with it not being the smallest laptop going, it is not too cramped. Typing isn't too unpleasant I was able to get a few hours of work done on it without it driving me mad. The keyboard is also backlit to make it a little easier to use in dim light.
In Use & Performance
Performance is excellent. The Intel Iris Xe Max graphics has a significant edge over the now two-year-old MX250. In particular, you can just about play modern, high-quality games on this. I wouldn't want to use it as my main gaming laptop, but stuck in a hotel room on business, it can offer enough performance to make your downtime a little more enjoyable.
For games, the resolution is a little different with the Swift vs Matebook because Huawei has a 4:3 aspect ration
Benchmarks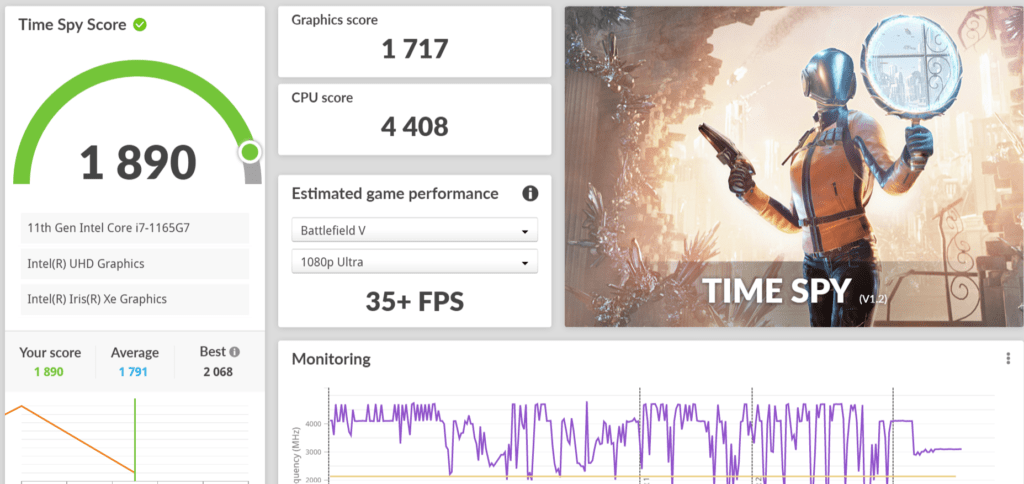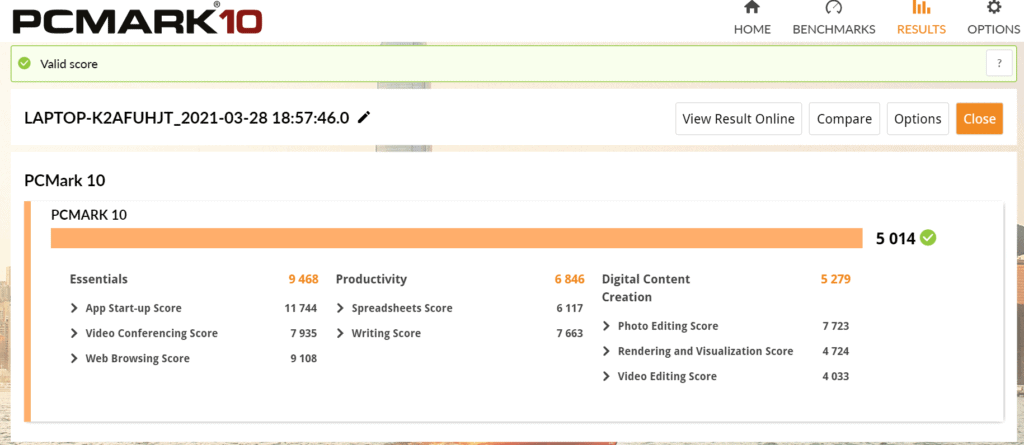 3DMark Time Spy:

Acer Swift 3X: 1890 (CPU: 4408 GPU: 1717)
Matebook: 1276 (CPU: 2673 GPU: 1169)

PCMark:

Acer Swift 3X: 5014 (Essentials: 9468 Productivity: 6846 Digitial: 5279)
Matebook: 3970 (Essentials: 8759 Productivity: 7224 Digitial: 2684)

GeekBench 5: 

Acer Swif 3X : 1,426 (single-core); 5,581 (multi-core)

Assassin's Creed Odyssey:

Acer Swift 3X: 36fps, 29fps, 44fps
Matebook:  38fps avg, 21fps minimum, 63fps max

Far Cry 5:

Acer Swift 3X (720P/Low): 31fps minimum, 40fps average, 49fps max
Acer Swift 3X (900P/Low): 30fps minimum, 34fps average, 40fps max
Acer Swift 3X (1366×768/Normal): 30fps minimum, 35fps average, 43fps max
Matebook: 32fps minimum, 35fps average, 44fps max
With Far Cry 5 posting playable results at the lowest possible settings, I played around to find the best quality while maintaining something close to playable framerates. Of course, a lot of gamers will be disgusted at 30fps gameplay, but I am not suggesting this be a primary gaming machine.
If we look at the 3DMark Time Spy score, it claims Battlefield V will be playable at 1080P in ultra, giving 35+Fps. This score is significantly higher than the Matebook, with a 48% difference. It is the CPU score that sees the biggest gain with a 65% increase, but the GPU score is also improved by 47%.
All these gaming orientated GPU tests should also transfer over well for GPU intensive productivity.
Photo and video editing will all benefit from this, and the superfast thunderbolt port should help you get you from shooting to editing as quickly as possible.
This is also shown under the PC mark digital content creation score, where the Acer scores 97% higher than the Matebook
Battery
I am not too sure why, but you get a 65W power brick with an old fashion pin-style connection. However, this accepts power via the USB-C port, so I am not sure why they don't have two UBS-C ports rather than one PD port + one power socket.
However, I love power delivery USB-C, so I am glad it is there.
The battery itself last well, lasting over 14 hours in the PC mark test, and this can easily see me through a days worth of work.
Fan Noise
Like all none ultra-low powered laptops, this has fans, and they like to spin up quite easily. I don't have an accurate enough sound meter to compare, but I'd say it is similar to the Matebook. The fans don't get very noisy, but it can be audible over the TV with a moderately high pitch.
Other bits – Wi-Fi & Audio
As you would expect from a 2021 laptop, this uses Wi-Fi 6, so it was able to make the most of the Wi-Fi Zyxel access points I use, achieving over 900Mbps for LAN transfers and happily maxing out my 500Mbps+ Virgin connection.
Audio is OK with two downward-firing speakers; it is fine for watching the clips of things or taking a zoom call, but I'd always opt for headphones for audio with any laptop.
Software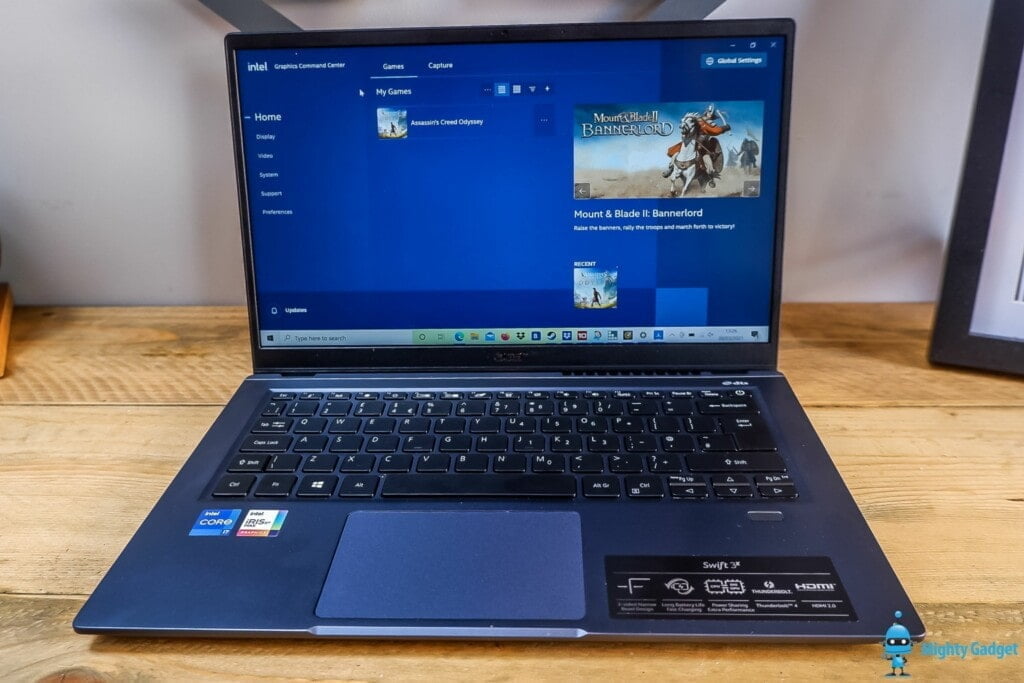 It is a Windows laptop; they are all about the same. Acer still includes Acer Jumpstart, which I advise you to uninstall, it will nause you about Norton antivirus and even try and push games on you.
The Iris Xe Max has its own control panel, much like the Nvidia control panel, it allows you to tweak various settings, but you can mostly forget about it.
Price and Alternative Options
I was sent the Intel Core i7-1165G7 model with 16GB of RAM, at the time of writing, I can't find this model available anywhere in the UK. So my price comparison is for i5 models. These obviously won't perform quite as well as my benchmarks above, but the alternative options are all i5.
You can get the i7-1165G7 model in the US from Amazon for $1,199.99, and if you wanted to import it, it would be $1,481.72 or £1102.59 if you let Amazon do the currency conversion. If this model gets launched in the UK, I'd guess it would be £1,199.99.
The Acer Swift 3x with the i5-1135G7 Processor, Intel Iris Xe Max and 8GB RAM / 512GB NVMe is priced at £899 from Currys.
The HP ENVY Laptop 13-ba1013na was the immediate laptop I found that is worth considering, it has the  i5-1135G7, but uses the GeForce MX450 and for £100 less at £799
The Matebook X Pro 2020 (£799) or Matebook 13 (£699) are excellent options and cheaper plus lighter, but using older hardware.
Or, if you want something with more GPU power, you can pick up the ASUS ROG Zephyrus G14 14″ for around £900. It is a bit bigger and heavier (1.6 kg) but the Ryzen 5 4600HS and GeForce GTX 1650 Ti GPU should make it better for overall performance, though this will also come at the cost of reduced battery life.
Overall
The Acer Swift 3x offers a superb blend of portability and power. The excellent performance of the  Intel Iris Xe Max combined with the Thunderbolt port will make this a particularily appealing choice fro content creators.
My review was of the Intel Core i7-1165G7, which doesn't appear to be available at the moment, so commenting about the price of the model specifically is hard. However, the i5-1135G7 model is reasonably priced against other i5 machines out there.
Overall, if you want a portable laptop that has more GPU grunt than your typical 14-inch laptop without breaking the bank, then this should be an excellent choice.
Posted by Mighty Gadget Blog: UK Technology News and Reviews
Thanks for reading, check out Mighty Gadget Blog: UK Technology News and Reviews for more Tech news!