The Amber Plus Pro by Latticework describes itself as a Cloud NAS providing edge computing with a cloud-like service.
In reality, it is a NAS with a router built-in. The NAS functionality is similar to the many options from market-leading Synology or the affordable alternative, TerraMaster.
Synology is by far the dominant brand in the NAS market, while the Wi-Fi router market is completely saturated with options. So does the  Amber Plus have what it takes to stand out from the crowd?
Amber Plus Vs Synology DiskStation DS220+ vs TerraMaster F2-221
While there is a big difference in price, you also need to factor in the cost of the included drives. This uses Seagate BarraCuda 2 TB drives which are £62.99 each or £125.98 for the two. Bringing the Amber down to £439 if it had no drives. It then also has a Wi-Fi router built-in which neither Synology or TerraMaster have.
One big negative – Just two 2.5″ drive bays
There is no getting away from the fact that this has a significant disadvantage compared to independent NAS drives. The two 2.5″ drives bays severely limit the storage capacity. With RAID 1 you get just 1.8TB of usable storage.
That may be enough when you compare it to cloud storage solutions, but competing NAS drives offer 3.5″ drive bays which give you storage options going up to 18TB per drive (albeit at £500+ per drive). There is also no option to have this drive-less, should you wish to source larger drives yourself. If you did expand the internal storage, your upper limit is 5TB per drive with the Seagate ST5000LM000 BarraCuda, which costs around £170 vs £130 for the 6TB 3.5″ model.
Almost everyone that I know who has bought a dual-drive NAS has ended up regretting it, wishing they went with a 4-bay model.
Depending on all your backup options, this storage could quickly fill, using Rsync on your computers, backing up photos from your phone, then taking snapshots will eat up a lot of data.
You also have to consider increased data requirements, a decent phone nowadays will take 12MP+ photos at around 5MB each, more than twice the size of phones just a few years ago. Video is often recorded in 4K or even 8K for some new phones, with a couple of minutes worth of 4K footage taking up close to 2GB of data.
So there is not much flexibility with this system, and you need to think hard about if it has enough storage for you. For some people, it will be plenty.
Set-Up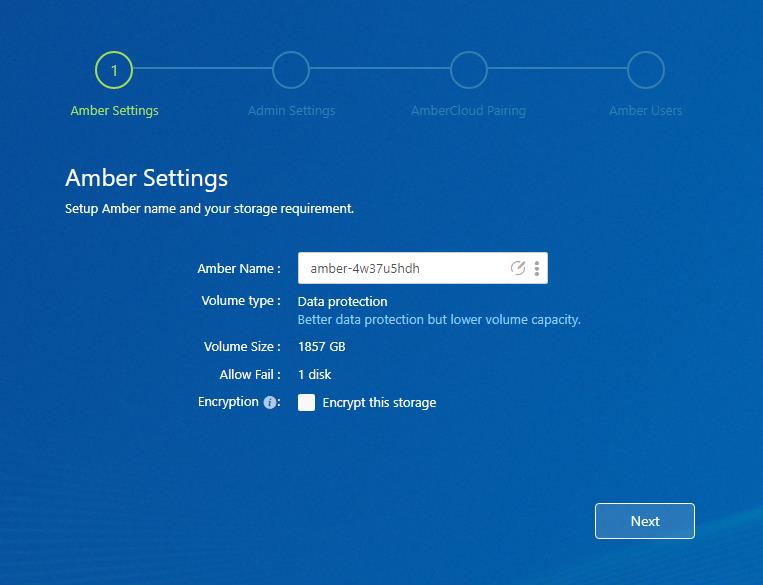 With the drives pre-installed, you only need to plug everything in and wait for it to boot up.
You can optionally install using your phone and the app or via your web browser. I had some issues with the app method, which I am 90% sure was user error. There are two different logins you need, and at some point, I much have completely messed up the passwords, so I couldn't login to do anything.
So after a reset, I did everything via the browser so I could easily add the passwords to Bitwarden. This went through without a hiccup.
Docker & AmberPro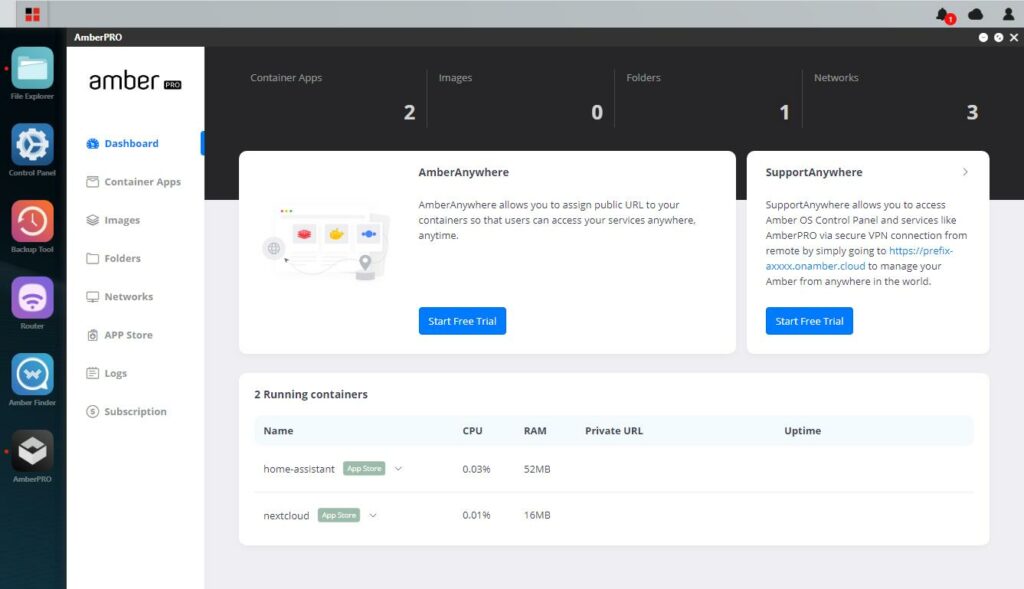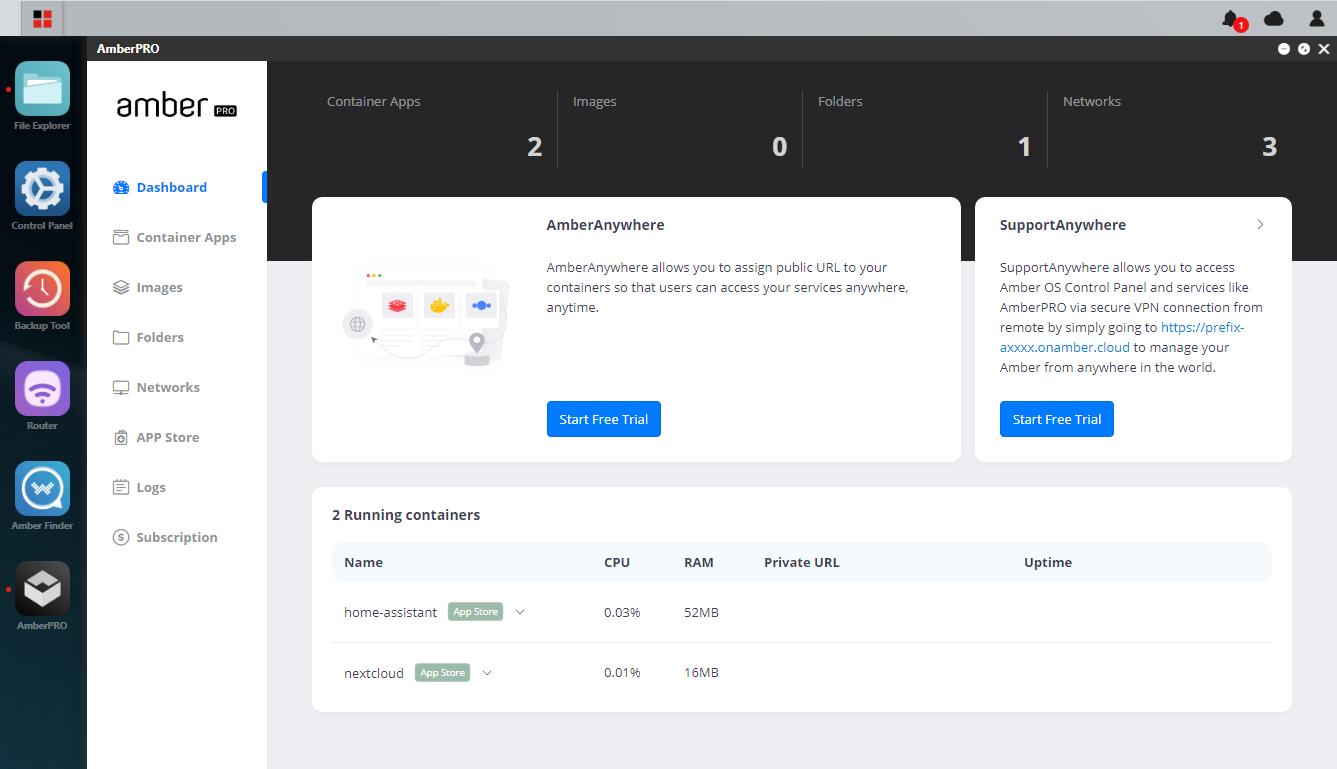 Docker is the stand out feature for me, and it is contained within the AmberPRO featureset. Oddly, this is not enabled by default and you are warned that it is Beta. However, without AmberPro the NAS features of this device fall well behind competing solutions, so it is an essential feature.
App Store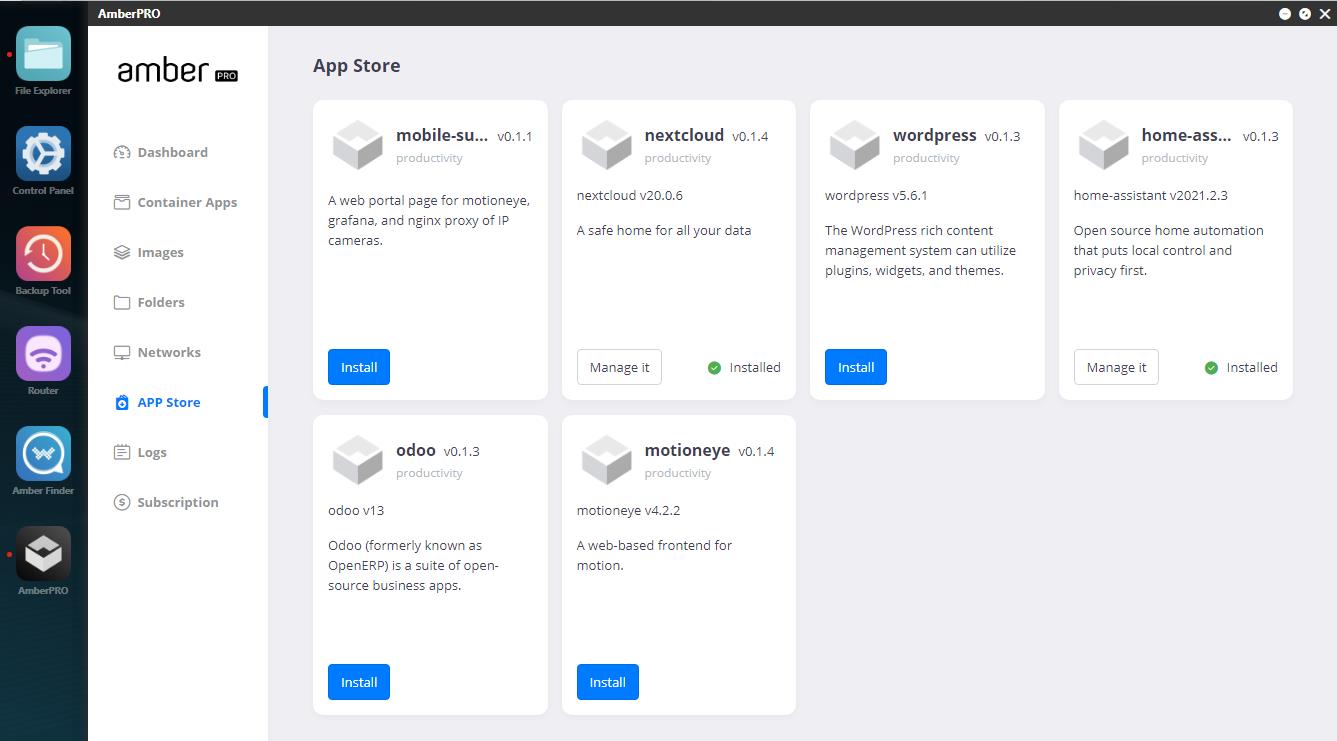 The AmberPro App Store is basically pre-configured Docker templates giving you the same sort of easy installation that Synology and TerraMaster have with their apps. I found these apps much easier to install than the app repository used by TerraMaster. You click on install, and that is it, you don't need to configure anything. The downside is that there are just 6 of these apps.
You can manually create apps and import a YAML file so the system has the potential to offer just as much functionality as other NAS brands, but this option is far less user-friendly than the Synology Package Store.
NextCloud & Home Assistant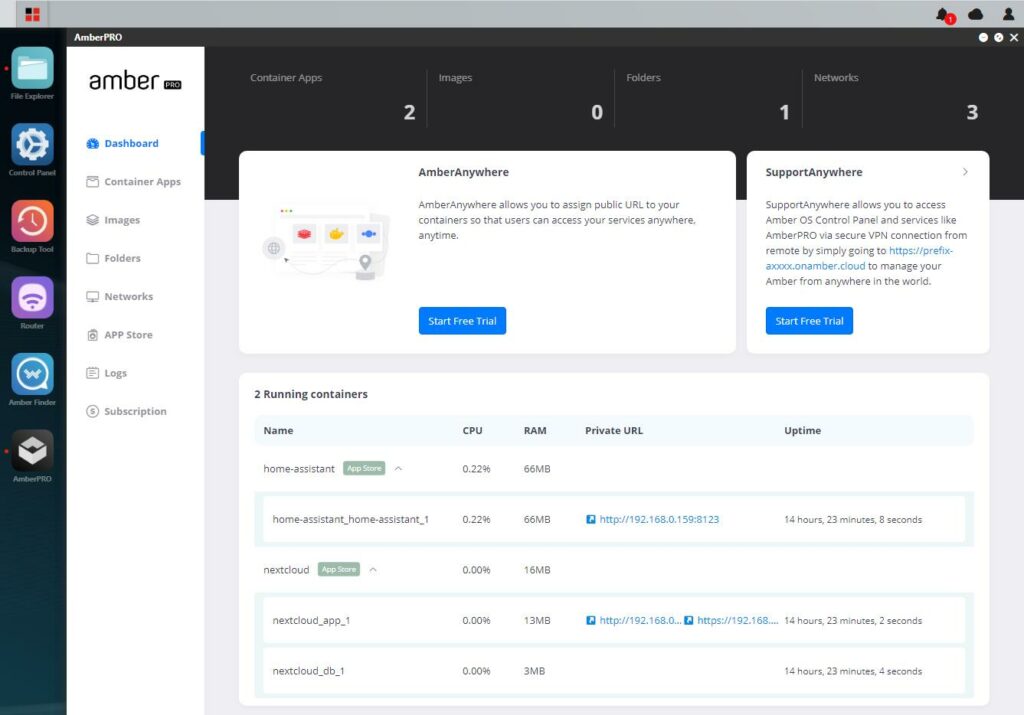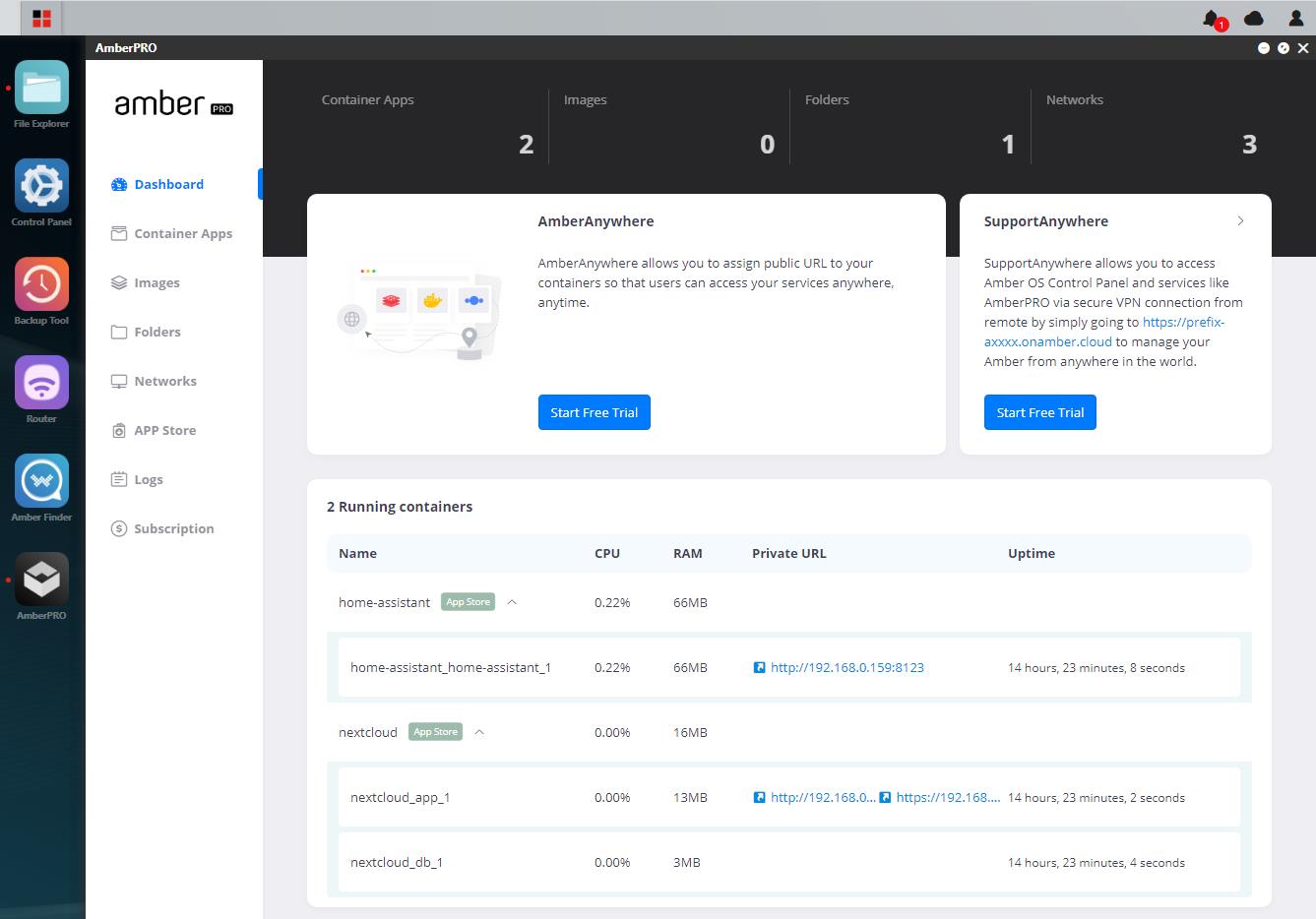 Amber has some useful apps which make backup up files easily, in particular, they have a mobile app that allows you to automatically upload your phone photos and files to Amber. So depending on your requirements, NextCloud may not be essential, but I think it is.
NextCloud is available on all/most NAS drives, but options from Synology don't particularily need it because the built-in functionality is so good.
While the Amber app is good for backing up your photos, NextCloud offers a genuine alternative to Google apps and Google photos.
With this being in the AmberPro app store it is super simple to set up, just click the install button, then navigate to the NextCloud installation and set up your users.
Even though I write a lot about home automation and have covered servers and NAS drives plenty, I have never set up Home Assistant before. This is the other app that is integrated with Amber, installation is again a breeze, you just install it then go through the default set up process for Home Assistant.
Amber Anywhere & Support Anywhere – Subscription based service for remote access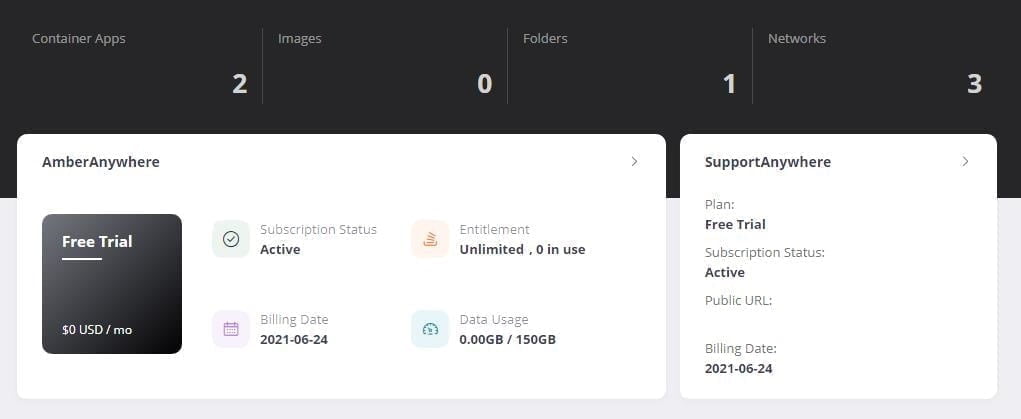 Amber has the ability for both remote access and remote support. For this, you will need an AmberAnywhere and SupportAnywhere subscription. There is a free trial that appears to last around 6 weeks and does not require any card details upfront. What is not clear is the ongoing prices, it looks like there are none.
Synology and I think Terramaster, both offer free public URLs for remote access, so I would hope the Amber Anywhere service is free. Though it is understandable to charge for ongoing support.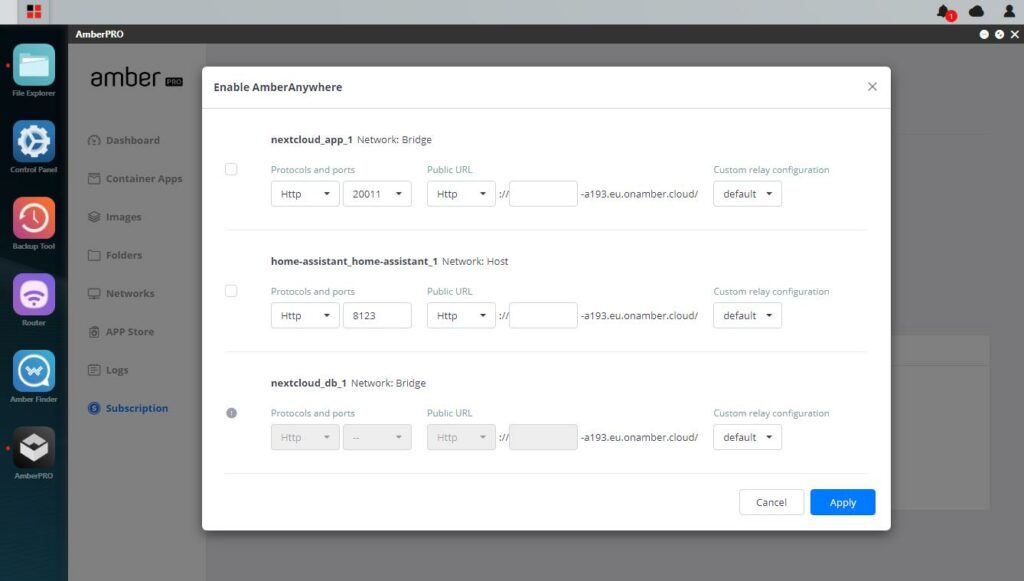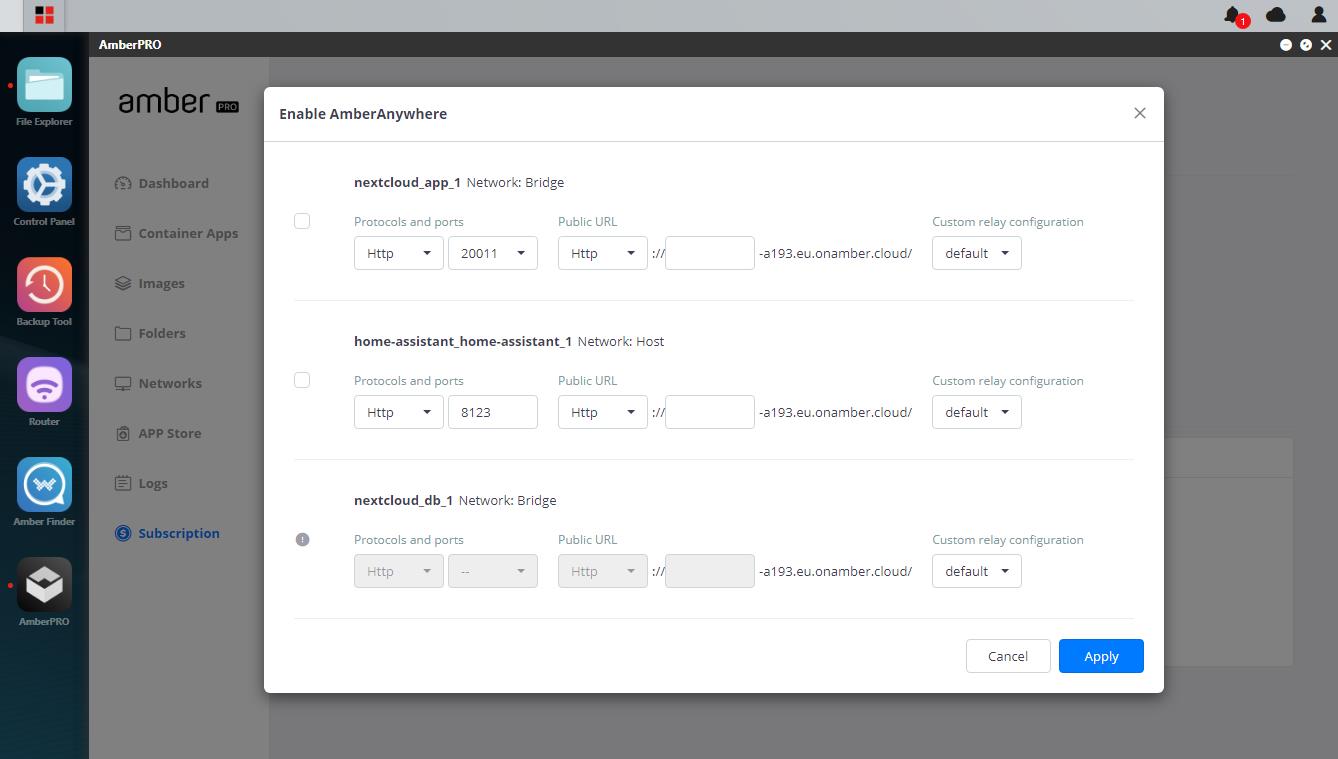 Plex / Nzbget / Sonarr
You will notice that Amber makes no mention of some of the most popular NAS/Docker/Server apps such as Plex, NZBget or various torrenting apps. This could be a moral/ethical decision with those apps being frequently associated with piracy, but in reality it is likely due to the limited storage.
There should be nothing stopping you from installing any of these via Docker. In fact, the Celeron N4000 in this has quick sync, so not only will Plex run, but it will be able to offer basic hardware transcoding.
Apps and AI Face Detection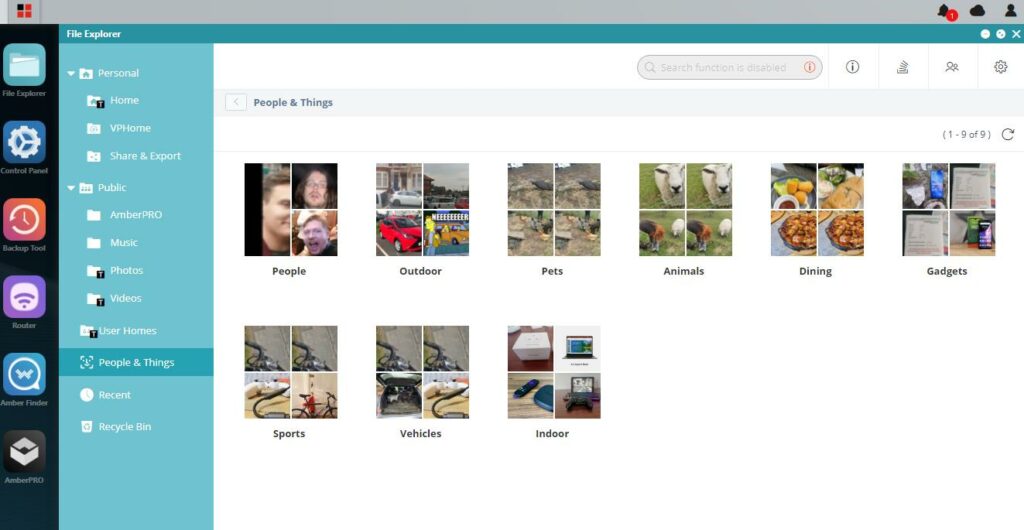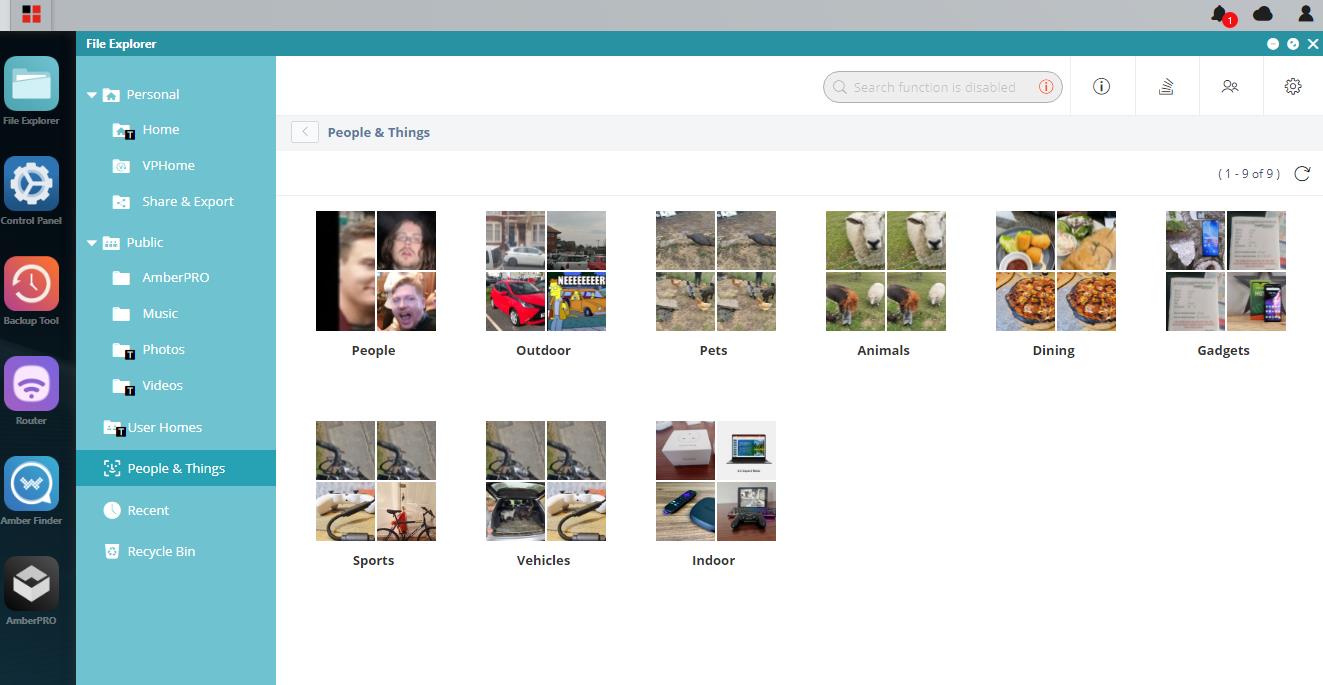 You could skip the Amber IX app and use NextCloud, however, the software Amber uses has a built-in facial recognition indexing service that works quite well.
A little bit of research indicates that facial recognition isn't entirely unique to Amber. Synology has it with Moments with selected models (this includes the DS220+ I list further down).
NextCloud also has it; you need to install the app via the NextCloud app store. However, in the case of this NAS, it doesn't have the relevant PDLib library to do the installation. I imagine it should be possible to install this, but I didn't research how to do it.
Using the built-in facial recognition features seems to work very well. Within file explorer, you can navigate to people and things where you will see various categories, including people, pets, animals, gadgets and more.
Within the people category, it then breaks it down to specific people. It is surprisingly accurate, correctly identifying my friends. It did, however, get mixed up with two friends that look vaguely familiar, which is forgivable.
The one downside to using Amber IX is that it doesn't appear to allow you to be selective over the photos to back up. It's all or nothing. In my case, this includes all the junk my friend's post in Whatsapp group chats.
NAS Performance


In terms of disk performance, your main limitation has two 5400RPM disk drives in RAID 1 with gigabit ethernet. Write speeds of a large 15GB zip file jumped up and down between 60MB/s and a little over 100MB/s
Read speeds were faster, consistently staying over 80MB/s.
I haven't bogged down the NAS with a lot of Docker containers so not experienced any major issues with overall performance. The only notable thing worth mentioning is that images in the NextCloud galleries don't load up as quick as Google Photos.
Router & Wi-Fi Performance
For people looking for a minimal set-up, having a router and NAS all in one will be an appealing prospect.
I had low expectations for the Wi-Fi functionality, but it does OK offering a similar level of performance as a relatively affordable dedicated router.
I was actually impressed at first, I was expecting this to have a similar issue to the Vilfo VPN Router, which could only do 2.4Ghz or 5Ghz at once. However, this allows two separate networks, one using 2.4Ghz and the other 5Ghz; you can also set up a guest network that can use either 2.4Ghz or 5Ghz.
On the 5Ghz network, I was able to achieve 460Mbps
On the 2.4Ghz network at close range, I was able to achieve 160Mbps
The main issue with the Wi-Fi is that you can pick up a decent quality Wi-Fi 5 router for well under £100. The much faster Wi-Fi 6 has also become very affordable now Asus, D-Link, Belkin, TP-Link and Huawei all have options on Amazon for under £100 now.
The router functionality is good and easy to use, you get all the core functionality you could want, including some very basic parental control settings, MAC binding and some NAT forwarding functionality. More advanced features such as VPNs are not included.
Price and Alternative Options
The Amber Plus – Cloud NAS (2TB*2) is €649 (£565), or there is a 1TB*2 model for €549.00 (£478). It is available to buy directly at amberpro.net/shop
I am not aware of any other solution that offers a NAS with Wi-Fi router in the same way as Amber does, and this is clearly the big selling point.
However, you could assemble a similar solution with multiple devices.
The Synology DiskStation DS220+ would be the best alternative I can think of and is priced at £310. If you were to match the drive size, then 2x 2TB Seagate BarraCuda drives will set you back £85. This can run docker but you have the added benefit of an extensive package library which offers an extremely user-friendly way to extend functionality.
Your router options are vast, but you can pick up something like the Asus RT-AX55 Wi-Fi 6 router for under £100 or the Netgear Nighthawk X6 R8000 for £160. These offer dual or tri-band Wi-Fi 6 with multiple Ethernet ports. So you get significantly better performance.
So the alternative solution is around the same price but offers significantly better performance and functionality. It is just a bit messier and requires the installation of hard drives. It also has the option for significantly more storage (up to 2x18TB, if you can justify the cost of the drives).
So you definitely need to commit to using the NAS and router to justify this, and then you will also need to weigh up if you want the convenience of an all in one device vs separate.
Overall
The combination of NAS, two 2TB disks and router justify the cost of the Amber Plus, and if included storage and overall specification meet your requirements, this ends up being a good all in one device.
However, for many people, a separate NAS and router would offer a superior solution for a similar price but with the potential for much more storage.
I do like what Amber has tried to achieve here, and it will be a good solution for some people. However, I think they really need to introduce a new model with 2×3.5″ drive bays to allow them to compete better with alternative two-bay NAS options.
Overall, Amber achieves what it advertises as a secure personal cloud, which allows you to break free from subscription-based cloud providers with questionable privacy policies.
Posted by Mighty Gadget Blog: UK Technology News and Reviews