Another day, another set of leaked benchmarks, most recently it was the Nvidia RTX 3070, then before that, we got a hint at the potential specification of the new AMD cards, including the RX 6900 XT.
Igor's Lab and Wccftech
Today's leaks come from four sources, all of whom have benchmarked the AMD Radeon RX 6800 XT in the 3DMark suite of benchmarks.
Igor's Lab and Wccftech look like they have both received identical leaks from a board partner who manufactures both AMD and NVIDIA graphics cards.
The data they received was only in percentage values in comparison to the Nvidia RTX 3080 FE and RTX 2080 Ti; they have then taken this data and estimated what the real results would look like.
The figures they received indicated that the RTX3080 achieved 18.2% and 3.1% lower scores in FireStrike Ultra 4K and TimeSpy Extreme 4K, respectively. In contrast, the RTX2080Ti was 36.2% and 15.8% lower.
However, with Nvidia being on their 2nd generation of RTX technology, the Port Royal Test shows a different result. The RTX3080 is 22% ahead, and the RTX2080ti is just 3.9% behind.
Other Leaks
In separate leaks, CapFrameX stated:
The SKU of this has not been confirmed, but that would give big Navi an 8.5% advantage.
KittyYYuko also posted a set of benchmarks for the Navi 21 XT sample with 80 Compute Units; current spec leaks would make this the limited availability RX 6900 XT.
These results paint a slightly different picture, in Time Spy Extreme and Time Spy the RX 6900 XT falls short of the RTX3080 but ahead of the RTX 2080ti
Then in FireStrike Ultra and Extreme the results show the RX 6900 XT ahead of all the Nvidia cards including the flagship RTX3090.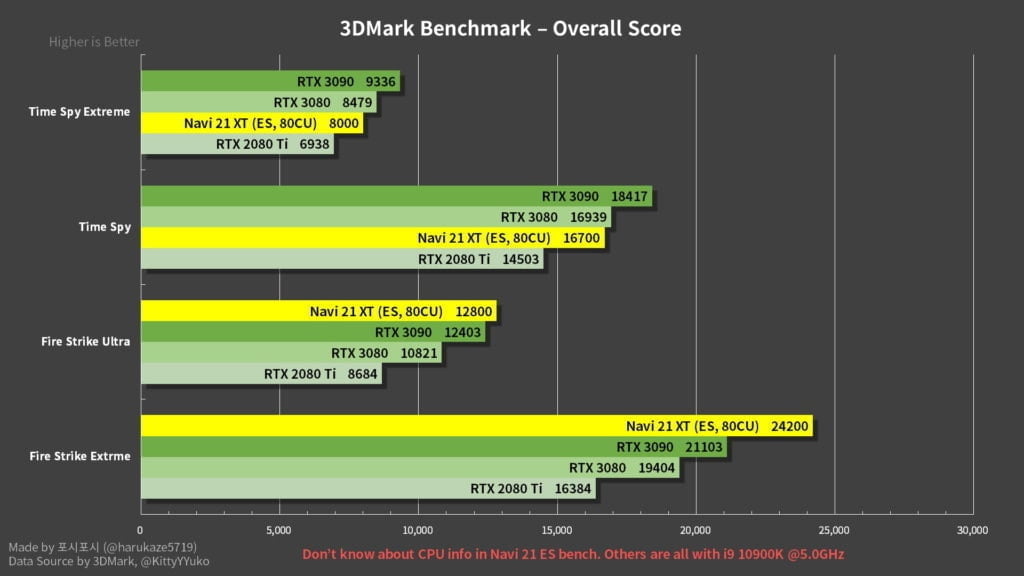 Overall
The accuracy of the results remains in question, and the conflicting data makes it hard to draw conclusions.
It does look promising for AMD, though, they may not beat the RTX 3080, but hopefully they should have a decent alternative.
Pricing and availability will be essential to the success. Early reports indicated that the RX 6900 XT would be from $599, undercutting Nvidia by $100. If this is true, I may end up regretting my RTX 3080 purchase.
Posted by Mighty Gadget Blog: UK Technology News and Reviews