A refresh of the existing AMD Matisse (Zen2) is expected within the next week or so offering higher frequencies than the existing X models with the launch expected to coincide with the new B550 series of motherboards.
AMD Ryzen 3800XT vs Ryzen 7 3800X Specification
The AMD Ryzen 3800XT will likely be a popular gamers choice and this CPU reportedly offers an extra 300Mhz for the base clock and 200Mhz on the boost clock vs its 3800X giving you 4.2GHz and 4.7GHz respectively, vs 3.9GHz and 4.5GHz. Everything else about the CPU will remain the same with 4MB L2 Cach and 32MB L3 along with 16+4+4 PCIe 4.0 lanes and of course the 8/16 core/thread count.
AMD Ryzen 3800XT vs Ryzen 7 3800X Benchmark – Ashes of the Singularity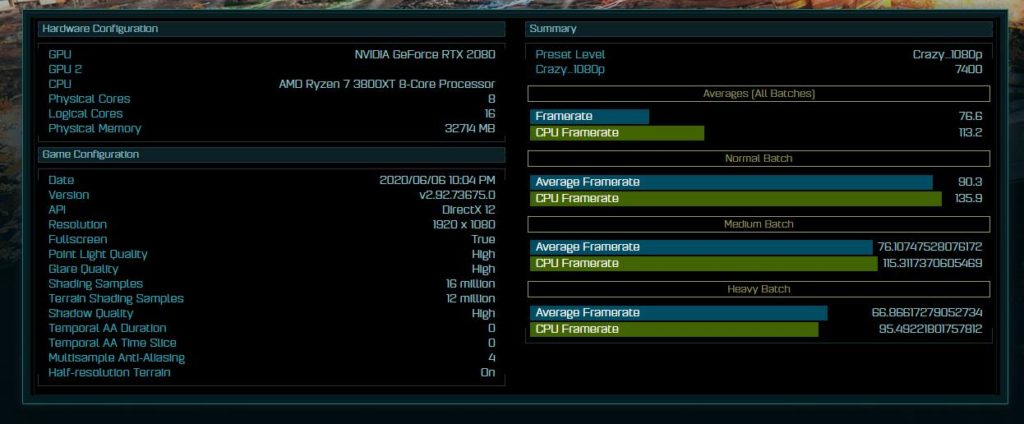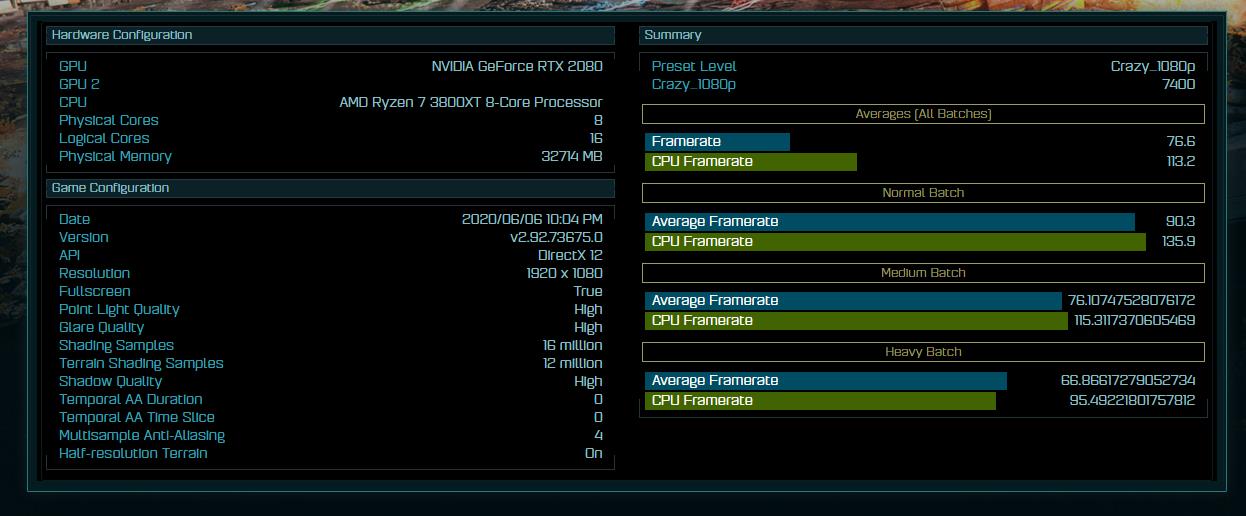 With the CPU not being announced yet, there are no official benchmarks out just yet but _rogame on Twitter spotted a benchmark listing in the Ashes of the Singularity benchmarking database.
The system runs a NVIDIA RTX2080 with 32GB of RAM and uses the Crazy 1080P present manages a score of 7400 with the average framerate result of 76.6 and CPU framerate of 113.2.
The closest computing benchmark I can find is a bit out of date from August 2018 but that has the AMD Ryzen 7 3800X with 16GB of RAM the RTX2080 using the same presents. This manages a framerate of 73.9 and CPU framerate of 105.5 with a total score of 7200.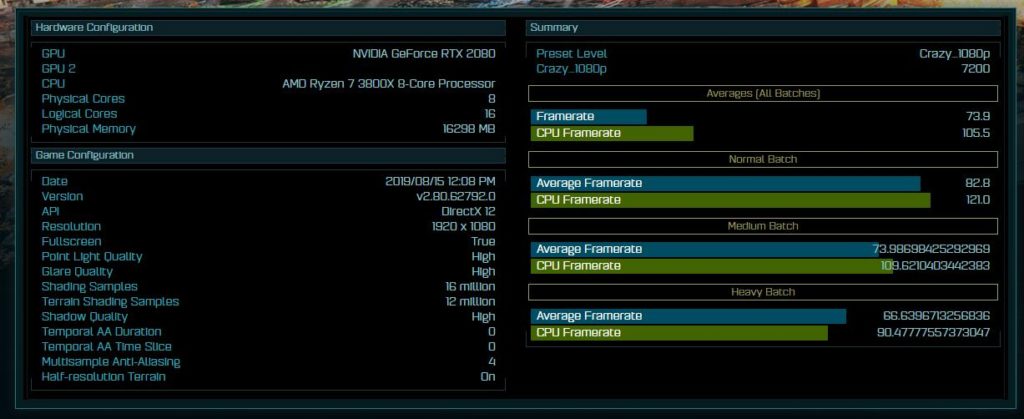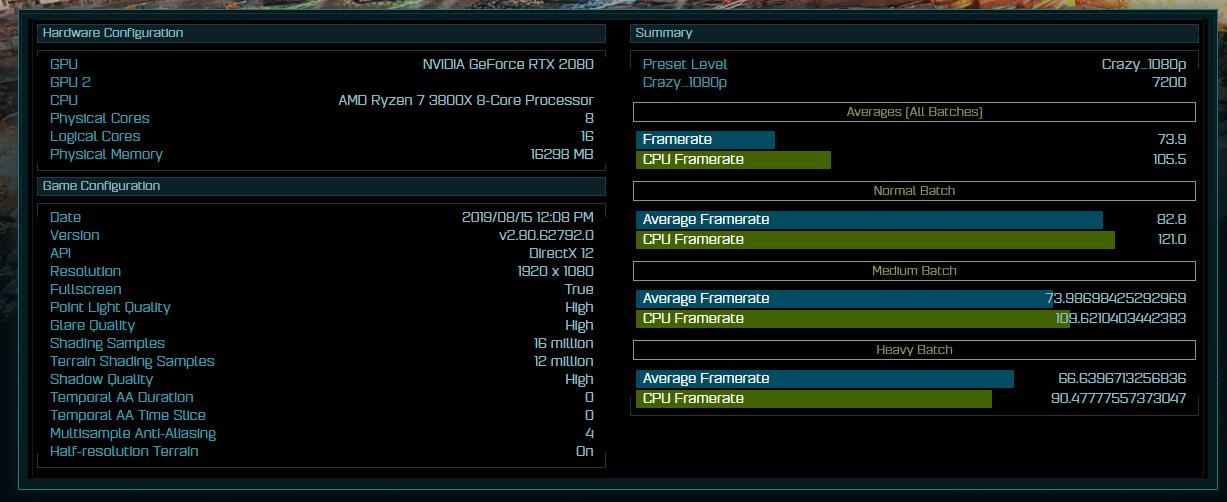 This would then give the AMD Ryzen 3800XT based system a 2.8% gain for the total score, then 3.65% and 7.29% gain for the two framerate results.
As for each batch the CPU framerate results compare as follows:
The caveat to this comparison is that it doesn't state if the CPU is overclocked or not. The system was also benchmarked 4 times by the same user with some of the tests benchmarking a little lower than the one used in this comparison.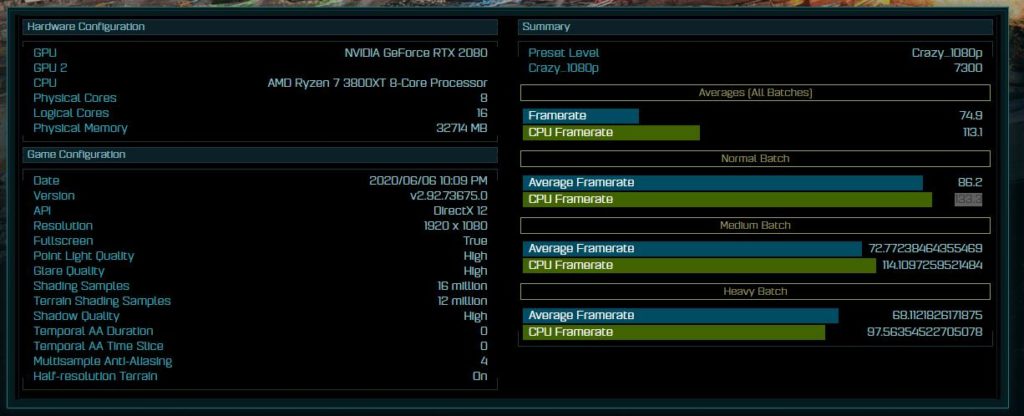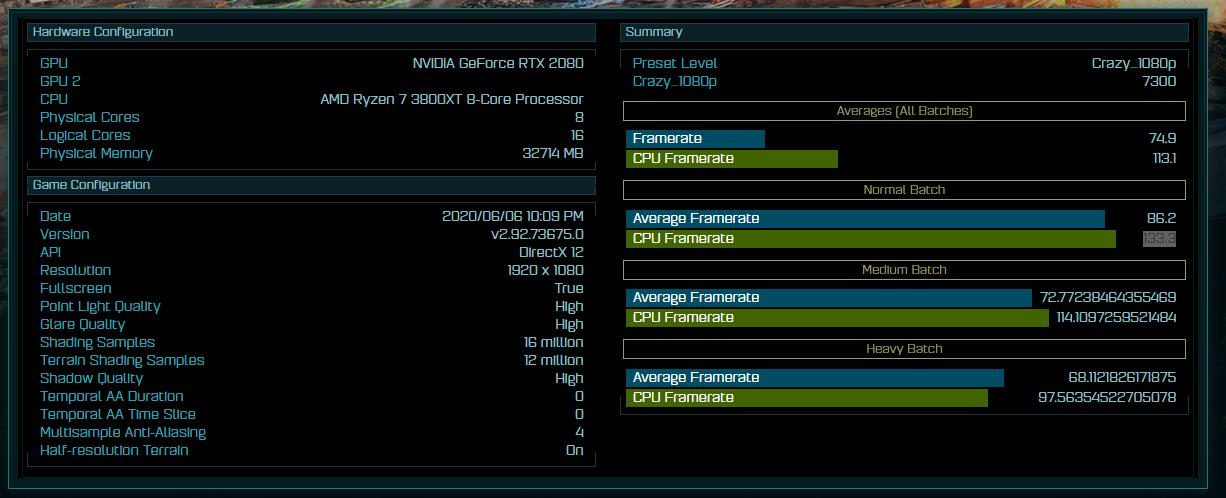 AMD Ryzen 3000XT Series CPU specification and Comparison table
| | | | | | | | | |
| --- | --- | --- | --- | --- | --- | --- | --- | --- |
| | Cores | Threads | Base Clock | Boost Clock | L2 + L3 Cache | PCIe 4.0 Lanes | TDP | Pricing |
| Ryzen 9 3950X | 16 | 32 | 3.5GHz | 4.7GHz | 8+64 MB | 16+4+4 | 105W | $749/£690 |
| Ryzen 9 3900XT | 12 | 24 | 4.1GHz | 4.7GHz | 6+64 MB | 16+4+4 | ? | ? |
| Ryzen 9 3900X | 12 | 24 | 3.8GHz | 4.6GHz | 6+64 MB | 16+4+4 | 105W | $499/£440 |
| Ryzen 9 3800XT | 8 | 16 | 4.2GHz | 4.7GHz | 4+32 MB | 16+4+4 | ? | ? |
| Ryzen 7 3800X | 8 | 16 | 3.9GHz | 4.5GHz | 4+32 MB | 16+4+4 | 105W | $399/£330 |
| Ryzen 7 3700X | 8 | 16 | 3.6GHz | 4.4GHz | 4+32 MB | 16+4+4 | 65W | $329/£300 |
| Ryzen 5 3600XT | 6 | 12 | 4.0GHz | 4.7GHz | 3+32 MB | 16+4+4 | ? | ? |
| Ryzen 5 3600X | 6 | 12 | 3.8GHz | 4.4GHz | 3+32 MB | 16+4+4 | 95W | $249 |
| Ryzen 5 3600 | 6 | 12 | 3.6GHz | 4.2GHz | 3+32 MB | 16+4+4 | 65W | $199 |
| Ryzen 3 3300X | 4 | 8 | 3.8GHz | 4.3GHz | 2+16MB | 16+4+4 | 65W | $120 |
| Ryzen 3 3100X | 4 | 8 | 3.6GHz | 3.9GHz | 2+16MB | 16+4+4 | 65W | $99 |