Update 8th of July 2019 – The CPUs have now launched and reviews have come out for the 3700X and 3900X and they are living up to the hype.
Reviews for the Ryzen 5 3600 are a little thin on the gorund at the moment.
The Ryzen 5 3600 is available to buy now with immediate shipping. While the Ryzen 5 3600 is available for pre-order on most websites.
Live Reviews of the AMD Ryzen 5 3600
The two reviews that are live are not in English, one is from elchapuzasinformatico.com the other madboxpc.com neither review has benchmarked in Geekbench we can't confirm the original leaks.
The results indicate that the Ryzen 5 3600 doesn't quite destroy the Ryzen 7 2700X but it certainly trades blows and it comes out ahead in some important benchmarks.
In the El Chapuzas review, the Ryzen 5 3600 comes out ahead in every single gaming benchmark in comparison to the 2700X.
Furthermore it is ahead in 3DMark Fire Strike and Unigine Heaven 4.0 while only being fractionally behind in Time Spy and Port Royal.
It is also ahead in both Cinebench 15 and 20 single threaded tests but understandably falls behind in the multi-threaded test. This is similar to wPrime single and multi-threaded tests.
In the MadBoxPC tests, the R5 3600 doesn't fare as well in some tests. In the Sisoft Sandra Arithmetic Test in is a fair bit behind. Similarly, in Handbrake and Aida 64 it falls behind.
Things improve by the time they get to the PCMark10 and Super Pi tests, with the Ryzen 5 3600 outperforming the 2700X.
In gaming both CPUs perform at a similar level with the Ryzen 5 3600 almost identical to the 2700X in Battlefield 1 for both 1080p and 4K gaming.
Battlefield V has the 3600 behind in the 4K test by 1 fps but then 4 fps higher in 1080p.
Doom put the 3600 2 fps behind in both resolutions.
In Resident Even 2 it is ahead by 2fps at 4K then being by 3 fps at 1080p.
Finally, in the Witcher 3 the Ryzen 5 3600 is 3fps behind at 4K but 3fps ahead at 1080p.
In power consumption, the 7nm 6-core 3600 has a clear advantage idling at 18w and peaking at 87 when at load. The MadBoxPC review doesn't state the 2700X power but their earlier review of the 2700X indicated 13w at idle and 128.5 at load.
Similarily termperature range from 33 to 68 with the R5 3600 while the 2700X ranged from 32 to 73.
Review Conclusion
The leaked benchmarks perhaps painted a slightly optimistic picture, I guess it wouldn't be as interesting if they revealed it was around the same or slightly behind the 2700X.
However, for gaming, you are getting almost identical performance from a £189.98 CPU compared to the (discounted) £249.98 Ryzen 2700X.
Furthermore, there is no requirement to opt for the very expensive X570 chipset. Reviews have indicated that the X57- motherboards offer almost identical performance to the X470 and you should have no issues with the more affordable B450 chipset which has options for as little as £87.
Old Benchmark Leaks
Ok, so GeekBench is only one benchmark and doesn't represent real-world performance in all scenarios.
However, AMD's 6-core Ryzen 5 3600 has appeared on Geekbench showing a score of 5220 on a single core and 27276 over multi-core.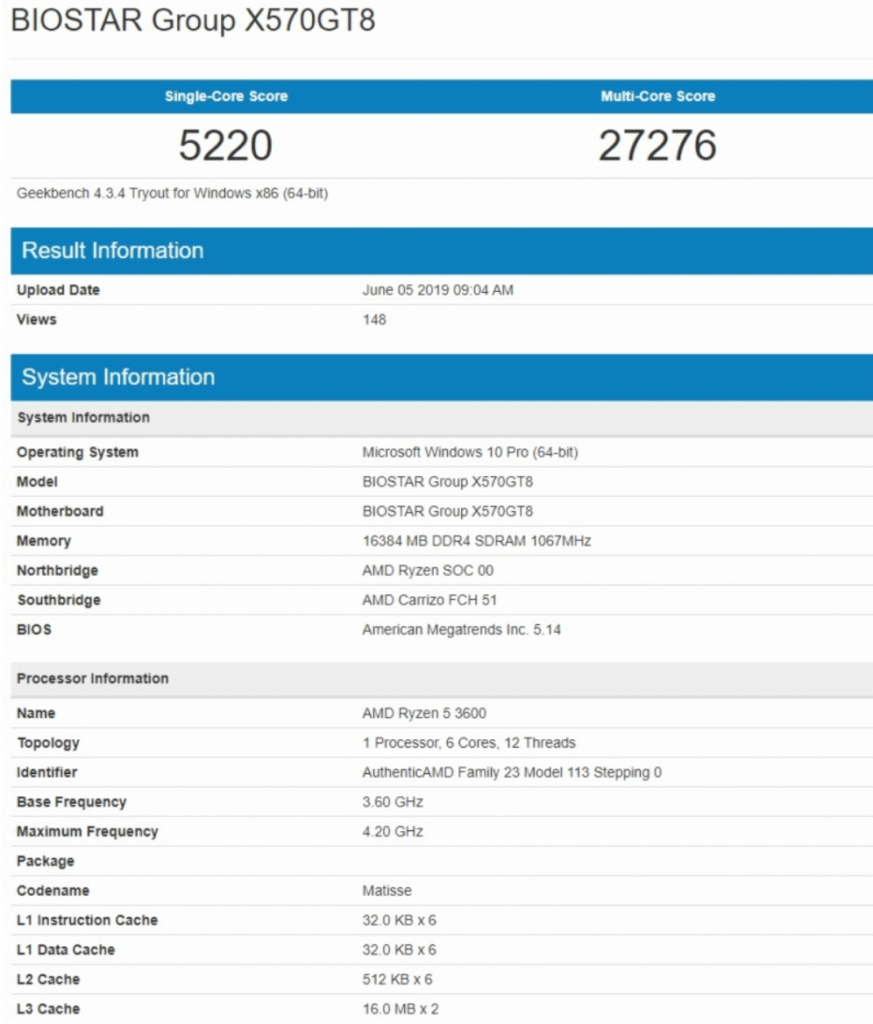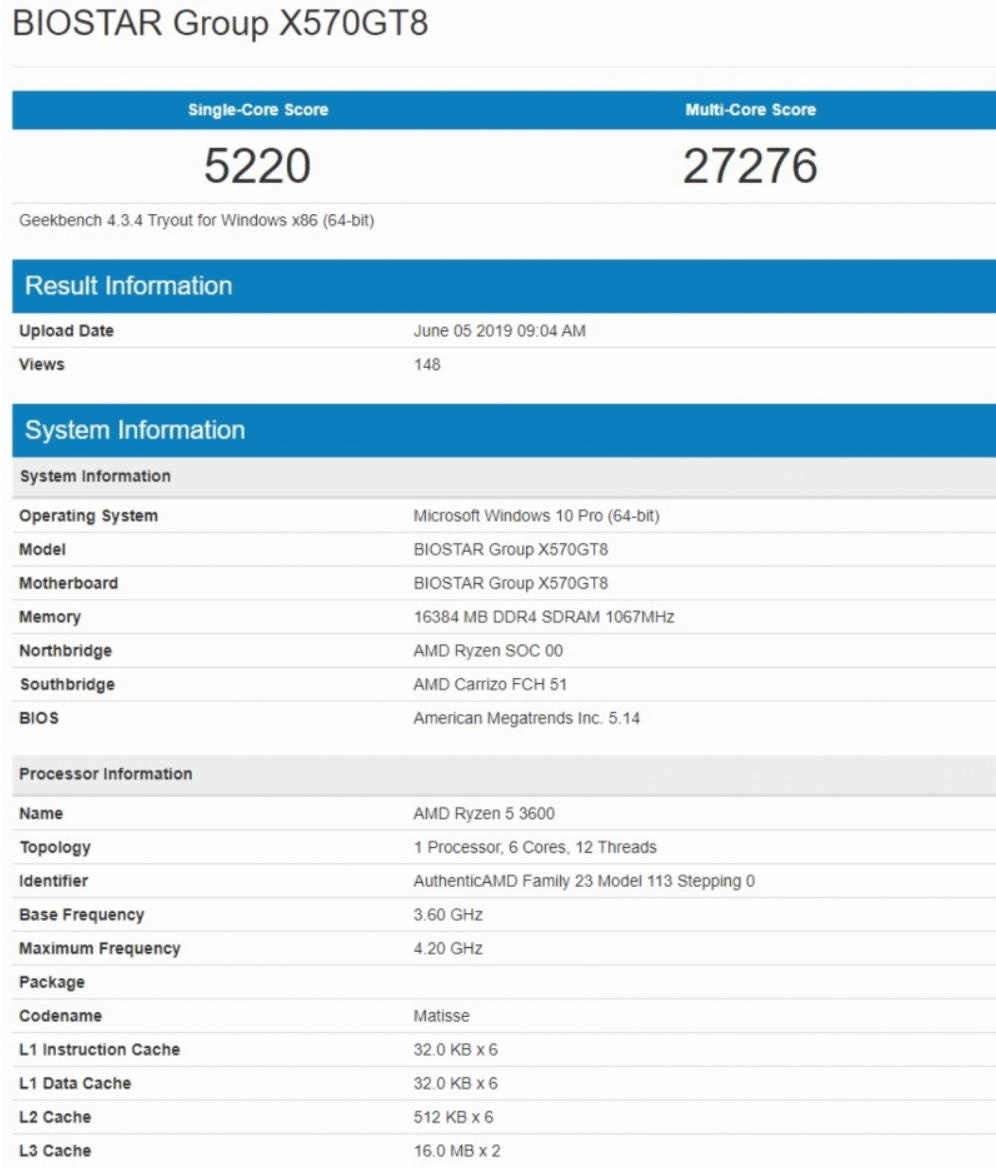 This Geekbench result comes from a PC with a BIOSTAR X570 GT8 motherboard, operating with what appears to be 2133MHz DDR4 memory and stock clock speeds, running with a base clock speed of 3.6GHz and a boost clock speed of 4.2GHz.
In comparison, last years Ryzen 7 2700X is listed as having 4801 on a single core and 26693 for multi-core.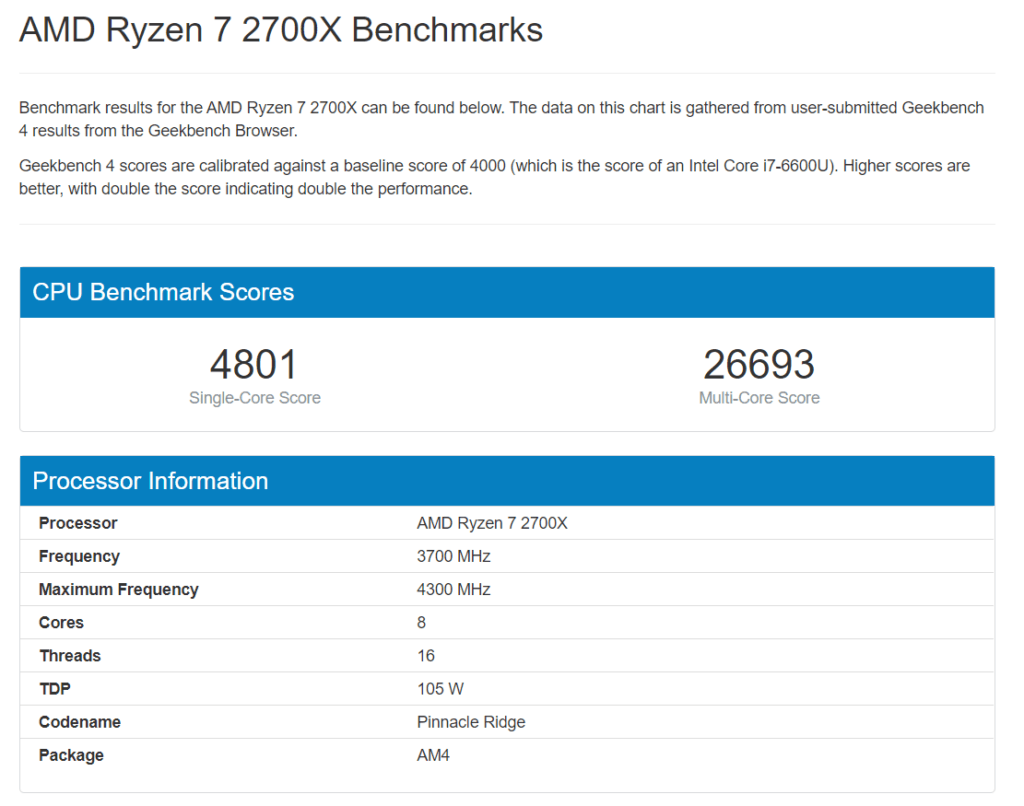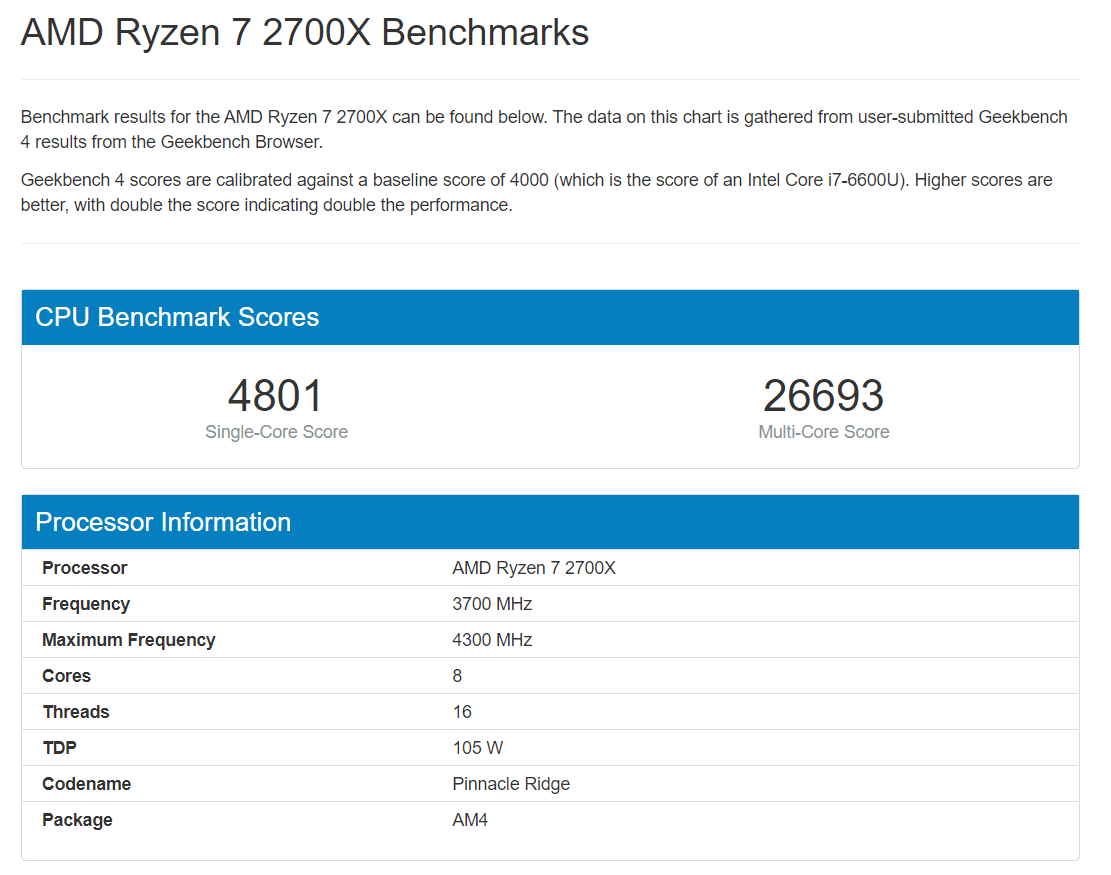 The Ryzen 5 3600 is AMD's weakest Zen 2 processor announced so far with 3600X, Ryzen 7 3700X, Ryzen 7 3800X and Ryzen 9 3900X all sitting about it.
All the processors launch on 7th of July and the Ryzen 5 3600 is set to cost $199 which will probably translate to £199
Post from: Mighty Gadget – Gadget and Technology Blog
AMD Ryzen 5 3600 vs AMD Ryzen 7 2700X – Zen 2 Destroys Zen+ in GeekBench