Amazon must be one of the worst companies for leaking product data, they recently made a listing for the PlayStation 5, and last year they launched details of the Garmin Fenix 6.
Today it is the latest AMD CPUs being launched in the next month.
The new 3000XT series is a refresh to the existing 3000X models, keeping user demand high and gaining plenty of press attention while they prepare for the Ryzen 4000 series.
I have already reported that the AMD Ryzen 3800XT offers up to 7.29% improvement in CPU performance compared to the AMD Ryzen 3800X when benchmarked in Ashes of the Singularity.
The two Amazon listings were not for the 3800XT but for the two models sitting above and below it, the 6-core 12-thread Ryzen 3600XT and the 2-core and 24-thread Ryzen 9 3900XT.
For the AMD Ryzen 3600XT, this was listed on Amazon UK for £249 and 284 EUR on Amazon Italy website. For comparison, the 3600X currently of £196 direct from Amazon but £190 for third party sellers on Prime. That is a £53 price difference giving a 27% mark-up from the slightly slower CPU.
Similarly, the Ryzen 9 3900XT listed for 570 EUR, which is 125 EUR more than Ryzen 9 3900X available on the same site giving a 28% difference.
Both listings indicate a shipping date of the 7th of July and AMD have the announcement date of the Ryzen 3000XT "Matisse Refresh" CPUs on June 16th.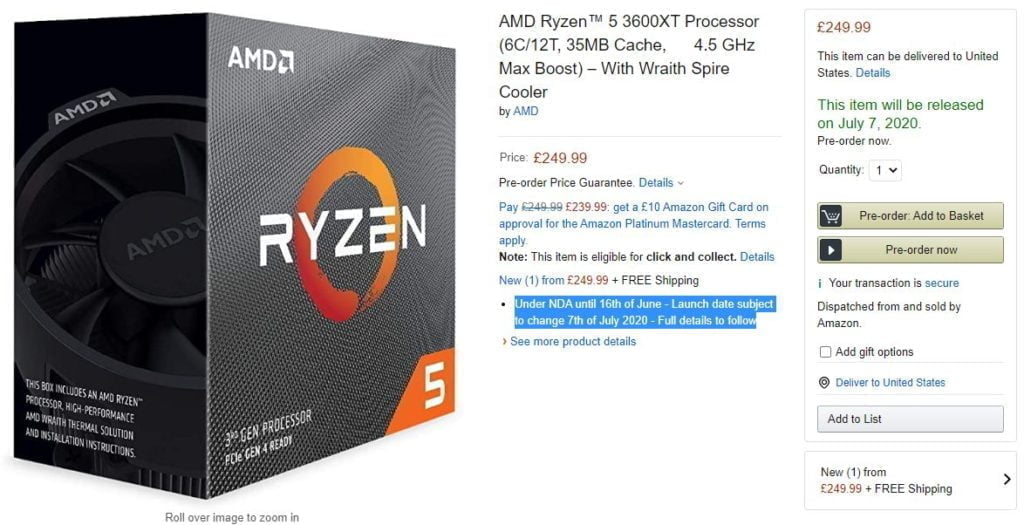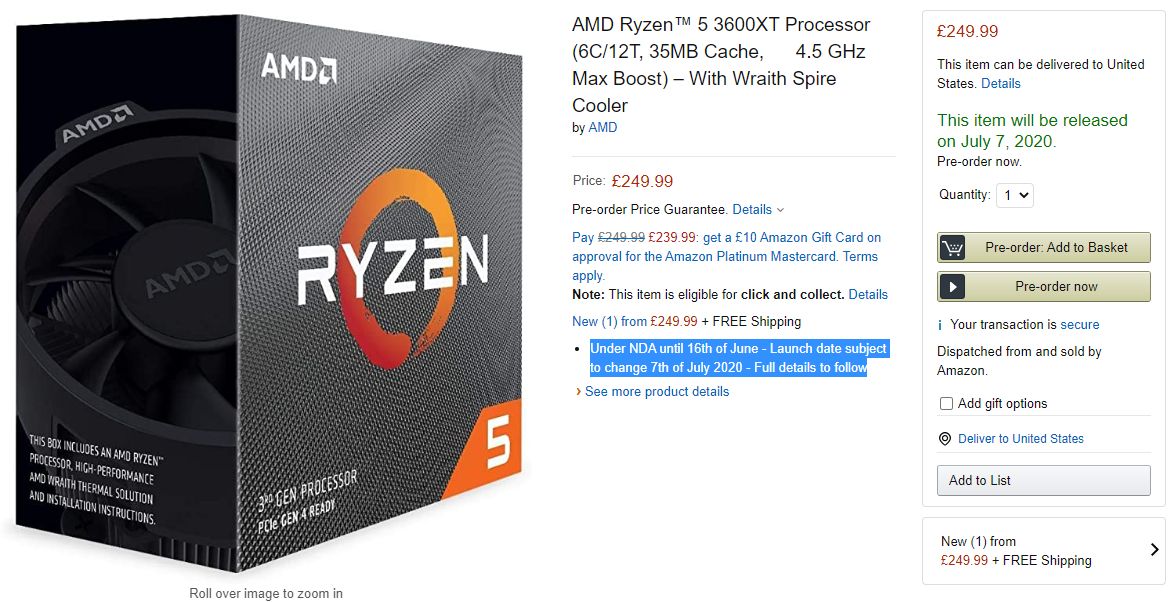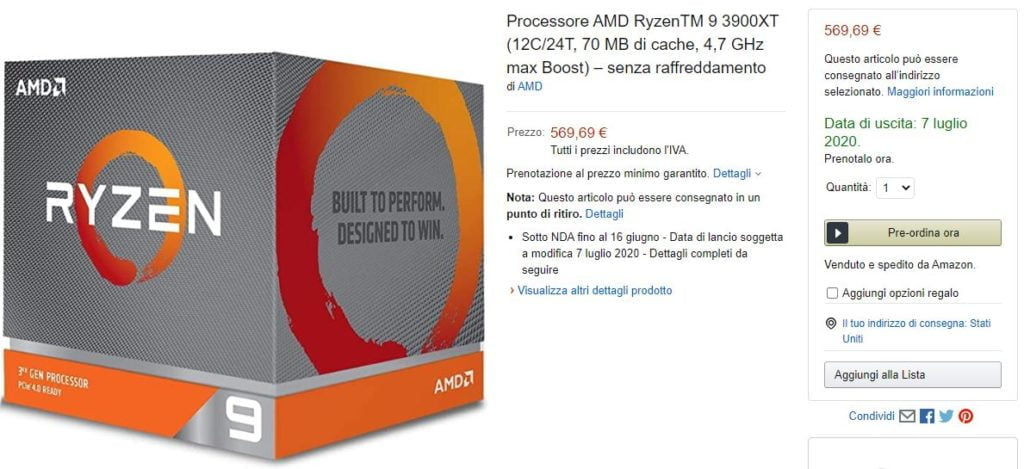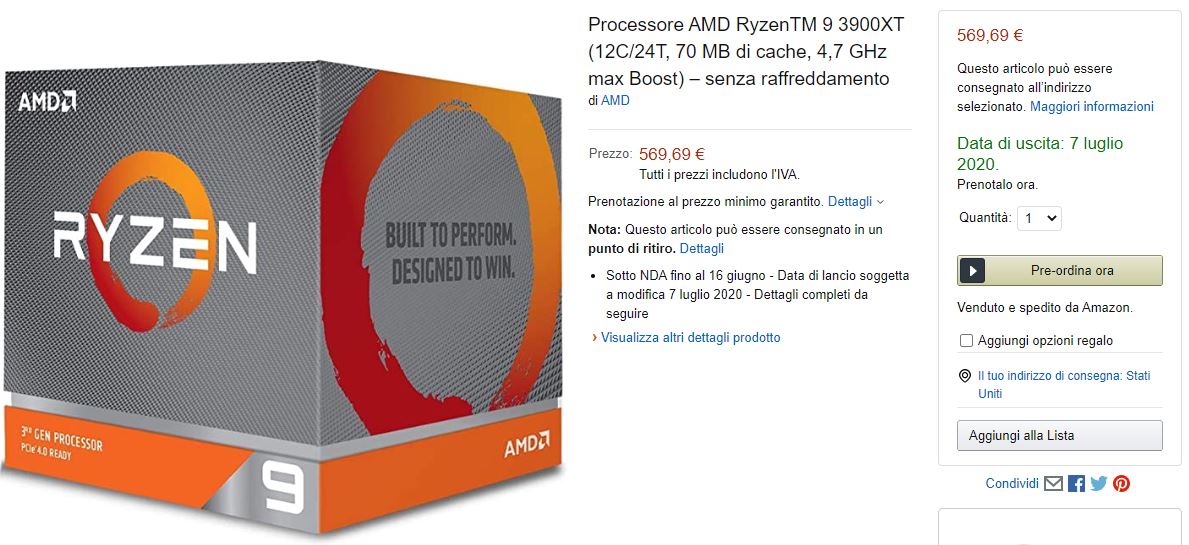 AMD Ryzen 3000XT Series CPU specification and Comparison table
| | | | | | | | | |
| --- | --- | --- | --- | --- | --- | --- | --- | --- |
| | Cores | Threads | Base Clock | Boost Clock | L2 + L3 Cache | PCIe 4.0 Lanes | TDP | Pricing |
| Ryzen 9 3950X | 16 | 32 | 3.5GHz | 4.7GHz | 8+64 MB | 16+4+4 | 105W | $749/£690 |
| Ryzen 9 3900XT | 12 | 24 | 4.1GHz | 4.7GHz | 6+64 MB | 16+4+4 | ? | ? |
| Ryzen 9 3900X | 12 | 24 | 3.8GHz | 4.6GHz | 6+64 MB | 16+4+4 | 105W | $499/£440 |
| Ryzen 9 3800XT | 8 | 16 | 4.2GHz | 4.7GHz | 4+32 MB | 16+4+4 | ? | ? |
| Ryzen 7 3800X | 8 | 16 | 3.9GHz | 4.5GHz | 4+32 MB | 16+4+4 | 105W | $399/£330 |
| Ryzen 7 3700X | 8 | 16 | 3.6GHz | 4.4GHz | 4+32 MB | 16+4+4 | 65W | $329/£300 |
| Ryzen 5 3600XT | 6 | 12 | 4.0GHz | 4.7GHz | 3+32 MB | 16+4+4 | ? | ? |
| Ryzen 5 3600X | 6 | 12 | 3.8GHz | 4.4GHz | 3+32 MB | 16+4+4 | 95W | $249 |
| Ryzen 5 3600 | 6 | 12 | 3.6GHz | 4.2GHz | 3+32 MB | 16+4+4 | 65W | $199 |
| Ryzen 3 3300X | 4 | 8 | 3.8GHz | 4.3GHz | 2+16MB | 16+4+4 | 65W | $120 |
| Ryzen 3 3100X | 4 | 8 | 3.6GHz | 3.9GHz | 2+16MB | 16+4+4 | 65W | $99 |