Last updated on July 9th, 2019 at 09:04 am
Updated on 05/07/2019 with new leaked 3DMark results.
Updated on 05/07/2019 Moar leaks
Updated on 07/07/2019 Official review are now out. This post will be updated in the next 24 hours with more comparisons
With the announcement of the latest AMD CPUs, many people will be wondering if it is worth upgrading from earlier Ryzen chips.
They all use the AM4 socket, so theoretically with a BIOS update, you may be able to swap out the CPU. For the most part, this is true, but some older A or B series motherboards may not be compatible. It is also dependant on the manufacturer pushing out the update. If you have an X370 or X470 board you should be OK though.
The leaks indicated that the Ryzen 7 3700X would be upgraded to 12-cores and if that had been true I would be upgrading my R7 2700 immediately. Sadly this is not the case and the Ryzen 7 chips retain the same 8-core layout.
Review Roundup for Ryzen 7 3700X
The reviews are coming in now that AMD has lifted their NDA. I will update this post over the next 24 hours to cover all the reviews. The ones that I have seen so far are very positive.
Bit-Tech
Overall, though, the Ryzen 7 3700X is an impressive CPU for the cash, is a far better choice than the Core i7-9700K if you're a casual gamer and not looking to squeeze every last fps out of your 1080p 200fps titles and blows the Intel CPU out of the water when it comes to content creation. It's a shame overclocking headroom is limited, but depending on your system, you may find extra benefits from spending some time tweaking Precision Boost Overdrive and Automatic Overclocking.
Some of the benchmarks Bit Tech carried out had the following results:
PCMark 10 Photo Editing – 5132 giving a 9.2% improvement from the 2700X
Cinebench R20 Single thread- 511 giving a 16.4% improvement from the 2700X
Cinebench R20 multi-thread- 4837 giving a 17.8% improvement from the 2700X
Dota 2 (DX11) – 100fps min giving a 17.6% improvement from the 2700X
Far Cry 5 (DX11) – 91fps min giving a 12.3% improvement from the 2700X
Civilization VI (DX12) AI Test – 6.63 giving a 2% improvement from the 2700X
3DMark Time Spy (CPU Test) – 10104 giving a 26% improvement from the 2700X
Power Consumption under load – 185 at stock vs 262 of the 2700x which is a 29% reduction
OC3D
It's fast with single-threaded performance and multi-threaded. The memory performance is excellent. It's not too power hungry. It doesn't get too hot. With the addition of PCI Express 4.0 it actually steals a march on the currently available Intel products and is a fantastic setup at a good price point. If you've already got a good AM4 X470 motherboard then you can instantly upgrade and reap the benefits too.

Those of you who have recently invested in an X470 based motherboard will be as surprised as we were that with either the Ryzen 7 3700X or Ryzen 9 3900X installed there was no real difference between the X470 or X570 in performance terms. Whether utilising the RX 5700XT GPU or the RTX 2080Ti the scores were basically the same. Perhaps even more amazingly the storage speeds instantly took advantage of the extra bandwidth the PCI Express 4.0 format delivers.
AIDA64 – 100178 which is 6% higher than the 2700x sitting just a few points behind the i9-9900K
SiSoft Sandra – 289.1 which is 11.6% higher than the 2700x and a few points ahead of the i9-9900K
Blender – 28m 38s which is 12.5% faster than the 2700x and 2.6% faster than the i9-9900K
Cinebench R20 Single is 498 and multi is 5055 so slightly lower than higher than the Bit-Tech test. The single threaded test is 15% faster and the multi-threaded is 25% higher than the 2700x while also being slightly ahead of the i9-9900K
Sony Vegas – 16m 13s which is 16.8% faster than the 2700x and 3 seconds faster than the i9-9900K
Far Cry 5 – 128 fps which is 16% higher than the 2700x but 16% lower than the i9-9900K
Metro Exodus  – 95.7 which is 6.7% higher than the 2700x but 5% lower than the i9-9900K
Total War – 110.6 which is 6% higher than the 2700x but 9% lower than the i9-9900K
Division 2 – 148 which is 5.8% higher than the 2700x but 5% lower than the i9-9900K
Anandtech
What really does make the Ryzen 3700X and 3900X winners in my eyes is their overall packages and performance. They're outstanding all-rounders, and AMD has managed to vastly improve some of the aspects it was lagging behind the most. While AMD still needs to further push total single-threaded performance in the future and continue working on improving memory performance, they're on Intel's tail.

Perhaps the best arguments for the 3700X and 3900X is their value as well as their power efficiency. At $329 the 3700X particularly seems exciting, and gamers will want to take note that it posts the same gaming performance as the $499 3900X. Considering that AMD is also shipping the CPU with the perfectly reasonable Wrath Spire cooler, this also adds on to the value that you get if you're budget conscious.

The 3900X essentially has no real competition when it comes to the multi-threaded performance that it's able to deliver. Here the chip not only bests Intel's mainstream desktop designs, but it's able to go toe-to-toe with the lowest rung of Intel's more specialized HEDT platforms. Even AMD's own Threadripper line-up is made irrelevant below 16 cores.
Review Conclusion
As we can see from the reviews, the 3700X offers significant gains over the previous generation, and reviews for the higher clocked 3800X haven't even come out yet.
Whether it is worth upgrading from the Ryzen 5 2700x is another question, for none gaming tasks we have seen results in line with what AMD promised, which is amazing but probably not enough to upgrade from the 2700x. However, if you are on the 1700X then it could certainly be worth it.
With X570 introducing PCIe4 the cost of new motherboards jumps up significantly and make the value proposition of Zen 2 less appealing. Prices start at £164 but go up to a completely insane £704. Thankfully initial reviews show little to no performance advantage for X570, even in PCIe4 storage benchmarks, the difference isn't significant. So if you have an X470 motherboard I would recommend just keeping that. With these being priced from £110 to £270, this is also the route I would go down for a brand new build unless you have a genuine need for PCIe4.
Intel still takes the crown for the best gaming CPU, at least until the 2800x reviews come out. In the case of Intel, it is a £474.98 vs £319.99 so only people demanding the very best gaming performance would want to go down that route.
Leaked Benchmarks
Geekbench 4 results from AMD's Ryzen 7 3800X, leaked by TUM_APISAK, show a substantial generational leap in performance from team AMD with multi-threaded tests.
In single-threaded workloads the AMD Ryen 7 3800X delivered a score of 5406 points when using 2133MHz memory while offering a multi-threaded score of 34059. When compared to AMD's stock Ryzen 7 2700X (with 2666MHz DDR4 memory), AMD's Ryzen 7 3800X delivered a tremendous boost to both single-threaded and multi-threaded performance, with the 2700X delivering scores of 4923 and 25209 in single-threaded and multi-threaded workloads respectively.  This gives approximately a 10% improvement in single core performance and 35% improvement in multi-threaded performance, all while using slower RAM.
We don't know how much memory speeds will affect the new CPUs yet but they have official support for up to 3200MHz speeds and this should offer a decent bump in performance.
Leaked 3DMark results (5th of July)
And another leak…
This time in the form of 3DMark results for the Ryzen 7 3700X, and another CPU that trades blows with the Intel Core i9-9900K. For the sake of comparison, we have looked at the physics score which is the CPU reliant element of the scoring.
The official explanation for physics scores states:
This tests the CPU's capability to simulate gameplay physics. One thread per available CPU core is assigned to creating the simulations, while other threads are completing other tasks. The GPU load is kept as low as possible. The Bullet Open Source Library is used for this Physics Test.
3DMark Firestrike Extreme
Intel Core i9-9900K @ Stock: 24596
AMD Ryzen 7 2700X @ Stock: 20810
AMD Ryzen 7 3700X @ Stock: 25011
3DMark Cloud Gate
Intel Core i9-9900K @ Stock: 18804
AMD Ryzen 7 2700X @ Stock: 15097
AMD Ryzen 7 3700X @ Stock: 17484
3DMark Ice Storm Extreme 
Intel Core i9-9900K @ Stock: 74107
AMD Ryzen 7 2700X @ Stock: 75293
AMD Ryzen 7 3700X @ Stock: 82831
3DMark Night Raid 
Intel Core i9-9900K @ Stock: 15782
AMD Ryzen 7 2700X @ Stock: 10605
AMD Ryzen 7 3700X @ Stock: 13487
While Ryzen 7 3700X doesn't beat the Intel in every test it costs considerably less and only uses 65W, so with some heavy overclocks you might be able to squeeze out better than an i9-9900K for less money.
Comparing it to the generation before the 3700X is showing an impressive 20% improvement over the AMD Ryzen 7 2700X. In Cloud Gate, the improvement is 16%, Ice Store just 10% and Night Raid 27%.
Furthermore a single benchmark leak has come out for the Ryzen 9 3900X which is close to the 30K (29,777 points) mark in Firestrike Extreme. This arround 6000 points more than what the Core i9-9900K posts & even better than the 16 core Ryzen Threadripper 2950X which scores around 28,000 points in the same benchmark
06 July Leaks – Gaming Performance
In the latest round of review leaks performance benchmarks were carried out on an X570 motherboard (ASUS ROG Crosshair VIII HERO) with 16 GB of DDR4 Ram (configured to max specifications/clocks suggested for each CPU) and a GeForce GTX 1080 Ti. The latest drivers and BIOS were used with Turbo and SMT enabled. We will get to the performance in a bit but let's take a quick look at the specifications of each of the Ryzen 3000 CPU that was tested.
Ok so coming to the performance numbers, both chips were tested in different gaming titles at 720p resolution in order to favour the CPU more than the GPU.
In Far Cry 5, both delivered around the same CPU performance (Minimum and Max). Max FPS was close to the Core i7-7700K but the i7-7700K led in terms of Minimum FPS which equals to a smoother gameplay experience.
Comparing to the Ryzen 7 2700X the results were 84 max / 54 min vs 101 / 61 so a 20%/12% improvement.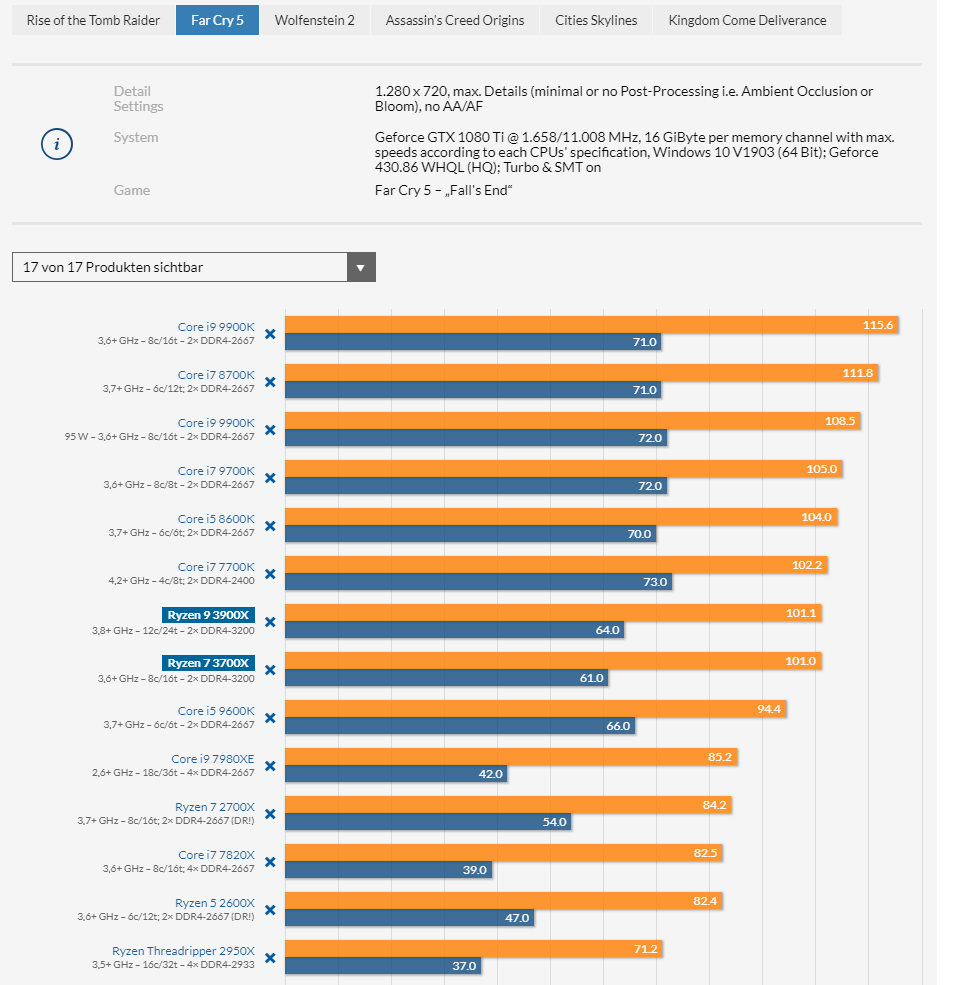 In Wolfenstein II: The New Colossus, the chips performed admirably with around as much performance as the Core i5-8600K (6 core / 12 thread) CPU while the Core i7-7700K was a good 10 FPS faster in Min FPS.
Comparing to the Ryzen 7 2700X the results were 276 max / 182 min vs 296 / 204 so a 7%/12% improvement.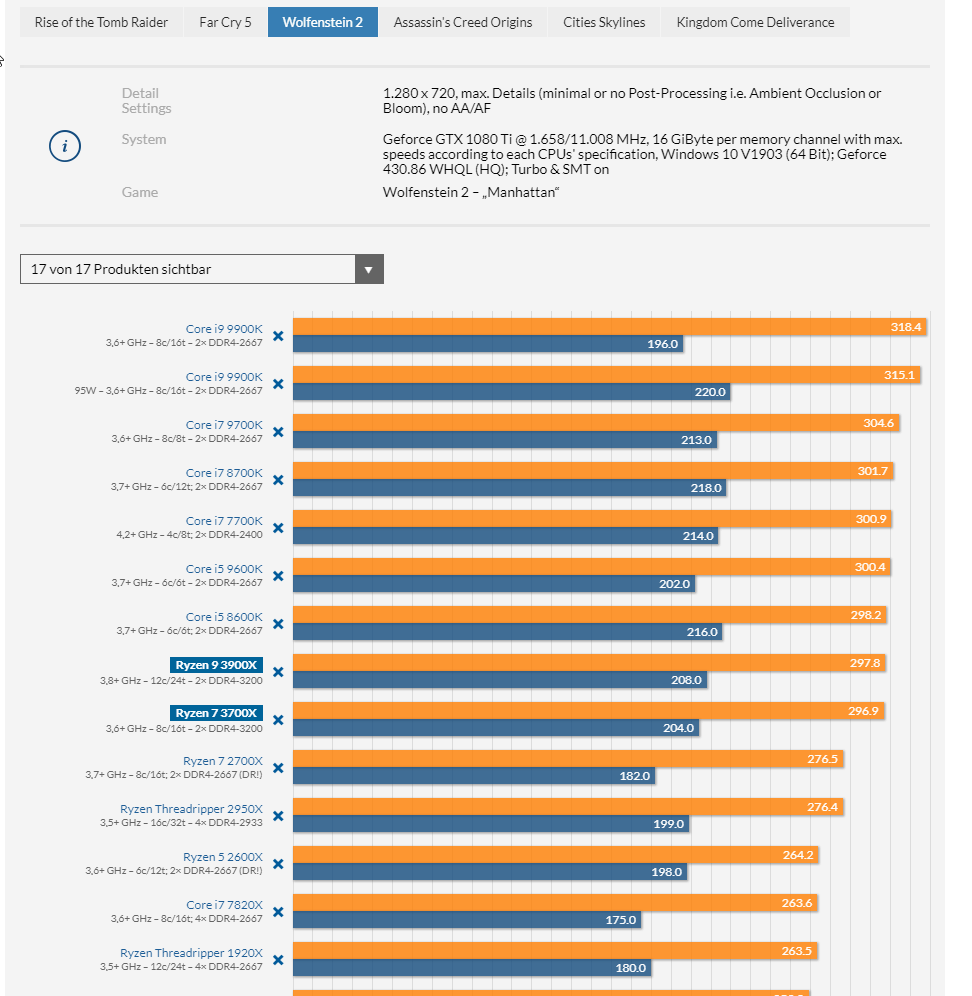 The only game where the Ryzen chips outperformed the Intel lineup was Assassins Creed Odyssey where they came out faster than the Core i9-9900K with up to 6 FPS+ on minimum. For encoding performance (Handbrake: 30-sec clip, HEVT, 10 bit, 140 Mbps), the Ryzen 9 3900X was as fast as the Ryzen Threadripper 2990WX (148 secs vs 142 secs) while the Ryzen 7 3700X was as fast as the Core i9-9900K (212.8 secs vs 211.7 secs).
Comparing to the Ryzen 7 2700X the results were 71 max / 54 min vs 93/68so a 31%/26% improvement.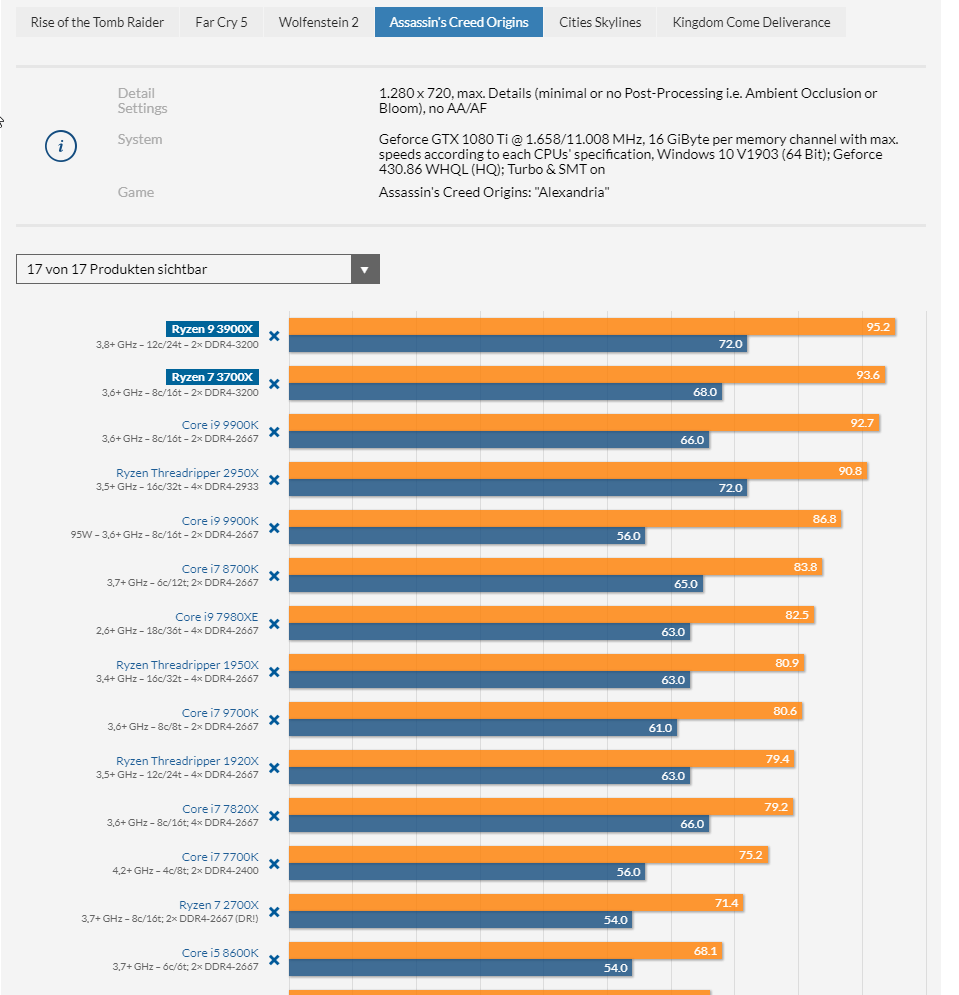 For Cinebench R15, the Ryzen 7 3700X delivered superior compared to the Core i9-9900K with a single-core score of 207 points and a multi-core score of 2180 points. The Ryzen 9 3900X was faster than Intel's Core i9-7980XE with a single core score of 207 points and a multi-core score of 3218 points. Not bad considering the i9-7980XE costs nearly $2k on Newegg.
Comparing to the Ryzen 7 2700X the results were 1793 vs 2180 so a 21% improvement.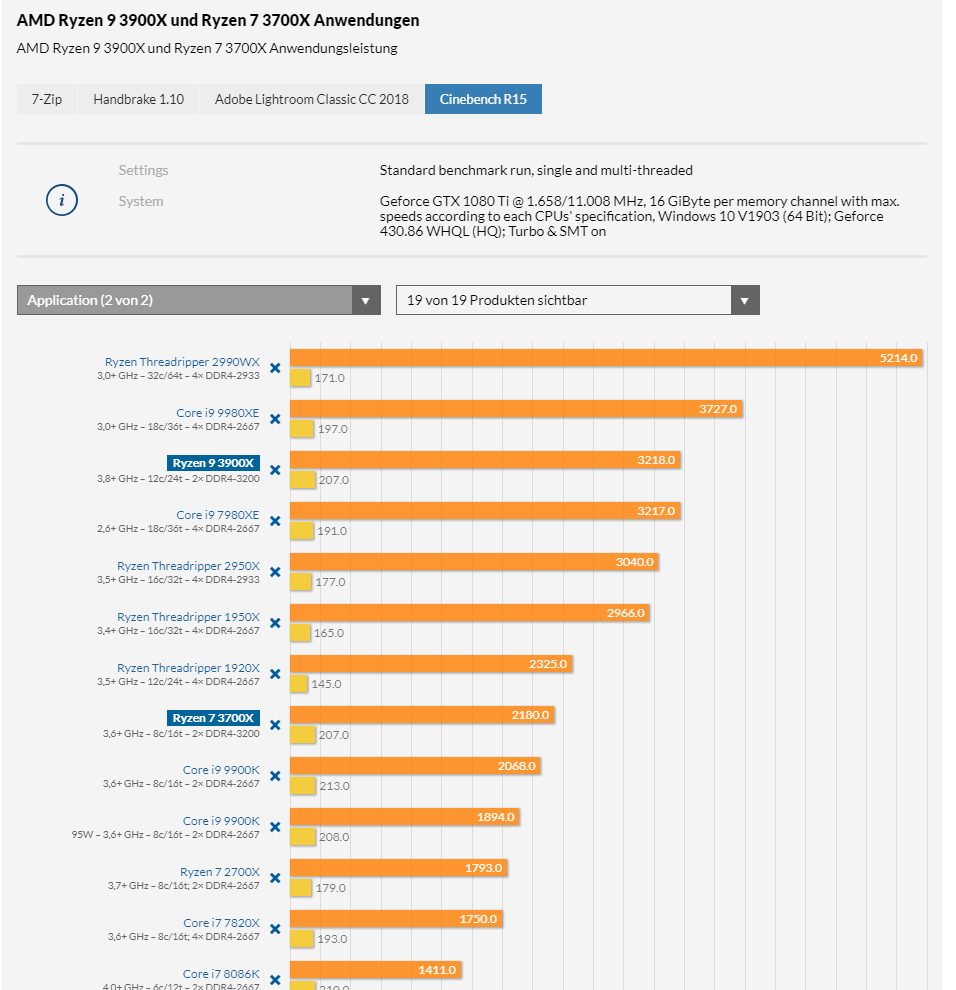 Some interesting results with power consumption. AMD chips are rated lower than Intel, and the 7nm should give them a big advantage. The Ryzen 9 3900X had a power consumption lower than the Core i9-9900K while offering more cores, threads and better I/O. However, the Ryzen 7 3700X used more power than the 12nm Ryzen 7 2700X, despite the 2700X being a 95W chip and the 3700X, a 65W chip. The Ryzen 7 3700X consistently drew less power than the i9-9900K, though not as low as the i9-9700k.

Specification Comparison
At the moment we don't know much about the performance of the new chips, so we can only really compare the raw specs. For the price I have used current available pricing. The new chips are in US and I would assume we will get $/£ parity.
| | 3800X | 3700X | 2700X | 1700x |
| --- | --- | --- | --- | --- |
| Price | $399 | $329 | £270.00 | N/a |
| Cores | 8 | 8 | 8 | 8 |
| Threads | 16 | 16 | 16 | 16 |
| Base | 3.9 | 3.6 | 3.7 | 3.4 |
| Boost | 4.5 | 4.4 | 4.35 | 3.8 |
| L2 Cache | 4 | 4 | 4 | 4 |
| L3 Cache | 32 | 32 | 16 | 16 |
| TDP | 105 | 65 | 105 | 95 |
| CMOS | 7nm | 7nm | 12nm FinFET | 14nm |
| PCIe | 16+4+4 | 16+4+4 | 20 | 20 |
If you are already running a 2700X the jump to 3700X may not be worth it based on specs, but the 3800x offers a little bit more.
The jump from 1700x to any 3000 series could be worth it for a much larger boost speed.
In theory with the 7nm fabrication process, there should be greater headroom for overclocking, but this won't be known for sure until reviews happen.
There are more PCIe lanes, and arguably, more importantly, there is now PCIe 4 which doubles the available bandwidth. There probably won't be any immediate gain from this, unless you have an ultra high-end system.
The L2 cache has been double and could help provide big performance improvements.
Post from: Mighty Gadget – Gadget and Technology Blog
AMD Ryzen Comparison – Ryzen 7 3800X vs 3700X vs 2700X vs 1700x