Recently I have reviewed a lot of the superb Reolink cameras camera, which I think are a range of cameras that offer some of the best performance for your money on the market.
In the past, I reviewed the Annke 4K POE camera and was quite impressed with it, at the time it offered a superb spec for the price.
One thing missing from all these cameras is colour night vision recording.  This is a feature I first experienced with the H.View 5MP camera, then later with the Hikvision DS-2CD2386G2-I 8MP Acusense. Low light sensors from the likes of Sony, with their Starvis sensor, offer colour footage with the smallest amount of light available to them.
Reolink have low light colour recording on their Argus cameras, but they need to roll it out for the POE options too.
Annke NC400 vs NCA500 ACE True Full Color Night Vision Security Cameras
One of the latest cameras from Annke is the affordable 4MP NC400 which claims to offer 0.001 Lux low light recording performance.
There are two cameras in this range, the other being the NCA500 which is a 5MP camera offering 0.0005 Lux and for $40 less RRP. At first, I couldn't fathom why the NC400 costs so much more for a lower spec.
However, the NCA500 is not an IP CCTV camera but an old fashioned BNC CCTV camera, it then also has much shorter viewing angles at just 80.1° vs 102°,
With a 0.001 Lux rating on the NC400, this sits a little behind some of the options offered by Hikvision which go down to 0.0005 Lux for their various ColorVu and DarkFighter models.
However, Lux levels for IP cameras are generally inaccurate, the  DS-2CD2386G2-I should perform worse than the Annke with its: 0.003 Lux rating, but I don't find it does.
Specification & Features
Image Sensor: 1/2.7″ Progressive Scan CMOS
Min. Illumination Colour: 0.001 Lux @(F1.0, AGC On)
Video Resolution: 4MP (2560 X 1440@20 fps)
Video Compression: H.265+/H.265/H.264+/H.264
Angle of View: Horizontal FoV 102°, Vertical FoV 54°, Diagonal FoV 121°
Ethernet: POE RJ45 X1 (10 M/100 M)
IP Rating: IP67
Dimension (L X W X H) : 68.4 X 65.2 X 161.1 mm (2.7″ X 2.6″ X 6.3″)
Set Up and camera interface
Ignoring any setup instructions in the box, this is easy to set up. With it powered up, I connected to the IP address of the camera. You will need to set an admin password, and when you log in you will be greeted with a blank stream of the camera.
You need to download a plugin to enable the stream. This is called LocalServiceComponents.EXE. This seems to be a harmless application that is used for several cameras. It looks like Hikvision is one of the main companies that use it, and Annke appears to be an OEM of Hikvision, so this hardware is likely from Hikvision, originally.
With all the privacy and hacking issues that have occurred in recent years, this is something I would have preferred not to install. Reolink has recently updated their cameras to work with HTML5, and this is a far superior solution, at least from a trust perspective.
Once installed, everything works fine, I have tested in Chrome and MS Edge. The camera interface is pretty much standard. I tend to use cameras with their standard settings, but you can tweak the image if you find it needs some optimisation.
Under the configuration page, you will need to enable ONVIF under network, advanced settings then integration protocol. You can set up a specific ONVIF user, or a less secure solution is to use your admin username and password.
Under the events page, you have options for motion zones and detection, video tampering and exception. So, it is quite basic compared to some of the newer AI/object detection cameras.
Set Up Blue Iris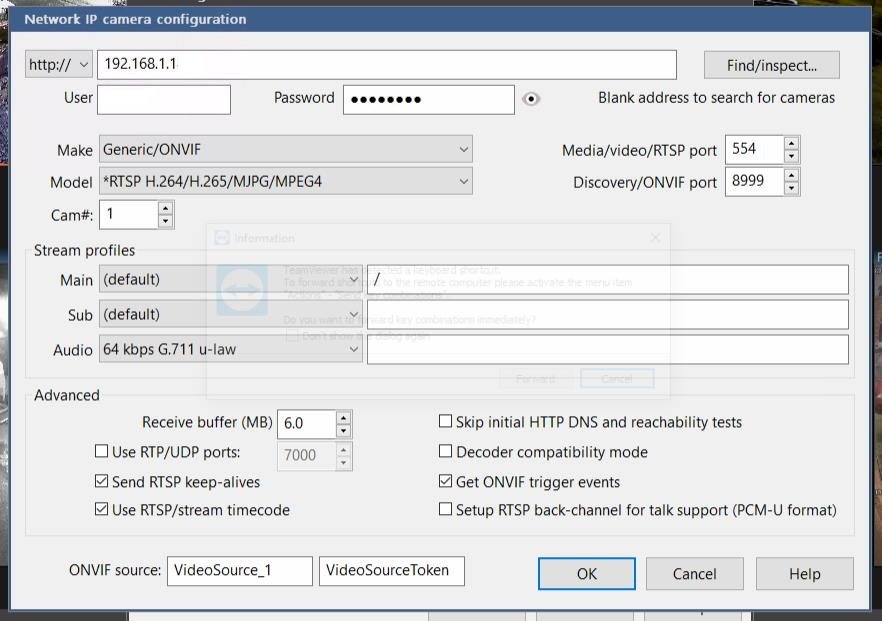 With the camera set up on the network, adding it to Blue Iris is super easy. Go to add a new camera, type the IP, username and password then scan. It found the correct stream without any issues.
One thing I have struggled to work out is the correct sub-stream URL. The main URL should be:
rtsp://admin:password@1192.168.1.111:554/h264/ch1/main/av_stream
However, this seems to be incorrect, according to VLC.
With this only being a 4MP camera and me recording directly to disc on Blue Iris, I didn't really need the sub-stream anyway, the CPU usage remained low.
Performance
The stand out feature of this camera is the low light performance, and as you would expect, this is superb.
A 4MP sensor is a little on the low on compared to what I have reviewed recently, so the overall quality and clarity of the image isn't quite as competitive as some of the 4K+ cameras I have tested, but the decent viewing angle and low light performance make this a good option for general surveillance.
With my recent reviews, my Hikvision is permanently fixed in position on the wall under my bay window, so it is about a meter away from my test cameras, and the angle is different.
Test cameras are placed precariously on a window sill, that often means the angles are different, but it is the best I am willing to do.
Daytime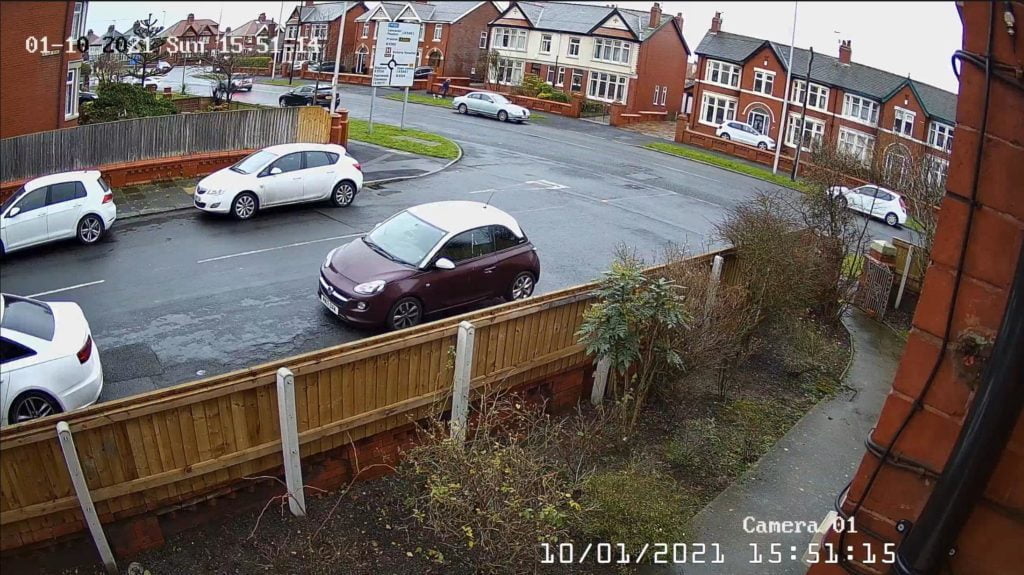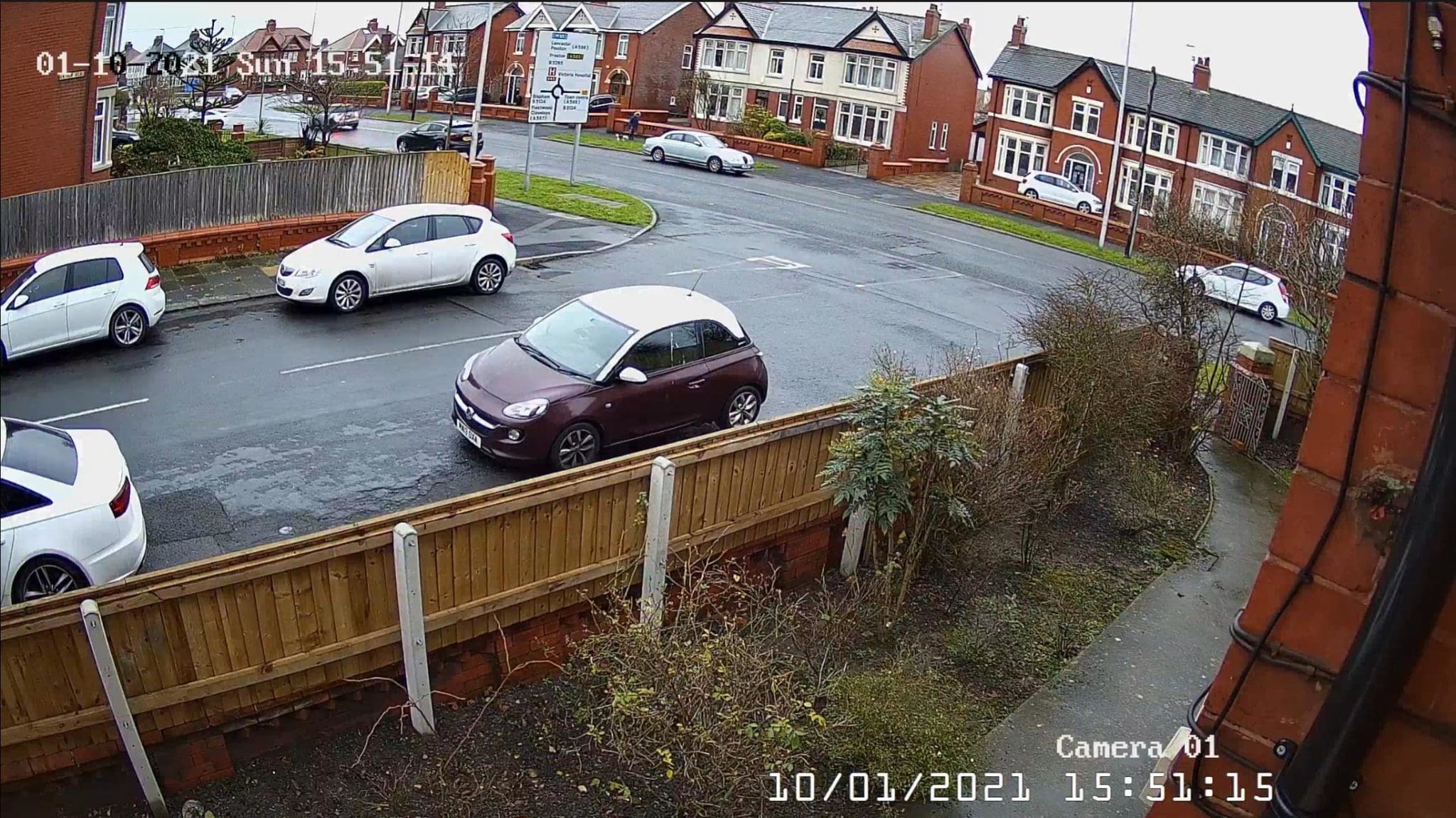 Daytime footage is good; you have a nice wide-angle, so easy to capture lots of property. The 4MP lens offers enough resolution to easily make out details of people entering my property, as well as things like cars etc. However, finer details such as facial features and car registration plates it suffers with.  The street sign in the background, I can tell what the words are because I already know what it says, but zooming in reveals pixilation that makes it impossible to read properly.
In comparison, my most recent review of the 12MP Reolink camera, you also get pixilation on the letters, but you can just about read it. However, this camera has a much narrower viewing angle.
The 8MP Hikvision, which in theory should have worse performance than the Reolink due to the wider angle, lower resolution and being placed further away, offers comparable if not better performance than the Reolink.
For the Hikvision, where the street sign was legible during the day, the lettering is blurred/pixelated at night. So colour night vision still suffers from deteriorated image quality.
Colour Night Vision Performance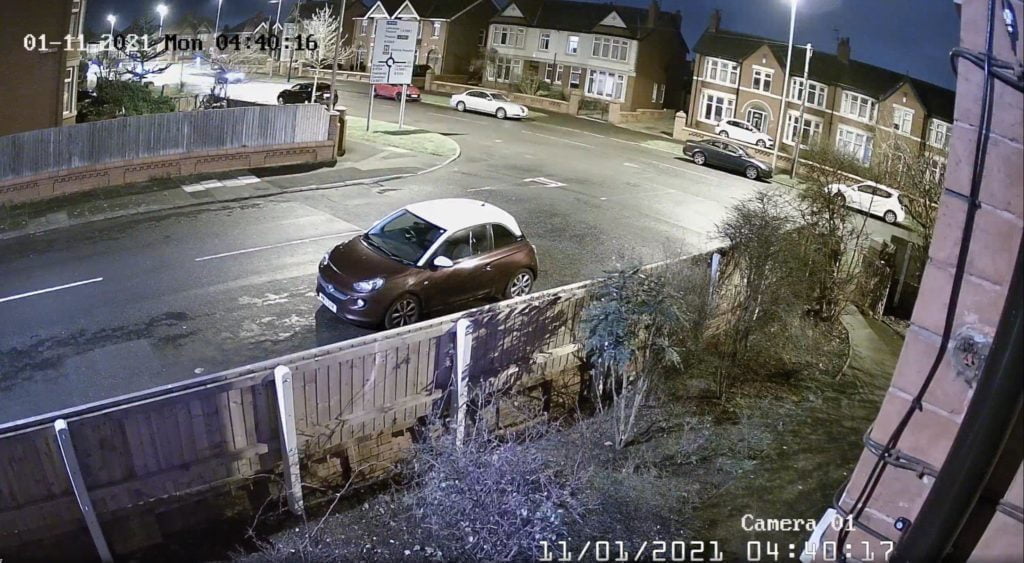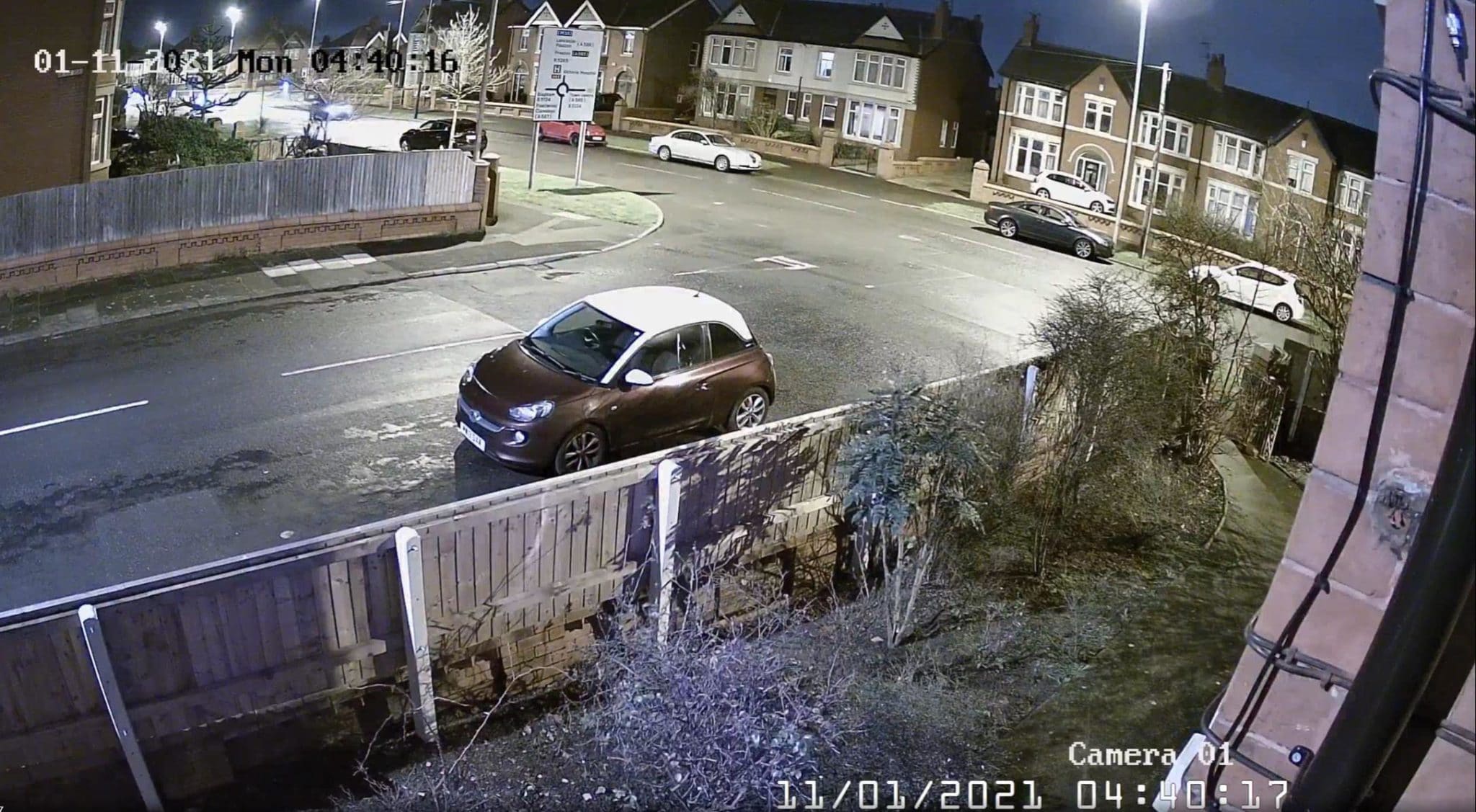 For better or worse, I have stupidly bright street lights, so night time visibility is pretty good on my street regardless. However, the Annke shows a clear advantage over the Reolink counterparts.
Street lights seem to offer a little more glare compared to the Hikvision, but I would say it is similar to the 5MP H.View I also use. With better placement, you could possibly make out number plates, in comparison, Reolink with the IR causes signs and number plates to be totally blank.
For me, the important thing is that I could easily identify clothes, car colours and other features from anyone entering my property or parking up. B&W footage from other brands loses so much detail, even on a good camera, someone walking down the street has no distinguishable features.
Price and Competition
Currently, this is only available direct from Annke for $110.49 with free shipping from late January. This should work out at £81.80.
The 5MP H.VIEW, which I still use, and performs well, typically sells between £99 and £109 on Amazon but is not in stock at the moment.
The Hikvision 5 MP ColorVu Fixed Turret Camera, which offers 0.0005 Lux, is available for £69.
Then the Hikvision 8MP DS-2CD2385G1-I is £169, or the newer DS-2CD2386G2-I model which I use is £213.
Overall
The Annke NC400 is an excellent option to have for a general use security camera. You sacrifice the clarity offered by higher resolution cameras for vastly improved low light footage. Depending on your requirements, this can often be a superior solution to high-resolution B&W footage, providing you with more identifiable features, should you need the footage in case of an event.
The camera itself was easy to set up, though disappointing that I had to install an EXE to get the stream working, made worse by that application then trying to autostart each time I booted Windows. It doesn't appear to be nefarious, but it is certainly unwanted.
Once running in Blue Iris, it has worked perfectly, there appears to be no issues with disconnections and it is something I would happily continue to use as one of my main cameras.
Posted by Mighty Gadget Blog: UK Technology News and Reviews