Anybody that has ever watched a cooking show will be aware of sous vide cooking. The name makes it sound pretentious, and then the concept of cooking your food in a plastic bag of water doesn't sound all that appealing.
With the promise of perfect results, it is something I have always wanted to try, but in the past, the devices themselves have been quite expensive, and I feared it would end up being another gadget neglected in my cupboards after a few weeks.
While that may still happen in the future, for now, I have loved it my first experiences of cooking with sous vide.
Anova is possibly the most popular brand in the business, the original Anova Culinary Sous Vide Precision Cooker has over 6,418 ratings on the Amazon website with an impressive 4.6 out of 5 with 80% of the reviews being 5-star and just 5% being 1-star.
To the best of my knowledge that launched on Amazon around 3 years ago for £159 dropping down to £129 prior to its discontinuation in December.
Subsequently the V2 model launched with an initial price of £159, but then this jumped up to £199, and it now has gone back down to £159.
It is one of the most expensive options on the market, with many other competing brands offering models for under £100. The big difference between this and the cheaper models is the inclusion of Wi-Fi, allowing you to control the Anova from your phone.
Anova Culinary Sous Vide Precision Cooker 2.0 vs Precision Cooker 1.0 vs Pro Specification
Anova Precision Cooker 2
The specification of the latest V2 model is:
Performance
Durability

Plastic & stainless steel

IPX7 water and splash resistant

Precision

Temperature Accuracy: +/- 0.1˚C (0.2˚F)

Temperature Range: 0˚-92˚C (32˚-197˚F)

Usability

Manual time and temperature controls

Adjustable & detachable clamp

Size
Container Size
Connectivity

WiFi 802.11 b/g/n 2.4 GHz
I can't find the full specification of the original model, but it had a lower power output of 900W was physically larger and was less water resistant
Anova Precision Cooker Pro
The Pro massive increased the power allowing you to heat up to 100L of water, which is likely more than any residential consumer would need.
Performance

Power: 1800 Watts / 220 Volts

Max Cook Size: 100 Liters (26 Gal)

Durability

Stainless steel and Teflon-coated aluminium

IPX7 water and splash resistant

Precision

Temperature Accuracy: +/- 0.05˚ C (0.09˚ F)

Temperature Range: 0˚ – 92˚ C (32˚ – 197˚ F)

Usability

Manual time and temperature controls

134.6cm (53″) power cord length

High fidelity speaker tones

Adjustable & Detachable clamp

Size

88mm D x 60mm W x 350mm H

3.46″ D x 2.6″ W x 13.78″ H

Container Size

Min Water Level: 62 mm (2.4″)

Max Water Level: 170mm (6.7″)

Connectivity

WiFi 802.11 b/g/n 2.4 GHz
Hidden costs – Vacuum sealer, water bath and more
With the new lower price of the Anova it doesn't seem all that expensive. It is about the same as a good electric pressure cooker or blender. However, costs quickly escalate when you inevitably buy all the sous vide accessories (this is true for all of these devices).
If you have a big pan or cock pot, you can technically use the Anova as is with some food bags. If you are forking out £150 you may as well get a vacuum sealer which is £95 for the Anova branded model, but you can get excellent alternatives for about £50.
Then an open metal crockpot is not ideal for very long cooks, so you will at least need some sous vide balls which are about £15.
Then you may as well get a proper water bath for it too, which will allow you to cook big cuts of meat better and get better thermal efficiency. Again, the Anova branded stuff is quite expensive, but in this case, it seems to be much better quality than others. A standard container is £79.99, but they have also launched a stainless-steel double-walled insulation water bath which should be the most cost-efficient way of using the sous vide, but this will set you back £139.99.
Then another optional accessory is a sous vide rack which will hold your food in place and allow you to cook multiple things at once. These are typically £30+
So if you bought all the Anova branded stuff you are looking at £300-£400
Mobile App – The benefits of Wi-Fi vs dumb sous vide machine
The main benefit of this sous vide compared to the more affordable options is the ability to control the device via your phone and monitor the cook via Wi-Fi.
It could be argued that this is not needed, with a precision cooker the water and eventually the food remains the same temperature throughout so you don't really need to monitor it. It's not like a smart BBQ thermometer where you need to be careful of the internal temperature of the meat or the ambient temps.
The one exception here is the initial warm-up, if you have a large bath of cool water you could be waiting around a while for it to heat up. With the Anova you can walk away, and it will tell you when it is ready.
Anova has the added benefit of community orientated recipes built-in, this allows you to browse what other people have made then easily send the cooking time and temperature to the Anova for whatever food your decide to cook.
On top of the community recipes, there are some guides too; these are actually quite good as it not only provides you with a guide on what to do but under the about tab you get an explanation of the entire process and why they chose them temperatures and alternative temperatures.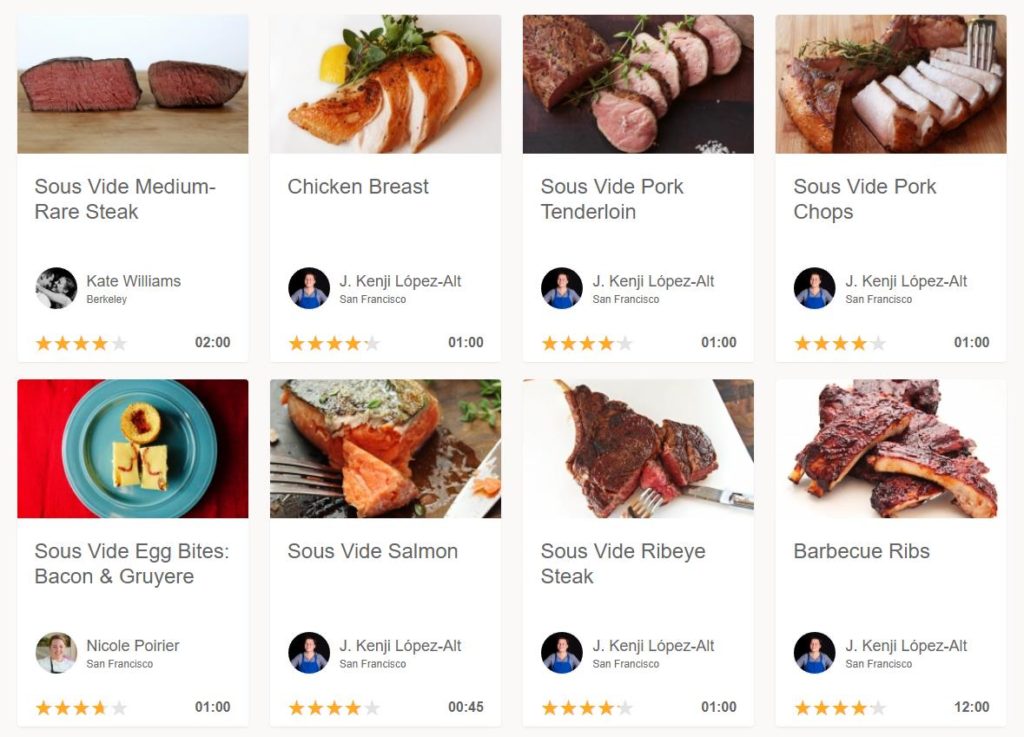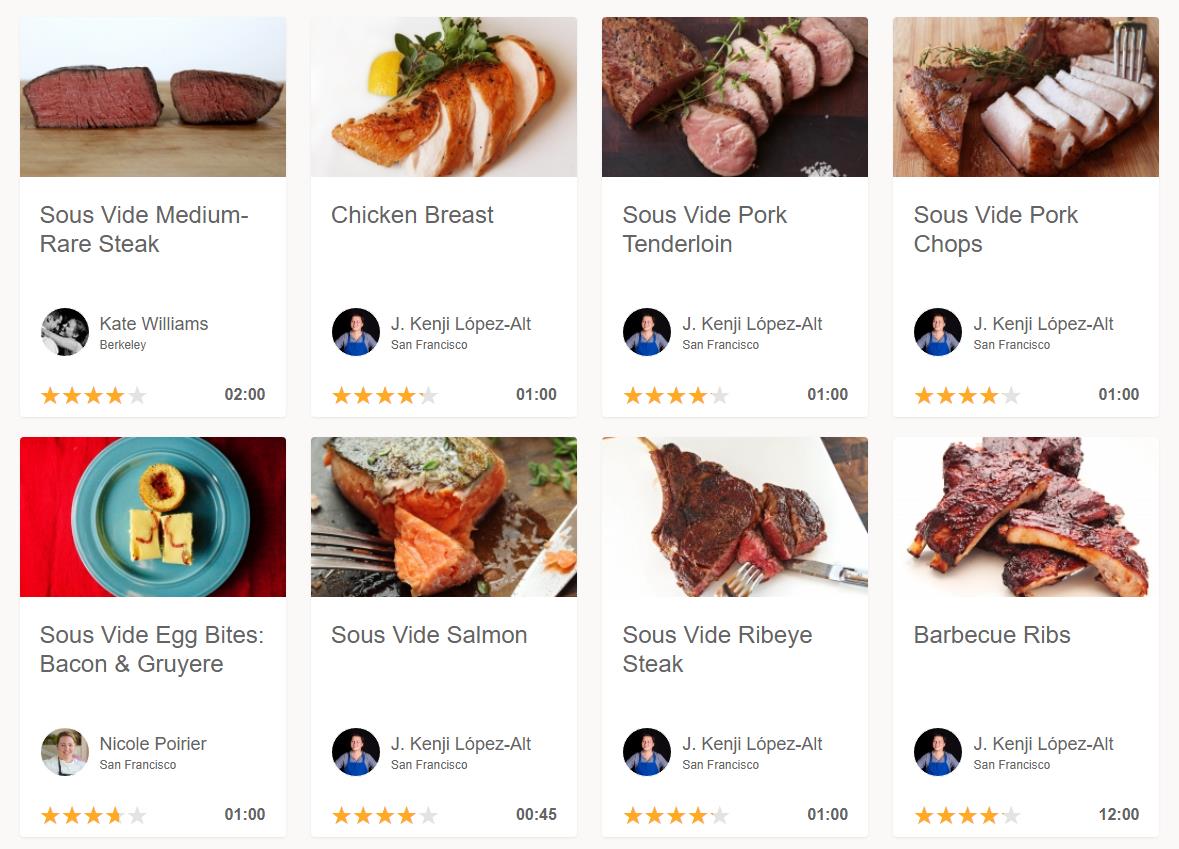 You can also bookmark all your favourite recipes, so everything you need is within the app rather than having to save recipes on your PC etc.
In general, the app works well for me. However, I would say almost every time I come to check on the Anova it says unable to connect, but then quickly switches to the connection. It is a minor glitch and seems to be a delay in my Huawei P40 Pro pulling up the data from the Anova.
The app also seems to work remotely, so you can go out for the day and still monitor the temps. Again, I don't feel like this is too important because it should only remain the same temperature throughout. I guess it will help you identify if something has gone wrong mid-cook though – which could be frustrating if a none smart sous vide stops for whatever reason mid-way through a 2-day cook!
Performance
I have used the Anova for several meals now, admittedly nothing overly complicated, but so far I absolutely love it.
I will get the bad bit out of the way first, on two out of 6 meals when I started the Anova the was a constant beeping made from it. I checked the support pages and the water levels were correct and no other obvious faults. What fixed it is the time old solution of switching it off and on again. I am not sure why this happened, and it is not ideal, but it is a quick and easy fix.
Beyond that, everything has worked great. I started off as simple as possible and cooked a couple of chicken breasts, this was in normal food bags, and they came out perfectly.
I then forked out £40 for a vacuum sealer, and some souse vide balls with the next attempt being easy pully pork which was finished off in the oven. This was a 24-hour cook which was a little scary to do at first, but everything went smoothly.
The next up was a roast beef, which is called Bottom Round Beed Roast within the app. This was the best yet, I used a cheap lean cut of beef from Sainsbury's. In the oven these normally come out dry and chewy, so we often do them in the pressure cooker which works well for the main meal, but the leftover meat dries out and become very firm. With the Anova we had perfectly tender beef for the main meal, and the leftovers remained tender enough to easily bite through cold on sandwiches.
The most recent test was a couple of cheap sirloin steaks which we did medium rare then finished off with a blow torch. The end result, again, was amazing, giving a delicious and tender medium-rare centre with that tasty Maillard/charcoal effect from the blow torch on the outside.
For shorter cooks like steak and chicken, the process of heating up the water, vacuum packing the food etc. does take a bit more time than just pan frying it/oven cooking, but the end result is better.
For larger cuts, or food that is sensitive to temperature using the precision cooker takes all the brain work out of the cook. You don't need to check the food at all; there is no worry about it being under or overcooked; it just works every time. Because of this, I don't think I will over go back to a normal oven cook again.
Price and Competition
With the lower price since launch, the V2 Anova is much more sensibly priced and I think it justifies the higher price to the none smart models.
Alternative options include:
Overall
My overall impression is likely biased due to this being the first sous vide machine I have used. I am a complete sous vide convert. It is not something I will use all the time, but for larger or trickier cuts of meat, it is perfect.
As for the Anova itself, it is superb but not without its flaws. I have experienced two occasions when I have needed to reset the device due to a consistent beeping. This immediately fixes it, but it is not ideal.
Then there is the cost, thankfully it has dropped down to £159, which makes it much more attractive, but it is still quite expensive when you could, in theory, get a none-smart alternative. However, I'd say the additional features, and superior overall specification is worth it over most of the £100 models.
The main issues with cost arise from sous vide in general. Ideally, you need a water bath, vacuum sealer and the cost of the bags, plus sous vide balls if you don't have a lid. All this can easily add up to another £100. There is also the plastic waste from the vacuum bags to consider, but it is a tiny amount compared to all the waste from a normal food shop/
Minor niggles aside, the Anova Precision Cooker is fantastic, it is incredibly easy to use, the app includes lots of recipes and guides and allows you to control everything remotely. It takes all the brain work out of cooking large cuts of meat or anything that benefits from a precise temperature.
Overall, for anyone that cooks at home semi-frequently, I think a sous vide machine is a great investment, and the Anova is one of the best on the market.