IoT devices that measure air quality are becoming increasingly common. I reviewed the Foobot back in 2017, then the Airthings Wave Plus in 2019. Recently I have been testing the Aranet4 HOME from the Latvian company SAF Tehnika.
While the effects of high levels of CO2 were long thought to be benign, research has found that concentrations as low as 1,000 ppm can affect people's cognitive function and decision-making performance.
Typically we worry about the concentrations of Carbon Monoxide, when not enough oxygen or ventilation is provided to a fire, dangerous levels of Carbon Monoxide can build up and be fatal.
There are not really many Co2 devices on the market, though here are a lot of air quality monitors, which monitor different things like Volatile organic compounds (VOCs).
By using the Aranet4 app on your smart device, it is possible to wirelessly access the real-time data and up to one week of historical measurement data.
Features:
Precisely monitors indoor air quality – CO2 (actually measures CO2 level), Temperature, Relative Humidity and Atmospheric pressure in Real-Time
Visual and Sound Warnings when CO2 concentration gets too high
Power efficient E-Ink display ensures super long battery life for this wireless device (up to 2 Years)
Smartphone app for historical data viewing (supports iPhone and iPad with iOS 12 or later, Android devices with Nougat 7.0 or later, compatible with Bluetooth 4.1 or later)
Works with the powerful Smart Home platform Homey!
Set up


The Aranet4 device is calibrated at the factory. However, you can perform CO2 calibration manually when needed. For the sake of this review, I left the device in its factory-calibrated setting.
The Aranet4 uses AA batteries which are supplied, and this should last you a couple of years. When you open the battery cover, you will notice some small switches, these can be used to do the calibration, switch the temperature between °C / °F, switch Bluetooth on or off, and also enable connectivity with the Aranet PRO base station (which is not relevant to this review).
Nothing else needs to be done on the device itself. To access the data history and tweak setting further, you will need to download the Aranet4 App and pair up the devices.
Pairing up is simple, and from within the app, you can change the measure update interval, which will affect battery life and storage duration.
You can also have it set off a buzzer if the Co2 goes over 1400ppm then it is also possible to alter the Co2 indicator to be focussed on humans or plans. With the plant mode being green at over 500ppm (rather than under 1000ppm).
One thing that is worth noting, I thought the app had poor connectivity at first, it would not display the historical data immediately when I loaded it up.
What appears to be the case, is that all the data is stored on the device itself, so when you load the app, it needs to connect via Bluetooth and download the data, which is reasonably slow, but does show after a few seconds.
Third-party integration – Homey
There is very limited third party integration, with the Homey being your only option. I don't have a Homey so can't test this, nor am I sure how popular that system is. It is one of the best-specced home automation systems on the market with Z-Wave, Zigbee, Bluetooth and more but it does not seem to have gained much mainstream traction.
There is no IFTTT integration or any other sort of third-party API access which I think severely limits the appeal of the Aranet4.
In use and mobile app
Once set up, there is very little else you need to do, the device itself provides readouts of the exact Co2 measurement with a colour coded indicator if it is low, moderate or high.
Then when you use the app, you can view your historical data. This is actually quite interesting, as I can see exactly when I have been in the room, and when it is empty. There are very big spikes when I sit there in the evening with peaks hitting almost 1500 parts per million, indicating that I could probably do with ventilating the room more.
The app itself is very basic, it doesn't have a fancy design like big brand names, but it displays the data coherently that is easy to use.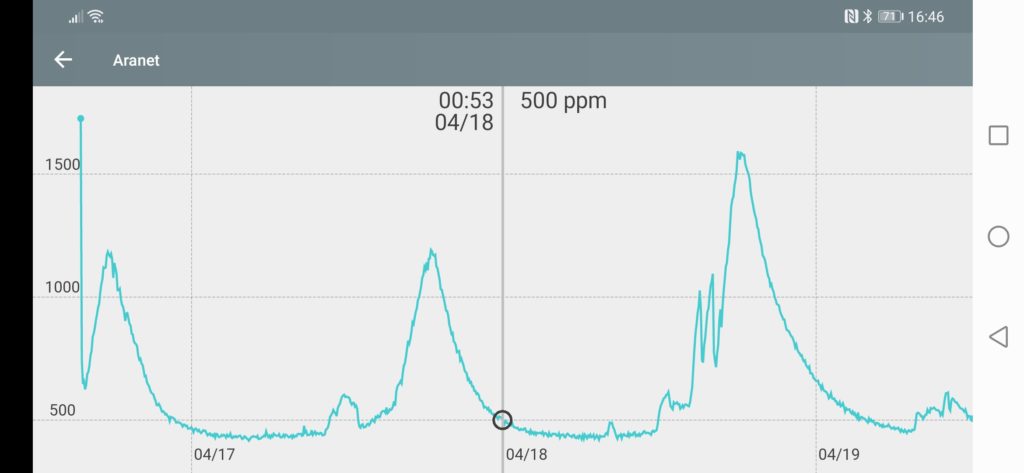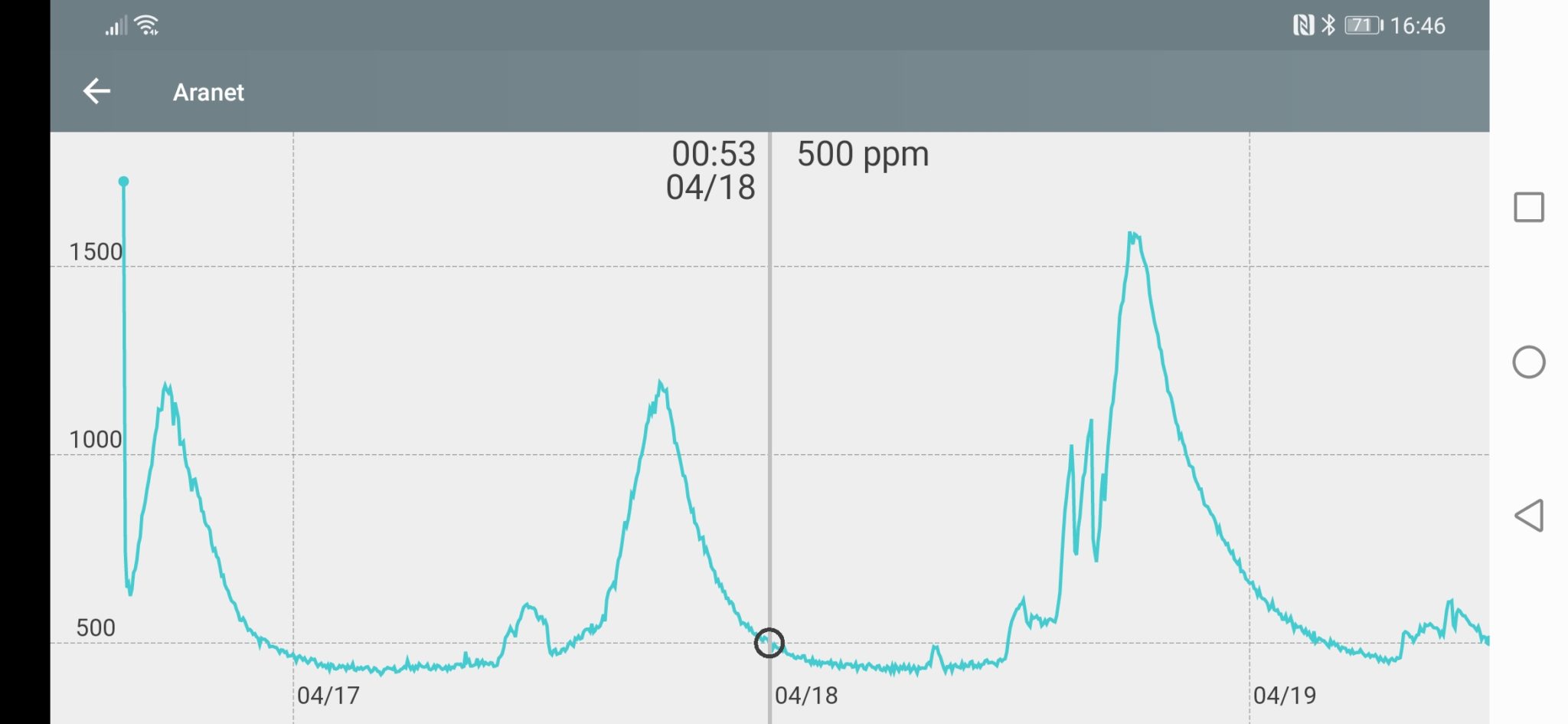 Price and Competition
Air quality monitors are quite expensive, however there are a few alternative options, some of which are more affordable but very few that specifically monitor Co2.
Doesn't measure CO2 but measures Volatile organic compounds- (VOCs), humidity and temperature.
Airthings also have two more options increasing with price; these will also measure radon which is something worth considering. The Airthings Wave Plus Smart is very expensive at £275 but measures radon, carbon dioxide (Co2), volatile organic compounds (total VOCs), humidity, temperature and air pressure sensors
This measures temperature, humidity, noise and CO2
Doesn't measure CO2 but measures Volatile organic compounds- (VOCs), humidity and temperature
This integrates with Apple Home Kit and can be used to set up automations
Doesn't measure CO2 but measures PM2.5, Fine Dust, Temperature, and Humidity. This works with Apple HomeKit and IFTTT.
Overall
I love the e-ink display of the Aranet4 and the fact you don't need to go into the app to see the physical reading. The overall design is excellent too in a sort of utilitarian way, and getting the exact CO2 reading from the display is superior to competing devices. The extremely long battery life due to the e-ink display means you can set and forget it, which is always an appealing feature.
For the price, I would have expected better third party integration. While there are not many competing devices that specifically monitor Co2, there are a lot of different options, many of which have superior integrations which allow some form of automation.
If you are a Homey owner, then this is different. I have not tested this, but you should be able to create flows to induce some action when the air quality is decreasing.
Overall, I think the Aranet4 is good, it has certainly provided some insight into my ventilation requirements, and I will likely rotate it around my rooms so I can optimise our air quality. However, they really need to add IFTTT functionality because as it is, there is only limited functionality for most users.