The Arlo Essential Video Doorbell Wire-Free was announced at the start of this year and will be made available across the usual online channels from the 2nd of February.
While the security camera market is saturated, there are not many good battery-powered video doorbells, so the new Arlo Essential is a welcome addition to the market.
I recently swapped out my Eufy Security Wireless Video Doorbell with the Arlo, and I have been using it for the past two weeks to see how well it does in comparison.
Features & Specification
Visual Security
Camera – 1536×1536 resolution 180-degree diagonal
30-day video cloud storage – look back at and share videos with law enforcement if needed
Custom activity zones – focus your doorbell on key areas within its field of view so you're alerted to the most important information 
CVR – Add continuous video recording to your SMART plan to create a CCTV style video doorbell
Advanced detection & verification
People, animal and vehicle detection – select the things that are important for you to be alerted to
Package detection – receive alerts specifically when your doorbell detects a package, so you never miss a delivery 
Listen for fire – set your camera to alert you if it detects the sound of your fire alarm and you're not home
Incident Response 
Locked screen response – take action without having to unlock your phone for a faster response
Siren Alert – trigger the built-in siren to deter intruders your doorbell detects 
Call a friend – set an emergency contact within the app so you can quickly call for help 
Peace of Mind 
Two factor authentication – Keep your doorbell secure with two-stage login process 
Theft replacement  – if you're doorbell is stolen have it replaced if you're on a paid SMART plan
Works with
Amazon Alexa, Google Assistant, Samsung SmartThings, Apple Watch
Arlo Essential Video Doorbell Wire-Free vs Ring & Eufy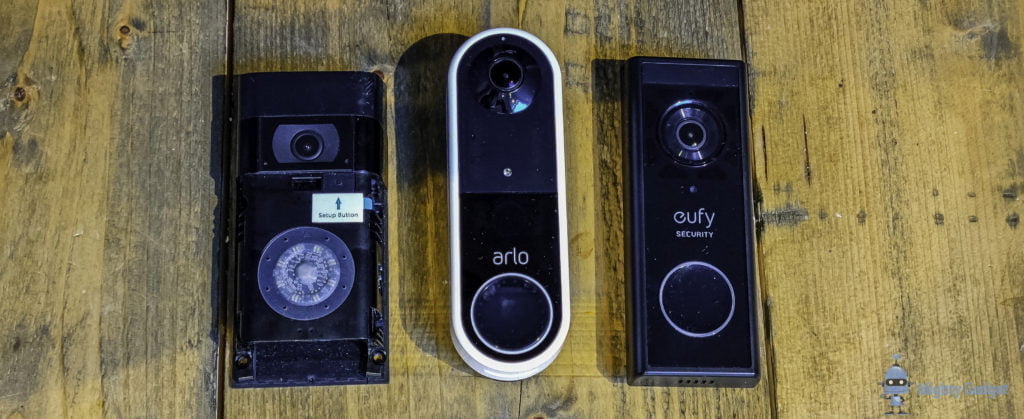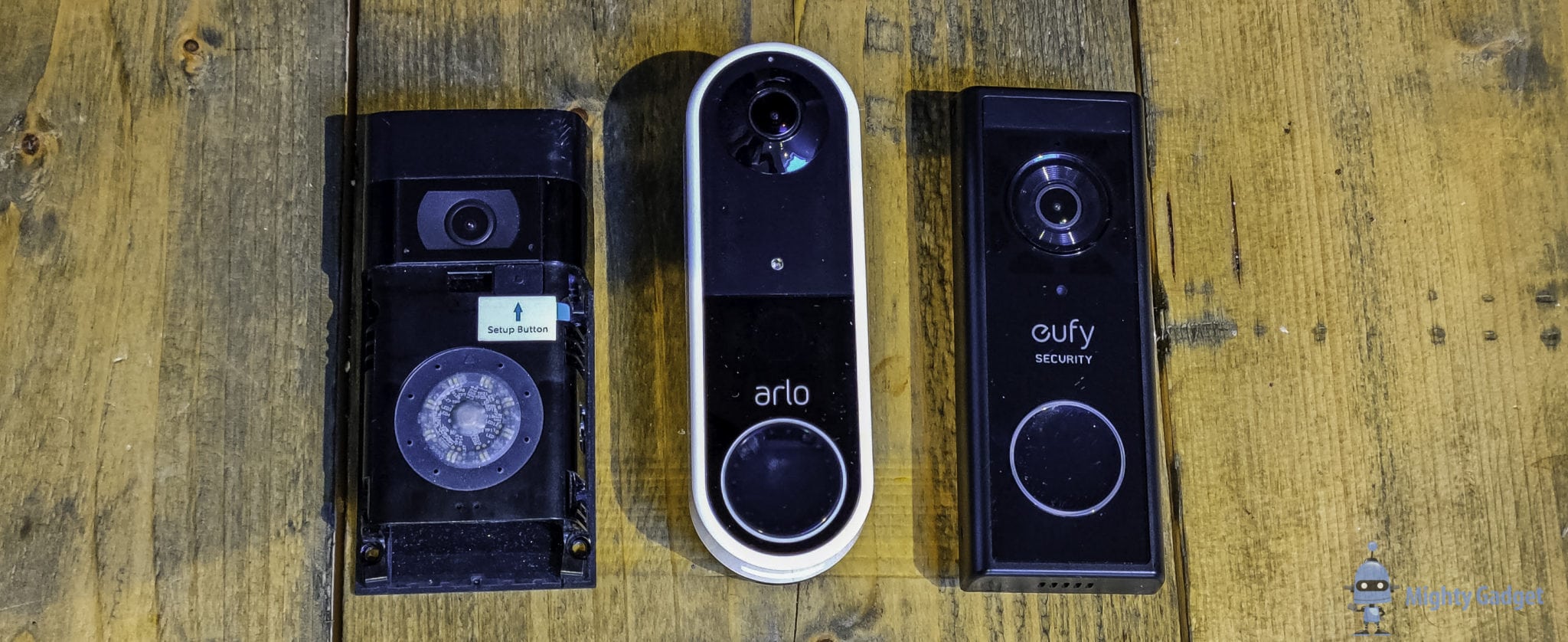 I have done a more thorough review of how the Arlo Essential Video Doorbell compares to options from Ring and Eufy.
A quick summary though, this is priced similarly to the Ring Video Doorbell 3 and Eufy Battery Powered Video Doorbell 2K.
Arlo and Ring both have ongoing costs, which for one device is about the same price at £2.50pcm. You get three months free with the Arlo.
Both Arlo and Ring have removable batteries allowing you to keep a spare to swap over. Swapping the Ring battery is a bit easier though.
I have not had the Arlo doorbell long enough to compare battery life, but it seems to drop at around 1-2% per day. It almost certainly won't last as long as the Eufy doorbell
Eufy has the best resolution, Arlo is second best and with the best field of view. With Arlo, you get a square image which easily covers down to the floor.
All three have some sort of smart detection. Arlo is the only one with package detection
All three allow you to speak with people at the door, but I think Arlo is the only one with a pre-recorded voicemail option.
Arlo has the best smart home integration with Google, Alexa and Smart Things
Arlo connects to 2.4Ghz Wi-Fi. Ring can use either 2.4Ghz or 5Ghz, Eufy connects to the Homebase.
Arlo has the Smart Chime, which is a bit overpriced at around £50, Ring has the Chime and Chime Pro for £29/£49. Eufy has no chime yet, but the Homebase acts as one. All three can use Alexa for Chimes.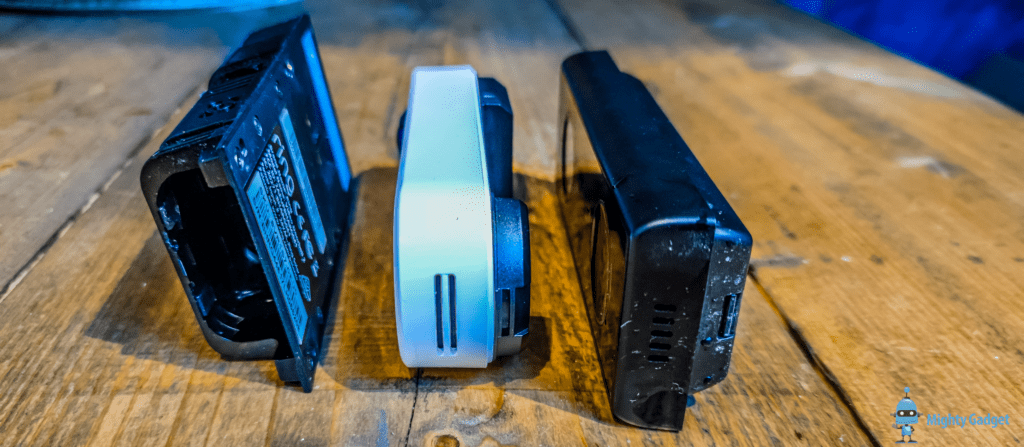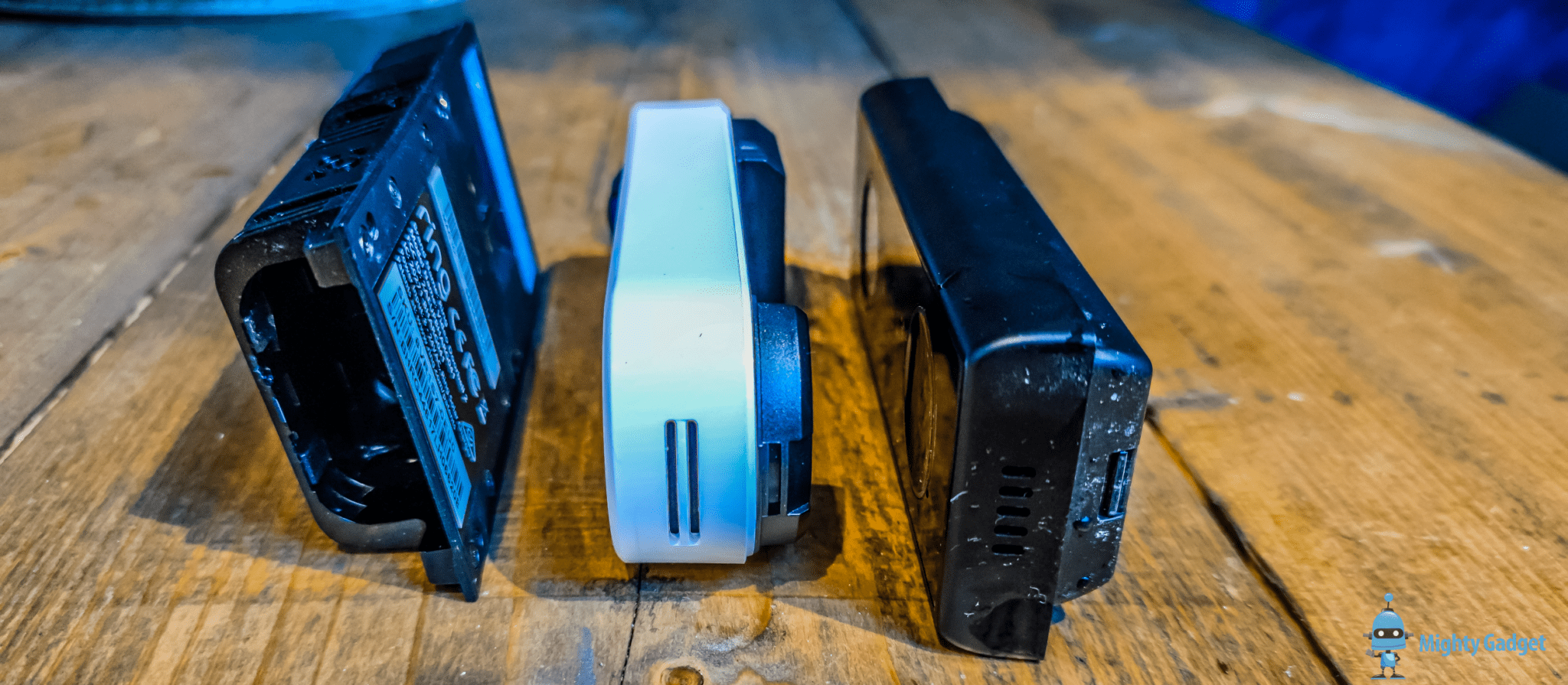 Set Up & App
Physical installation is easy enough, you don't get a drill bit and screwdriver, unlike Ring, but you have everything else you need. The app guides you through the process, so it is mostly idiot-proof.
This won't be an issue for 99% of people, but Arlo, Ring, and Eufy use different screw hole placements, so my doorway is starting to look messy with holes.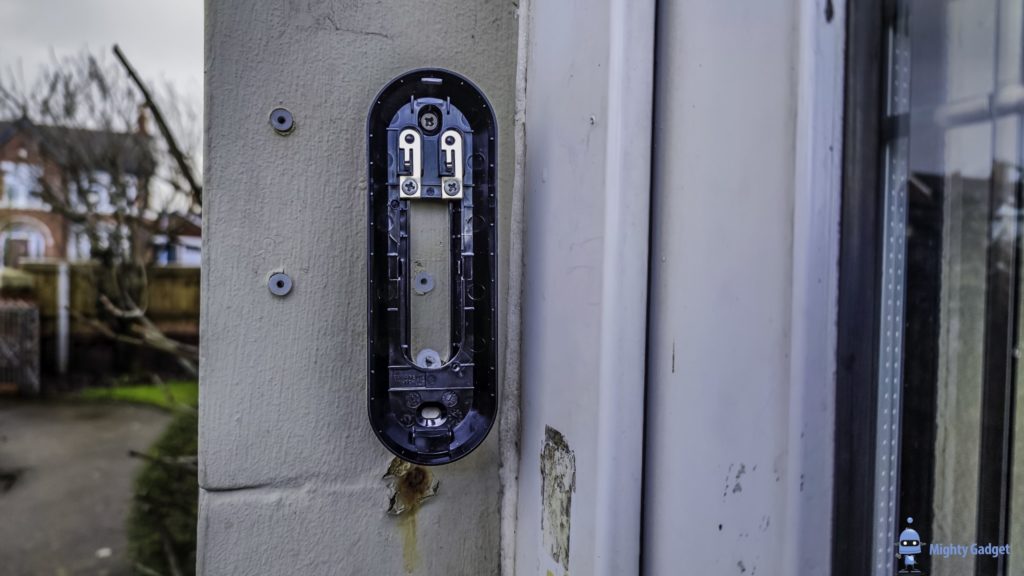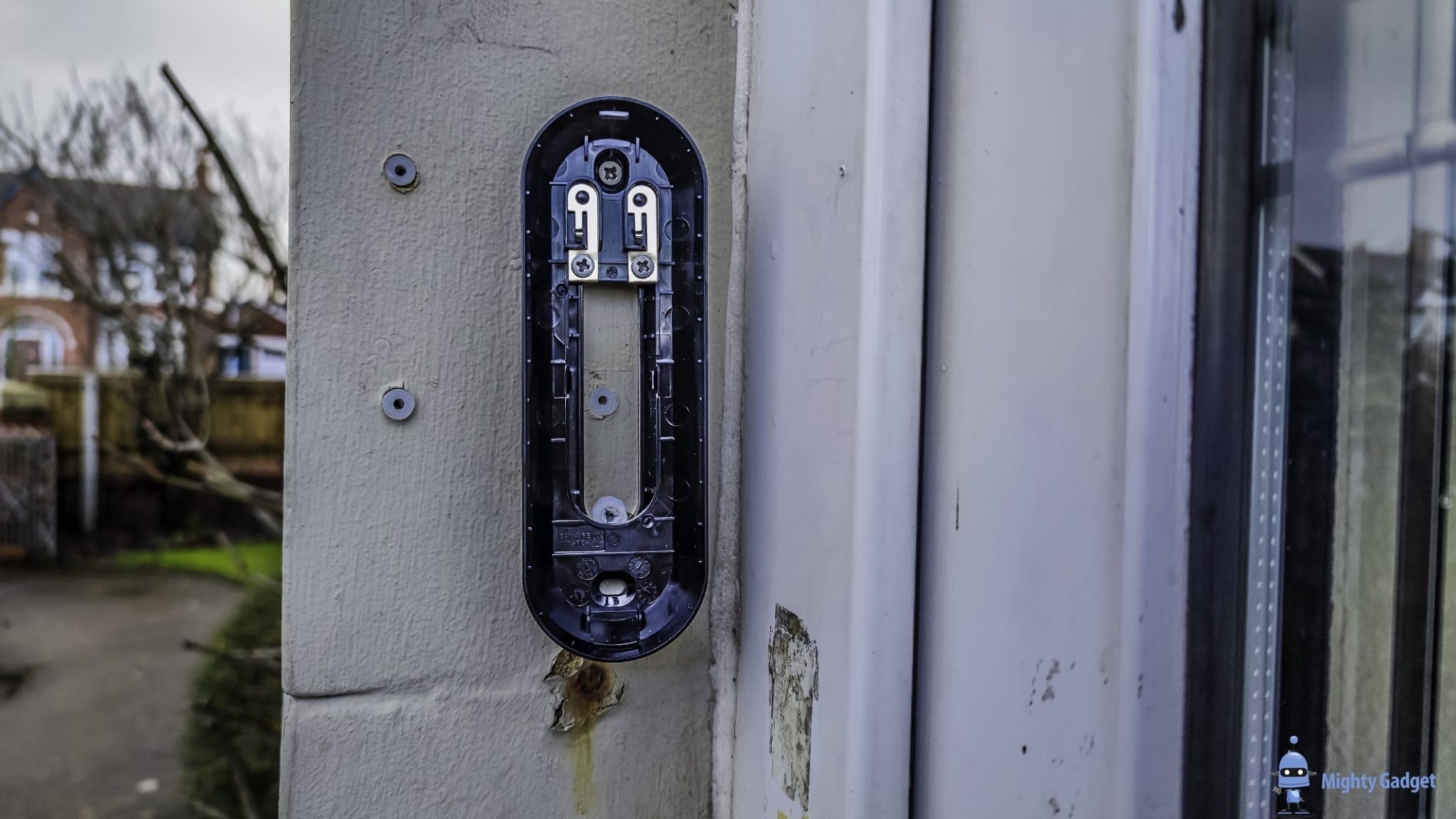 You can optionally wire this up to a chime, but if you have that option, you don't really need to be looking at battery-powered doorbells.
I had a small issue getting this camera to work. It is one of the security cameras gets the Wi-Fi credentials from a QR code placed in front of the lens. For some reason, when using the QR code on the Xiaomi Mi 11, it would not scan it at all. Using the Huawei P40 Pro, it scanned it immediately. It is probably something to do with the screen, I tried to adjust the screen brightness but just didn't work with the Xiaomi.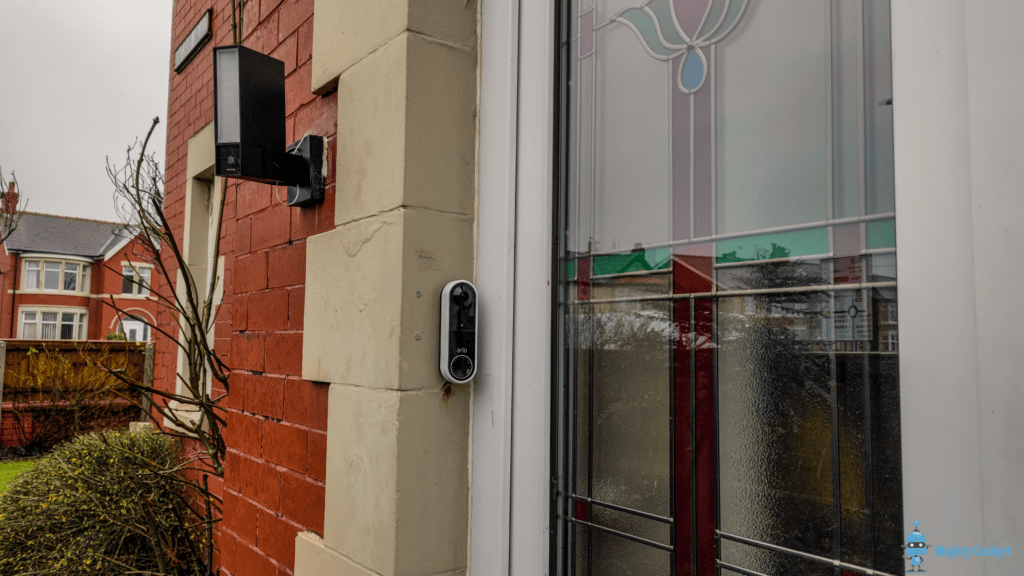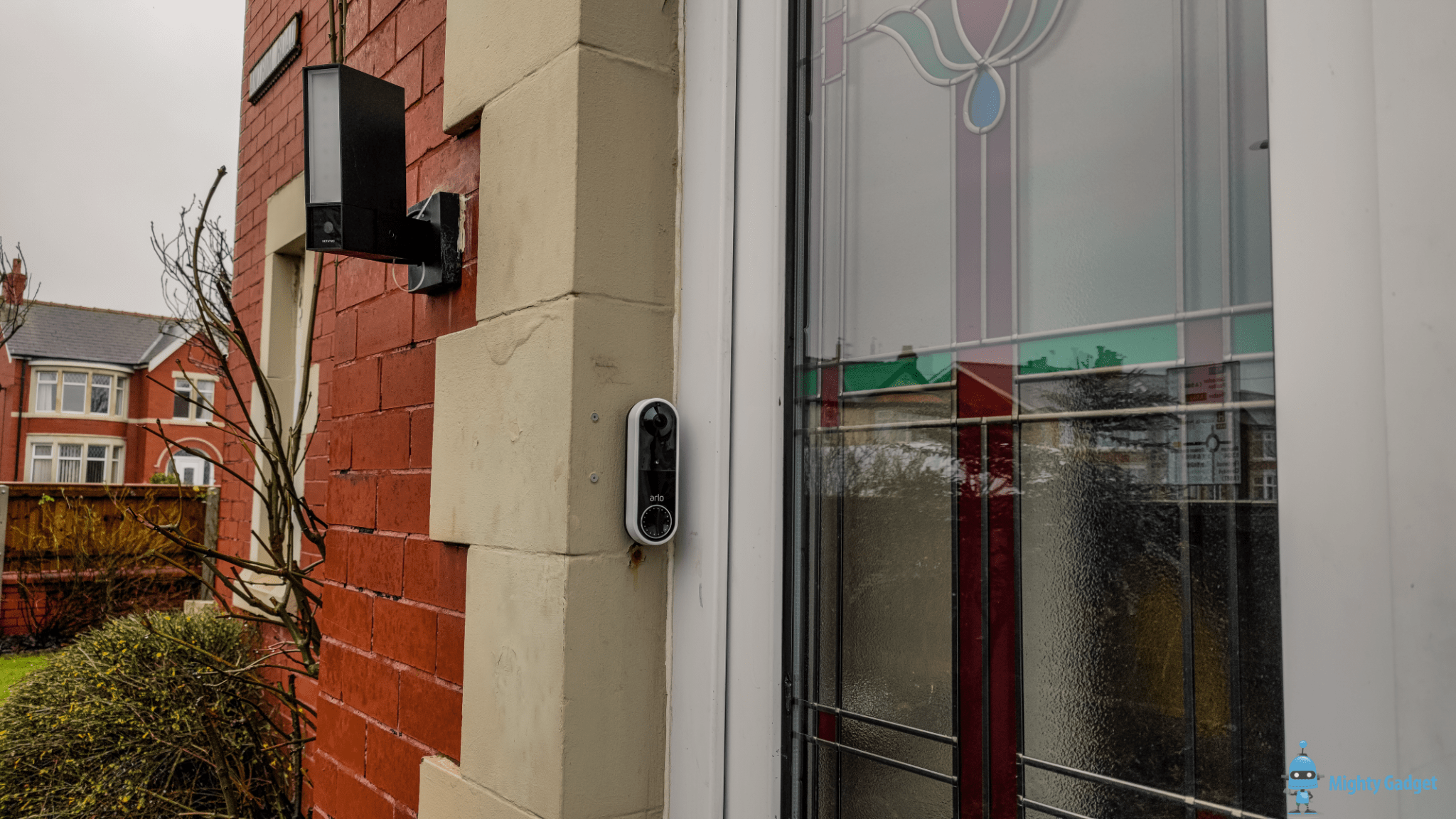 Chime notifications through Alexa with Amazon Echo Dots
The doorbell does not come with a chime, and I wasn't sent one to try. So I have been reliant on phone notifications and various Alexa Dots I have around the house.
With the Arlo doorbell set up, you will need to go to the Alexa app and search for the Arlo skill
No Amazon Alexa live feed
While Alexa works well with the Chime notifications, it doesn't seem to be able to provide a video feed to Amazon Show devices. It attempts to connect, but I get told the device is unresponsive. The skills app doesn't list the doorbell as being compatible, so I wasn't too surprised by this. The Eufy can do this but connecting to a feed is always slow, so I don't really see the point of it.
SmartThings
Connecting the Arlo doorbell to SmartThings is simple enough. This is done via an API so you select Arlo from the brands list and connect your account via username and password.
With SmartThings, you have a far wider range of options for notifications and automation compared to Ring or Eufy. However, there is a lot of crossover with Alexa.
One option is to have a light switch on when the doorbell goes off, though this is not quite as good as the flashing lights option you can create with Hue via IFTTT.
Performance
My doorbell placement is perhaps not the best, being at a 90% angle to the door, the angled mount does adjust the angle excessively, but apart from my placement, performance has been excellent.  
You have almost a fisheye type lens, so it covers from the ground to above the full height of my doorway, so you will always capture from head to toes.
The video quality itself is good, not quite as good as the Eufy, but more than enough for its intended purpose. Daytime footage offers plenty of clarity, and you can easily identify anyone near the door.
I have ridiculously bright street lights, this provides enough light for the camera to continues recording in colour during the night and the night performance is better than my old Ring Video Doorbell 3 Plus.
One thing this doesn't have is pre-roll, which is a black and white pre-recorded buffer before a notification goes off. It's a handy feature on the Ring Video Doorbell 3 Plus which ensures you always capture an eventfully.
I did some limited testing with the call feature, mainly with my partner, because I hate speaking to people. Communicating through the doorbell works well, on the phone, the person at the door is clear with no problems with the microphone at all. On the doorbell end, the voice is a bit tinny, which is to be expected, but it is easily audible. You can then optionally use pre-recorded messages, which could end up being the feature that makes me keep this as my main doorbell. I can now avoid leaving notes on the door or speaking to people while also be able to give secure information like my gate code to delivery drivers.
Doorbell and Motion Alerts – No notification lag
The one downside with smart wireless video doorbells is the potential for lagging alerts.
Ring was particularly problematic for this, but my Eufy doorbell began to experience similar issues too.
For Ring, the issue is nearly always down to the Wi-Fi connection, which seems to be particularly difficult to get a strong connection with. You can use a Chime Pro to alleviate this problem, or alternatively improve your home Wi-Fi.
Eufy seems to occasionally have delays with pushing notifications to Alexa, but the Homebase chimes as normal. I am not sure why this happens, but it can be well over a minute. Which is very annoying as I have often answered the door then, Alexa goes off, forcing me to check the door again.
So far, with the Arlo Essential, things have been running well. I have CCTV covering my door with a tablet showing the feed on my office desk. So, whenever an alert goes off, I check the door, and so far there has been no delay at all.
All the motion alerts have been correctly categorised, allowing you to quickly filter through the people alerts. Eufy is slightly better here as it gives you a small thumbnail of the face, it is normally grainy and at an angle, but it allows you to quickly identify familiar faces.
Package detection also seems to work well too, I have only had a couple so far, but it's a nice little bonus feature the others don't have.
On-Going Costs
For you to get the most out of this doorbell, you will need to subscribe to the Premier Plan, which will offer 30 days of recording, rich notifications, object detection, and activity phones.
This costs £2.49/mo per camera, or if you have other Arlo cameras, then it is £7.99/mo.
Ring is arguably more affordable, with an £8/mo plan which covers unlimited cameras, but the single camera plan is the same.
Price and Alternative Options
Arlo Essential Video Doorbell Wire-Free will be sold for £179.99 on Amazon
Ring Video Doorbell 3 is £178
eufy Security Wireless Video Doorbell (Battery-Powered) is £179.99
Ring Video Doorbell 3 Plus is £199
The Arlo is priced almost identically to its competitors. All three doorbells are superb, your best choice will be with whatever ecosystem you are already with or plan to use.
Overall
I have been very impressed with the Arlo Essential Video Doorbell Wire-Free so far, and I am leaning towards saying this is the best doorbell out of options I have compared it against. It is a close call; all three are superb, the Eufy with its subscription-free approach is certainly a worthwhile alternative.
For me, reliable, prompt notifications are the most important feature of a doorbell, that's its intended purposes, after all. While I have only had the Arlo a couple of weeks, it has been superior to the other options.
Video quality is excellent and the 180-degree field of view ensures you will have no problems with captures decent footage of someone at you door.
I generally dislike having to try and talk to people through my doorbell, so the ability to pre-record a message turned out to be a useful feature. It saves me leaving a note on the door, and I can give delivery drivers the keycode to my side gate using this.
While I would prefer not to pay a monthly fee, at £2.50pcm it is hardly unreasonable. One negative I can think of, is the Audio Chime which seems unreasonably expensive in comparison at £49.99, but not essential.
Overall, this is a superb video doorbell for anyone that does not have pre-existing wires.
Posted by Mighty Gadget Blog: UK Technology News and Reviews