I love smart video doorbells, they are probably one of my favourite bits of new technology in recent years as I used to miss the doorbell all the time which is very inconvenient due to the nature of my work.
While the home surveillance market has become completely saturation, good options for video doorbells are far less common and they are even rarer in the UK.
Ring has dominated the industry for years, but they have had a poor time with their brand image recently with concerns over their privacy. They seem to have addressed these problems now, but some people will understandably be off-put. Privacy concerns aside the recent Ring Doorbell 3 Plus is still about the best battery option on the market.
For wired options, the Nest Hello has always been a superb choice, and the Ezviz doorbell is a good alternative.
Back in October 2019, Arlo launched their doorbell, but this has never been made available to the UK.
Arlo Video Doorbell vs Ring vs Nest Hello Price
This is now set to change with the Arlo Video Doorbell AVD1001 now up for pre-order on Amazon for £179.99.
At that price, it undercuts the RRP of the wired Ring Video Doorbell Pro and the Ring Doorbell 3 Plus, though it is the same price as the standard Doorbell 3. This is also £50 cheaper than the Google Nest Hello.
Arlo Video Doorbell vs Ring vs Nest Hello Camera Resolution
Arlo claims to have one of the best viewing angles with the lens covering 180 degrees and using a 1:1 aspect ratio which allows the camera to capture a person from head to toe. They don't state the camera pixels, but the footage is recorded at 1536×1536 in comparison the 2MP 1/3-inch lens of the Nest Hello records at 1600 x 1200. Ring state 1080P with 60 degrees horizontal and 90 degrees vertical.
Arlo Video Doorbell vs Ring vs Nest Hello Subscription Fees
Similar to Ring and Nest, with Arlo you will need a subscription for this to be of any use. You can technically use it with no plan and get live streaming and notifications, but no video will be recorded. The Premier Plan costs £2.49 per month for a single camera/doorbell or £7.99 for up to 5 cameras.
In comparison, Ring charges £2.50 for one camera or £8 for unlimited.
Then Nest is £5 for all the cameras in your home with 30-day history or £10 for 60 days plus 10 days 24/7 recording.
Arlo Privacy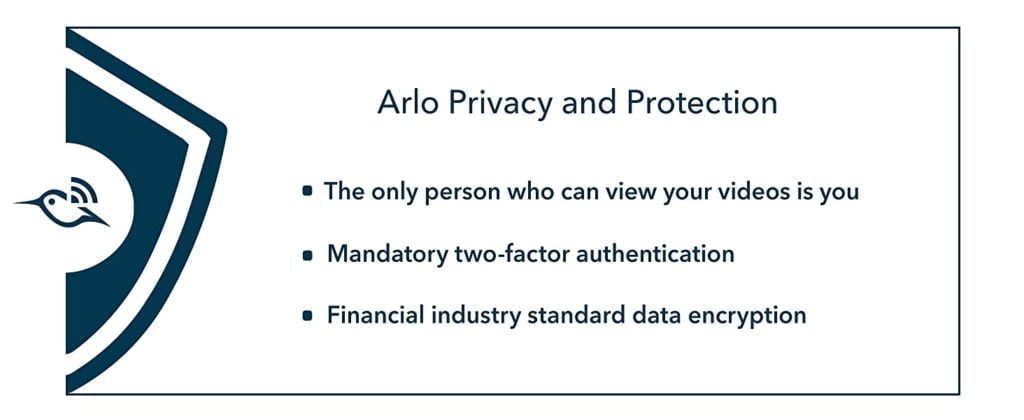 On the Arlo product pages they make it very clear that it is only you that can view your videos, no doubt as a dig at Ring and the privacy concerns that have arisen with cloud video recording in general.
The devices use two facotr authentication and also have bank grade encryption.
Pre-Order Arlo Video Doorbell – Available on 1st of July.
The Arlo Video Doorbell is available to pre-order now from Amazon for £179.99 with the product being launched on the 1st of July.