The ASUS XG-C100C 10GbE nic has been around for a while now. Amazon had it for £99 back in 2017, the price hasn't dropped much since then, you can pick it up for £80.99 currently, but at this price, it easily the cheapest 10Gbps Ethernet option on the market.
If you don't mind using used parts and going down the SFP connection route, 10Gbps networking can be a lot cheaper, but it is less convenient to implement. You can pick up a Mikrotik Cloud Smart Switch for just £120 and used Mellanox Connectx cards for £30-50.
Affordable multi-gigabit switches (2.5Gbps and 10Gbps)
While the ASUS XG-C100C has always been affordable, switches are not. I covered the switches more detail in a previous post, but for 10GbE you basically have Netgear GS110MX with just 2x10GbE ports and 8xGigabit at around £145, or the recently launched Zyxel XS1930-10 with 8 x 10GbE RJ45 ports, then 2x 10-Gigabit fibre SFP+ port for about £440.
If you are willing to downgrade to 2.5GbE several new options, have launched recently making things much more affordable.
There is the Zyxel XGS1010-12 which is what I have bought and used in this review. This has 2x 10G SFP+ ports and 2x 2.5GbE RJ45 ports.
Or the best deal of all is the QNAP QSW-1105-5T with 5×2.5GbE RJ45 ports. It is not available just yet, but I have it on backorder from Amazon for £108.00 and should be delivered sometime between 19 Aug – 24 Sep.
Features and Specification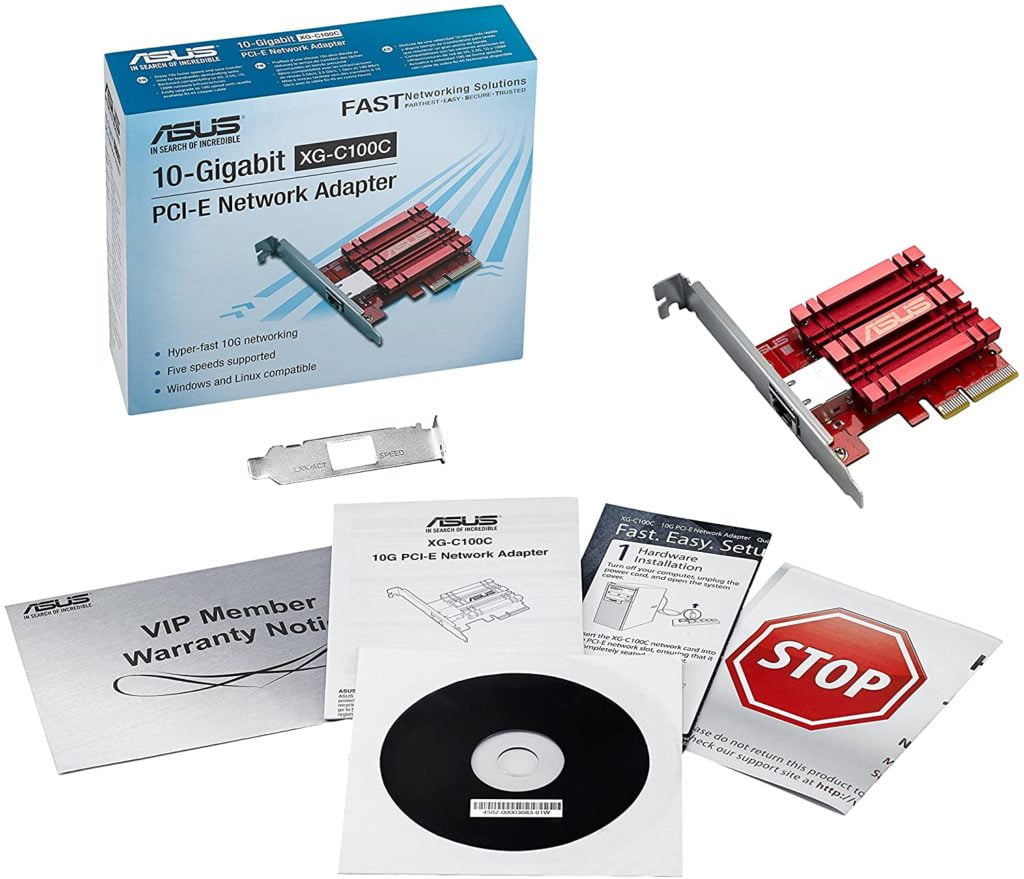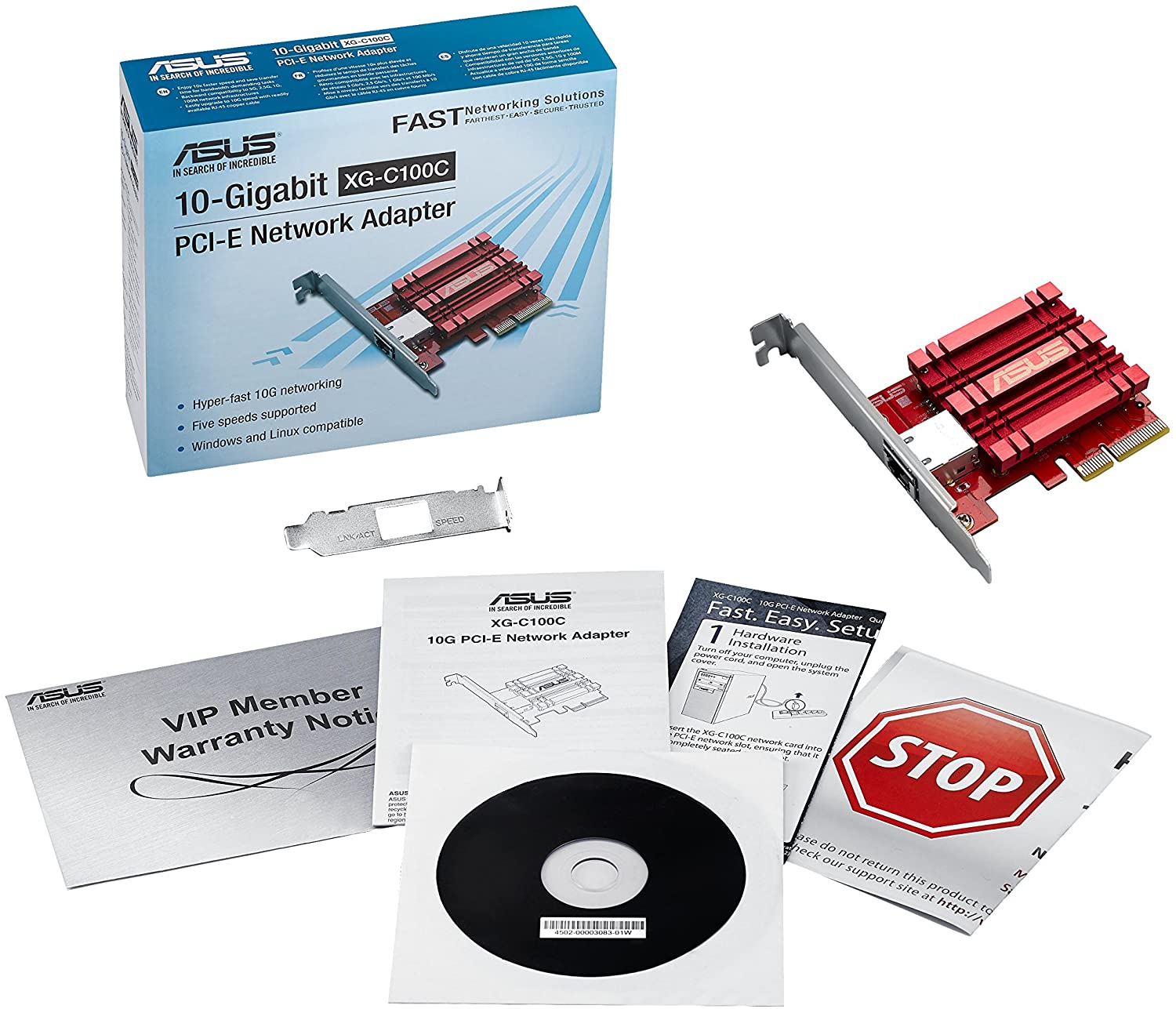 Hyper-fast 10Gbps Networking – Enjoy up to 10X-faster data-transfer speeds for bandwidth-demanding tasks.
Complete Compatibility – XG-C100C is compatible with current network standards, including 10/5/2.5/1Gbps and 100Mbps, for seamless backward compatibility.
Compatible with Windows and Linux – Supports Windows 10 and Linux Kernel 4.4 for flexible OS integration.
RJ45 Port for Easy Migration – Easily upgrade to 10Gbps networking using standard copper network cables.
Prioritize Your Games – Built-in Quality-of-Service (QoS) technology lets you prioritize bandwidth and supported gaming packets for a smooth gaming experience.
IEEE 802.3ab 1000BASE-T Gigabit Ethernet
Test set up and
Day to day testing was done through Zyxel XGS1010-12, so I was limited to 2.5Gbps. However, I also tested NIC with a direct connection to my server.
Both my server and main PC used the PCIe3.0 x 8 slot, and my TerraMastert NAS used the 10GbE port. The card is backwards with PCIe 3.0/2.1/2.0 using 4 lanes.
All my cables are CAT6e which is compliant with 10Gbps, but short runs over CAT5e should also work.
10 Gbps Ethernet CAT Cable Compatibility – Cat5e, Cat6 and Cat6a
Many people will try and tell you to get Cat 7 or Cat 6a if you want to achieve 10 Gbps, but this is not entirely accurate. Asus even have a nice little graphic to show the requirements.
If you are on older Cat5e you need not worry too much, 10G should be possible up to 30M, there are not many cable in my home running longer than this, though I do have some that wrap around the house.
Cat6 is one to be careful of, it is not the same as Cat6a, with this you only get 55m, it is Cat6A that will function at 10G over the full 100m.
There is no need to use Cat7 at all, but it is rated at 100Gbps over 15m. If the price is similar, by all means, go for it, it has greater noise resistance so could be a bit more reliable, but it is unlikely to be worth the cost.


PCIe Theoretical Max Bandwidth
If you use a lower PCIe, it may limit the bandwidth available, looking at some users reviews, this is the issue they may be experiencing.
PCIe 3.0 x 4 runs at 3940MB/s, and x8 is 7880MB/s so more than enough.
| PCIe Bandwidth | PCIe 1.0 | PCIe 2.x | PCIe 3.0 | PCIe 4.x |
| --- | --- | --- | --- | --- |
| x1 | 250MB/s | 500MB/s | 985MB/s | 1969MB/s |
| x4 | 1000MB/s | 2000MB/s | 3940MB/s | 7876MB/s |
| x8 | 2000MB/s | 4000MB/s | 7880MB/s | 15752MB/s |
| x16 | 4000MB/s | 8000MB/s | 15760MB/s | 31504MB/s |
Windows Installation
Physical installation on both computers was easy, you just open up you PC, slot it into a free PCIe slot. There are no additional cables like you sometimes find on Wi-Fi cards.
However, in Windows, the card wasn't automatically detected, so I had to switch back to my old NIC and download the drivers. A little disappointing considering Windows picks up almost everything I put in it. However, the installation was quick, easy, and no issues were encountered.
Ubuntu Linux Installation

On a brighter note, my Ubuntu server identified the card immediately with no additional drivers, which is a relief because getting Mellanox SFP cards to work was a nightmare for me.
With it being Ubuntu server, I had to manually change the settings in the Netplan YAML file to the correct NIC.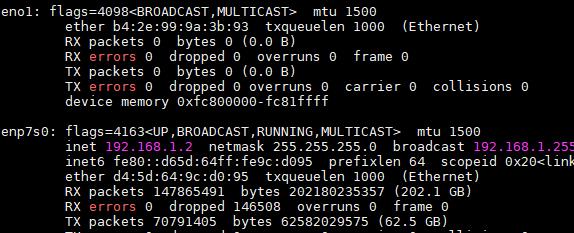 Performance
Most of my daily use is done via 2.5Gbps through the Zyxel XGS1010-12 switch.
While limited to 2.5Gbps, the NIC performs exactly as expected. Large files transfers cap out at 280MB/s staying consistently at this speed with no drops.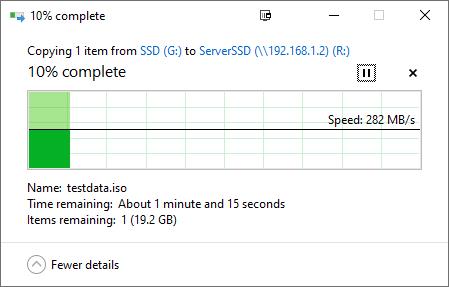 Using CrystalDisk on an SMB share of an SSD, the results were similarly impressive with write speeds hitting 296MB/s.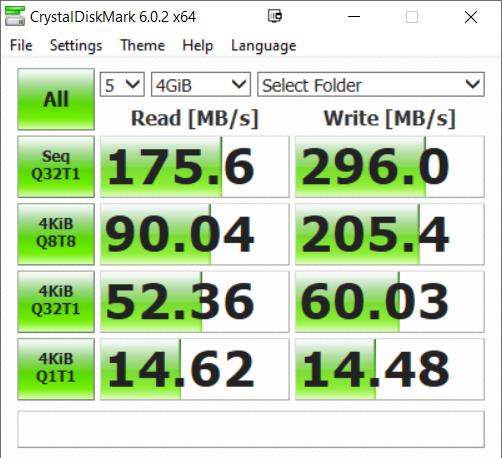 Linking up my server and PC directly I am able to easily hit the peak write speeds of the SSD at around 500MB/s,
With my storage being the limiting factor of speed, moving to Jperf to test network speeds, I was able to hit speeds consistently above 9300Mbps with averages of 9450Mbps.
Price and Competition
Amazing the ASUS XG-C100C has remained the cheapest option since launch sometime in 2017. Which shows how glacially slow the adoption of 10GbE has been within the consumer market.
The Buffalo LGY-PCIE-MG-WR is very close, priced at just £82.49 but looking at the specification they only confirm support for Windows 7-10 and Windows Server 2012 through to 2016.
The QNAP QXG-10G1T is priced at £97.98 it is equipped with the Aquantia AQtion AQC107 NIC that supports 10/5/2.5/1Gbps and 100Mbps speeds. It can then be installed in a Windows/Linux PC or compatible QNAP NAS.
10Gtek have an Intel X540 based card for £175.99 which supports a wide range of operating systems including Windows and multiple versions of Linux. It uses PCI Express 2.1 X8.
Then StarTech has an Intel X550 based card for £225.94 and even a dual-port option for not much more at £267.14.
It is worth mentioning motherboard too, many new models now feature multi-gig ports, but if you want 10GbE, you are looking at paying quite a large premium. The cheapest AMD X570 motherboard I can find with 10GbE is the MSI AMD Ryzen PRESTIGE X570 CREATION priced at around £440. The cheapest X570 options start at £153, and the cheapest model with 2.5GbE is the MSI MAG Tomahawk at around £220. So if you specifically want 10GbE rather than all the other features a premium motherboard offers, it will cheaper to buy this card.
Overall
So far the ASUS XG-C100C has worked without fault, being compatible with both my Linux and Windows systems and being the cheapest option on the market. What more can you ask for?
It may not offer quite the same level of performance some of the more expensive Intel-based cards have, but home users and SOHO users will see little benefit from spending on a lot more for small performance gains.
With the shift to multi-gigabit networking, there is now little reason for me to keep spinning hard drives in my PC as everything they store can be placed on my NAS or sever, and I can access them at the same speed as I would directly (give or take).
With the premium price 10GbE motherboards cost, buying a separate card is a far more cost-efficient method to get 10GbE, though you will sacrifice a PCIe slot for it.
Overall, this is superb for my usage scenario, and I will probably buy another.