I reviewed the FRITZ!Box 7590 router over 3 years ago, and it has sat at the top of the AVM product lineup ever since, receiving regular firmware updates adding things like Mesh WiFi functionality.
Even though my router requirements have adjusted over the years, I still use the 7590 to handle all my DHCP needs, it is infinitely better than the crap Virgin send out as a router.
The FRITZ!Box 6890 LTE has been out for a while now, it's almost the same as the 7590, offering the same WiFi spec, telephone support and with all the features  FRITZ!OS has to offer.
However, as the name suggests, the AVM FRITZ!Box 6890 LTE adds in a 4G LTE modem allowing you to use 4G as your primary Internet connection or have it as a fallback option should your ADSL go down.
The addition of the 4G modem does mean the router loses a couple of ports; there is one less analogue phone socket and one less USB 3.0 port. You now instead get a couple of SME antenna connections to help improve your mobile signal.
Specification
Category 6 LTE modem (FDD) with up to 300 Mbit/s on the Internet connecting through mini SIM
DSL up to 300 Mbit/s with LTE fallback option
Wi-Fi up to 1733 + 800 Mbit/s
4 x Gigabit LAN, 1 x gigabit WAN, 1 x USB 3.0
Telephone system for IP and analogue
Media server, NAS, MyFRITZ!, Smart Home
Set-Up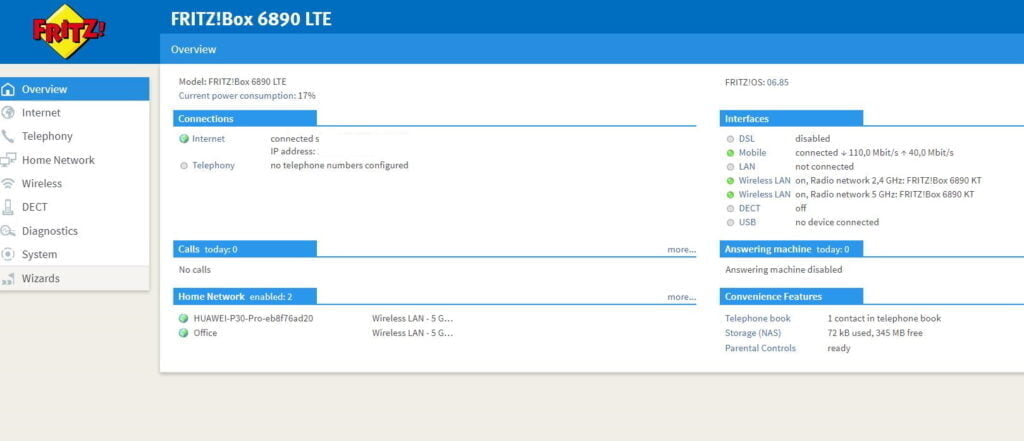 With me using Virgin Fibre for my main Internet, I set this up and did most of the testing with LTE as the only data connection. This turned out to be pleasantly simple to get up and running; there was no need to find the exact APN settings for my mobile network.
My preferred way of setting up routers is via a cable, so I powered on the device, plugged my PC via the router and browsed to the IP address. The network registered as having no Internet at first, but once you go through all the basic set up questions and reboot, the router connected.
Performance
4G/LTE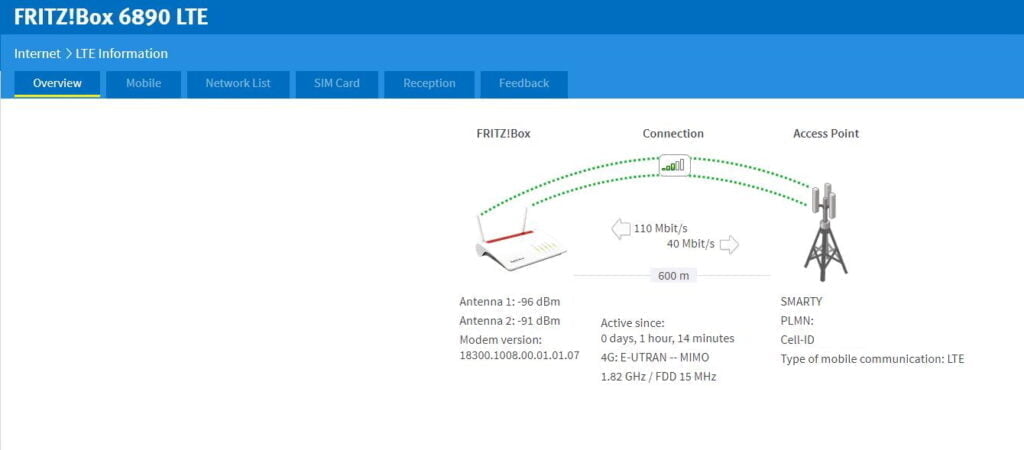 The 4G/LTE speeds were not quite as good as I had hoped. I recently reviewed the Netgear Orbi 4G LTE, which has a  4G LTE Category 16 modem capable of up to 1.2 Gbps and costs £370.
This has a Category 6 LTE modem (FDD) up to 300 Mbit/s and is around £340, so I perhaps set my expectations a little too high.
While the admin registers a speed of 110Mbps down and 40mbps up, real life speeds are not quite the same.
On Smarty, which uses Three, I was able to achieve around 30Mbps down and with uploads of about 18Mbps. It had a particularly high ping of 90ms.
The Orbi achieved around 75Mbps but the same download speed, then a lower ping of 50ms.
While the 4G speeds were not mind-blowing, they are still good enough and a lot better than many rural broadband options.
If I was reliant on 4G connectivity, I would probably look at upgrading the antennas, with the possibility of mounting one externally, running the cable inside. This applies to all 4G modems.
Fallback 4G/LTE Performance
Unfortunately, in my scenario, I was unable to test this. The fallback functionality only works when using DSL for connectivity rather than WAN. My best guess is that this is due to the way it detects the loss of connectivity. I found the Orbi had a significant downtime when switching from WAN to 4G automatically.
In my case, I can still manually switch connection methods withing the router settings should your Internet connection go down. It is just not autonomous.
WiFi
WiFi performance over the LAN is decent, but in a world of WiFi 6 and 6E, it is starting to show its age. Similar to the Netgear Orbi can be paired up with the various FRITZ!Repeater models, which will then work as a mesh system with a single SSID.
The router OS does quite a good job of automatically optimising the WiFi network and it offers useful insight should you wish to optimise things yourself.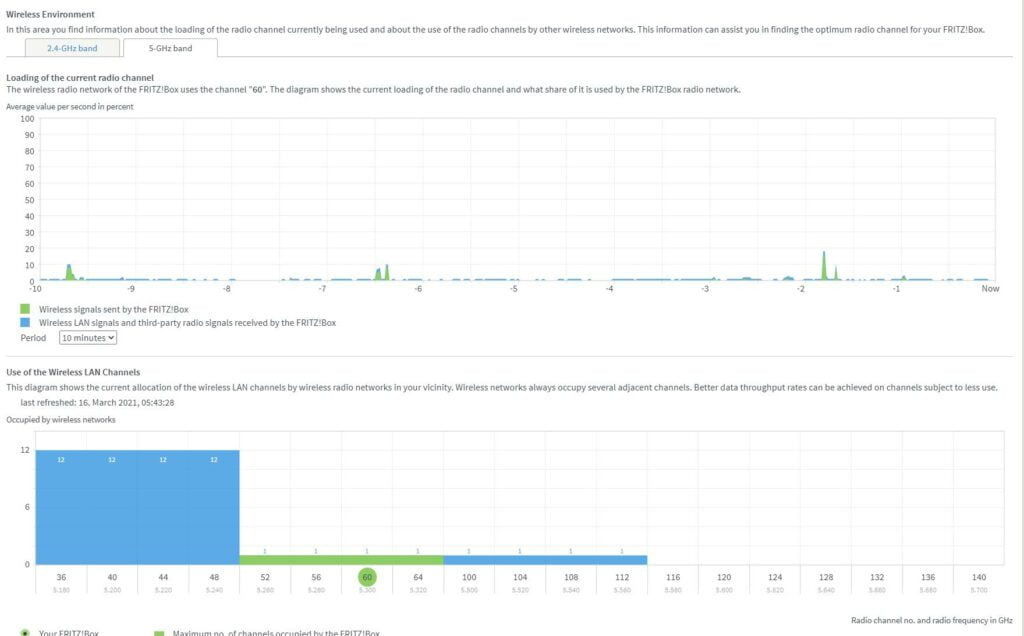 With iPerf, my PC registered speeds over 550Mbps at close range, which allowed me to max out my Virgin connection on SpeedTest at 520Mbps down and 37Mbps up.

Price and Alternative Options
Amazon UK states they have an international version of this for £340.00, which I assume is a model with swappable plug ends.
The AVM FRITZ!Box 7590 is £180, so you are paying about £160 for the LTE functionality.
The Netgear Orbi 4G LTE costs more but offers considerably better 4G/LTE performance. However, the FRITZ!Box 6890 LTE offers vastly more functionality everywhere else with built-in DECT phone support with SIP/VOIP and generally far better control of your network all around.
Similarily the Huawei 5G CPE Pro which offers 5G will offer considerably faster mobile performance, but I wouldn't personally use it as anything other than a modem.
Overall
I was, and still am, a big fan of the FRITZ!Box 7590 router. The 6890 LTE is the same but with the added bonus of 4G connectivity, either for the primary data connection or a fallback.
With the boom in work from home the past year, many people have realised how important a reliable Internet connection is.  With two of use working from home the past year, we experienced Virgin connectivity issues during my Netgear Orbi review, so the mobile connectivity saved the day. With many people relying on VOIP or video calls for meetings, maintaining a reliable connection 9 to 5 is essential for WFH professionals. Routers like the AVM FRITZ!Box 6890 LTE can be an invaluable addition to a home office, or normal office, ensuring you remain online should your landline go down.
If my partner continued to work from home, or if I still had an office with staff I would 100% always use a router with some form of fallback data connectivity. The Internet is just too crucial for business continuity.
For people wanting to use 4G as their primary source of Internet, things are a little different.
While this router has the capability to outperform many ADSL connections, if you want the best speeds possible, you will likely have to fork out a bit more money.
In the UK, a popular option is to sign up to a 4G home broadband contract. Vodafone offers either a 4G or 5G GigaCube. The 4G model is based on the Huawei B818, which has a Cat 19 modem capable of 1.6 Gbps, while the 5G model uses the Huawei 5G CPE Pro which offers 1.65Gbps on 5G or 1.6Gbps on 4G speeds (actual life speeds will be much faster on 5G).
The 5G model is £50 upfront and £60pcm, which works out a lot more expensive than  the SIM-only contract, which is only £33pcm, and the Huawei 5G CPE Pro for £379.00
Personally, I wouldn't use any ISP supplied router as anything other than a modem, so I'd still end up with something like the FRITZ!Box 7590, handling my home network.
Posted by Mighty Gadget Blog: UK Technology News and Reviews
Thanks for reading, check out Mighty Gadget Blog: UK Technology News and Reviews for more Tech news!