For anyone that is just getting into basic fitness or that wants something a little more discrete than a watch, a fitness tracking band is a fantastic idea.
The market is saturated, and you have many options to suit all budgets and requirements. Just three years ago, if you were on a strict budget, you had to resort to random brands such as Letscom, if you wanted a fitness tracker for around £30. Nowadays, you have options from Xiaomi, Honor and Huawei.
The lines between fitness tracker and smart/sports watches have become blurred too, traditionally trackers were cheaper, but now, premium trackers often cost more than affordable watches. So for some of these more expensive suggestions, you may want to consider a smartwatch from the likes of Garmin, Huawei, Honor, Amazfit and others.
Best affordable fitness tracker
Currently, this is the cheapest big brand name fitness tracker that I am aware of. For this price, you really can't moan about anything. It does all the basic stuff you want, step counting, sleep tracking, and all-day heart rate.
There are newer options out, all of which cost more but cheap enough to be well worth considering. This includes:
It is worth noting that both the new Honor and Huawei bands are more like a smartwatch in terms of aesthetics and dimensions.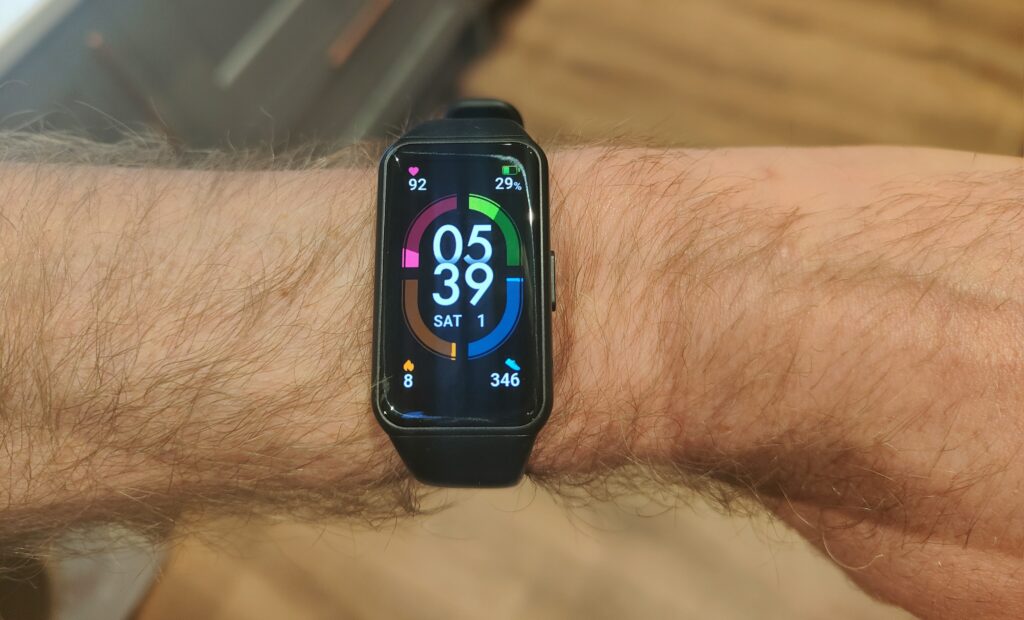 Best affordable fitness tracker with step challenges and a large community
While Fitbit has declined in popularity, they were massive at one point, and a driving force behind this was the large number of users and the ability to see your friends on 7-day step leader boards and do challenges. It is a factor that helped me with my weight loss.
Few companies have managed to achieve the community and challenge aspect of fitness tracking. Apple is likely the best alternative, and Garmin has been focussing a lot more on this recently.
So, if you like the community aspect of things, I'd say Fitbit are still the way to go, assuming you know people that might use Fitbit. The Fitbit Inspire 2 is the most affordable, it is attractive and well-reviewed, and the app is better than many competing brands. They have started to wall off features with a premium subscription, which I am less fond of, but the Inspire 2 comes with a year for free.
Cheapest GPS equipped fitness tracker
As you get fitter, you may want to start accurately tracking runs or walks. Having GPS built into the tracker will make your tracking more reliable.
The Huawei Band 4 Pro is by far the cheapest GPS equipped option on the market. The caveat is that it doesn't natively work with 3rd party services such as Strava, which is what most people that want GPS tracking want to export their data to. There is a workaround to sync your Huawei Health data to Strava, but it is a bit of a faff, and some users have reported it only works if your phone is Huawei too.
Best GPS equipped fitness tracker that works with Strava
I had the first Fitbit Charge, and it was great at the time. However, the Charge series has become less appealing over the years offering poor value for money compared to others.
The Fitbit Charge 4 changes this, being the first tracker, not watch, from Fitbit with GPS. Fitbit plays nice with third-party services, too, so you can connect it up with Strava for auto exports making this one of the most affordable GPS devices that work with Strava on the market.
Alternatively, Garmin has a few devices at this price point. The Forerunner 35 and Forerunner 30 are both cheaper, they are not technically fitness trackers, but if it is GPS tracking Strava you want, they are probably better choices.
There is also the Garmin Vivosport which costs less than the Charge 4, but it's over 3 years old and ugly, so I'd say the Charge 4 is a better band-shaped tracker.
Most fashionable fitness tracker
When I talk about fitness trackers, I typically mean bands, something that is relatively thin and discrete on your wrist while being affordable.
The Withings Move is very much watch shaped; however, it is far more attractive the most of the options on this list while still being affordable and offering typical fitness tracking functionality.
It lacks an AMOLED display instead giving you something more traditional. This is bad for receiving notifications, but most people wouldn't notice that this is a fitness tracker when glancing at your wrist, which is likely what Withings were aiming for.
Withings also play nicely with third-party services, while this doesn't have built-in GPS it does connect to your phones GPS, so you could still export a run to Strava.
If budget is less of a concern, you have the ECG capable Move, the Steel HR, which is more aesthetic and has a small display, or the flagship Scanwatch does both ECG and SpO2 while retaining the classic mechanical watch look.
Posted by Mighty Gadget Blog: UK Technology News and Reviews