Like most people, I have always used active speakers with my computer; they are generally affordable and simple to use. Plug them in, and away you go.
Active speakers come in various shapes, sizes and at a wide range of budgets. I have covered several excellent options from Edifier recently.
I bought the Acoustic Energy Aego M probably 15 years ago, and they served me well for most of that time, only recently dying. I have had the Bose Companion 3 speakers for a similar length of time, and they have just died too.
Both speakers provided superb performance for the money, and they lasted longer than most electronics. However, as I look for a replacement I have questioned if active speakers are the best option for me.
While there are a lot of brilliant active speakers, the range of options are not as good as the many speakers that require an amp.
Even though my speakers lasted many years, when an active speaker dies, you are in a tricky situation, generally having to replace the entire system if you can't easily fix it.
Passive speakers are unlikely to break, and having a separate amplifier gives you a little more control of the functionality. If it breaks, you can replace it, as your needs change, you can replace it. Your system can grow with you without having to replace the entire thing.
So what amplifiers are affordable and work well on the desktop?
Make sure the amp can drive the speaker
One word of warning, before buying anything, you will need to make sure your amp can drive your speakers. You can't buy some cheap amp off Amazon and expect it will power some massive floor standing speakers you got for free of someone.
AV Receivers
Completely ignoring my desktop requirement, one option is to use an AV receiver. If you have an old spare one, or pick one up cheap used, these will work well. They provide the option to have 5.1 surround and multiple input sources, so they work well if you have a console and PC.
This option was my first consideration, I wish I had not sold my old amp when upgrading my AV system for my TV. If you have the space and can afford one, they are probably the best option.
However, there are plenty of affordable desktop amps.
Affordable Desktop Amps for Passive Speakers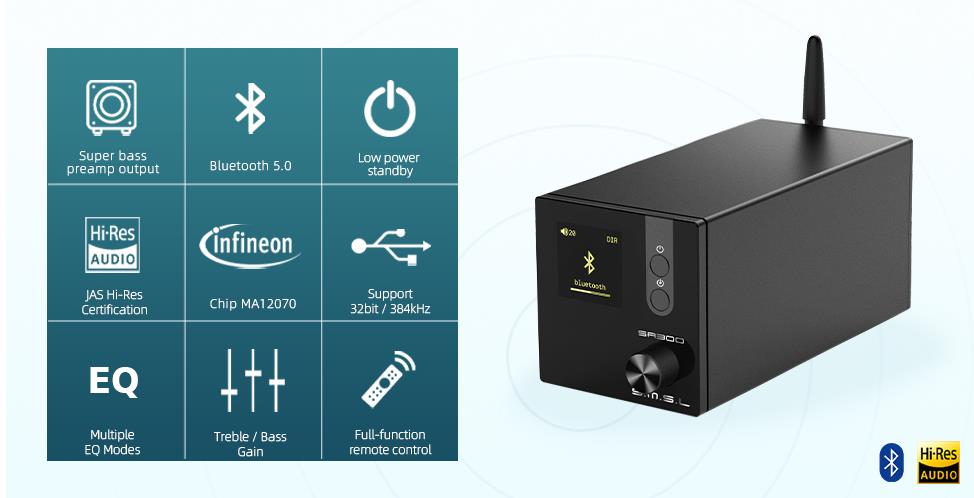 Most of these recommendations are very similarly priced and offer almost identical features. They are all well-reviewed, but there is some criticism about the quality of the DAC. So one future upgrade would be to pair an AMP with a decent quality DAC.
 It is quite a new model class D power amp capable of 80Wx2(4Ω) / 40Wx2(8Ω). This amp has a new amplifier chip that claims lower distortion and higher bitrate DAC vs the SMSL AD18 listed next.
It also has a subwoofer out if you want to upgrade your system with an active sub.
Input options are via RCA line-in, USB or Bluetooth. I would have preferred more options, but for the price, I won't complain.
This one is the slightly older option of the previous amp. It has more input options, in particular, there is 2x optical, which is a big bonus for me.
The Sabaj A4 supports USB coaxial, analogue Bluetooth and optical inputs and has the same r, 80w*2 output power as the others as well as supporting subwoofer output.
I can only find availability for the Alientek D8 on eBay, being imported from China.
Like others you get 80 W * 2 @ 4Ω 80 W * 2 @ 8Ω. USB, Bluetooth, coax and optical.
Loxjie A30
This is a well-reviewed desktop amp, but sadly not currently available on Amazon, and I can't find available stock anywhere else.
Similar to others, you have 2x80W under 4Ω + sub out. Bluetooth, USB, coax in, and optical in.
Overall
The more I researched these options, the more I found people suggesting an AV receiver would be better, or that these small all in one amps have a poor DAC, and you, therefore, need to pair it up with a DAC.
So they haven't turned out to be quite as amazing as I hoped, but it is quite likely that they will outperform the amplifier used in most active speakers. Opting for separate components then allows you to upgrade things as you go along.
Posted by Mighty Gadget Blog: UK Technology News and Reviews