The second CES 2021 announcement from Acer is the two new Acer Chromebook Spin 514, they are identical, just one is designed for enterprise use and features Chrome Enterprise security features with Zero-touch enrolment.
AMD Ryzen 3000 C-Series Mobile Processors with Radeon graphics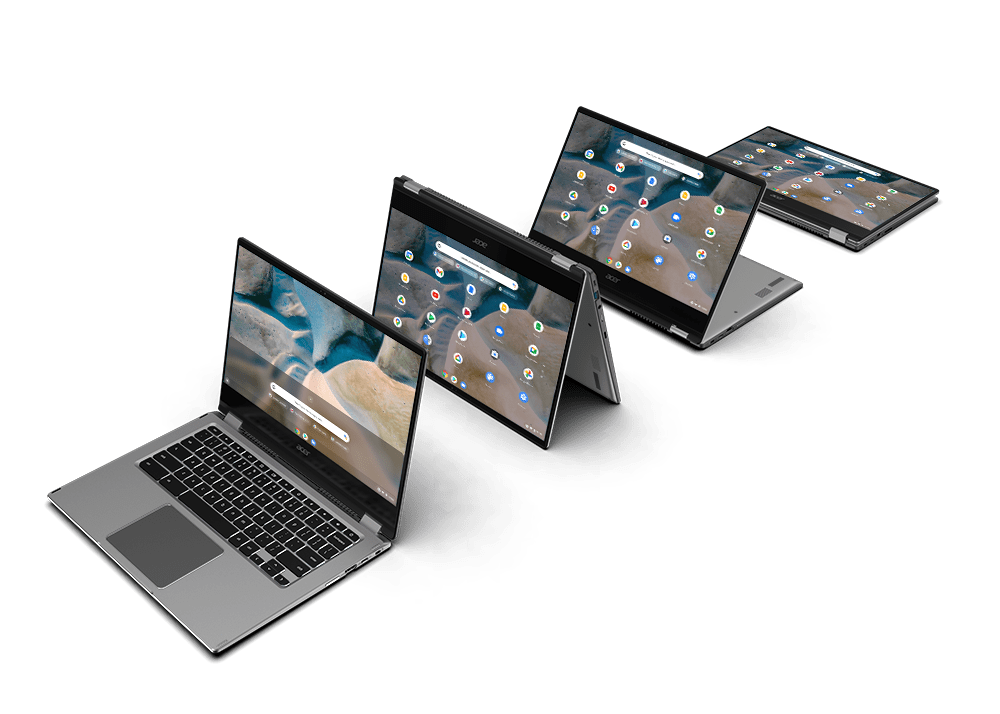 The Acer Chromebook Spin 514 is Acer's first to utilize the latest generation of new high-performance AMD Ryzen Mobile Processors. Based on the powerful "Zen" architecture, the AMD Ryzen Mobile Processors ensure consistent responsiveness, fast boot times and long battery life. As a result, everything is fast on the new Chromebook, whether streaming content, utilizing multiple apps simultaneously or running office productivity tools. The new Chromebook can even help customers tackle more challenging projects for work and school, such as video editing and coding.
The power-efficient AMD processor technology contributes to the Chromebook Spin 514's thin-and-light design that delivers up to 10 hours of battery life and can be easily taken anywhere, just 1.55 kg (3.42 lbs) light and a mere 17.35 mm thin (0.68 inches). In addition, the Chromebook Spin 514 comes with up to 16 GB DDR4 DRAM and up to 256 GB storage.
The model numbers are CP514-H and CP514-HH for the none enterprise, then CP514-1W/ CP514-WH witch each one likely representing the two different processors used.
Durability – Drop-proof
All of the models launched are U.S. MIL-STD 810H compliant which is the military-grade durability standard and reinforced metal chassis that resists dents, dings, and corrosion. Its chassis is designed to survive drops from heights of up to 122 cm (48 inches) and withstand up to 60 kg (132 pounds) of downward force, so users can spend less time worrying about accidentally causing damage to the Chromebook and more about the task at hand.
Display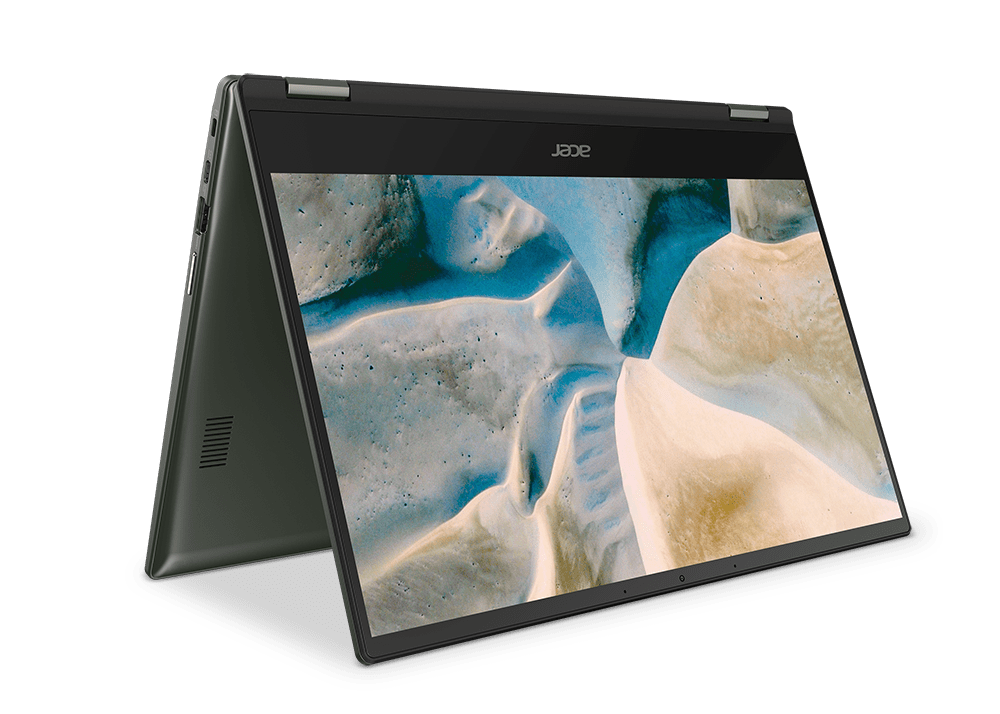 They all have a 14-inch Full HD touch IPS display is covered with Corning Gorilla Glass, so it resists scratches while providing smooth navigation. The vibrant visuals are rendered even more striking thanks to slim 6.1 mm (0.24 in) side bezels that give the device a 78% screen-to-body ratio. Additionally, an optional backlit keyboard boosts productivity in a range of lighting conditions and features concave keycaps that are comfortable to use, resulting in an overall better typing experience.
The device features a convertible design that can be opened a full 360-degrees, enabling its touchscreen display to be used for collaboration, sharing, presenting or typing in a variety of spaces and environments. It is available in three colours: Pure Silver, Steel Gray and Mist Green.
Ports and Wi-Fi
You get two USB Type-C ports, both supporting USB 3.2 Gen 1 (up to 5 Gbps), DisplayPort over USB-C, and USB charging.
The affordable laptop market hasn't quite caught up with modern WiFI standards though, these new Chromebooks still use Dual-band Wi-Fi 5 (802.11a/b/g/n/ac) with 2×2 MU-MIMO
As with all Chromebooks, you get extensive app support nowadays thanks to access to the full range of apps on Google Play and web based apps
Price and Availability
The Acer Chromebook Spin 514 (CP514-1H) will be available in North America in February starting at USD 479.99; and in EMEA in March 2021, starting at EUR 529 and GBP 499.
The Acer Chromebook Enterprise Spin 514 (CP514-1WH) will be available in North America in March starting at USD 749.99; and in EMEA in March 2021, starting at EUR 799 and GBP 599.
Full Specification
These may not be 100% accurate and can vary by region.
| | |
| --- | --- |
| | Acer Chromebook Spin 514 |
| Screen size | Gorilla Glass 14″ Full HD touch IPS display |
| | 1920 x 1080 pixels |
| | 6.1 mm (0.24 in) side bezels, 78% screen-to-body ratio |
| SoC | AMD Ryzen 3000 C-Series Mobile Processor |
| | –Ryzen 7 3700C, Ryzen 5 3500C, or Ryzen 3 |
| Graphics | AMD Radeon Vega Mobile Graphics |
| RAM | Up to 16GB DDR4 DRAM |
| Storage | Up to 256GB eMMC storage |
| Cameras | HD Webcam |
| Audio | Dual microphones |
| | Integrated dual stereo speakers |
| Battery | Up to 10 hours of battery life |
| Optional | Backlit keyboard |
| | HDMI port (Ryzen 5 & Ryzen 7-only) |
| Connectivity | Dual-band Wi-Fi 5 (802.11a/b/g/n/ac), 2×2 MU-MIMO |
| | Bluetooth 5.0 |
| | 2 USB Type-C ports (USB 3.2 Gen 1, up to 5 Gbps) |
| | –DisplayPort over USB-C and USB charging |
| | 2 USB 3.2 Gen 1 ports |
| | –One for power-off charging |
| | MicroSD card reader |
| Security | U.S. MIL-STD 810H-compliant |
| | Enterprise model has: Chrome Enterprise security features & |
| | Zero-touch enrollment |
| OS | Chrome OS |
| Colors | Pure Silver, Steel Gray, and Mist Green |
| Dimensions | Width:  332.6mm |
| | Depth225.5mm |
| | Height: 0.68-inch 17.35mm |
| Weight | 3.42lbs 1550g |
Posted by Mighty Gadget Blog: UK Technology News and Reviews