Chargers tend to be quite boring products with not much to say about them. However, I love multi-port power delivery chargers, giving me an option to charge all my devices, including laptops all from one plug.
I have reviewed GAN chargers before, they are fantastic offering ultraportable dimensions but with high power outputs up to 65W.
Chargeasap Omega 200W GaN USB-C charger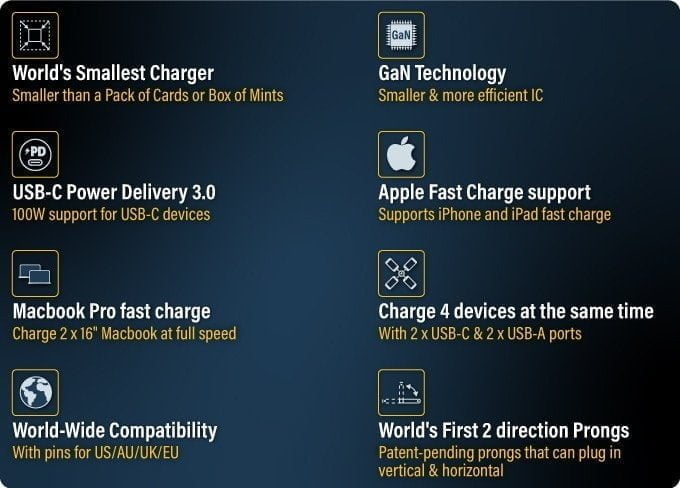 The Chargeasap Omega 200W GaN USB-C charger is the craziest charger I have ever been sent. This ups the charging capacity to 100W per port, giving you 200W across the two USB-C ports.
You then get an additional two USB-A ports which support Quick Charge 3.0, AFC, VOOC, SCP & FCP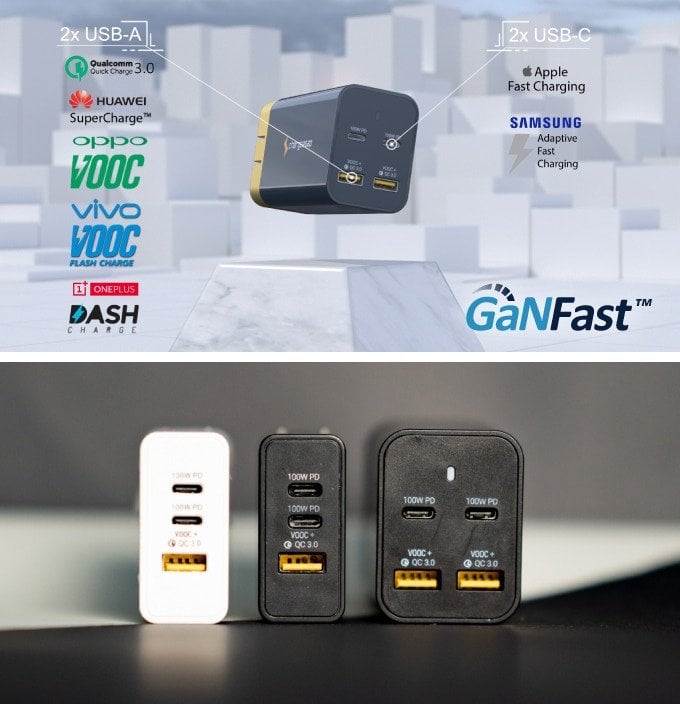 Kickstarter
Currently, this is being funded on Kickstarter, so not available immediately. It has surpassed its goal of £7700 by 10-fold with over £770,00 pledged. There are 23 days to go on the Kickstarter with shipping expected in January 2021.
I have been sent a pre-release device, so they are well past prototyping stages, and it is working as advertised. Though I guess they may tweak things if needed.
US Plug – with UK adaptor
Both 200W and 100W Omega Charger supports 100V – 240V worldwide universal voltage and comes included with 3 plug converters (AU/EU/UK) so that you can use it in 200+ countries worldwide.
Sadly mine did not arrive with the official UK adaptor, so I can't comment on how well these slot together.
C7 Adaptor
This is something else I didn't receive, but they will also sell  a C7 adaptor with a 1M cable in your choice of AU/EU/UK or US plug for $11.
This is handy if you want to have the adaptor plug into something where the plug socket is not near the location you want.  I normally use these for chargers on my office desk, so it is a big selling point for me.
100W USB-C Cable
One word of warning is that you should make sure your cable can handle such a large load. It is unlikely to be an issue if you are charging a low powered device, but I wouldn't recommend plugging in your Macbook Pro with whatever USB-C cable you found lying in your draw.
You will need a cable that is rated for 100W. Amazon sells plenty from brands such as Anker and Ugreen.
In Use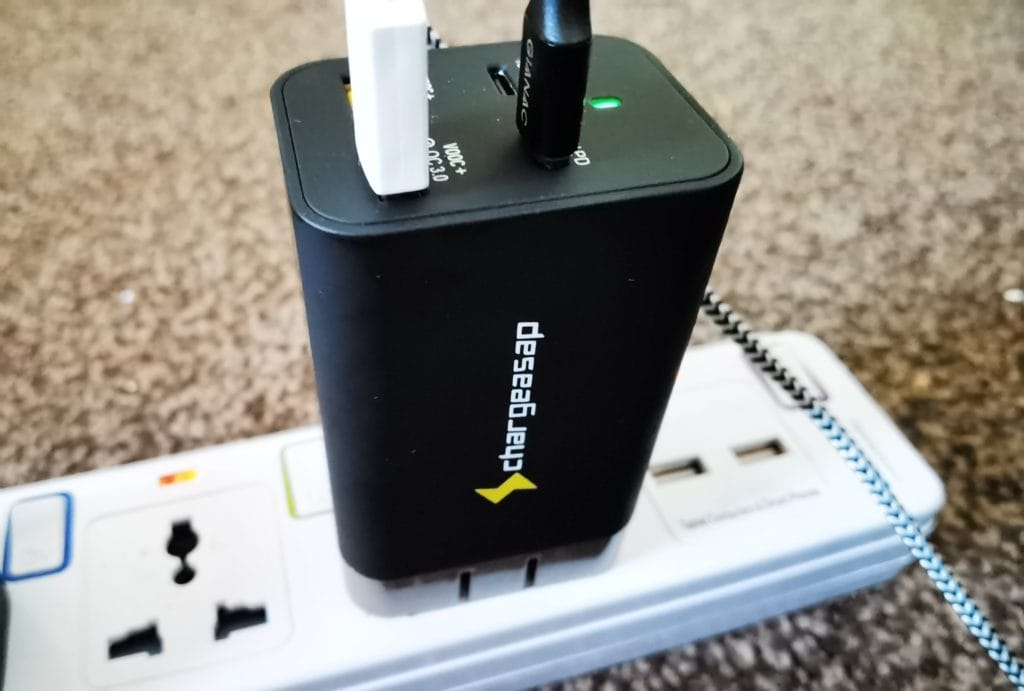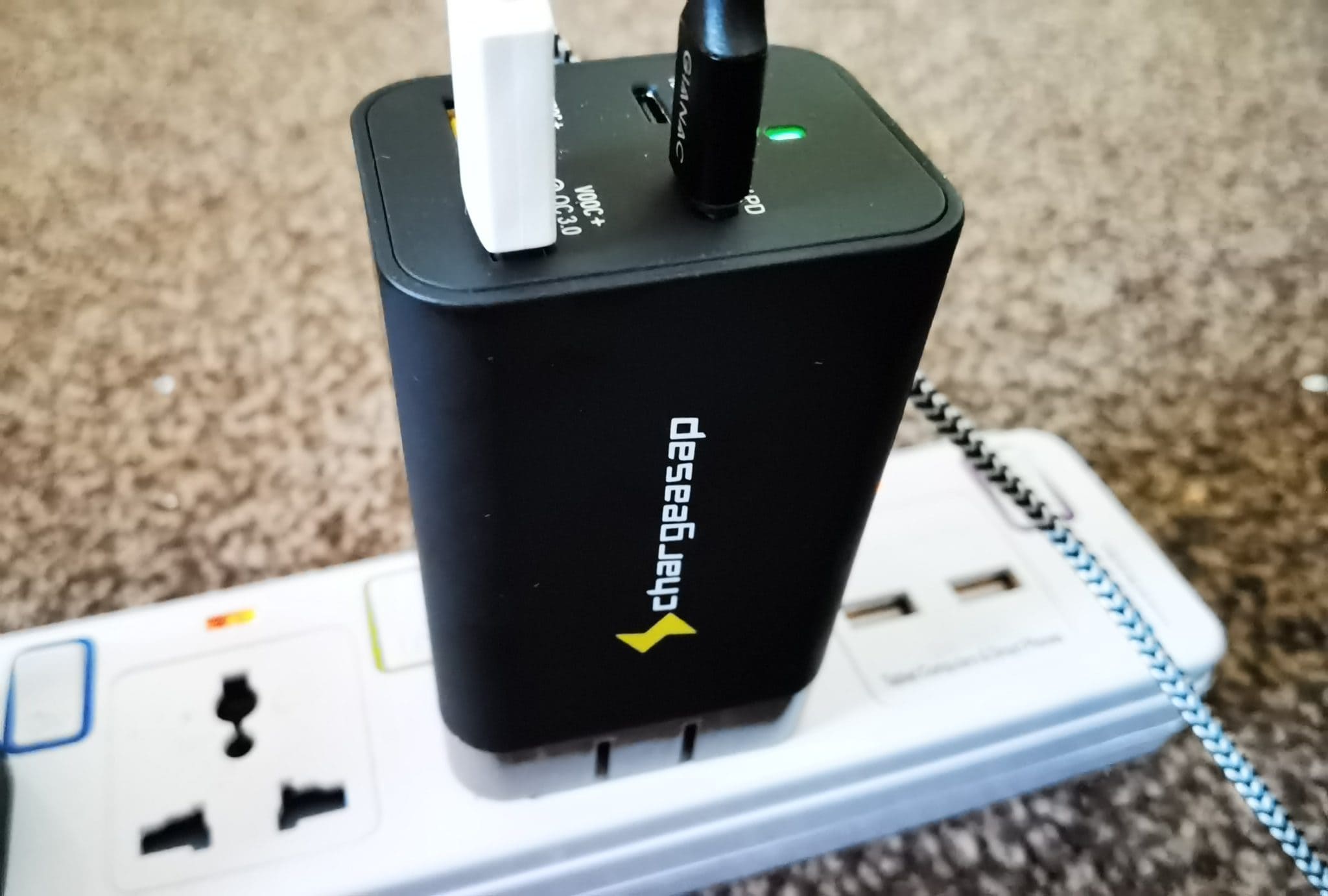 I was only able to test this via a universal plug socket strip, something that has become essential with all the US/EU plugs I get sent with review samples.
I don't use US plugs often, and the two pins look tiny and flimsy to fit securely in the socket. They don't go particularly deep into the socket, so it feels like it would be quite easy to knock out of place. In comparison, the two-pronged EU plugs go much deeper, and UK plugs are pretty much impossible to knock out by mistake.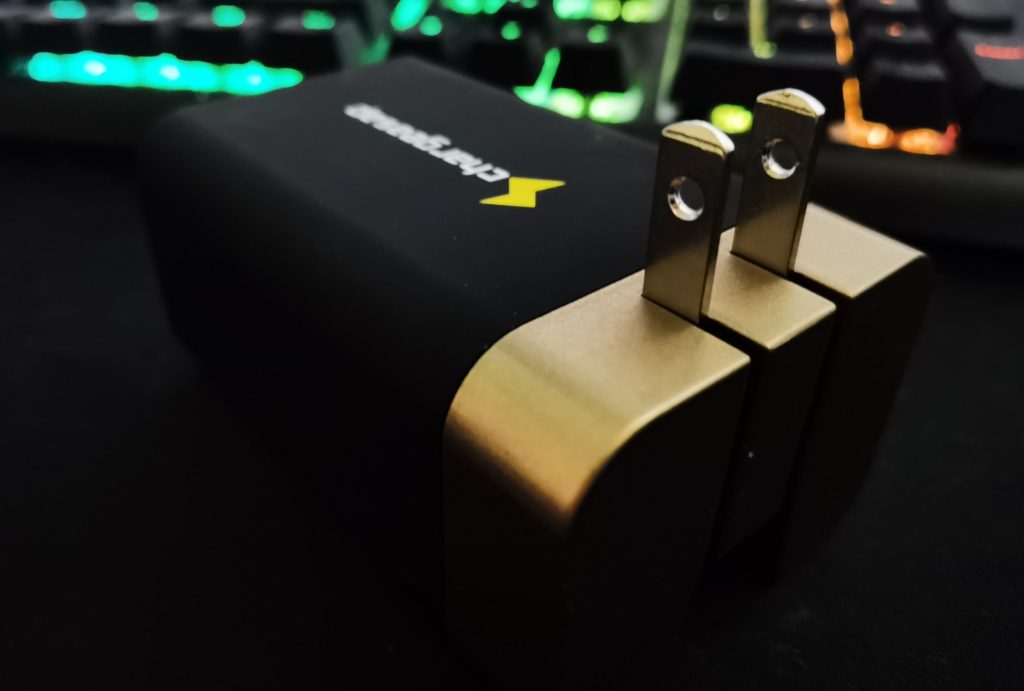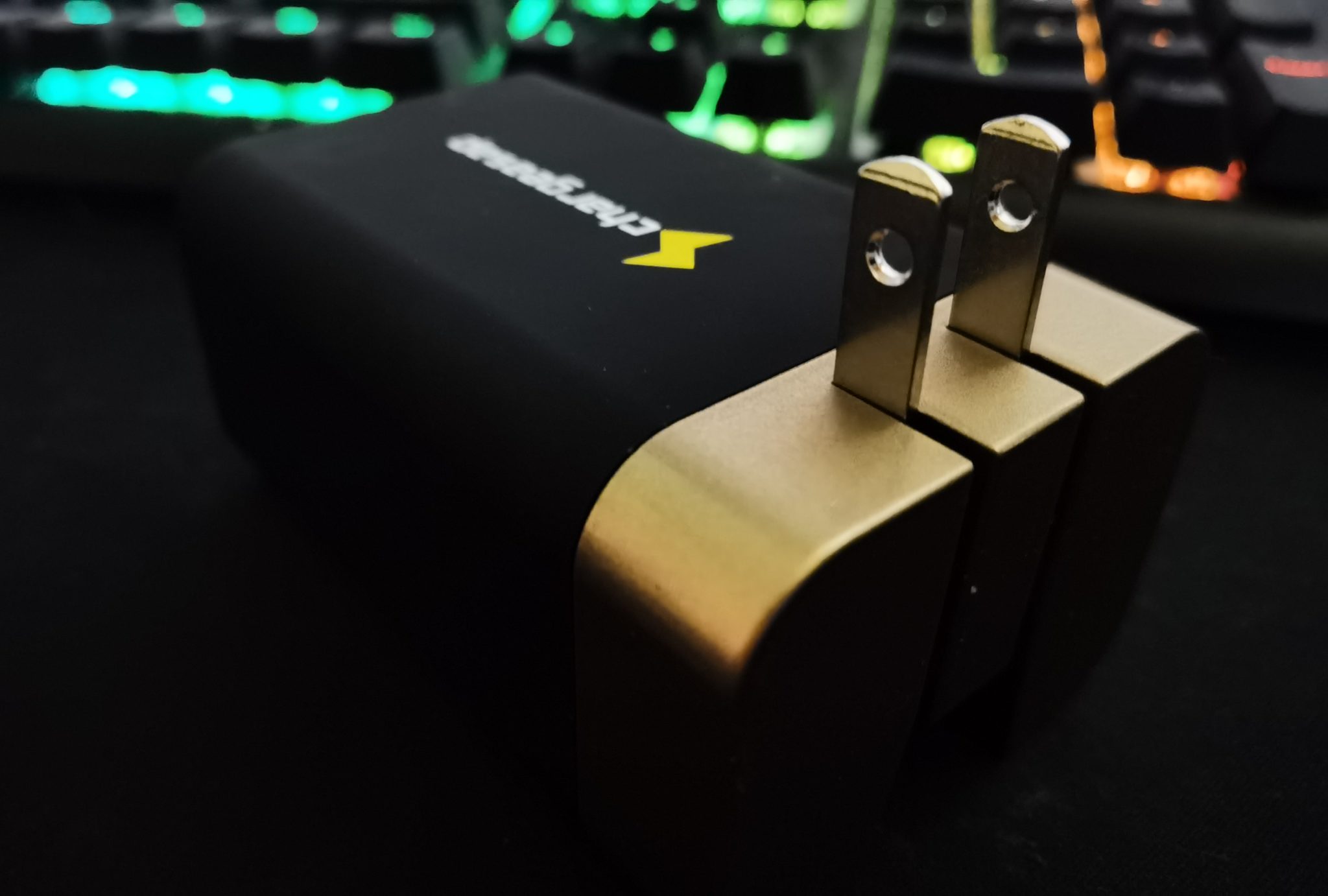 In terms of performance, I don't have a device that can push the 100W power to draw to its limits. I did, however, use it to charge the monstrous Crave PowerPack 2 with its 50000 mAh which will accept (and give out) a 65W PD charge.
The main reason I love power delivery chargers is their ability to charge ultraportable laptops, meaning I don't have to remember to bring a proprietary charging cable everywhere. Or fork out an obscene price if I damage it and need to replace it.
Again, none of my laptops requires that much power. The Macbook Pro technically only needs 60W charge, but if you have peripherals attached via thunderbolt, its requirements go up to 87W, which is where this plug will come into play vs most competing brands.
For me, it happily charged my Huawei Matebook 13 (uses a 65W charger), the Dell Latitude (minimum requirement to accept a charge is 27w, 45W for full speed charge).
For phones and tablets generally, just recognise a fast charge compared to any proprietary technology, some of the new devices have. This seems to be standard, I am not sure of any plug that supports the 65W SuperDart flash charge on my Realme X50 Pro.
Price, Availability and Alternative Options
This is a Kickstarter product, so won't be shipping until January, the price is also lower than the RRP due to you backing them early.
The 100W version is $50 so about £39, then the 200W model I have been sent is $80/£62.
RRP of the chargers is $99 and $149
There is not really a comparable product out there I am aware of. On Amazon there is the 100W Choetech socket for £41,99 which can do 100W on a single port or 45w and 45W when two ports are in us. However, it is USB-C only, so less versetile than the 100W version of this Chargeasap Omega.
Similarly there is the Nekteck 111W which can do 87W on its single USB_C port then 12W each on the USB-A ports.
Anker do the 100W PowerPort Atom which is considerably larger costing $99.99 on Amazon US, but not available in the UK.
Dell actually do a 130W connector which will power the Alienware M17 R3 for $90. Though this is the exact sort of charger I would use the Chargeasap Omega as I hate bulky brand chargers.
Then there is another Kickstarter/Indiegogo project, the HyperJuice 100W has 2 x USB-C  and 2 x USB-A with upto 100W from one USB-C. However it is not currently available on either platform anymore.
Overall
The Chargeasap Omega 200W is unrivalved in its charging capacity and for that reason alone, it is superb. For something so powerful the RRP isn't too bad either, though $150 is a big investment just for a plug. The current Kickstarter price is well worth it, saving almost 50%.
The only issue I have is the two pronged American design, it just doesn't fit as securely in the socket as other plugs, however, this will hopefully improve when you use the official EU/UK adaptor.