I have never heard of Coumi before, but they are one of the many affordable audio brands you will find on Amazon. They have recently launched one of the most affordable ANC earphones ever with the ANC-860 joining the dozens of other companies that have started launched ANC true wireless earphones this year.
Specification

True Wireless Earbuds, True Wireless Bluetooth 5.0 Earphones Touch Control with Charging Case IPX7 Waterproof ANC TWS Wireless Earbuds in-Ear Built-in Mic Headset for Android & iOS
【Keep noise out】Concentrate on the right thing at the right time with the COUMI True Wireless 860. Switch off your surroundings and dive into that impactful song, important episode or impromptu call with the new Active Noise Cancellation feature. Working in tandem with the earbuds excellent passive noise isolation, you now get to enjoy incredible high-fidelity sound even in noisy environments. Then seamlessly bring your focus back and listen to what's around you thanks to Transparent Hearing.
2.【Calls with outstanding clarity】ENC Technology means you hear every word, note, and tune with incredible clarity, no matter your environment. Six microphones also assist in isolating sound while talking on the phone, resulting in improved phone call quality.
【Transparent Mode】 You can hear what you want to hear, which lets outside sound in so you can hear and interact with the world around you. You can clearly hear the announcement of the airline or subway and what is saying around you without taking off the headphones.
【Customizable fit for better sound】3 sizes of ear tips help form a comfortable in-ear seal for immersive listening.A customizable fit for all-day comfort. We refined the details of comfort, improved comfort with ergonomic design.
【30H playing time】Get up to 6.5 hours of non-stop music on a single charge, with 4.5 more full recharges from the charging case. The Wireless Charging Case delivers more than 30 hours of battery life to keep you and your COUMI on the go.
Active Noise-cancelling, Maximum 28 dB reduction
Transparent Mode
Dual-mic Noise Cancelling for Crystal-Clear Calls
IPX7 Waterproof & Customizable Eartips in 3 Size
Bluetooth 5.0 & Touch Control
12.5mm Large-Aperture Speaker Drivers
Type-C Charging Case
30h use total with ANC on / 41h total use with ANC off
5.5 hours (ANC ON) / 7.5 hours (ANC OFF)
Design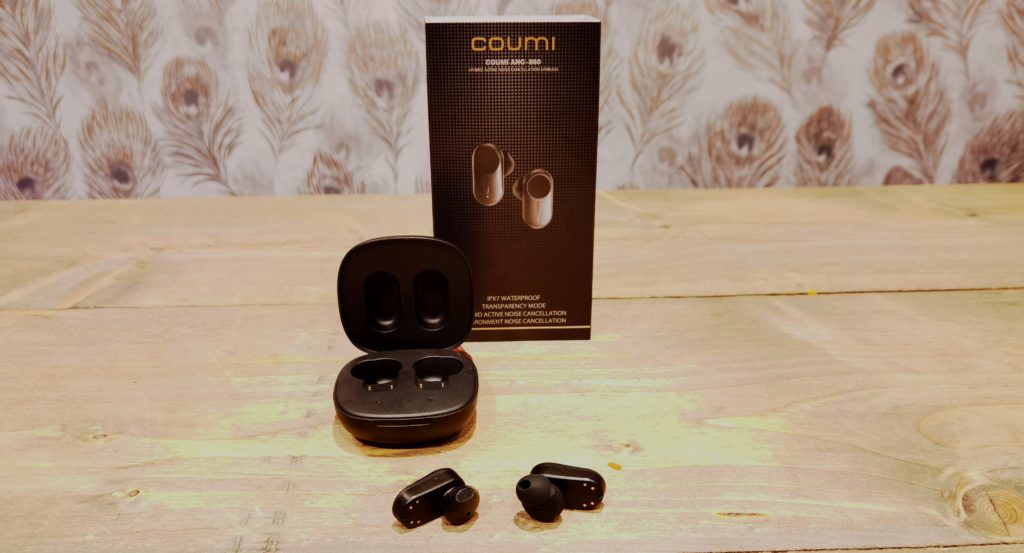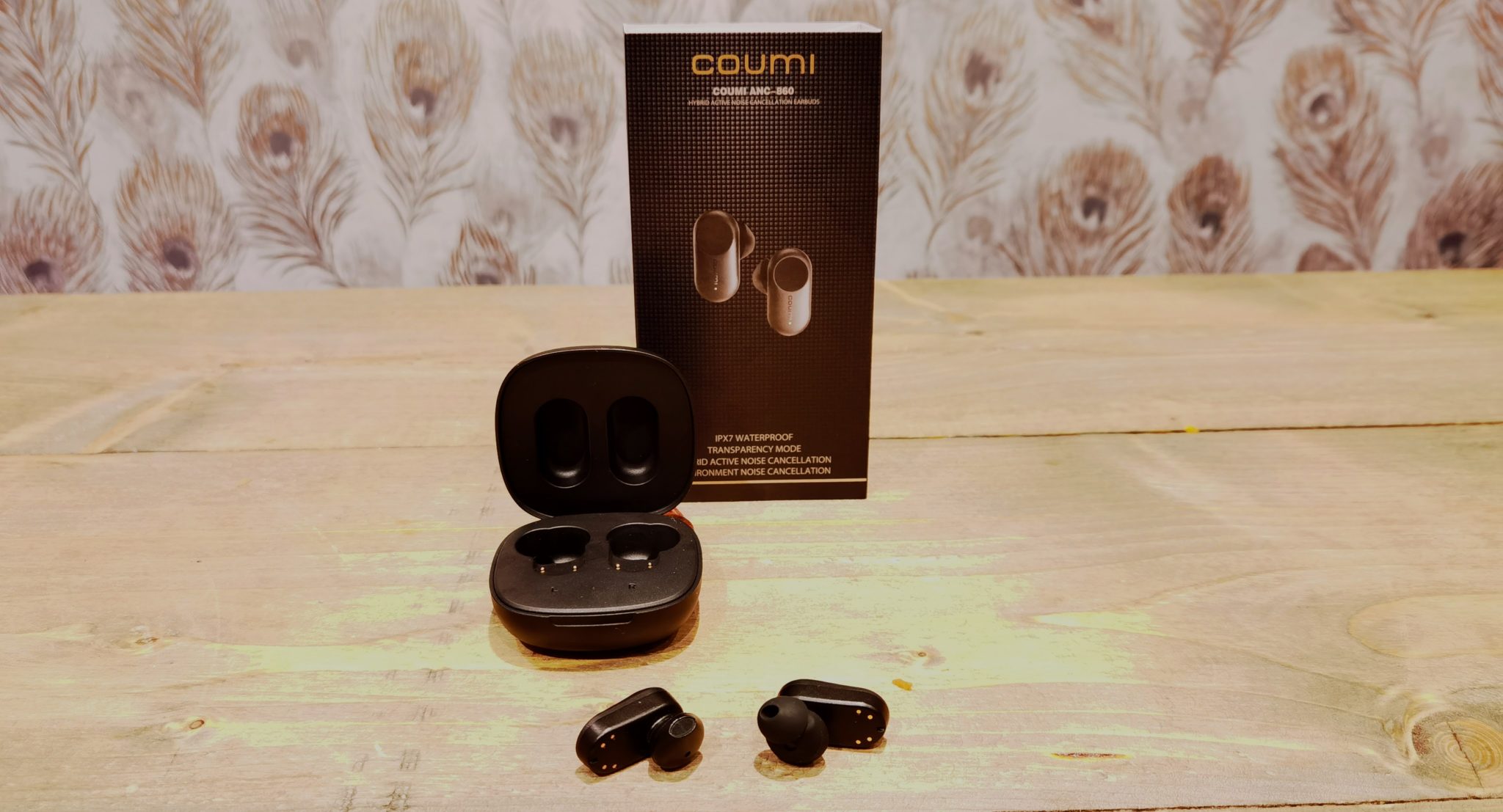 At first glance, these look similar to the Sony WF-1000XM3 earphones, looking a bit like a Bluetooth phone earpiece of yesteryear.
However, these are a bit different, the earpiece itself is shaped more like the open fit design of the Apple AirPods, you then place rubber eartips over this to create a close seal fit.
The earpiece itself is quite large, so a lot of the electronics are sitting outside you ear (which sometimes effects fit).
Set up & Fit
There is no app, so you just pair up like a normal pair of earphones. The ANC is controlled via the touch buttons on the side. A double-tap on the left ear will change the status.
I am not particularly a fan of touch controls, but the vast majority of earphones use them now, so it is what it is.
Fit is OK, with the slightly unusual design, it didn't feel like they would fit very well, but with the larger eartips, I have had no major issues. I have been fine walking around with them, but I am not sure I would trust them for running.
The eartips provide my decent sound isolation which will help with the sound quality and ANC.
Sound Quality
Sound quality is reasonably good, possibly better than I would expect for a £40 pair of earbuds.
These are very much bass dominant, which I am fine with, at this price you aren't getting reference quality and I would prefer more bass than no bass.
Assuming you like bass, it is rich and deep with few or no times where I noticed distortion at moderate volumes.
Quality declines as you move up the frequencies, for a start, the bass itself tends to drown out the mids and highs in bass dominant tracks. But then when you get a track that is more mid focussed things start to sound a little harsh with an overall lack of balance.
Overall, I am quite happy with the sound though; they sound better than most of the other sub £60 earphones I have reviewed recently.
Active Noise Cancellation Performance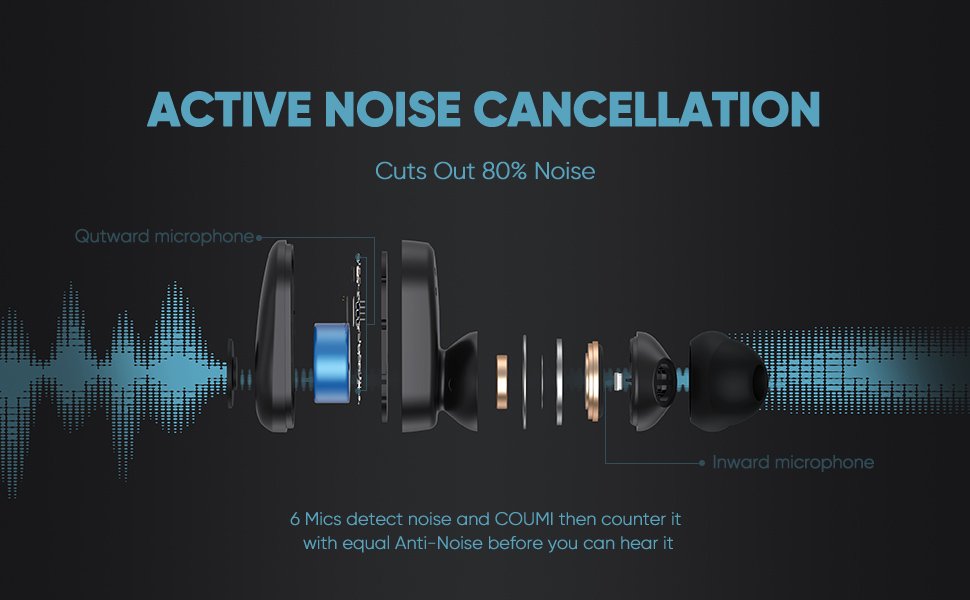 My main test for ANC recently has been listening to airplane cabin noise on YouTube, I haven't been on a plane in almost a year now, and this gives me a decent constant between reviews. Cabin noise is also personally where I want ANC the most and has a mixture of frequencies that allow me to test the ANC thoroughly.
Qualcomm launched their QCC5100 range of chipsets back in 2018 offering multiple options at different price points and performance; this is likely why were are seeing so many new earphones launch with ANC now.
These almost certainly use one of the lowest models within the range, and the ANC performance is about as good as you would expect, which is not amazing.
Coumi claims a 28dB noise reduction, which is a bit more realistic than the 35dB the TaoTronics SounderLiberty 94 claim which I reviewed recently.
Performance is actually better than the TaoTronics too; there is a noticeable drop off with the low-end frequencies in the cabin noise leaving the mid and high-end hum almost untouched.
While not particularly amazing, it does take the edge off and should help clear up audio if you are trying to watch TV/Movies while commuting.
At the end of the day, you get what you pay for; these are easily the cheapest ANC earphones I have used, so have no hope of competing with the likes of the Huawei Freebuds Pro.
Battery Life
Battery life has been good enough, I am not sure it quite meets the claimed numbers but I never noticed them dying earlier than I would expect.
Price and Alternative Options
At £40, I have not reviewed anything that can compete with these. The TaoTronics SounderLiberty 94 cost more and are just not as good.
The Mpow X3 is well-reviewed and a similar price, they claim a similar noise reduction and the Mpow earphones I have used int eh past have been some of the best I have used.
Overall
For the price, these are surprisingly good earphones. I'd be reasonably happy with these at this price without ANC, so for them to offer a decent pair of earbuds and ANC for £40 is quite impressive.
They are not perfect though, ANC is bordering on poor, but comparable to many other affordable ANC earphones I have used.
Again, for the price, sound quality is decent, but don't think that these could ever compete with more premium earphones. These are bass dominant which can drown out the mids and high, in tracks that lack bass I found that the mids and highs could be a little sharp.
However, these are far superior to the TaoTronics TT-BH094 I reviewed recently which are £55.
Over the years, I have come to appreciate the benefits of investing in a more expensive pair of earphones. Accurately representing the different frequencies and finding a balance between them is important, cheaper options struggle to do this, and as a consequence I often will find music a little grating to listen to for long periods of time, sometimes causing me tinnitus too. So for me, I wouldn't personally buy them, but I am fortunate enough to have access to plenty of £100+ earphones.
For people on a budget or are less particular about the sound these are easily worth the money, and punch well above their weight. The IPX7 rating would also make them an ideal option for using will exercising.