Creative announced the Sound Blaster PLAY! 4 back in February, offering some useful improvements from the previous Sound Blaster PLAY! 3.
With most of us working from home in the past year, Creative has added several features to the Sound Blaster Play! 4 that will significantly improve the quality of calls, including a clever auto-muting feature and various tweaks to clean up the audio.
For well under £30, it seems like a smart investment for anyone that uses headphone, either for general listening or Zoom/call.
Creative Sound Blaster PLAY! 4 vs Creative Sound Blaster PLAY! 3
Plug and Play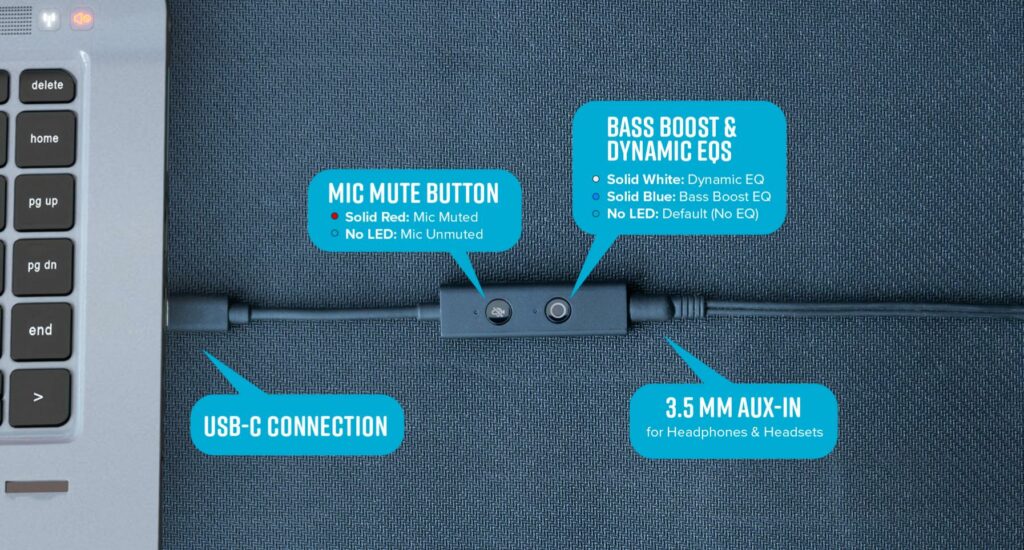 On Windows, you can use the Creative app with SmartComms Kit. This software is required to make the most of the various microphone features such as SmartComms with its auto-muting.
However, for general use, there is no need to install anything, the DAC has dedicated buttons for the EQ offering bass boost and dynamic EQ, plus there is a direct mic mute button.
I am not a huge fan of having to install software for all my peripherals, so this is a big plus for me.
Creative App with SmartComms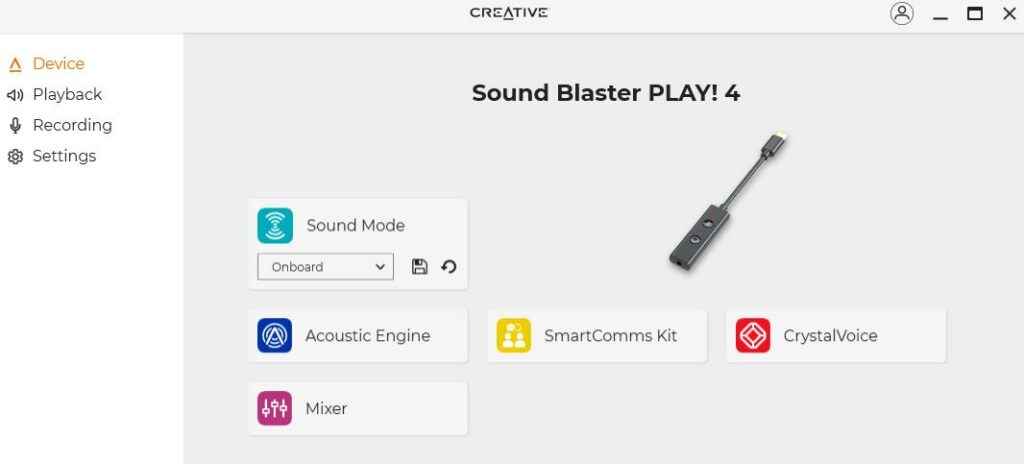 However, the app itself appears to be quite minimal so not too annoying to have running on your system. It is Windows only, so it won't benefit everyone.
With the drivers installed properly, you gain access to various tweaks; this includes settings audio up to 24 bit and 192KHz while the mic goes up to 24 bit and 48KHz.
Crystal Voice is handy to help auto-adjust your mic levels, so you are not too loud or quiet.
The Acoustic Engine then offers manual EQ, beyond the buttons on the device itself.
The SmartComms Kit is then the main feature Creative are advertising, enabling VoiceDetect for auto muting. NoiseClear reduces annoying background noises, and NoiseClean in reduces the background noise from other people on your call.
The app works well, and it offers a significant performance improvement compared to the default settings in Windows.
In Use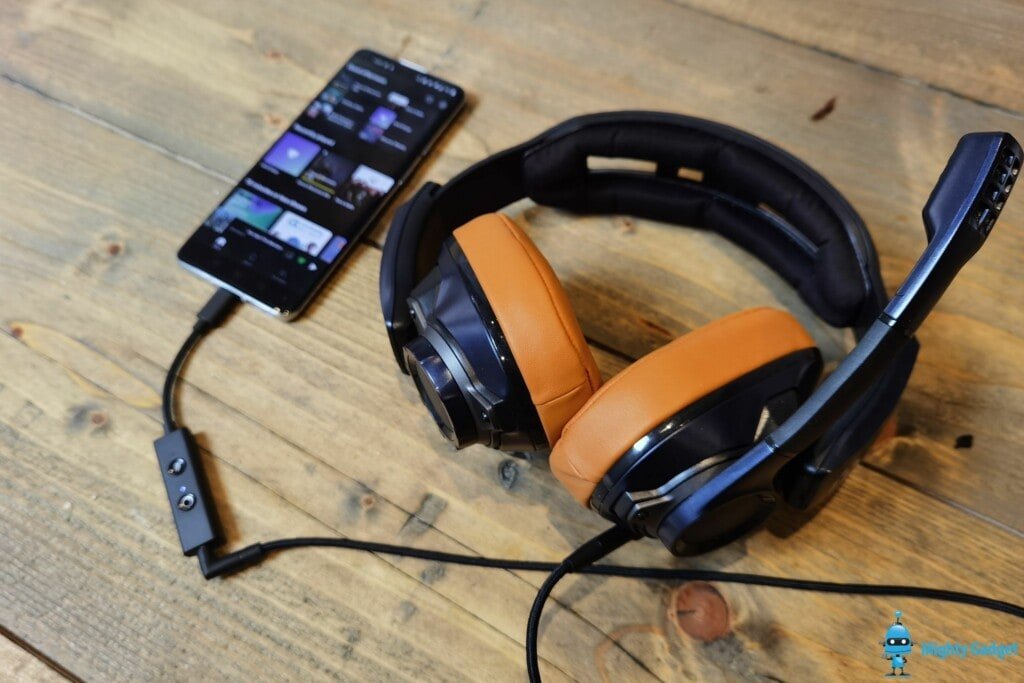 I don't have any high-end headphones to use this one, but I tested this DAC with:
I then tested it with both my desktop PC, my Huawei P30 Pro, and my OnePlus 9 Pro. I have noticed some people say USB-C DACs don't always play nice with some phones, such as OnePlus, but I experienced no issues with any of the devices I tested this on.
I don't have audiophile quality hearing, but there is a perceived improvement switching from on-device audio to using this DAC.
The EQ allows tweaking the audio further by adding a bass boost or dynamic EQ. I found it provides a pleasance boost to bass when wanted, it is not excessive but does liven up some genres like Hip Hop and Electronica nicely.
One of the selling points of this DAC is its ability to auto-mute the microphone when not in use, reducing unwanted noise on calls. I have used this for a few Zoom calls so far, and it works well; importantly, there doesn't seem to be any issue un-muting when I speak, so no one on my calls has ever complained about not hearing me.
I have also occasionally take zoom calls on my mobile, my desktop doesn't have a camera, and it is not always convenient to set up a laptop. The Play!4 works well here, allowing me to use headphones for decent audio then the mute button for when
Price and Alternative Options
The Creative Soundblaster Play!4 has an RRP of £27.99 with a 15% off voucher on the Amazon page currently.
The Creative Sound Blaster Play!3 is just £19.99, but the audio spec appears to be lower, there is no auto-mute, and it uses USB-A making it a little more fiddly if you intend to use it on mobile or many ultraportable laptops that only have USB-C
There is the more expensive Creative Sound Blaster G3 which appears to be more geared towards gaming.
The Hidizs Sonata has been an oft-recommended phone DAC which was around £40, but stock seems to be non-existent now.
Overall
For less than £30 this is a great little DAC comfortably capable of driving demanding headphones and improving audio quality from your desktop, laptop or mobile.
This is a perfect buy for anyone still clinging on to wired headphones/earphones dreaming of a 3.5mm headphone jack on their phone. You get the benefits of an improved DAC vs your phone; it adds minimal bulks compared to a generic USB-C to 3.5mm adaptor, and the cost isn't significantly more.
It is also a great investment for anyone looking to improve the quality of their zoom calls, the auto-mute works well, and I found the Crystal Voice particularily helpful, saving me having to test mic levels before I go on a call.