What shouldn't be particularily exciting news, the latest Wi-Fi dongle from D-Link is the worlds first Wi-Fi 6 USB dongle, allowing you to get next get Wi-Fi speeds without opening up your PC or laptop.
For Windows 7 and 10 machines, as soon as you plug this dongle in, it will auto-install.
As for the spec, it is sadly not quite as good as the M.2 or PCIe adaptors you can buy.
D-Link DWA-X1850 Wi-Fi 6 USB vs Intel AX200 vs AX210 Specification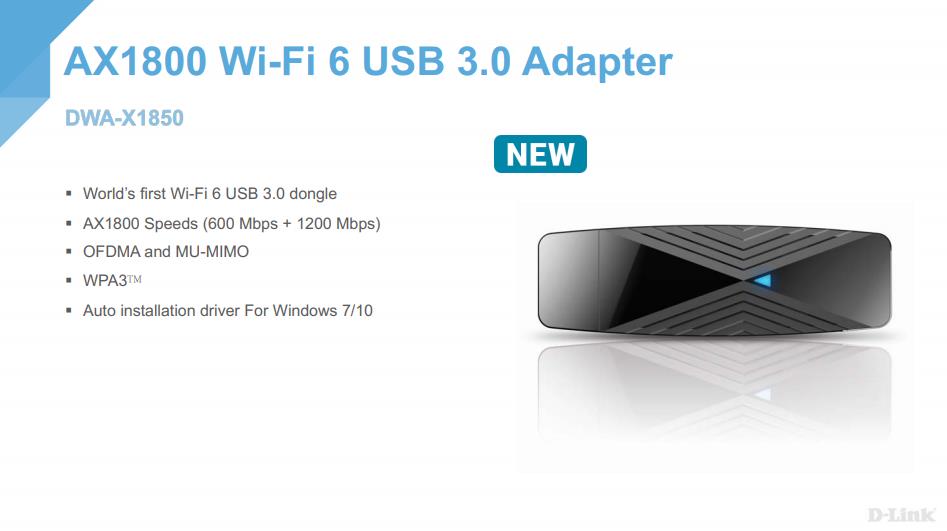 Similar to the two Intel Wi-Fi 6 modules as well as the Killer Wi-Fi 6 AX1650, the AX1800 uses a 2×2 MIMO design.
However, unlike the Intel-based modules, the 5Ghz channel is only rated at a maximum throughput of 1200Mbps which would imply that it is limited to the 80Mhz channel width.
Towards the end of last year, the Intel AX210 was launched offering Wi-Fi 6E with the 6Ghz channel, and more recently the Asus ROG Rapture GT-AXE11000 has just launched being the first Wi-Fi 6E router available.
In the past, with Wi-Fi 5, we saw USB adaptors that offer 3×3 MIMO allowing them to offer 50% more throughput (theoretically) than the 2×2 counterparts. There is still no word on this happening with Wi-Fi 6.
So the D-Link DWA-X1850 may not be the cutting edge of Wi-Fi 6 technology, but if it is priced right it should offer a nice easy way to upgrade your older devices with the latest faster technology.
D-Link WI-Fi 6 Routers & multigig switches (2.5GbE)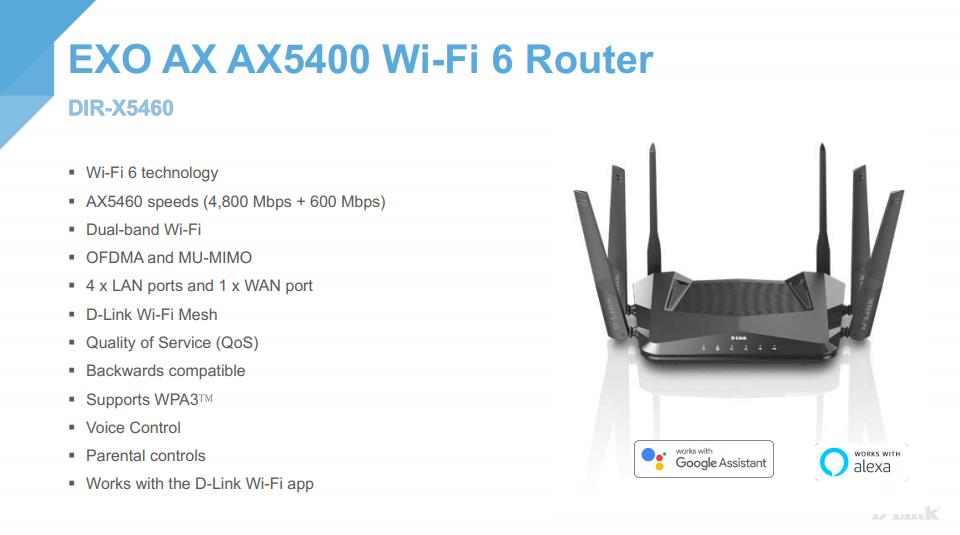 In other news, the brand has also expanded its router range, adopting the new wireless technology. All the new routers appear to sit on the low to mid-end of the spectrum with the new EXO AX AX1500 being limited to 300 Mbps + 1200 Mbps. Then the best-specced EXO AX AX5400 Wi-Fi 6 Router offering 4,800 Mbps + 600 Mbps but lacking a multigig ethernet port.
However, they are launching the DMS-106XT unmanaged switch, which offers five 2.5GbE ports plus a single 10GbE port in a fanless chassis. It will be interesting to see how competitively priced it will be against the QNAP 2.5GbE switch.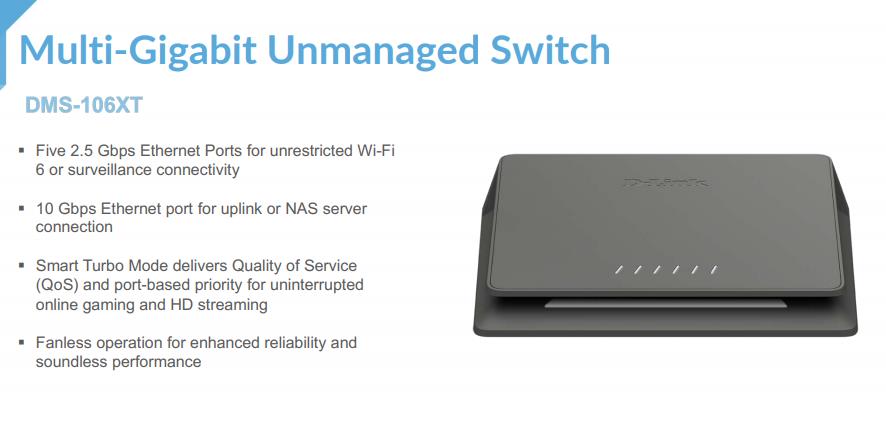 Posted by Mighty Gadget Blog: UK Technology News and Reviews