EarFun have released a lot of earphones this year; they have all been good to excellent; all of them offering excellent value for money.
The Earfun Free Pro is the latest entry to their product line-up, they are a touch cheaper than the Earfun Air Pro I reviewed back in October, and they adopt a different design, omitting the stem for a smaller earpiece that fits in the concha of your ear.
Earfun have kindly provided a 20% discount code, making these a little more affordable. When buying from Amazon UK or Amazon US use FREEPRO20 (you also need to apply the on-page discount).
Features and Specification
Active Noise Cancellation up to 28dB
Customized Noise-Cancellation Algorithm for excellent isolation
Bluetooth 5.2 for stable connections and extended working range
Low Latency Mode improves Video and Gaming experiences
Dual Composite Dynamic Drivers deliver superior sound and balance
32-Hour Total Playtime: 7 Hours + 25 Hours with Charging Case
Fast charging, 10 Min Charging = 2 hours Playtime
40-Min Full Charging, 32 hours Playtime
Wireless Charging Compatible
Intuitive Touch control + Volume control
Single Earbud Mode – Right or Left independent use
Activate Voice Assistant
Fit & Sound Quality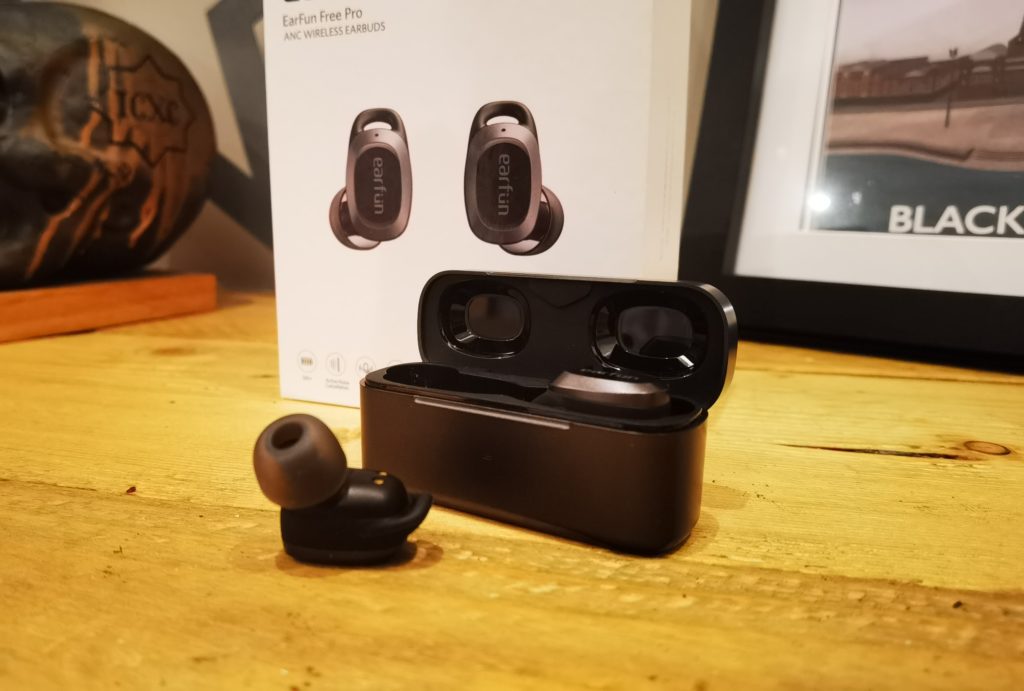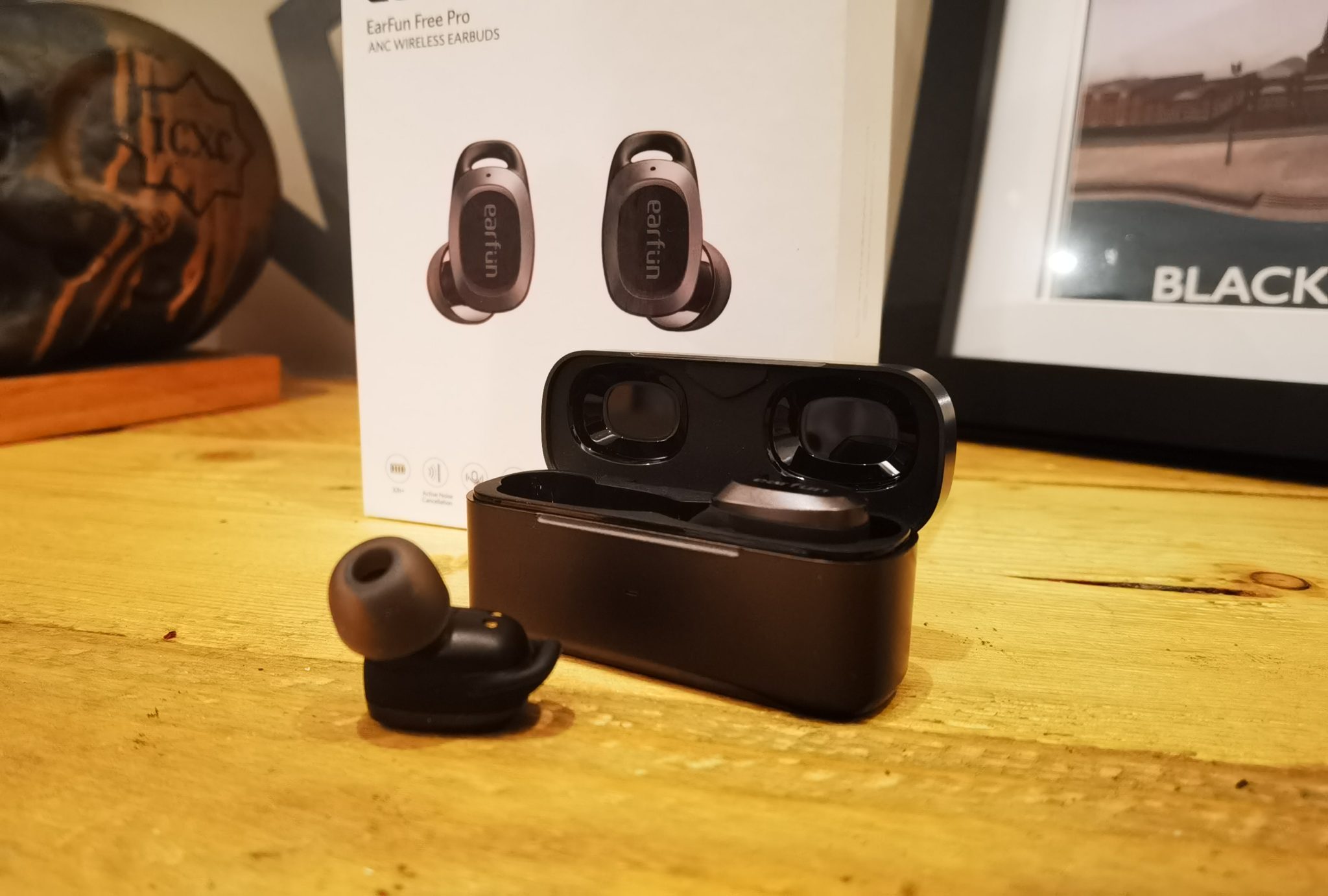 I have been impressed with the sound quality the EarFun earbuds recently, and these follow that trend. As always, I need to use the biggest ear tips to get an ideal fit, with these on, they fit comfortably in my ear with no indication that they may slip out.
List most earbuds nowadays, these are bass dominant, giving an energetic sound signature.  They are capable of producing very deep lows, Run the Jewels Ju$T quickly had me grabbing my phone to turn the volume down a little.
While most cheap earphones sound harsh with mids and highs, these perform well, highs are clean and clear. Mids are excellent, vocals and instruments sound good. Overall there is largely a good balance throughout the frequencies.  
Active Noise Cancelling Performance
With an ANC rating of 28dB, EarFun is being more honest than most companies and setting the bar low for expectations. Decibels work on a logarithmic scale. However, a common rule of thumb is that humans will perceive the volume to double around 9-10dB. So in this case, the Earfun Free Pro have around half the ANC performance of the EarFun Air Pro (and many other ANC earphones rated at 38dB).
I have no way of objectively measuring the ANC performance, but my usual test of listing to airplane cabin noise relatively poor ANC performance. There is a noticeable drop off from the low-end engine hum, and this could make watching TV or listing to music more tolerable in a noisy environment, but don't expect these to offer incredible ANC performance.
Other Bits – Battery Life & Control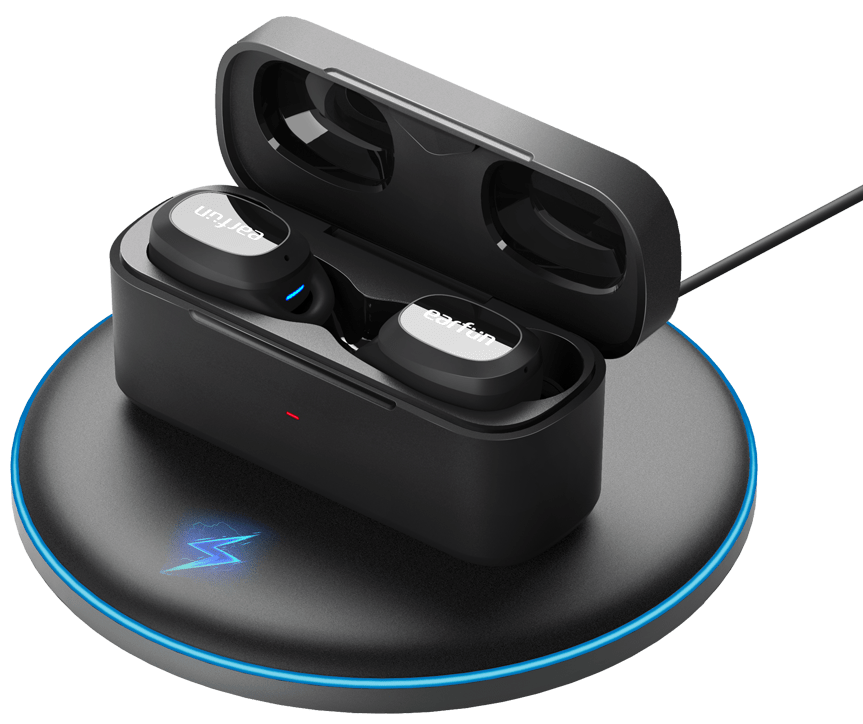 These feature USB-C and wireless charging, which is impressive on earphones this price. This claims to have 7 hours playtime with 25 hours extra with the charging case which would make it better than average for TWS earphones. I haven't timed it exactly, but the playtime performance is probably close to this figure.
They are IPX5 rated, so it should be good for most gym and fitness activities. The small size of these and the way they fit into the concha/shell part of your ear makes them quite comfortable for running and other vigorous activities.
Microphone performance is so-so, this is often the case with most earphones.
Price and Alternatives
These are currently priced at £59.99 on Amazon then there is a 10% off voucher on the Amazon page, or for a short time there is 20% off with FREEPRO20
The EarFun Air Pro are just £10 more and also have a 10% voucher. These offer significantly better ANC, but still poor compared to premium-priced models such as the Huawei Freebuds Pro. I would say the EarFun Air Pro are worth the extra for general use, however, the Free Pro have a lighter more secure fit, so I would say they are better for sports.
At the £50 – £60 price point there is nothing I have used that particularily stands out better than these two earphones. It is a saturated market place, though, and there are plenty of superb options.
Overall
These are another fantastic pair of earbuds from Earfun. Sound quality, fit and comfort are all particularily good.
The ANC performance is not great, but it does make a difference, and this is to be expected at this price point.
With these fitting so well inside my ear, I think they make a particularly good choice for fitness, they have a long battery life, energetic sound signature, IPX5 rating and they are cheap enough that it won't be too much of an issue should you lose or break them.
Earfun have kindly provided a 20% discount code, making these a little more affordable. When buying from Amazon UK or Amazon US use FREEPRO20
Posted by Mighty Gadget Blog: UK Technology News and Reviews