After a very short break from TWS earphone, I am back with the latest ulra affordable option from Edifier, the X3.
At just £32.99 these are some of the cheapest branded TWS earphones you will find, cheaper than anything Anker SoundCore has on offer, though lesser-known brands such as Mpow and SoundPEATS have models a little cheaper.
Features
Featuring the latest Bluetooth v5.0, the Qualcomm chipset delivers a faster, more stable signal transmission and low input latency meaning that interference is kept to a minimum, even with a transmission distance of 10m.
The low power consumption also provides 6 hours of playback, with an additional 18 hours using the sleek charging case before mains power is required.
The microphone, with CVC V8.0 noise cancellation technology, is guaranteed to deliver a clearer sound during calls. It automatically reduces background and environmental noise to pick up the user's voice accurately and ensure high clarity audio transmission with richer details.
One-step pairing assures fuss-free usage, meaning the earbuds automatically pair to each other and the last paired device for a faster connection when removed from the charging case. The touch control on each earbud also offers easy access to various functions, including play/pause, next/last song and answer/hang up on calls. The voice assistant can also be activated by triple tapping either earbud.
Bluetooth protocols include: aptX, AAC and SBC
Fit
The fit is excellent for me, these are nice and lightweight and fit comfortably inside my ear. They are quite small too, so there is not much overhang and therefore they feel a lot more secure than many alternative options.
The low price, excellent fit, and IP54 rating makes these a decent option for outdoor running
Sound Quality
Like most Edifier products, sound quality is good based on the price. These won't compete with something twice the price, but for the money, you are paying they offer better than expected performance.
Bass is quite prominent and is mostly good, though in some very bassy tracks from Run the Jewels I did notice some distortion as they struggled with the lows. However, listening through Prodigy Fat of the Land I rarely noticed an issue and they were lively and bassy enough make the album enjoyable.
Mids and highs are good, affordable earphones have a tendency to be harsh in the upper ranges, which sometimes makes them quite difficult for me to listen too, however I experience no such issue here.
That being said, I did find the earphones sounded a little better listening to bass-forward electronica rather than more screechy rock such as Idles or the heavier Frank Carter albums.
The other bits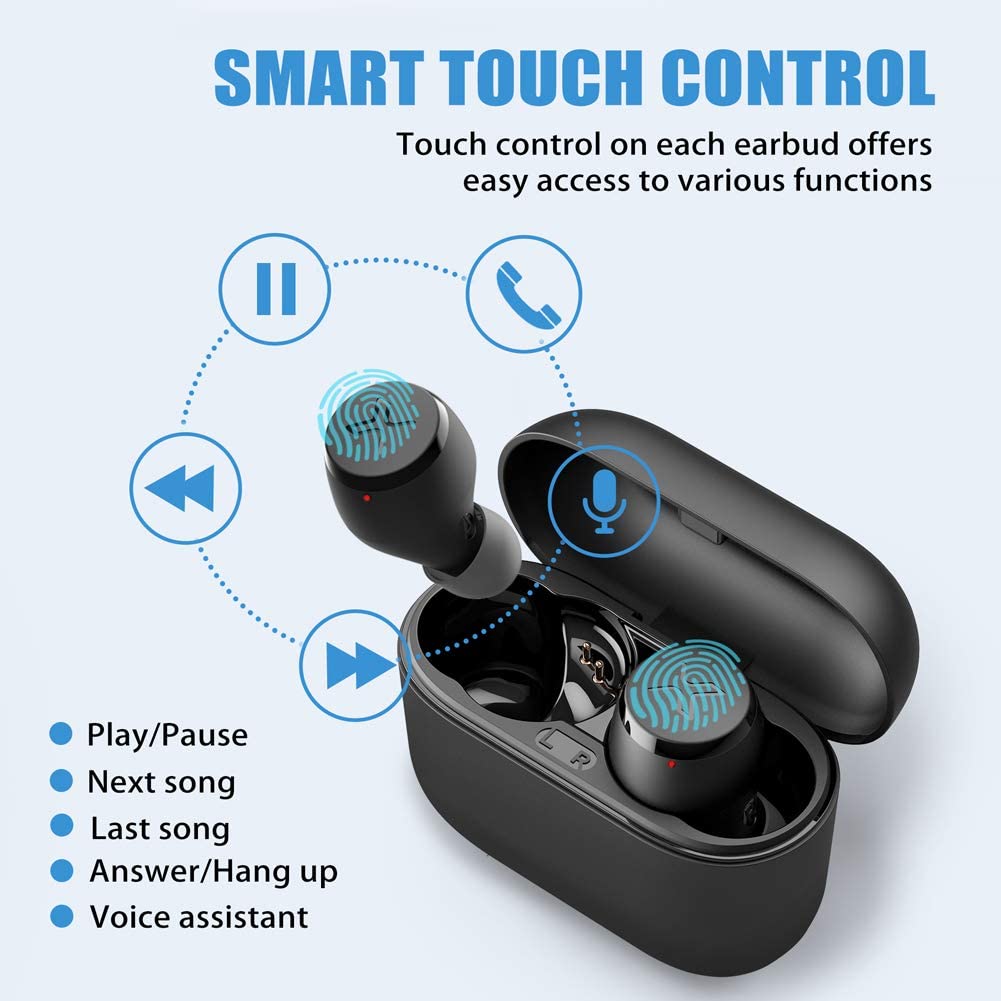 Like many earphones nowadays, these are touch control, which is not my favourite, and there appears to be no volume control via the earphone. With some touch earphones, I end up accidentally reducing the volume and not being able to put it back up, so I am not too upset by this.
Edifier claims these should last around 6 hours. I haven't timed things exactly, but I would estimate under 5, volume levels will affect the battery life though.
Price and Alternative Options
At a price of £32.99 and a saturated market with hundreds of choices, it feels fruitless looking for good alternatives.
If you prefer Anker, their cheapest varies dependant on the offer they currently have on. Currently, this would be the Anker Soundcore Life P2 which are the same price as these when you apply a coucher. They have stem design which is not my favourite, but they have a longer claimed battery life, superior IPX7 rating and USB-C charging.
Umi. by Amazon have a pair for less than £30 with a better IP rating. I have never used a Umi product so can't comment on performance, but I would expect they are OK.
Overall
With low expectations, I have come away pleasantly surprised; these are perfectly serviceable earbuds offering a good level of bass, decent mids/highs and a lightweight, comfortable fit.
Overall, these are a great pair of budget no-frill earphones.
Posted by Mighty Gadget Blog: UK Technology News and Reviews