The EWS850AP is the first WiFi 6 outdoor solution by EnGenius. The edge 802.11ax built-in ultra-speed access point with OFDMA and MU-MIMO technology for high-density use on multiple applications.
Unlike my more recent Engenius reviews this AP uses the slightly older ezMaster, Skykey controller, and EWS Management switch methods of control compared to the Engenius Cloud.
You can, however, import the Skykey into Engenius Cloud.
Specification
IP67-rated dust and water-resistant enclosure
Operating temps – -20°C~60°C
2×2 spatial streams

Up to  574 Mbps on 2.4Ghz

SMA Antennas

2.4 GHz: Two(2) detachable 5.0 dBi RP-SMA antennas

5 GHz: Two(2) detachable 5.0 dBi RP-SMA antennas

Transmit Power
Compliance with Proprietary 48V PoE Input for flexible installation and implementing remotely reset/reboot Access Point over 100 meters (328 feet).
Support 8 SSIDs on both 2.4 GHz and 5 GHz bands.
Fast Roaming 802.11k and 802.11v
VLAN tagging and pass-through, VLAN Per SSID, Management VLAN
Traffic shaping
WiFi schedules
EWS850AP Design and Build
Normally I wouldn't highlight an AP build and design, they all look about the same, some are square, some are round.
However, an outdoor AP has specific design features. In this case, you have four external SMA antennas, this should help provide superior range and give you the option to upgrade to a superior antenna for even further range. I would also assume the rugged build quality of the main body would have interfered with the radio signals.
Then the Ethernet runs through a rubber grommet and plastic screw cap providing a watertight seal around the cable. This will mean you need to terminate the ethernet cable, but it is a superior outdoor solution for waterproofing vs the Netgear WAX610Y.
With this being designed four outdoor use, there is no DC in, it is POE only, but you can optionally use a POE injector if you don't have a POE switch.
The packaging also includes a grounding cable which will reduce the chances of damage to both the AP and the devices it is connected to should the AP get hit by lightning.
Set-Up & Settings
My most recent EnGenius reviews have all been for devices using the Engenius Cloud, this, however, uses the older ezMaster method of centralised control. Luckily I haven't lost my SkyKey yet so was able to set this up with that.
ezMaster is not my favourite interface, and the SkyKey is quite slow to use. The system does not seem that intuitive to use compared to Engenius Cloud or other cloud managed services.
However, if you are already familiar with it, I doubt this is an issue, it doesn't take too long to work out.
I would have much preferred some sort of hybrid system, giving you the option for direct web management, ezMaster or Engenius Cloud. This would give businesses the flexibility to upgrade to Engenius Cloud, or for cautious and paranoid types, the reassurance that you can roll back to ezMaster should EnGenius one day decide that Engenius Cloud is not entirely free.
In my testing, ezMaster wasn't entirely necesarry as I only tested the performance of this single access point, rather than a system as a whole. But I doubt many people will buy this and not pair it up with other Engenius APS.
Web Interface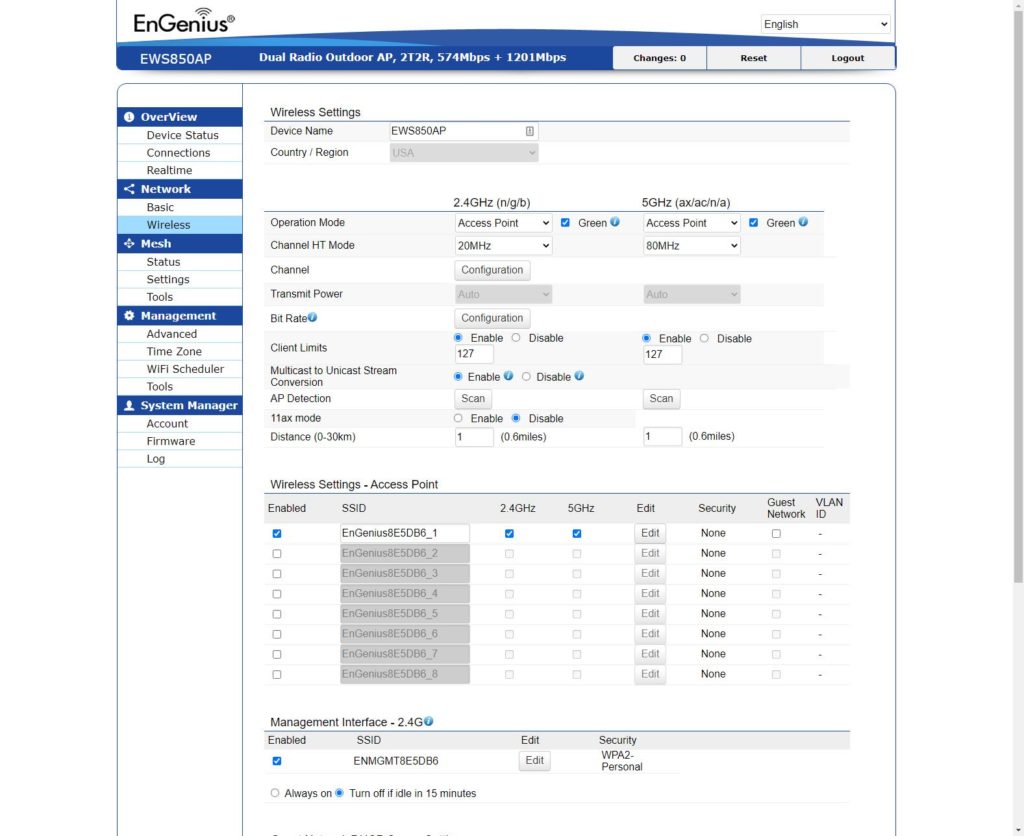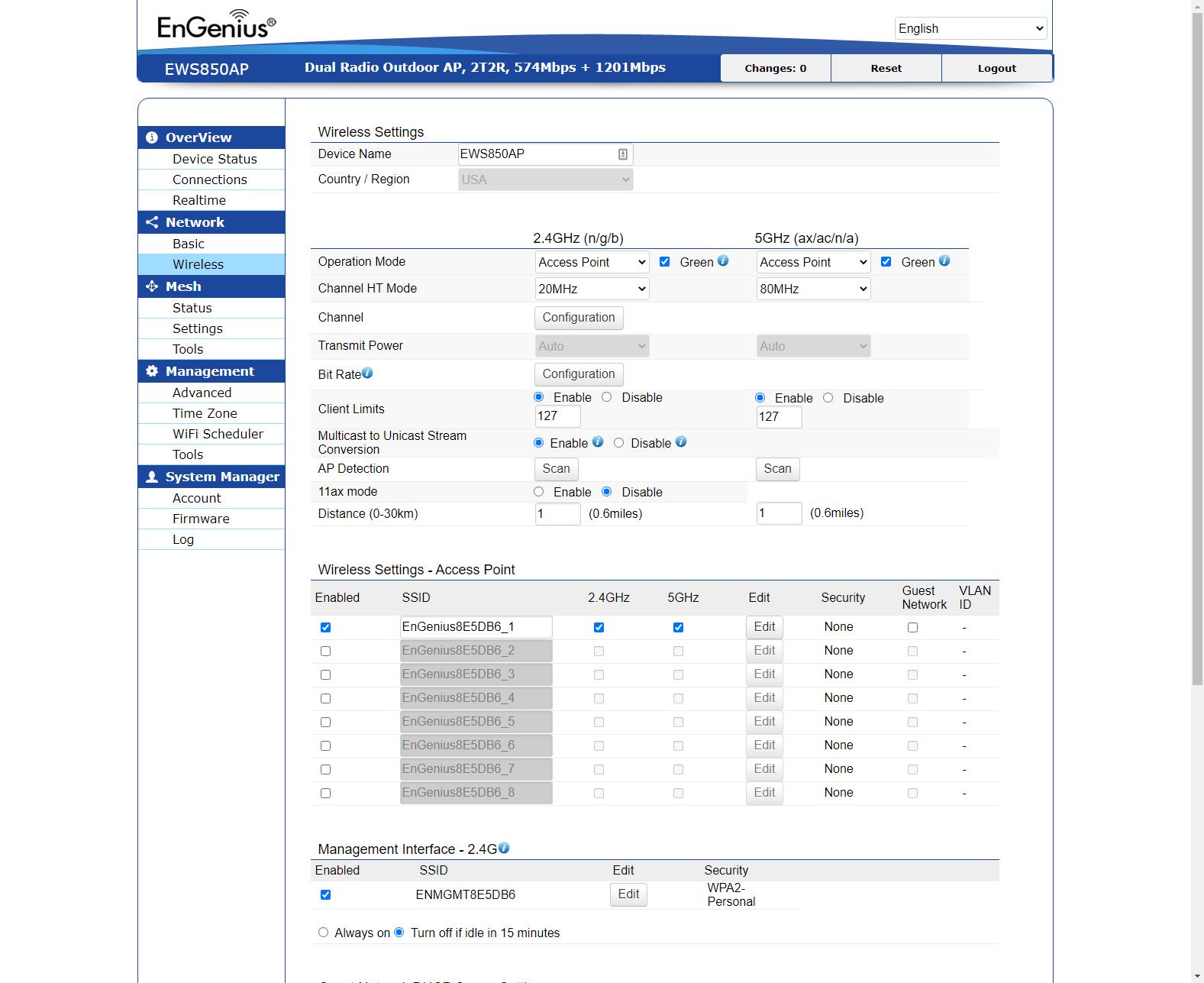 SkyKey / ezMaster Interface
5Ghz WiFi Performance
With this being an outdoor access point, most of my testing was done with this dangling out my office window so I can try and replicate some real-world usage.
For all testing outside of my garden, I used the Huawei P40 Pro using the WiFi Speed Test Pro App and also a self-hosted speed test script on my home server. I didn't really fancy wandering around the streets with my laptop open.
This is WiFi6 equipped and can connect on the 160Hz channel, but this is not required here as the EnGenius uses 80Hz.
Most of my WiFi reviews are for indoor equipment, so testing the WiFi range outdoors provided some impressive results that prove why an outdoors AP can be an essential purchase for properties with a large outdoor space.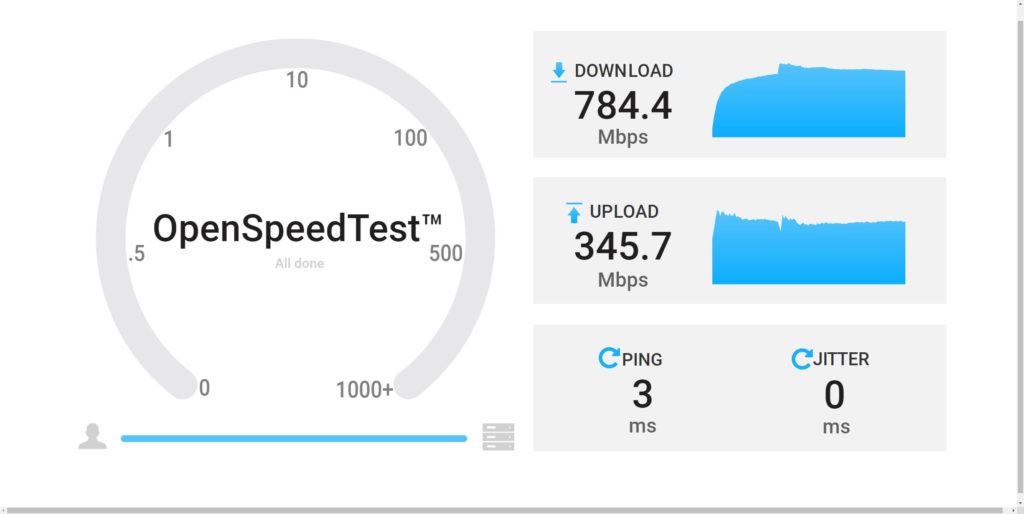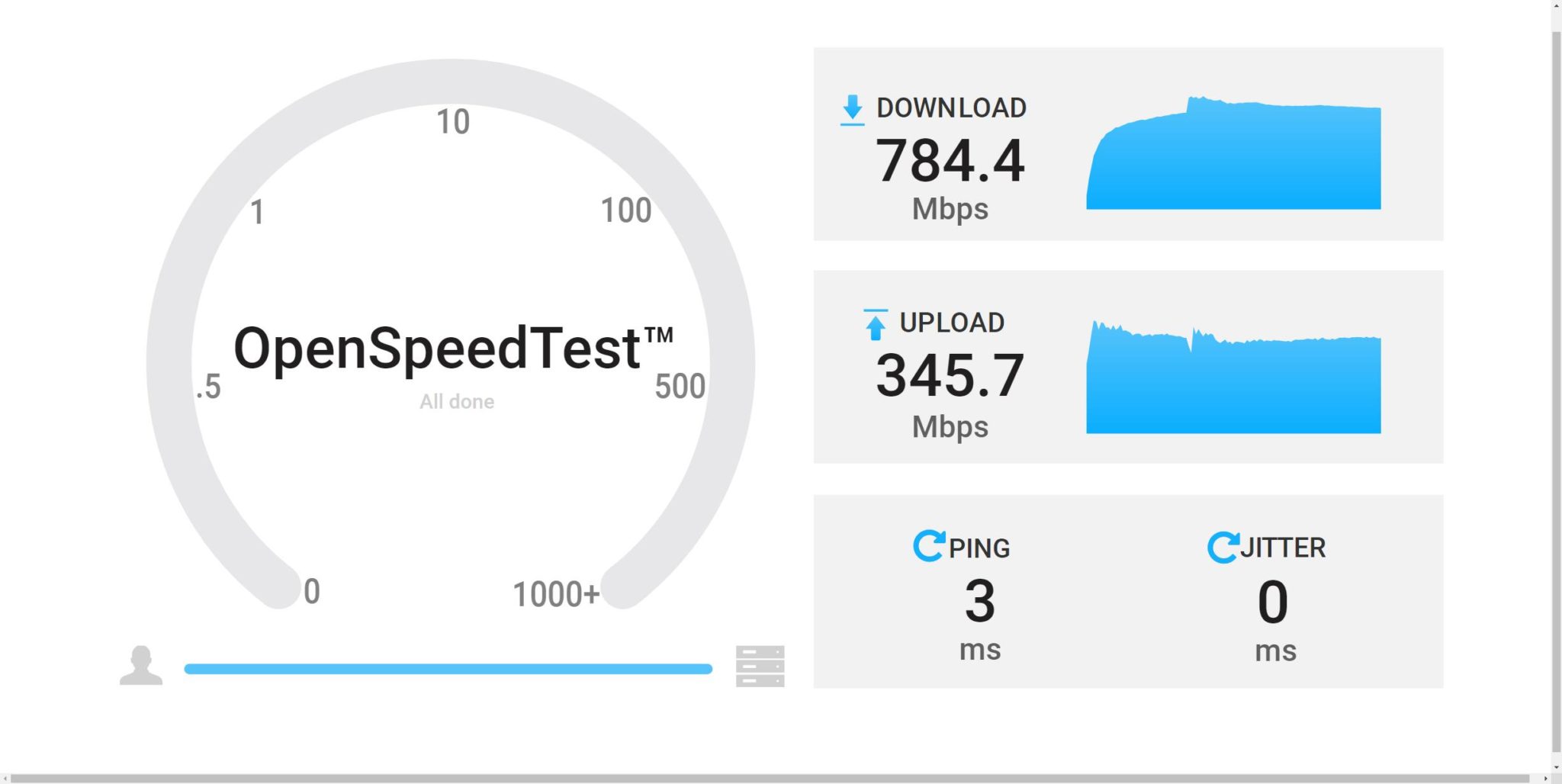 Indoors close range – 784Mbit/s
Outdoors stood below the AP approx 2m away  – 745Mbit/s
7M (24ft) – 603Mbit/s
15m(50ft) – 315 Mbit/s
70M (230ft) – 118Mbit/s
140m (460ft) – 84Mbit/s
Past 140M I am forced to turn a corner where buildings get in the way and at this point the WiFi signal drops off almost completely.
With an indoor AP near a window, I can normally see my WiFI at the 7M range, but it is not usable. This issue led me to run Ethernet from my house to garage so I can set up an access point in there. I should have just invested in an outdoor AP.
While the range benefits of an outdoor AP were obvious before writing this, testing this made me appreciate how much a difference it makes and how badly walls affect our WiFi.
2.4Ghz WiFi Performance
In don't personally stress about 2.4Ghz WiFi performance, as I strictly separate this off for IoT devices only. However, WiFi 6 brings speed improvements here too.
Indoors close range – 320Mbit/s
Outdoors stood below the AP approx 2m away  – 313Mbit/s
7M (24ft) – 262 Mbit/s
15m(50ft) – 179 Mbit/s
Price and Alternatives
Doing alternative brand options for business networking always feels a little moot, as most users have already committed to a specific solution. However, I find it useful to get a better grasp of price/performance.
In the US the EnGenius EWS850AP retails at $399, which is not unreasonable for something like this. It is then available even cheaper on Amazon US at $239.59.
In the UK, Amazon has it priced as £639.50, which is unreasonable, but I expect it is over-inflated until proper stock arrives in the UK. It is actually cheaper to buy from the US and import with a total cost of $422.59 or £311
Just before this AP arrived Netgear sent me their WAX610Y Outdoor WiFi 6 AP which uses the Insight cloud management system. The AP has an RRP of £249.99 and is currently available for £235.47. I prefer Insight to ezMaster/SkyKey, but Insight has ongoing costs. The build quality of the WAX610Y is also not quite as good with a lower IP rating.
I am not aware of any other cloud/centralised management networking brand doing outdoor WiFi 6 gear. Ubiquiti and TP-Link have several affordable WiFi 5 options, and Zyxel has a couple of options costing north of £500.
Overall
The EnGenius EWS850AP is an excellent outdoor access point. It is priced reasonably well (in the US), and the overall build quality justifies the slightly higher price vs the Netgear option. In particular, the IP67 rating would give me the confidence to mount this anywhere on my property in the typically windy and rainy environment of a northern coastal town.
Range is fantastic when used outdoors; there is a significant benefit of spending a little extra on an outdoor AP if you need to cover a large area. The walls of a home or business significantly reduce the range of indoor access points.
With the external antennas, there is room to increase the range further, by upgrading them, though I did not test this.
Along with the superior speeds of WiFi 6, it has superior user capacity, so using a WiFi 6 AP in hospitality such as beer gardens, restaurant outdoor seating and hotels makes a lot of sense.
I would have liked to see some sort of hybrid management design, similar to some Zyxel models, allowing you to natively add this to Engenius Cloud, rather than use SkyKey. It would give you a little more flexibility on future upgrades should you wish to go all-in on Engenius Cloud.
While this is geared towards business users and to be used in conjunction with other Engenius APs, I think there is a strong case to use this independently for homes with large outdoor space such as rural homes. 
Posted by Mighty Gadget Blog: UK Technology News and Reviews