Sennheiser released the Sennheiser GSP 600 a couple of years ago; this has now been updated with a significantly improved look.
You will notice this is now EPOS Sennheiser rather than just Sennheiser. This is because EPOS were in charge of the Sennheiser lineup and now they are slowly parting ways. Current models are now dual-branded, and we will start to see EPOS launch their own products in the near future.
Features
Compatible with PC, consoles and mobile with the 3.5mm jack
PS5 and Xbox Series X compatibility
Over-ear closed acoustic design
Frequency Response of  10Hz – 30kHz
Detachable cable with a 2.5m cable or a 1.2m cable.
EPOS Sennheiser GSP 600 vs 601 vs 602
From what I can tell, the Sennheiser GSP 600 launched in 2018, though it wasn't co-branded with EPOS back then.
All the headphones are identical in terms of functionality and performance.
The three models signify the three different colourways. There is the original GSP 600 which are black with a couple of red embellishments, the black and white 601 and these blue and tan GSP 602 headphones.
Personally, I think the 601 and 602 look far smarter than the 600.
Design and Build Quality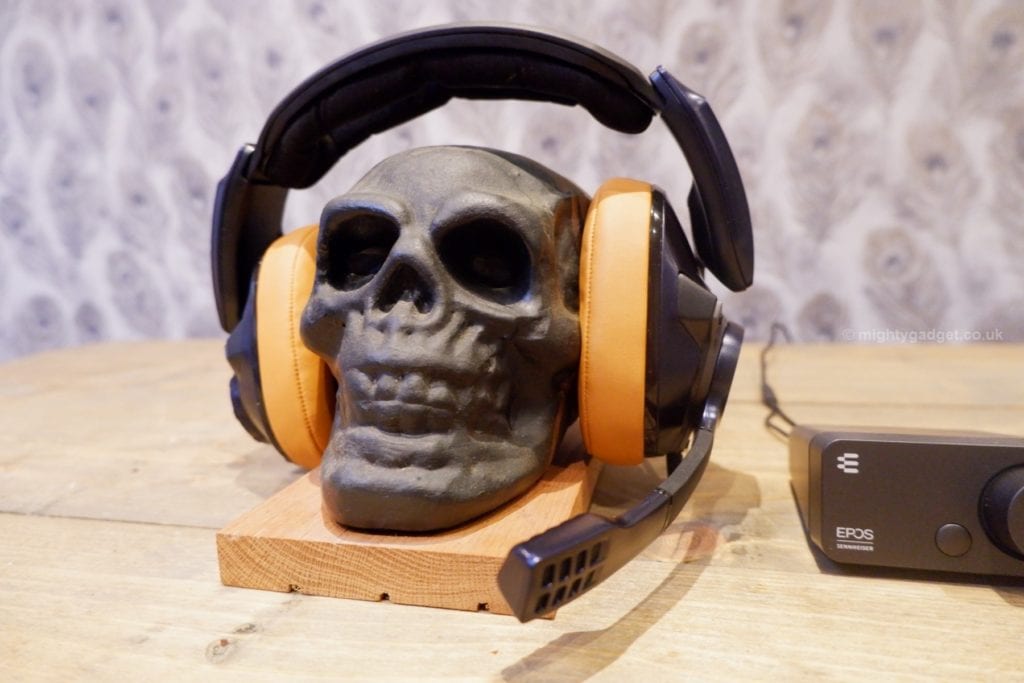 As far as gaming headsets go, these are the best looking I have used. They do have a plastic build, like most headsets, but the overall design is quite elegant while retaining a gamer look with the chunky industrial aesthetics.
While the headset has a removable cable it has an elongated plastic end which goes inside the headset, so you can't use a third party cable if you lose/damage it, nor can you upgrade it. EPOS do sell them though; the PC cable is £12.90.
You also  get two cables, one long one with 2×3.5mm jacks for the PC and a 1.2m
The earpads are leatherette with memory foam; these are replaceable for when they inevitably wear out, but only available in Black.
I don't play many multiplayer games so being able to lift the microphone entirely out of your way is a big bonus for me. It sits almost inline with the headband, so it never gets in the way, and in this position, it is muted. However, unlike some competing options, the microphone isn't removable.
On the right ear cup is a volume dial, it is quite resistive and not as convenient as the media keys or volume dial on my PC but it will no doubt be useful for console gaming.
The headphones have a sliding apart for tension adjustments, and they can offer quite a firm tension or relatively loose while retaining a decent seal with the earcups.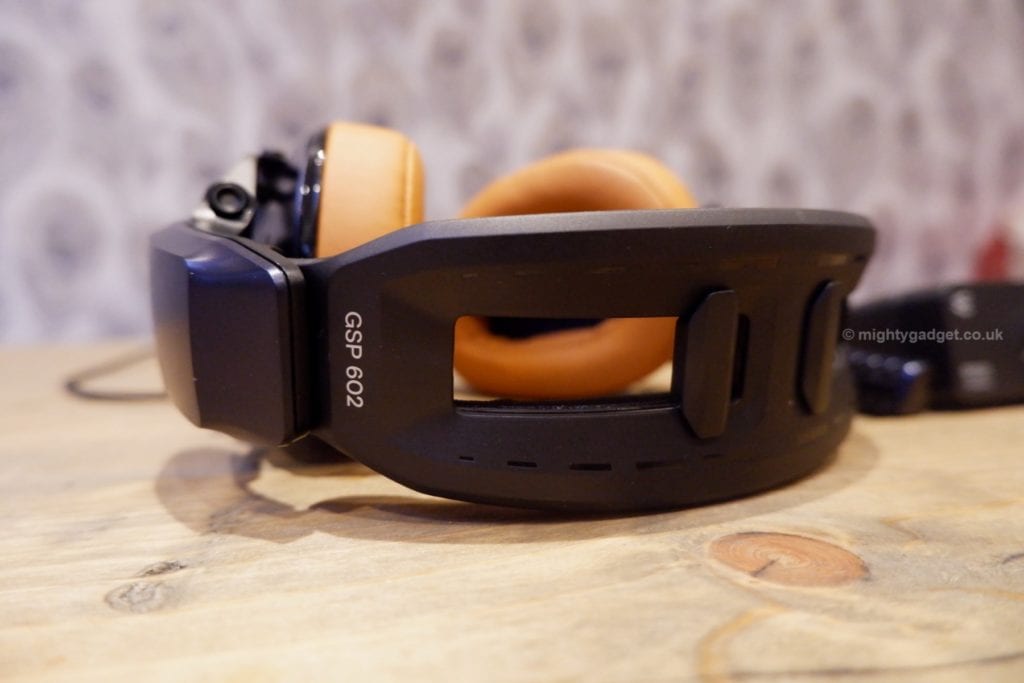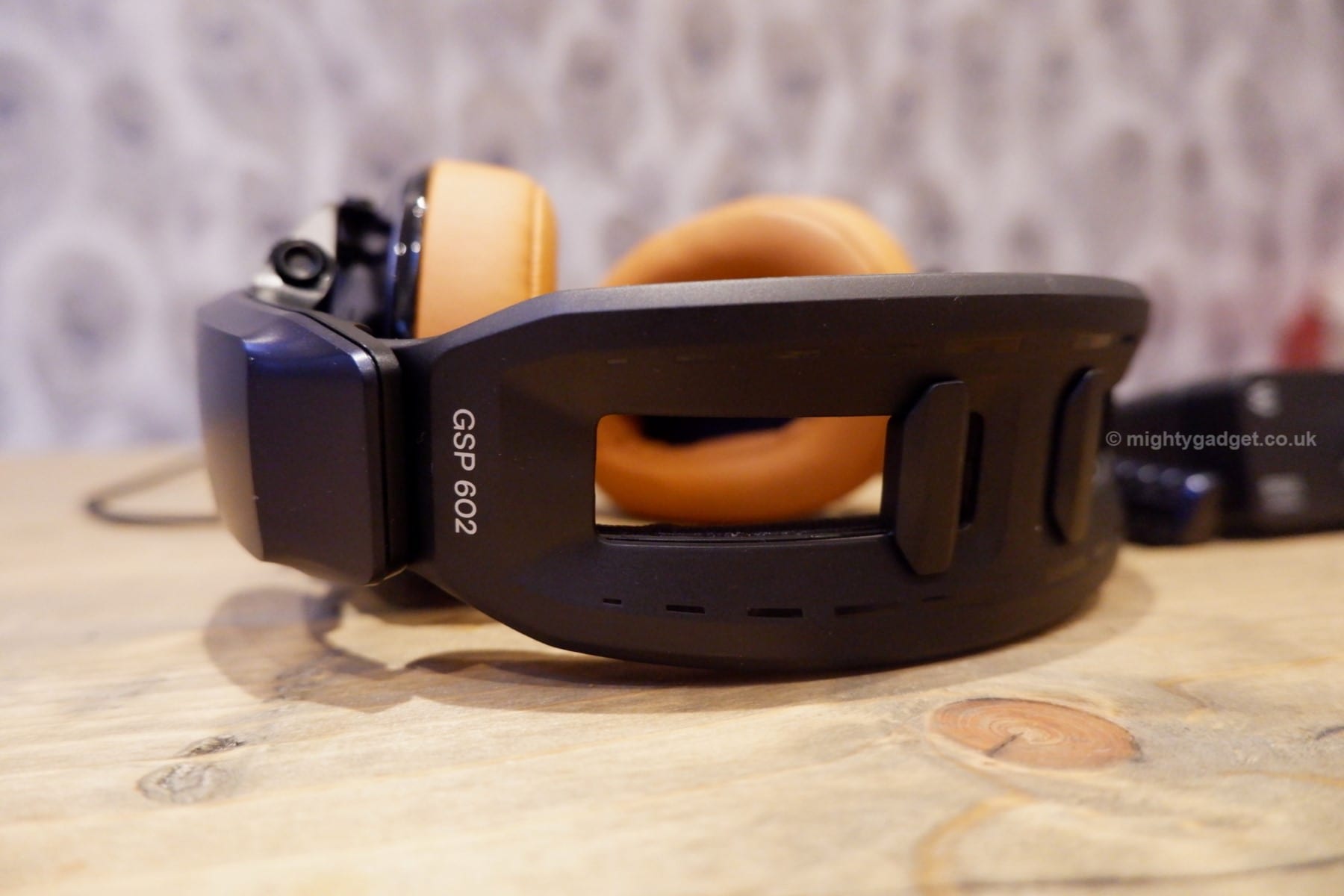 Maintaing a moderate amount of tension, these earphones offer some of the best passive noise isolation I have used to date. This also helps improve the overall quality of the bass.
Comfort is good too, one of the reasons why I don't wear gaming headsets often is that I find my head and ears start to become a little achy over long periods.
Sound Quality & EPOS Sennheiser GSX 200 Soundcard
I predominantly game on the PC, so I paired this up with the EPOS Sennheiser GSX 200. This is a relatively affordable external soundcard, or DAC as is often used nowadays, that offers up to 24 bit / 96 kHz stereo or 16 bit / kHz 7.1 surround sound.
With the soundcard and EPOS Gaming Suite, you can customise the sound with the EQ, either predefined or manually. You can also switch between stereo and 7.1 audio.
You then have various microphone controls such as noise cancellation.
Both the EPOS Sennheiser GSX 200 and accompanying software are basic but functional. I prefer the Creative Sound BlasterX G6, but this is £130 RRP (though £90 currently), if you wanted to move up to a better card from EPOS you are looking at the well regarded GSX 1000 which is currently £149.99 or the top of the range GSX 1200 PRO for £199.99.
Games & Virtual Surround Sound
EPOS is refreshingly honest in their literature, at no point do I see 7.1 or surround sound mentioned on the headphone page. They are stereo headphones that then replicate surround sound using the GSX 200 Soundcard.
The virtual surround sound is good, I am still on the fence about the virtual surround sound concept, I wouldn't say it improves my gaming, but it does give the impression of a slightly more immersive experience. The GSX 1000 or GSX 1200 should offer even better performance.
Gaming audio, in general, is superb, and I found that loosening the tension slider a little made gaming for long periods of time quite comfortable, though this does sacrifice a little noise isolation.
Similarly, the microphone performance is also good. My experience with microphones is limited though, and I think I have used these for Zoom meetings more than I have for gaming, but I have had no complaints with the quality of my audio in meetings
Music
With me using headphones and earphones for music more than other mediums, this is my go-to format for deciding if a headphone is good or not.
I would recommend switching virtual surround sound off for music, as it does not sound as good.
Overall sound quality is excellent, the tight seal and closed acoustics allow the headphones to produce an accurate deep base without being overwhelming or ruining mids and vocals.
Unlike many earbuds I review, there is no harshness in the mids and highs, even at higher volumes, I think the physically larger drivers are better equipped for a wide range of frequencies.  
Movies/TV
Movies and TV is much the same, audio quality is superb, with these being wired, there is zero lag so no lip sync issues. Vocals are clear, and I never had that issue of dialogue being too quiet in normal scenes and action scenes being too loud.
Price and Alternative Options
This is £199 direct from EPOS Audio or from Amazon which is certainly not cheap.
There is an insane number of alternative options none of which I have personal experience with.
Something like the Corsair Virtuoso RGB is cheaper, offering an impressive range of connectivity options including wireless and has with 7.1 virtual surround sound (I assume a DAC is built-in). It even has RGB, and it's cheaper too. However, Corsair doesn't quite have the same sort of audio credentials as Sennheiser.
Similarly, there is the SteelSeries Arctis Pro is compatible with PC and PS4 and comes with a handy chat mix dial to tweak the game and chat audio.
The Sennheiser GSP 370 I reviewed previously has an incredible 100-hour battery life sounds fantastic and is just £168.
For a similar price, you could skip the gaming brands and go for the Beyerdynamic MMX 300
Overall
The GSP 602 is the most expensive headset EPOS Sennheiser currently make with a performance that justifies the price.
The overall look is fantastic (as far as a gaming headset goes), it manages to look both professional and gamer focussed at the same time rather than being gaudy with excessive RGB.
Sound quality is the main thing for me; these work well no matter if you are gaming or listening to music.
While wired connectivity may be going out of fashion, these will befit from being to use a good quality DAC/Soundcard to make the most of the audio while also offering zero-lag audio.
EPOS Sennheiser GSP headphone & GSX 200 Soundcard Giveaway
EPOS has been kind enough to send me two sets of headphones/soundcard so I can give away one.
The second set is the white GSP 601 and GSX 300 snow edition. This set is unused, but if for some reason you must have the 602 and black GSX 300 I have happy to send them out (though they are lightly used).
UK entries only please, I am too tight-fisted to post abroad.
Posted by Mighty Gadget Blog: UK Technology News and Reviews