It is safe to say that the home security camera market is a little saturated nowadays. Things seemed to escalate quickly when cheap IP CCTV cameras came to the market, and I still use the Ezviz EZ-C3S-Wi-Fi today. Once companies like Arlo introduced wire-free solutions, the market boomed, it was now affordable and easy to install your home CCTV with no DIY skills at all.
To remain relevant companies have expanded their options to
include a variety of features. Doorbell cams such as Ring are a recent trend, 4K
cameras are becoming increasingly popular, plus AI object detection, I suspect
floodlight cameras are another style that is going to become increasingly
common over the next few years.
To date, I have reviewed the battery-powered Ring Spotlight Cam, which is good if you can place it somewhere to avoid false positives, otherwise it will drain the batteries quickly. One of the earliest floodlight cameras on the market is also one of the best, the Netatmo Presence stands out thanks to its object detection, but the build quality of the bracket is so so, and the floodlight can't quite compete with the style that this camera uses, or the Ring Floodlight.
The Ezviz LC1 is a new contender, it has a suspiciously
similar design to the Ring Floodlight, with two directional floodlights to the
side and the camera in the centre. Similar to both the Ring Floodlight and
Netatmo this needs wiring into your home lighting. Its large floodlights would
eat through a battery in days if not hours. This makes the installation a
nightmare compared to battery-powered models, or even USB, but once it is done,
it is maintenance free and will be a superior solution to battery equivalents.
Priced at £199 it is not cheap, but it is less expensive than both the Netatmo and Ring equivalents. Furthermore, unlike Ring, there is no requirement for cloud recording, so the long-term costs should be considerably lower. There is a cloud recording option if you choose, and this will set you back £4.99 per camera for a 7-day plan which is quite expensive. Ring costs £2.50 per month for 30 days for one camera or £8 per month for unlimited.
£199.99
in stock
6 new
from £199.99
Amazon.co.uk
Free shipping

Last updated on 11th July 2019 6:38 am

Build Quality & Set-Up
As mentioned, compared to a battery-powered camera, getting
this installed is orders of magnitude more difficult. If you have an existing
outdoor camera, it will be a lot easier, if not, you are going to have to drill
holes through walls and run cable, so for most, a professional will be
required.
Thankfully I had a very old PIR floodlight that needed
replacing. It still wasn't easy; I am useless at DIY, so I needed the help of a
more competent friend.
Inside the packaging you get all the screws you need, including plugs and screws for the wall itself, however, this is designed for the cable to run into an external electrical junction box and this is not supplied with the packaging. While it was annoying having to supply my own junction box, it made the installation a little easier than the Netatmo which uses a loose-fitting plasticy back box of its own.
The camera itself is actually very well made, it feels far
more robust than the Netatmo and the Ring Spotlight. The two floodlights have
multiple adjustments allowing you to point them in any direction. The camera
and PIR itself can be pointed in various directions too.
When setting it up, I would strongly advise you to make sure
a microSD is installed first. I didn't and slotting the card in after
installation is very awkward.
Once everything is installed, you will need to set the
camera up via the Ezviz app. This was quite a quick process for me, and it is
similar to many other cameras where you need to pass the Wi-Fi credentials
over.
As always for security cameras, this uses the 2.4Ghz network, which is good for range but bad for bandwidth. So far, I have had no issues with this, though.
App
The Ezviz app is the same as the one used for the IP CCTV cameras, so all my cameras were available, which was a pleasant surprise. You can also include Hikvision cameras within this app, which I have done with the DS-2CD2142FWD, though you don't get the same preview options on the main screen.
Each video feed is encrypted using the key on the side of
the camera, and this can also be changed. So, this is quite a bit more secure
than some of the cheaper models. It should also mean that any nosey employees
at Ezviz won't be able to access the feed, which sadly, was not true for Ring
in the past.
There is one major floor with the mobile app. It is missing
some crucial settings to get this working accurately. Specifically, you can't
modify the motion zones, which inevitably means you end up with the camera
recording almost constantly. This is not good for your bandwidth or the health
of your SD card, and it is annoying if you ever need to find an important
event. You can, however, change it via the Windows application under settings,
device information and motion detection area. It uses a square grid, so the
motion zone control is more granular than some other brands. However, you can't
control the sensitivity, so it is prone to a lot of false positives, due to
this I have the notifications switched off.
Strangely, while the motion zones have no object detection or settings in the main app. You can adjust how the light works based on objects. It will only light up if it detects a person or animal. On the one hand, this is great, it stops you light going off all the time at night, but it seems odd not to use this for motion recording and notifications too.
From what I can tell this does not have onvif/RTSP so you can't import it into the likes of Blue Iris, but it will work with an Ezviz NVR. At least, when I scanned my network I couldn't find the correct IP so adding it into Blue Iris was not possible, nor would the software discover it automatically.
It is possible to set up 100 dB audible alerts from the camera, but as I live in a residential area, I chose not to use this as I would prefer to keep my neighbours friendly.
Performance
I am surprised how quickly this connects to the live stream; it feels almost as fast as a wired connection. It also manages to maintain the live stream connection with few issues. This, therefore, allows me to leave the Ezviz windows app open on one of my side monitors while working (I mainly use this to make sure I don't miss deliveries/pickups). In comparison, I still use the Netatmo and that is considerably slower and normally takes a little longer to establish an HD feed.
Video footage is excellent. 1080p is more than enough to
make out features of any uninvited person on your property. My high placement
and the wide angle mean that this camera covers the entire (small) back garden,
as well as the road and the front gate to the side. Garage thefts are common
around here, and this easily covers anyone trying to gain access through the
door.
My garden is reasonably well lit, there is a streetlight nearby so it is never pitch black. Nighttime footage is also clear and easy to make out people and objects. When the flashlight lights up the camera doesn't switch off night mode, so the footage recorded is still black and white. In my case, as there was decent lighting, the difference between footage with the light on, and off, is not that different.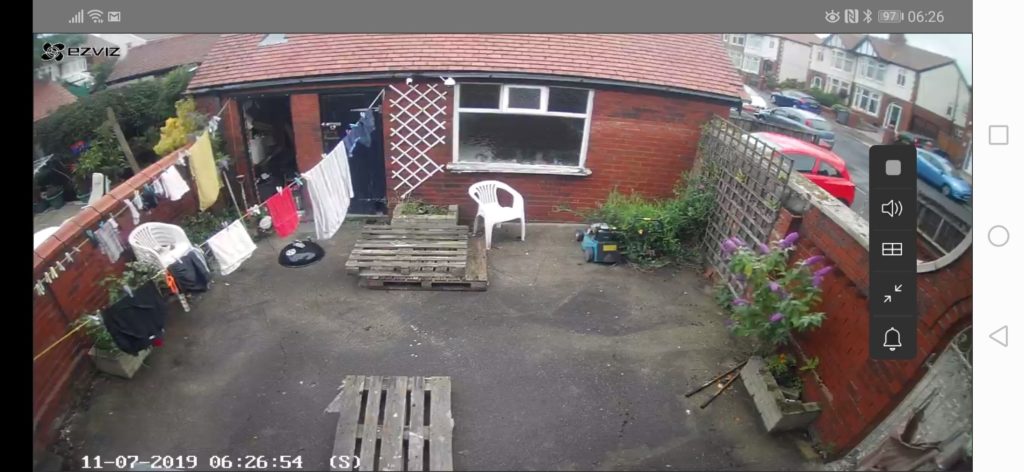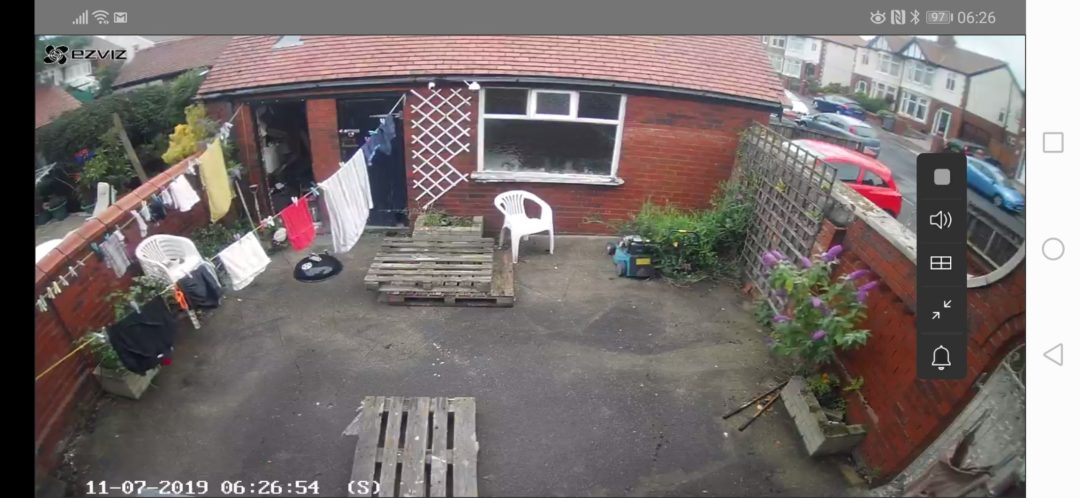 The floodlight is very bright though, it works exactly how you want a flood light too, I had spots in my eyes after looking up and triggering it, it easily lights up my whole back garden.
Light off

Light on
Conclusion
From what I can tell, there are three proper flood light cameras on the market. This, the Ring Floodlight and the Netatmo Presence. All three have their strengths and weakness, though I have only reviewed two of them.
Compared to the Netatamo this has fantastic build quality, much superior lighting, a quicker app/camera connection that also has a nicer design, albeit lacking some config options. It is also the cheapest option on the market if you opt for local storage, which is always a big plus for me. However, for cloud storage, the Ring is cheaper, and you want that, you should think about the long-term costs of each choice.
Ezviz has a wide range of cameras too, so it is more feasible to build a home surveillance system under one brand/app than it is compared to Netatmo.
Neither Ring or Netatmo offer any form of network video recording, whereas you can with Ezviz products with their EZVIZ ezNVR. I have not used this device, but it should be a superior solution to recording to a microSD.
While the Netatmo doesn't have the same control over motion zones that this does, it has vastly more accurate notifications thanks to AI object detection, to date, I have not had a false positive for notifications. Though it does sometimes think a rosebush moving in the wind is a cat.
Overall this is a superb camera, the floodlight feature is
fantastic, and it easily lights up my entire back garden at night-time. Video
quality is good, and access to the live feed is both quick and maintains
connection well. With competitive pricing, this is well worth considering if
you want the increased security a floodlight offers over a normal surveillance
camera.
Post from: Mighty Gadget – Gadget and Technology Blog