With rumours and leaks for the new Garmin Fenix 6 ramping up in the past week I thought it would be worth comparing what we know or suspect will feature in the new Fenix models in comparison to the closest Garmin rivals, the last generation Fenix 5 Plus, and the most recent Forerunner 945.
News of the Garmin Fenix 6 started last Sunday following a YouTube leak of some renders. At the time they looked a bit questionable, but since they takedown notices have been issued, then photos of the Fenix 6X Pro leaked, and an Amazon listing for the Fenix 6X Sapphire briefly appeared.
As no official information has been released about the Fenix
6, this is all speculation at the moment. I will update the post as more
information comes in.
Fenix 6 Series Models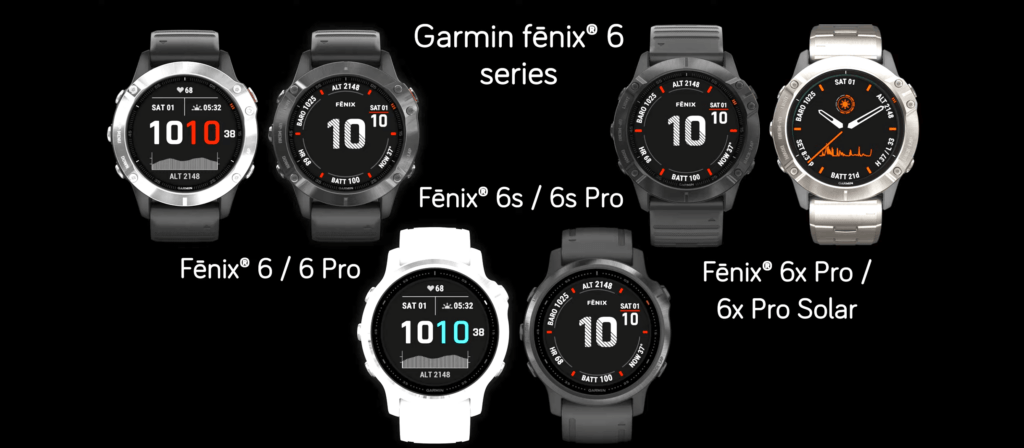 Assuming all the leaks are correct, there could be a range
of new models that were not featured on the Fenix 5 series.
The product line-up includes:
Garmin
Fēnix 6 / 6 Pro
Garmin
Fēnix 6s / 6s Pro
Garmin
Fēnix 6x Pro / 6x Pro Solar
The Amazon listing showed two 6X models, the 6X Sapphire and 6X Sapphire Solar. There was no mention of
Pro models. The leaks didn't indicate a non-pro 6x, this could be an omission,
it is an odd or stupid naming scheme to have Pro models but then no standard
model.
The current line-up has Sapphire models for each edition, so
one theory (I have) could be that the Pro is supposed to be Sapphire.
Another guess could be that the Pro models might indicate
something like LTE, but that is pure speculation on my part.
Design
Current 5X Plus with smaller screen and thicker bezels

Fenix 6X Leaked Image
From the three leaks, it appears that Garmin is keeping the basic design almost identical to the Fenix 5 Plus series. The Amazon listing does indicate that the 6X will have a 1.4" display up from 1.2" of the Fenix 5 series which should help with readability and improve aesthetics. It is believed that the Fenix 6 will have a 1.3″ and 6S a 1.2″ display. The result of this is a noticeable difference in screen real estate with the there being much less dead space of the newer 6X.
The images we have from the leaks are hardly exceptional,
but there are no other dramatic design changes.
The screw features are in the same place with two screws
near the activity button, then singular screws to the bottom right, bottom and
top right.
The one design difference that I can see from the live
images of the 6X Sapphire is the layout of the numbers and design around the
dial. There is a white line indicator at 0,20,40,50mins and a triple red line
at 10 mins. The current 5X Plus has a single red at 0 then number for the
others. Not exactly a significant design change.
Obviously, in comparison to the FR945, the design is very different.
The Fenix range is much more adaptable for casual use, I particularly love the
Fenix 5S design. This does come at the cost of weight though, and the 5S weighs
64g while the FR945 weighs 50g. The 5X Plus then goes up to 96g.
Heart Rate Monitor
The Forerunner 945 is the watch that will closest resemble
the Fenix 6 in features or the MARQ for rich people. So it is a given that the
Fenix 6 will replicate all the features that the FR945 has.
This, therefore, means the watch will have at least been upgraded
Elevate optical HRM sensor + Pulse Ox (SpO2).
One rumour is that an ECG might be included, there is not a
great deal of evidence to back this, but it would help differentiate it from
the FR945 and also bring it in line with features from Apple and Polar.
GPS
As with the FR945, it is expected that the Fenix will
upgrade to a Sony GPS chipset which should result in lower battery drain.
Multiple satellite systems will also be supported (GPS, GLONASS,
Galileo).
Maps
The 5 Plus series included full-colour TopoActive Europe
mapping preloaded with map data optimized for at-a-glance navigation and location
tracking, as did the FR945, so the Fenix 6 will have at least this.
FirstBeat Features
The table below shows a full feature list of the FR945 vs the current Fenix 5 and 5 Plus, I also threw in the Fenix 3 HR just to show how far things have come.
| | | | |
| --- | --- | --- | --- |
| FirstBeat feature | FR945 & MARQ | Fenix 5 & 5Plus | Fenix 3HR |
| | | | |
| VO2max Fitness Level | Yes | Yes | Yes |
| Lactate Threshold | Yes | Yes | Yes |
| Functional Threshold Power (FTP) | Yes | Yes | – |
| Training Effect: Aerobic | Yes | Yes | Yes |
| Training Effect: Anaerobic | Yes | Yes | – |
| Real-Time Performance Condition | Yes | Yes | Yes |
| Calories Burned | Yes | Yes | Yes |
| Training Load | Yes | Yes | – |
| Training Status | Yes | Yes | – |
| Training Load Balance | Yes | – | – |
| Workout Labels | Yes | – | – |
| Recovery Time Advisor | Yes | Yes | Yes |
| Quick Stress Level Test | Yes | Yes | Yes |
| All-day Stress & Recovery | Yes | Yes | – |
| Heat and Altitude Acclimatization | Yes | – | – |
| Body Resources | Yes | – | – |
| Race Time Predictor | Yes | – | – |
| Respiration Rate | Yes | – | – |
| Personalized Training Plans: Cardio | – | – | – |
| Sleep Quality Assessment | – | – | – |
| Fitness Age | – | – | – |
| TOTAL FEATURES | 18 | 12 | 7 |
Just like the HRM, we will definitely see all these features
replicated. Garmin has more FirstBeat features than any other brand on the market.
The Suunto 5, does, however, have 3 features the Garmin does not. Personalised training plans, sleep quality assessment and fitness age. Then the Polar ignite offers things like sleep score, nightly recharge, and fitspark, which provides training plans adapted from the quality of your sleep.
As the Fenix 6 is the flagship model for Garmin, I would put
money on this introducing a few new FirstBeat features. Some form of sleep
tracking improvements and maybe personalisation based on sleep makes a lot of
sense to me.
PacePro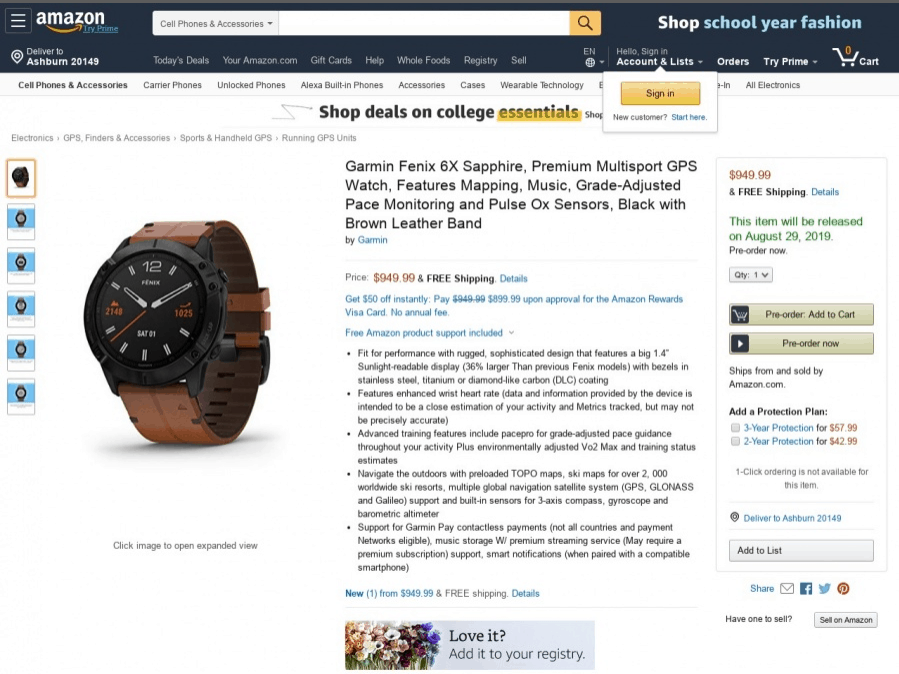 This is the one big feature coming out that we have a bit of
information on. This was from the Amazon listing and was described as grade-adjusted
pace guidance throughout your activity.
While I can't confirm exactly what this, it sounds like an
alternative to power. Your pace will change as you go up and down hills, but
your power output/effort may remain constant (ideally). With PacePro this will
give the reading in the form of a pace rather than watts. So this might be
7mins per mile on flat, then if you run 8 mins per mile on an x% gradient the
PacePro will feedback you are running an equivalent of 7mins per mile.
Battery
At the moment, there is no information on battery life.
The current 5X Plus has 20 days in smartwatch mode and 13 hours in GPS, the leaked Solar images indicate 21 days, and assuming Solar means what everyone expects it to, then the Solar function adds around 5% to the battery life.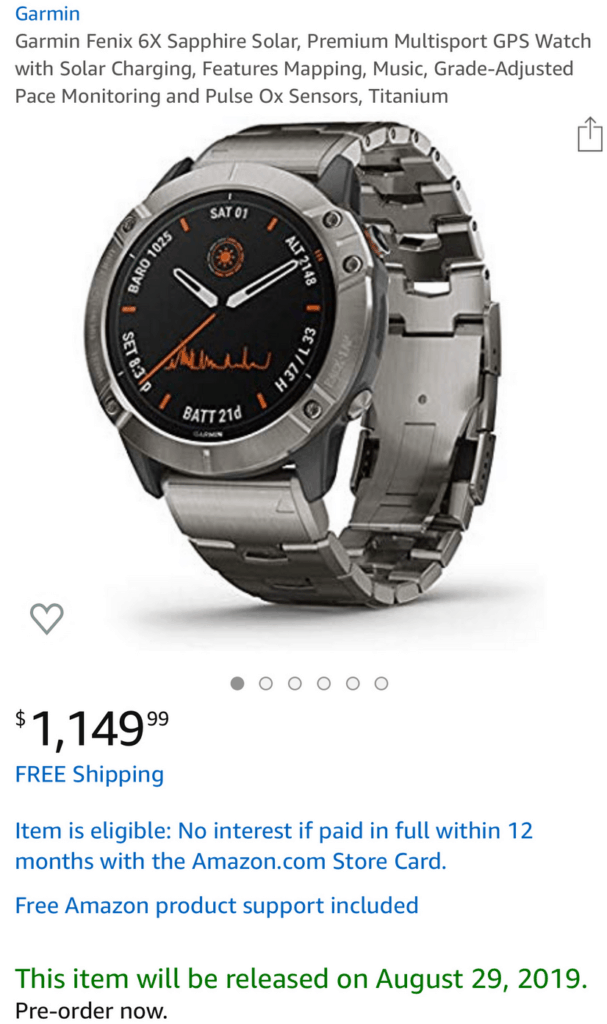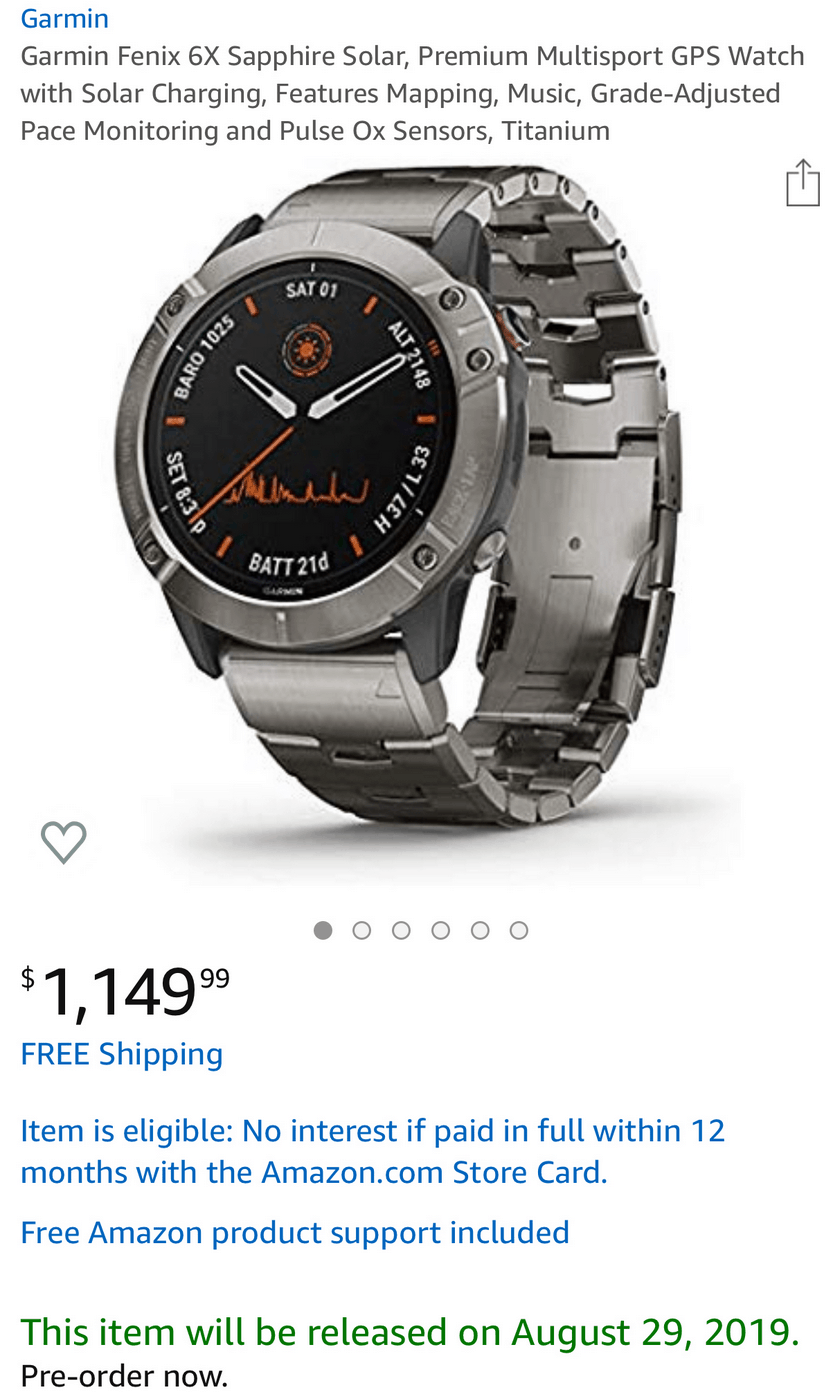 The original 5X had up to 12 days in smartwatch mode
(depending on settings), up to 20 hours in GPS.
The Forerunner 945 has up to 2 weeks in smartwatch mode, 10
hours in GPS mode with music or up to 60 hours in UltraTrac mode
So it would be logical to assume that the battery life will go
upwards. Though the trend for GPS battery life has been going downwards, I
would hope this does not continue.
Display
Lots of rumours have suggested an improved display or maybe
even AMOLED. The current leaks and images indicate no change. The display size
is larger on both the 6X and 6 as previously mentioned. Now at 1.4" and 1.3" respectively
vs 1.2" on the previous models.
The FR945 has a 240 x 240 pixels display at 30.4mm which matches
the 5X and 5X plus.
Going up in resolution does seem like an obvious upgrade,
but Garmin will be quite cautious about the effect this has on battery life.
Smart Features
Currently, there is nothing to indicate that the smart
features will be any different. These will include NFC and music across the
range, plus Wifi and Bluetooth connectivity.
The FR945 has safety and tracking features to make it easy
to share your location with chosen contacts in case you need assistance. This
includes built-in incident detection. So it is a given that the Fenix 6 will include
this.
The 5 Plus series uses 16GB of storage. The FR945 doesn't state
the amount but lists Up to 1,000 songs. A memory upgrade is a possible option,
though I don't see the need, 16GB is a lot of music and maps. Though more
storage is always handy.
Price & Release Date
Things are a little more confusing here. Until the Amazon leak,
I would have bet good money that the Fenix 6 series will be announced at CES
2020 in January. This would have followed the same pattern as previous Fenix
releases.
While I am still inclined to think CES is the most likely,
the recent Amazon leak indicated this month! With a launch date of 29th of
August 2019.
On one hand, this is possible, it is just in time for IFA in Berlin, on the other, it is very off to launch to public a few days before one of the worlds biggest tech shows. They would typically launch at it, with availability days or weeks after the show.
The Amazon leak indicated that the 6X Sapphire would be $949
while the Solar would be $1149. That sounds like crazy money, but these sit at
the very top of the Fenix 6 Series. The current 5X Plus Sapphire sells for $1,049.99
on Garmin USA, so for them to drop the price by $100 is another odd move.
The current base model 5S Plus retails for $599.99, though it launched at $699, and the FR945 is also $599.99. So I would expect the cheapest Fenix 6 to launch at least $699.99 in order to avoid cannibalising the FR945 sales.
Fenix 5 Plus vs Forerunner 945 DCRainmaker Feature Comparison
|   | Fenix 5 Plus | Forerunner 945 |
| --- | --- | --- |
| Lens material | domed chemically strengthened glass or sapphire crystal | Corning® Gorilla® Glass DX |
| Bezel/case material | stainless steel or titanium | fiber-reinforced polymer |
| Strap material | silicone, leather or titanium | silicone |
| Physical size | 47 x 47 x 15.8 mm | 47 x 47 x 13.7 mm |
| Weight | 86 g | 50 g |
| | Titanium version: 76 g | |
| Battery life | Smartwatch: Up to 12 days | Smartwatch Mode: Up to 2 weeks |
| | GPS: Up to 18 hours | GPS mode with music: Up to 10 hours |
| | GPS and Music: Up to 8 hours | GPS mode without music: Up to 36 hours |
| Water rating | 10 ATM | 5 ATM |
| Memory/History | 16GB | 200 hours of activity data |
| Pulse Ox sensor | only 5X Plus version | Yes |
| Connectivity | Bluetooth®, ANT+®, Wi-Fi® | Bluetooth®, ANT+®, Wi-Fi® |
| Plays and controls watch music | Yes | Yes |
| Music Storage | Up to 1000 songs | Up to 1000 songs |
| Garmin Pay | Yes | Yes |
| Body Battery | | Yes |
| Incident detection and assistance | | Yes |
| Gym activity profiles | Strength, Cardio and Elliptical Training, Stair Stepping, Floor Climbing, Indoor Rowing and Yoga | Strength, Cardio and Elliptical Training, Stair Stepping, Indoor Rowing and Yoga |
| Heat and altitude acclimation | | Yes |
| Training Load Focus | | Yes |
| Training Effect labels | | Yes |
| Round-trip course creator | Yes | Yes |
| Trendline Popularity Routing | Yes | Yes |
| Respiration rate during exercise | | Yes (with compatible accessory) |
| Available run profiles | Running, Treadmill Running, Trail Running | Running, Indoor Track Running, Treadmill Running, Trail Running |
| Preloaded with 41,000 courses worldwide, Auto CourseView updates | Yes | Yes |
| Outdoor recreation profiles | Hiking, Climbing, Mountain Biking, Skiing, Snowboarding, XC Skiing, Stand Up Paddleboarding, Rowing, Kayaking, Jumpmaster, Tactical | Hiking, Climbing, Skiing, Snowboarding, XC Skiing, Stand Up Paddleboarding, Rowing, Kayaking |
| Around Me mode, ClimbPro Ascent Planner, Future elevation plot, Preloaded topographical maps, Downloadable cartography support, XERO Locations | Yes | Yes |
| Cycling profiles | Biking, Indoor Biking, Mountain Biking, Triathlon | Biking, Indoor Biking, Mountain Biking |
| Cycle Map (routable cycling-specific street map) | Yes | Yes |
| Advanced Vector support | | Yes |
| Speed and cadence sensor support (with sensor) | yes (ANT+® and Bluetooth® Smart sensors) | Yes |
| Swim profiles | Pool Swimming, Open Water Swimming, Swimming/Running | Pool Swimming, Open Water Swimming |
Post from: Mighty Gadget – Gadget and Technology Blog
Garmin Fenix 6 vs Fenix 5 Plus vs Forerunner 945 – How will the new Fenix compare when released?