Garmin has been a little quiet recently; they are hopefully gearing up for the Fenix 7 launch at some point later this year. However, in the meantime, it looks like the Garmin Venu 2 will launch.
The Garmin Venu appears to have been a big success for Garmin, helping them appeal to more mainstream smartwatch users rather than specifically the fitness crowd. They subsequently followed this up with the more affordable Venu SQ, which ditched the circular AMOLED display in favour of a square LCD.
Garmin Venu 2 & 2S approved for mobile payments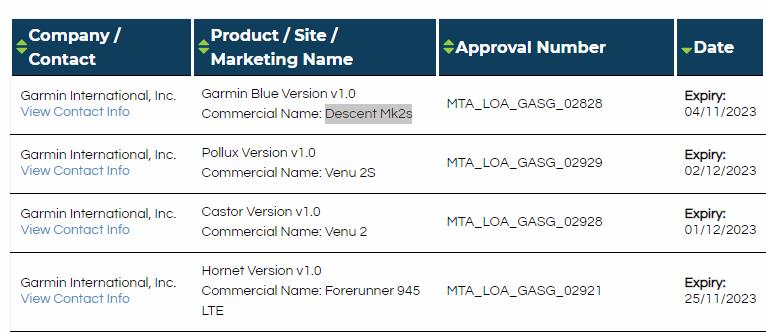 Recently, EMVCo, the company that is behind mobile and contactless payments, published new approval documents for the Garmin Venu 2 and the Venu 2S, plus the Forerunner 945 LTE and Descent Mk2s.
So we know that two new Venu 2 watches are incoming and that they will feature Garmin Pay.
Florian from fitness-tracker-test.info makes several specification claims about the new watches but doesn't state sources, so the information should not be regarded as factually accurate for the time being.
Garmin Venu 2 & 2S Display Size
Based on current leaks/rumours, the Venu 2S will retain the overall design of the original Veny with a 1.2" display running at 390 x 390 and 325ppi.
The Garmin Venu 2 will then up the display size to 1.3" with an unconfirmed resolution.
Garmin Venu 2 & 2S Battery
The problem with AMOLED displays is that they chew through the battery quickly, so it is a relief to hear that the battery life is supposed to be twice as long as the predecessor.
It is claimed that the Venu 2 will be able to achieve up to 10-11 days in smartwatch mode. The current Venu does 5 days then 6 hours with GPS+ Music.
Plenty of reviewers agreed with the numbers for the original Venu. The always on display performance typically is around 2.5 days if you also throw in a couple of activities too.
So if the Venu 2 can achieve 5 days with always-on and a moderate number of activities, this would be amazing.
Garmin Venu 2 & 2S Storage / Music
It is also claimed that the Venu 2 should offer improved storage from the previous model, going from 500 songs to 650.
Fitness Age and Health Snapshot Data Widgets
Garmin already tells you your fitness age based on the VO2 Max, it seems to be a vanity number, in my opinion, but it is nice to know that as I push 40 my fitness age is 20. The new Venu 2 will make access this more user friendly via a widget.
A more useful widget is a new Health Snapshot, which apparently will help with sharing key health data to either doctors or coaches.
I'd expect all this functionality will be introduced to other watches at a later date.
Price and Availability
Current information indicates that we are looking at a launch at the end of April, on the 22nd. As usual, the price will increase between generations, with the Venu 2 launching at $50 higher vs the Venu for $399.99 USD
In the UK, the Garmin Venu has an RRP of £329.99 so I'd expect £349.99 or around that point.
There is no mention on the Venu 2S price.
Posted by Mighty Gadget Blog: UK Technology News and Reviews
Thanks for reading, check out Mighty Gadget Blog: UK Technology News and Reviews for more Tech news!