I have reviewed a few projectors this year, most of them being mini or pico projectors. The GooDee YG620 is not one of them.
This is a normal-sized projector, not being particularly portable at all. However, unlike the bag friendly pico projectors, opting for something larger gives you significantly better image quality and brightness.
Features
1080p, capable of 4K input
7000:1 contrast ratio
Projection size: 50 to 300 inches
Projection distance: 5.6 to 30.2 feet
High-refraction 5-layer glass lens
Built-in 5W speaker
SRS sound system support Dolby
Keystone correction
Ports: 2 HDMI, 2 USB, VGA, AV, Audio out, and Micro-SD card
Remote Control
Set-Up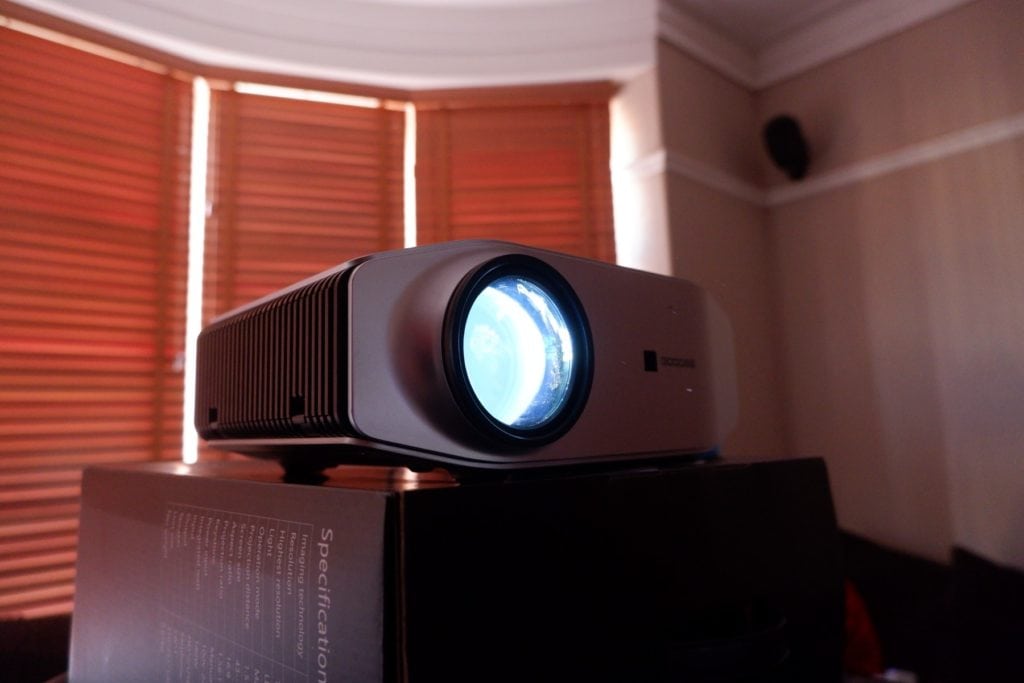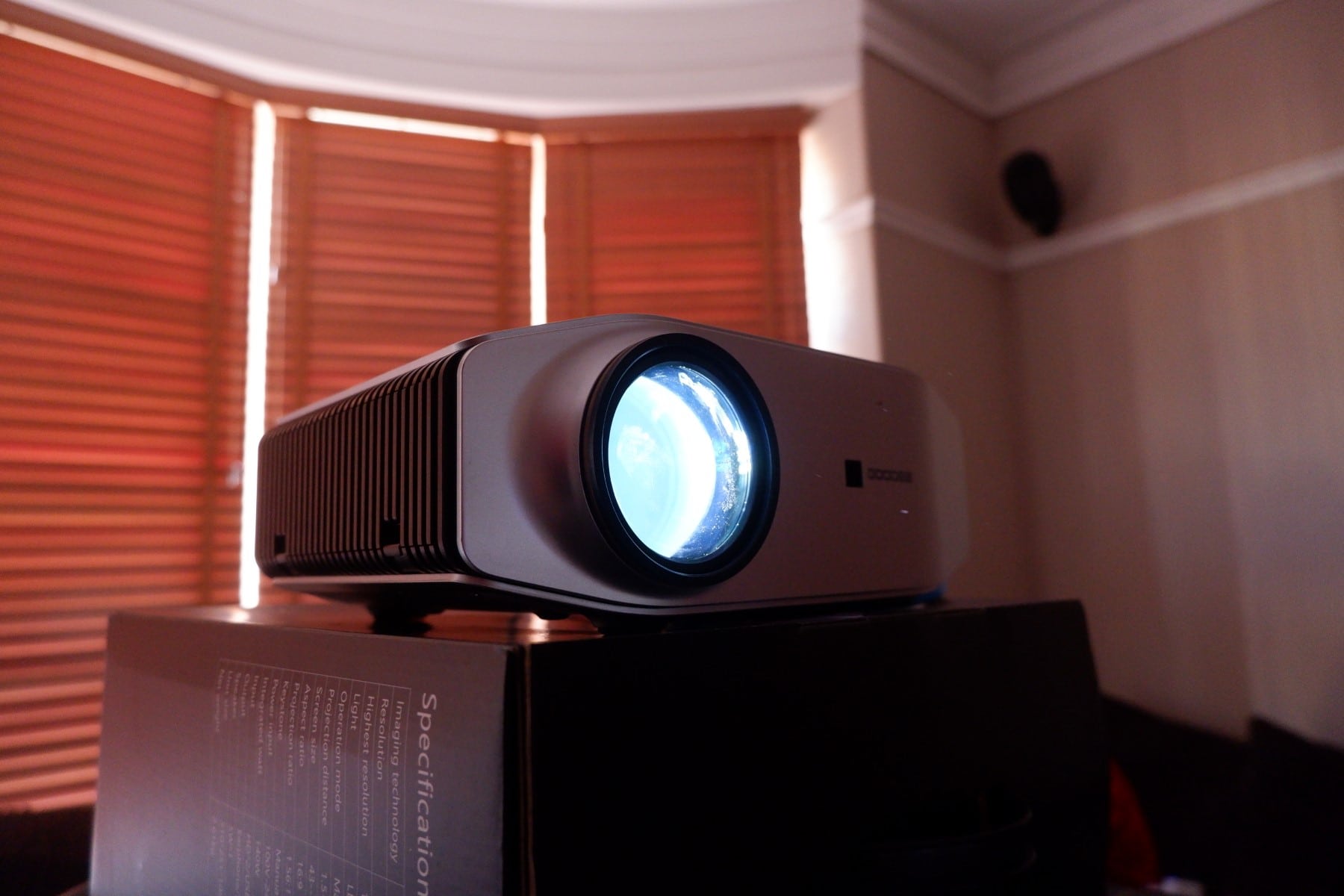 Most of the pico projectors I have reviewed offer various automated features to optimise your image, you can adjust the throw distance, they have automatic keystone correction and automatic focus.
This has none of that. You have to manually adjust the focus and keystone yourself. While this is not ideal, it is not particularly hard to do. With this being a full-sized projector it is quite likely users will be mounting it in a fixed position, so in this case, once you set it, you won't need to touch it again.
I didn't realise this has a built-in prop to angle the projector upwards from a table. I had to awkwardly balance the projector on top of a table then stool. There is a little black button on the bottom which then pops out a small stand.
The projector can play files directly from the USB, however, it also has HDMI so you can connect something a little more advanced. In my case, I opted to use my laptop, but if I had this set up permanently, I would use my Nvidia Shield.
Performance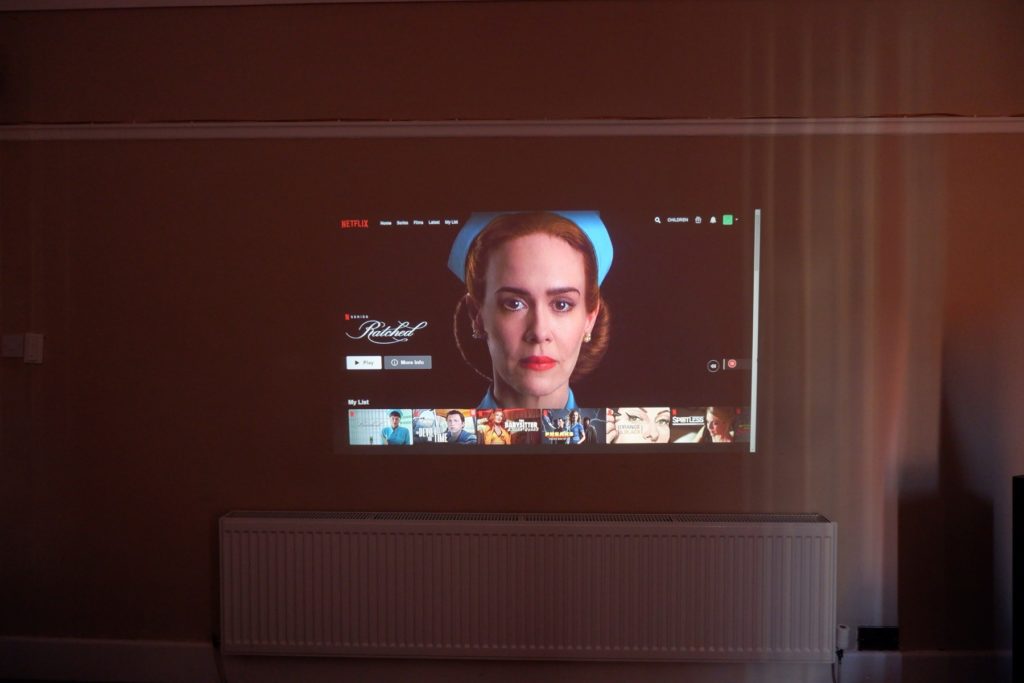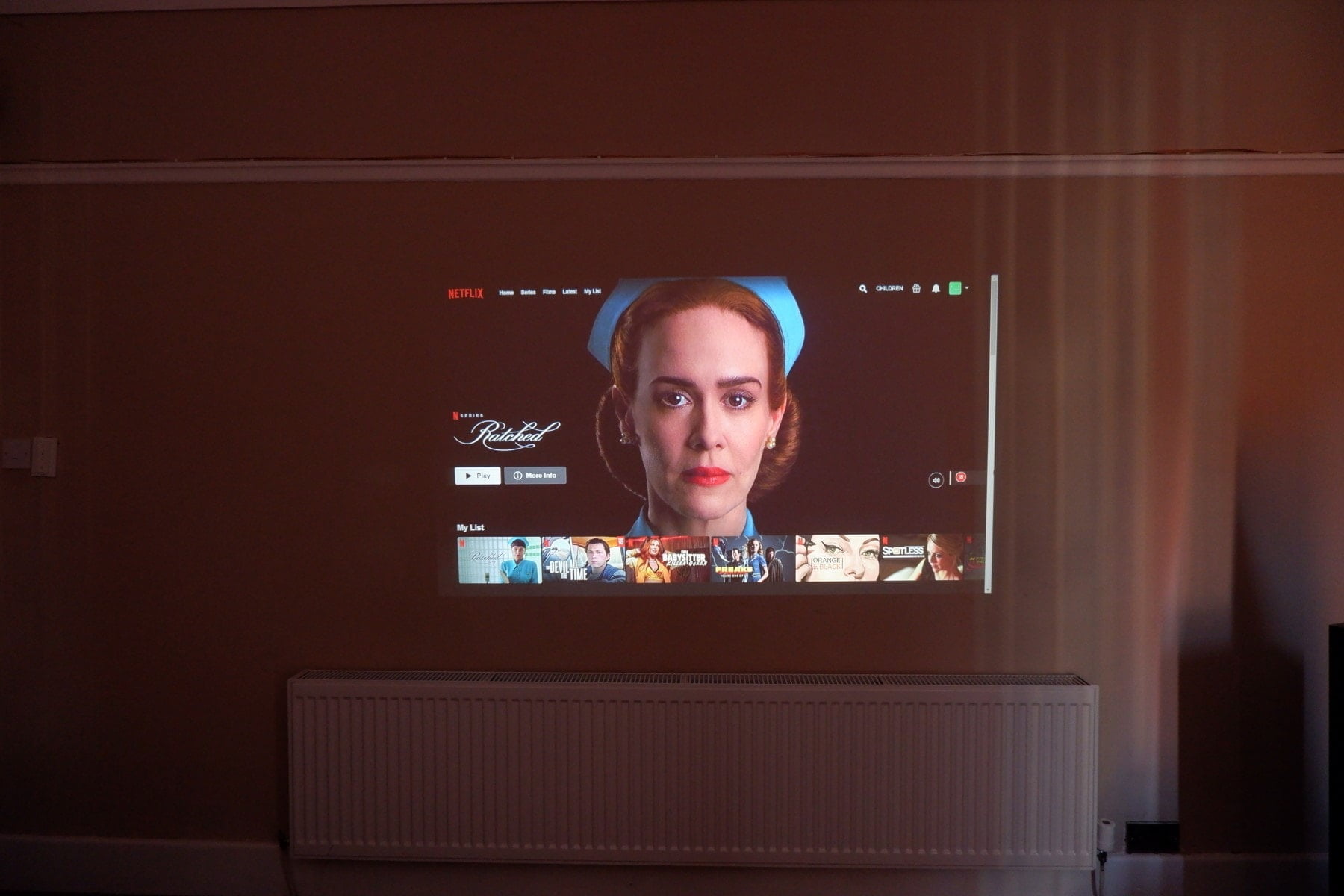 While the size of this projector and manual focus options are not particularly appealing over my smaller projector reviews, it makes up for it in picture quality.
I am in no rush to replace my Sony AF8 OLED TV but this outperforms the smaller projectors by a significant margin.
For a start, it is 1080P vs 480P of the Vankyo Burger and 720P of the Nebula Capsule II. So the quality and clarity of the image is improved exponentially.
Then this is rated as having 6800 Lux with a high contrast ratio of 5,000:1. It is a little harder to compare specs here as each company uses different numbers. Many use Lux, which is the amount of light emitted from the source, while Lux is the amount of light landing on the surface. Lux is a variable based on the distance to the wall, the closer it is, the more light lands on the wall.
However, even with the confusing numbers, this easily produces more light than smaller equivalently priced projectors. I don't have another full-sized projector to compare, so I can't comment on how it does vs other models.
Overall, what this means is, that I can get a decent picture in relatively light conditions. With my blinds and doors fully shit but bright outside, I can get a watchable image.
The speaker works OK. Confusingly, the product page indicates a built-in 5W dual speaker, but the side of the box indicates just one 5W speaker, and when in use, I am pretty sure the sound comes from just the left of the unit.
The quality of the sound is OK, though. However, the fan noise is loud enough that I wouldn't want to watch anything using the built-in speaker for a prolonged period of time. You need to pair this up with some louder and superior speakers.
While I used HDMI for the input, it does support files from USB or microSD. The formats it supports is:
Audio support: MP3, WMA, OGG, AAC, FLAC, APE, WAV
Photo support: JPG, BMP, PNG
Video support: 3GP, AVI, MKV, FLV, MOV, MP4, MPG, VOB, RMVB, RM
Text support: TXT
Transferring files to a USB is more hassle than just playing directly from ym device, so this is something I would be unlikely to use.
However, the medial playing support and built-in speaker make this an appealing option for business use and presentations.
Price and Alternative Options
This is currently $269.99 on the GooDee website with a coupon for $39 off, taking this down to $230.99 which works out as £179.
This is roughly the same price as competing options on Amazon. Both Elephas and Vankyo have projectors with almost the exact same specification as this. I expect that the hardware is identical being Whitelabel that is packaged up unique to each company.
Overall
This is very different from the increasingly popular pico projectors on the market. It offers a vastly superior picture quality, and the lux levels are bright enough that this can produce an adequate quality image in daylight with all my blinds closed.
However, there are lots of caveats. The throw distance is not adjustable, so if you want a big image, you need to set it as far back as possible. You need to manually adjust the image too, this is fine if it is being mounted in a fixed spot, but may get annoying if setting it up every time you use it.
The fan noise is very loud too, home users wanting to watch a movie should skip the built-in speaker and opt for something more powerful to drown out the noise.
The speaker itself is OK though and is a handy option if you are using this for presentations.
Overall, this is a decent projector, it is a good choice for anyone looking at setting up a proper home theatre on the cheap. You will benefit massively by fix mounting this, ideally at the back of your room, and pairing it up with a semi-decent speaker set up.