I was first made aware of Goodram when they asked me to review the IRDM 3200Mhz DDR4 SODIMM Laptop Ram. While this may be a lesser-known brand, they have been manufacturing RAM and storage for many years now, being the largest IT companies in Poland.
They are popular with PC builders, such as Chillblast and recently, they have started to make moves into getting their products into more UK homes with a relationship with Intec Systems, who will act as a distributor.
At the time of writing, there is not much/any availability of this NVMe drive in the UK, but this should hopefully improve in the coming months.
Specifications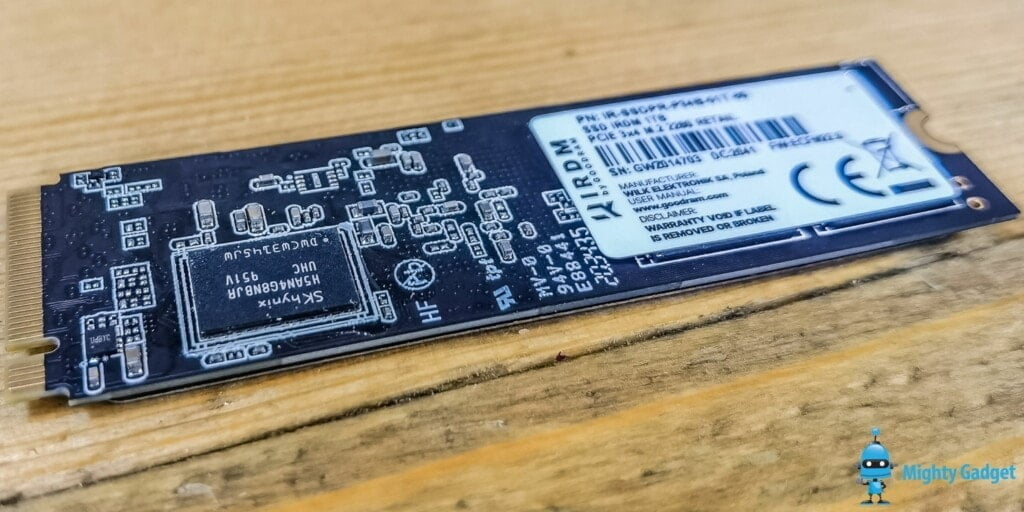 This uses 3D-NAND TLC with DRAM cache (Sk Hynix H5AN4G8nbja DDR4-2400) it then uses a Phison PS5012-E12 is a dual-core eight-channel 28nm controller with 667MB/s throughput per channel
The caveats to the performance with this drive is that the SLC cache boosts the performance; when this is full, the performance will dip.
Design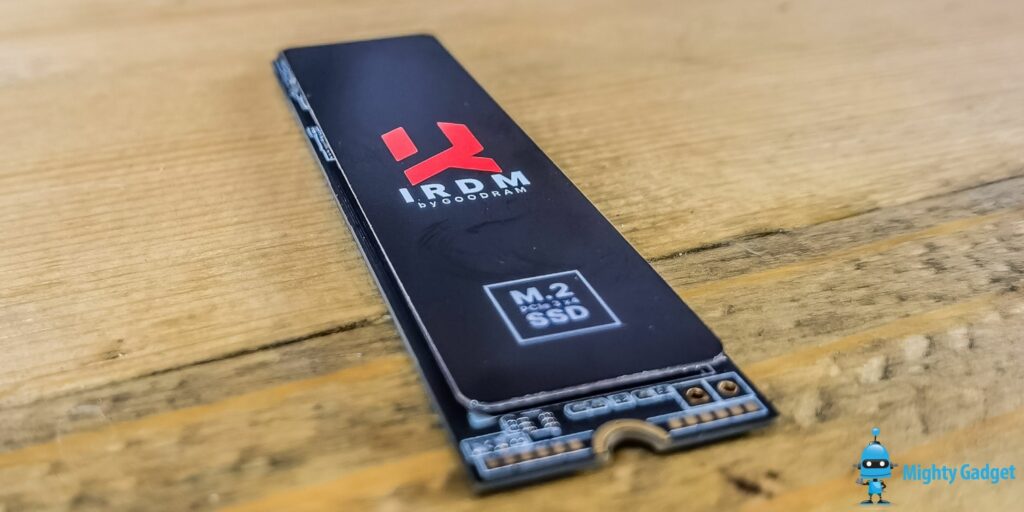 One of the things that differentiates some premium NVMe drives is the inclusion of big heatsinks. This does not have one. It does have a thin heat-dissipating plate, and in my scenario, this works out for the best, my motherboard has built-in plates.
Performance
My system consists of:
AMD Ryzen 7 5800X
MSI MEG X570 UNIFY
Kingston KC2500 1TB NVMe M.2 SSD
Zotac RTX 3080
CrystalDiskMark
In CrystalDisk, this benchmarks with superior results vs the Kingston KC2500. The sequential results are close enough together that I wouldn't say either is better or worse. However, for the random 4K read/write results, you are looking at around double the performance.
ATTO Disk IOPs
With ATTO Disk benchmark the IRDM offered some significant advantages over the KC2500 in some tests. In particular, the IOPs was far greater than the Kingston, as were the write speeds for most of the test. However, the read speeds capped out a 2.88GB/s while the Kingston went up to 3.26GB.s
ATTO Diskmark Transfer Rate
Anvil Storage Utilities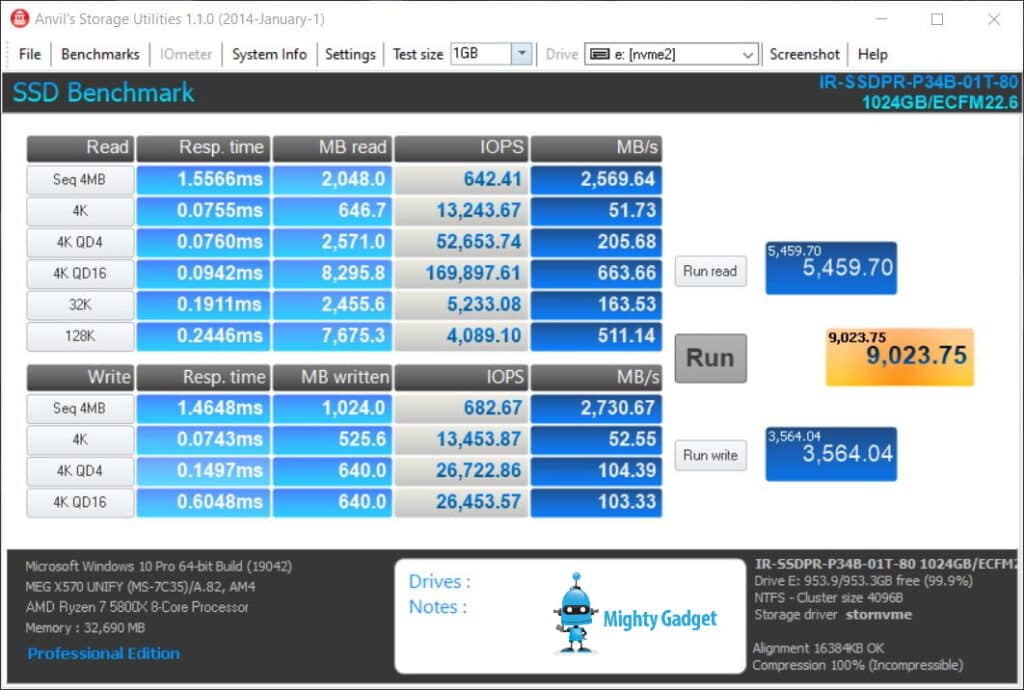 In Anvil Storage Utilities, the results were mostly similar to Kingston KC2500 in the read performance. Still, in the write performance, the more expensive Kingston KC2500 offers quite a bit of an advantage with the 4K test results.
Final Fantasy XIV benchmark
Running the Final Fantasy XIV benchmark to see how the Goodram drive can benefit load times.
For the IRDM this scored 17868  in total with scene load times of::
Scene #1: 1.216 sec
Scene #2: 3.004 sec
Scene #3: 3.231 sec
Scene #4: 1.992 sec
Scene #5: 0.99 sec
Total Loading Time: 10.433 sec
Then the Kingston KC2500  achieved a total score of 20020 with:
Loading Times by Scene
Scene #1              1.736 sec
Scene #2              2.383 sec
Scene #3              2.899 sec
Scene #4              1.843 sec
Scene #5              1.011 sec
Total Loading Time          9.872 sec
So again, a touch behind the Kingston KC2500 overall but each drive offer superior load times in different results. I doubt you would notice much real-world difference, I am certainly not going to be upset by a scene loading at 1.7 seconds vs 1.2 seconds.
Software
Goodram has its own software to manage firmware, monitor the drive status and handle disk cloning. It is surprisingly well designed.
Price and Alternative Options
Similar to my RAM review, the main issue with the Goodram IRDM is availability. Goodram state a suggested retail price of between £90-92, but I can find nowhere close to that price. Polish buyers (where Goodram are based) have a few choices around 545 zloty, so about £100.
Intec Microsystems are their UK supplier, but they seem to be distributors only, not offering direct sales.
If we pretend it was available for £100 in the UK, alternative options include
The Kingston KC2500 was around £220 when I reviewed it, but this is now just £124 currently on Amazon. So while this offered improved performance in some tests, it is roughly 25% more expensive.
The ADATA XPG SX8200 Pro 1TB is just £95 and has a similar rated speed as the Goodram.
The WD_BLACK SN750 1TB is about £110 and offers slightly higher read speeds.
Goodram 1TB IRDM M.2 NVMe SSD Review Summary
The Goodram IRDM M.2 NVMe SSD is much more impressive than I was expecting, as a lesser-known brand and an affordably priced NVMe, I had low expectations.
The drive offered superior performance in many tests than the Kingston KC2500 but also fell behind in others. Based on the suggested retail price of this drive vs the current price of the KC2500 you are looking at 25% premium for the Kingston, which therefore makes the Goodram IRDM M.2 drive a very appealing alternative.
Goodram 1TB IRDM M.2 NVMe SSD Review Rating
Overall
Posted by Mighty Gadget Blog: UK Technology News and Reviews
Thanks for reading, check out Mighty Gadget Blog: UK Technology News and Reviews for more Tech news!