Towards the end of last year, I went down a rabbit hole of indoor air quality, from how to monitor it to how to improve it. After years of suffering from congestion issues, proactively attempting to improve the indoor air quality of my home has improved my breathing considerably.
Vacuum cleaners play an essential role in improving your air quality, apart from removing the obvious dust and grime that builds up on the day to day, a good vacuum cleaner will help reduce mites, pollen, dander and mould.
Halo Capsule Specs
Power: 120 Air watts
Run Time: 3 modes: Eco, Performance and Boost. Eco mode runs at 60mins & 25 mins in performance mode
Capacity: 1.6 litres of dirt capacity up to 4x more vs other brands
Weight: 2.6kg
Filtration: 4 layers of filtration to filter up to 99.97% of 0.5-micron particles, leaving nothing but clean air behind in your home.
Sustainability: 2-year warranty that includes the battery and ReFresh charged at £79.99 which includes new battery, new filters + general clean and service
26 dust pouches included which should last 1 year. Currently, 52 dustpouchers are sold for £27.99
Halo Capsule Features – What is so good about it?
While the trend has shifted towards bagless vacuums, Halo has adopted a different methodology. The Capsule uses disposable bags, which may seem shocking in a world where we are finally trying to reduce our waste, but the Capsule uses biodegradable, eco-friendly cleaner bags.
The benefit of using a bag is that you don't end up releasing a large number of indoor air pollutants when emptying it. For many people, this may not be a serious issue, but for anyone with severe allergies or asthma, this can be very problematic.
By using bags, there is less maintenance on the vacuum; you don't need to unclog it, clean or replace the filters.
Then, the Halo Capsule main body is made of carbon fibre rather than cheaper materials, this allows them to have the thinner more lightweight body with a total weight at 2.6kg making it one of the lightest full-size cordless vacuums on the market
Build Quality & Putting It Together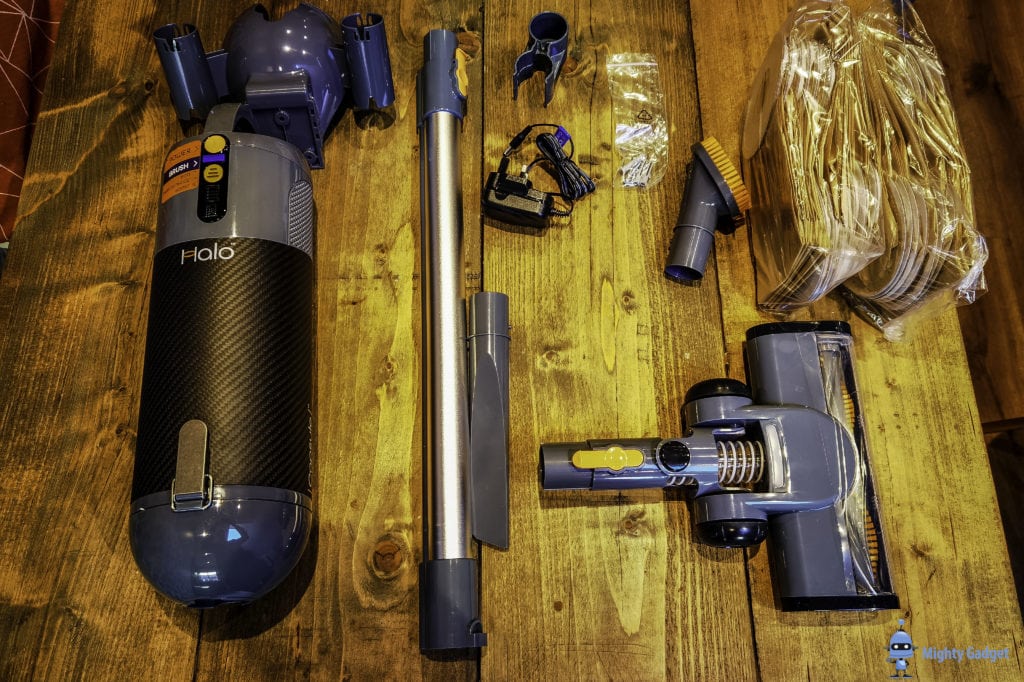 Assembling the vacuum a simple task, it is basically three parts, the main body, the wand and the attachment, they all clip nicely into place.
Build quality is superb, the main body is carbon fibre, but everything else is plastic, and I assume aluminium for the wand.
You then place the bag into the cavity of the body then flip over the lid and close it. It is considerably easier than trying to change a bag on my Vorwerk.
In Use
This is my first decent cordless vacuum, I am a bit fan of robotic vacuums to keep on top of the day to day mess, then I have used the incredibly expensive Vorwerk Kobold VK200 for more thorough cleaning. The Vorwerk is superb, but it is big, heavy and has a cord, which inevitably means I don't vacuum as much as I should because it is a faff getting it out and having the cable catch on everything.
The immediate thing you will notice about this is how light it is making it incredibly easy to move around and do all the awkward spots of your home. In particular, vacuuming the stairs took no time at all, I then even used it to clean up the growing number of spider webs that had been amassing in the corners of our ceiling. We live in an old house with tall rooms, but lifting the Halo up to shoulder height proved to be no problem at all (both for myself and partner).
The Halo Capsule is not technically the lightest on the market if you look around you will find the likes of the Dyson V7 Animal which costs the same as this and weighs just £249.99. It is well-reviewed but has a smaller dust capacity, shorter run time and lower power. While I have not used it, the specification of the two vacuums seems to favour the Halo Capsule for performance per £.
This vacuum has three modes, then you can also have the brush powered or off. The lowest setting felt underpowered, and the highest setting I would say is over-optimistically rated at 25 mins, I would guess closer to 15 mins. The medium setting proved to be a sweet spot providing over 30 mins run time with enough suction for most scenarios.
Cleaning performance is generally excellent, it easily outperforms a robotic vacuum. With the performance mode it has a strong suction which I have found can compete with some corded vacuums I have used (not the Vorwerk on high though).
The 4-layer filtration system only goes down to 0.5-micron particles which is why you don't see them making claims of it being a HEPA filter, which would go to 0.3 microns. However, I have not noticed any perceived differences between this and HEPA filters on other vacuums and the benefits of a bag outweigh this minor negative.
Emptying the Halo Capsule is pleasantly mess-free and well thought out. You will want to remove the accessory attached, but then you just pop the lid open and let the dust pouch slide out into the bin. You should be able to get away with not touching it at all, because all the dust is in the bag it doesn't fly out everywhere, so I am not struggling to breathe after inhaling a face full of dust.
I have not had it long enough yet for the rollers be clogged up with my partners hair, however you can't remove the roller from its housing, you instead need to cut away through a groove that runs around the roller. It is not ideal, but it should work ok.
Price Alternative Options
This is currently priced at £249.99 on Amazon, and you can get it for the same price on the official Capluse website but with 52 bags vs 26.
The cheapest Dyson is the Dyson V7 Animal which is the same price as this and is lighter, but generally a lower spec, its run time ranges from 6 minutes to 30 mins.
The Dyson range then quickly increases in price with the V8 being £350, V10 £400 and V11 £500. So the Halo Capsule is favourably priced compared to the market leader.
Everyone loves a Shark nowadays. The most affordable is again the same price as the Halo, run time is decent enough at 16 minutes to 40 mins and has an innovative, flexible wand to make getting into awkward spots easier. The main downside with this one is the 4.1kg weight.
Vax have some decent options with comparable run times that are well priced. The ONEPWR Blade 4 is cheaper than this; however, it is only rated at 72W vs the 120W of the Halo.
Overall
I have been very impressed with the Halo Capsule, it offers enough performance for me not to drag out my big corded Vorwerk, and because it is cordless and light and am more inclined to do the vacuuming.
It is hard to make any claims about it improving my breathing, but I have not experienced any issues when emptying it out, whereas I occasionally do with the robotic vacuums.
While the Halo Capsule appears to have a £350 RRP, it is sold on Amazon and Halo for £250. This then makes it more attractively priced than bigger brand name alternatives.
Overall, this is a superb vacuum and well worth considering over Dyson and Shark.
Posted by Mighty Gadget Blog: UK Technology News and Reviews