Most of the CCTV / home surveillance reviews I have done have been for affordable consumer products. However, after being impressed with the night time performance of the H.View HV-500G2V5 5MP colour night vision camera and installing BlueIris, I have become a little obsessed with wanting to upgrade my cameras.
The Hikvision DS-2CD2386G2-I is one of the latest cameras for the world biggest name in the industry. The G2 at the end of the product number gives away the generation.
I will preface this review by saying if you are running BlueIris, then you probably don't need the generation 2 cameras if they are significantly more expensive. The upgrades are most related to the AI detection rather than the camera sensor itself.
Hikvision AcuSense G1 vs G2 generation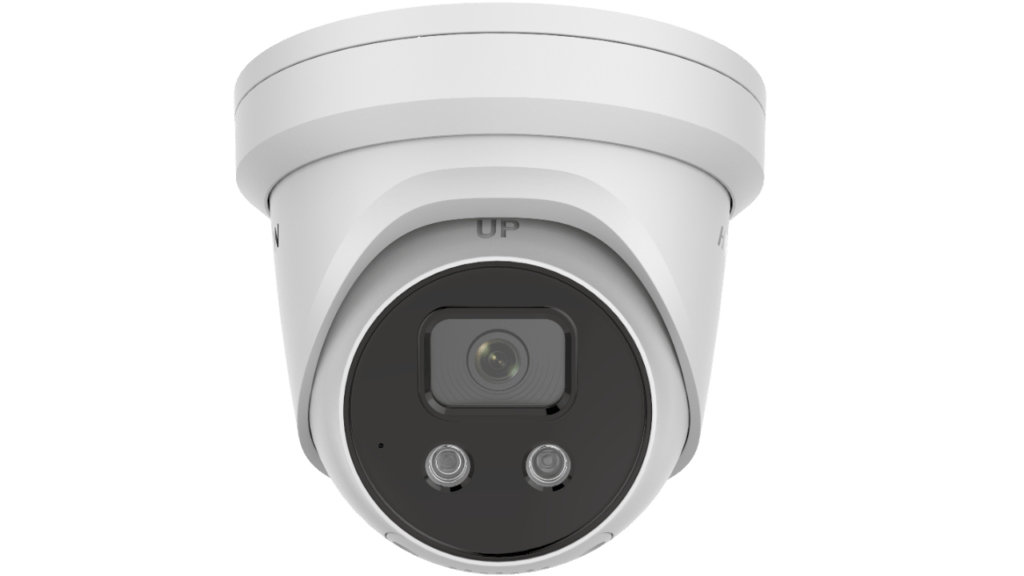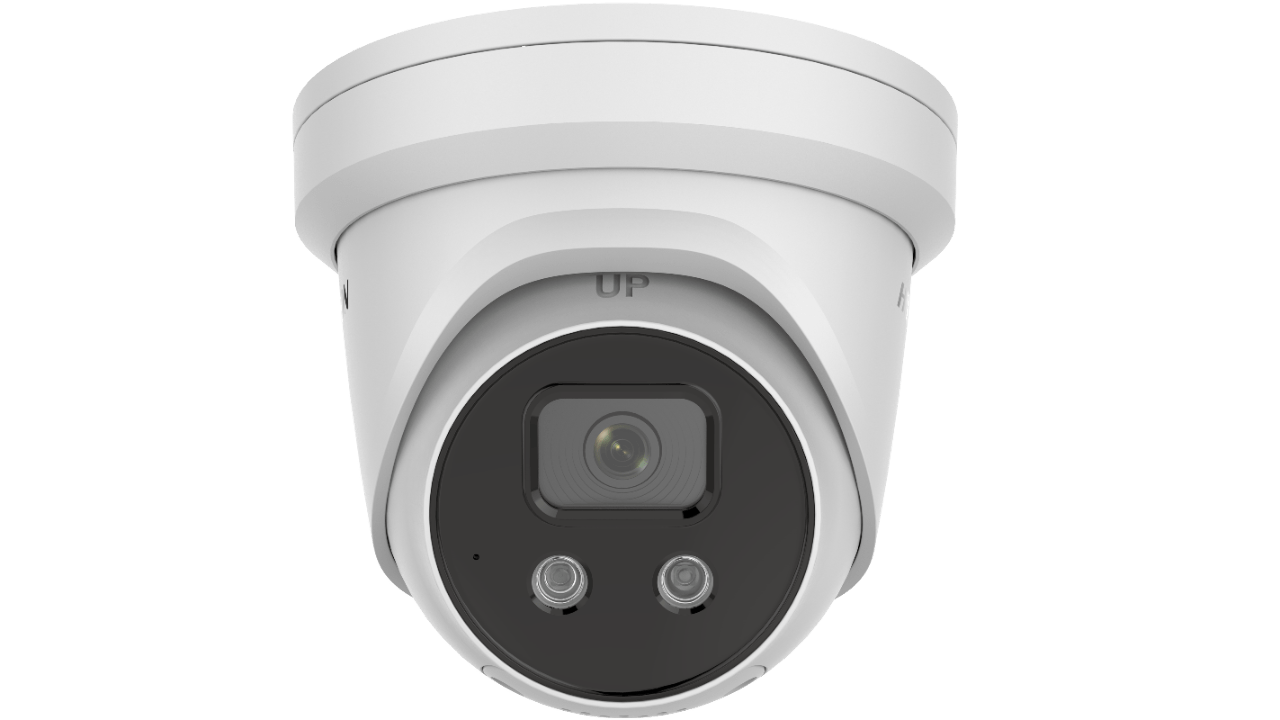 With the 2nd generation, key changes include:
2nd generation algorithm with better performance on target detection​
Increased Target classification distance​
Improved False alarm reduction​
Target classification and motion detection, three streams and H.265+ now available simultaneously​
This generation has also brought with it several new models; there is now a mini bullet (DS-2CD2086G2-I) for more discrete applications, there is an option for built-in microphones with the models ending in -U. Then the Hikvision AcuSense Technology is available on cameras up to 8MP which includes the model I am reviewing.
Where can I buy Hikvision Network Cameras?
A few years ago Hikvision got sick of consumers buying their cameras (my interpretation), likely due to people not knowing how to use them properly. So they took them off the shelves for consumers. The internet being the internet, you can still easily buy them.
When I bought mine, it wasn't on Amazon, but it now is.
They are also available a little cheaper from Ebay.
Then many CCTV websites will require you to have an account, and possibly apply for a trade account before you can buy them.
Hikvision DS-2CD2386G2-I Specification
Available in white and grey
Image sensor: 1/1.8″ Progressive Scan CMOS
Min illumination : Colour: 0.003 Lux @ (F1.6, AGC ON), 0 Lux with IR
8 Megapixels
Powered by Darkfighter
IP66 Rated
120dB WDR (Wide Dynamic Range)
3840 x 2160 @ 20 fps
H.265+, H.265, H.624+, H.264
MicroSD Board Storage
DarkFighter vs ColourVu vs 'Powered' by DarkFighter vs DarkFighter X
There are a few technologies developed by Hikvision, they are all sort of the same but different levels of performance and price.
The other technologies you will see use is ColourVu which is used on the likes of Hikvision ColorVu DS-2CD2347G1-L
Basically, these are all technologies that allow the camera to produce colour images at low light. To get an idea of this, we need to understand some lux levels.
Twilight is around 10 Lux.
Full Moon is around 0.1 lux
A clear star lit night is .0011 lux
An overcast night is .0001 Lux
The DarkFighter on this camera offers colour recording down to 0.003 Lux, so not guaranteed to produce colour images all the time, but where I live, I have annoyingly bright street lights, so it is never an issue.
ColorVu Technology works to provide full-colour images 24/7. The camera is able to achieve this with a large iris, high-performance sensor and supplement lighting.
ColorVu can work with even lower levels of light with the aid of an Infra-Red sensor. With this you can get colour night vision with as little as 0.0014 Lux, this should, therefore, allow you to get a colour recording for all but the darkest of nights
'Powered' by DarkFighter is the affordable option which offers colour until 0.008 Lux then Infra-Red
Finally, there is DarkFighter X, this is unlikely to be applicable to any consumer purchasing decision, but this can go all the way down to 0.001 Lux. The only camera I can find available to buy is the 2MP optical zoom PTZ DS-2DF8225IH-AEL for around £1500.
Hikvision ONVIF suspension due to US sanctions
I review a lot of Huawei products, and most of us are aware of the increasing pressure from the US against China and companies they perceive to be owned by the Chinese government. Well, Huawei are not the only company to suffer as part of this political dispute, Hikvision and Dahua have also been placed on the US entity list preventing US companies from working with them.
This has led to Hikvision being suspended from the ONVIF open industry forum with ONVIF being the main technology used when connecting to an NVR such as BlueIris.
While the suspensions were first disclosed in 2019, ONVIF said that since Dahua and Hikvision already had access to the current test tool at the time, they could continue to use it until it was deprecated. That grace period for the old test tool ended March 31, 2020, leading to the companies now being blocked from conforming products.
Hikvision submitted over 450+ products to ONVIF in the weeks leading up to the final suspension, with all the products now processed as of the 27th of May 2020.
Moving forward, in theory, the next time Dahua and Hikvision introduce firmware upgrade, it will not conform to the ONVIF standard.
But, that's not the end of the world, they can still develop and offer software that follows the public ONVIF specifications.
So from what I can tell, for most consumer devices, and DIY solutions such as BlueIris, you won't have an issue. It will likely be more of a problem for larger commercial applications.
Ironically, both Hikvision and Dahua are two of the leading companies for body temperature cameras. So the US placing sanctions against them will likely be causing more harm than good in the US during the current pandemic.
Set up & Installation
With me using BlueIris, not a lot was required to set up the camera itself. I pretty much scanned for the IP, logged in with the username and password, enabled ONVIF and set up a user for it.
One of the good things about this camera, unlike most cheap solutions, is that you can manage it via Chrome, getting a live feed. With no questionable installs.
It is worth noting that this camera is massive, considerably larger than my cheap camera. If you want something discrete, maybe don't go for this. Or go for the grey one if you want to mount it under your roof eaves.
Once mounted, it didn't look too bad in my opinion. Mounting it is nice and simple too, this is a DIY solution, and I am poor at DIY, so more competent people can ignore anything I do. However, there are plenty of mounting holes, this allowed my to position he camera so I didn't have to drill directly into my brickwork, using the mortar instead. Shamefully, my cabling runs under my window sills into then up into the roof, so I have to do a bit of a cowboy job at waterproofing the connection.
Connecting to BlueIris
I had some issues getting BlueIris to recognise the feed at. First, I did the usual scan for cameras adding the camera is found, but this didn't seem to work at first.
Nor did searching with the current IP. Rooting through the documentation, I ended up manually defining the stream URL with ISAPI/Steaming/channels/101 for the main stream.
Even with that, it didn't seem to immediately connect. But eventually, it did, and it has worked perfectly since.
With one of the recent BlueIris updates, you can assign a sub-stream, which I believe is used things like motion detection and using a lower quality stream significantly reduces the CPU usage. I have an old Xeon intel, and with 4 cameras (two 8MP and two 4MP) my CPU usage sits just below 20%
HikVision iVMS Software
I mainly stream my footage using the BlueIris webserver and BlueIris app for my phone
Camera Software Features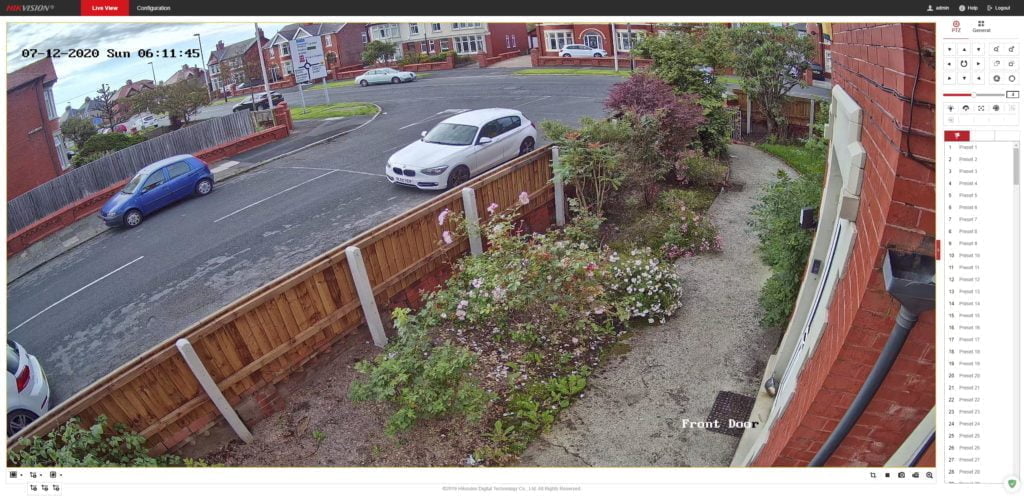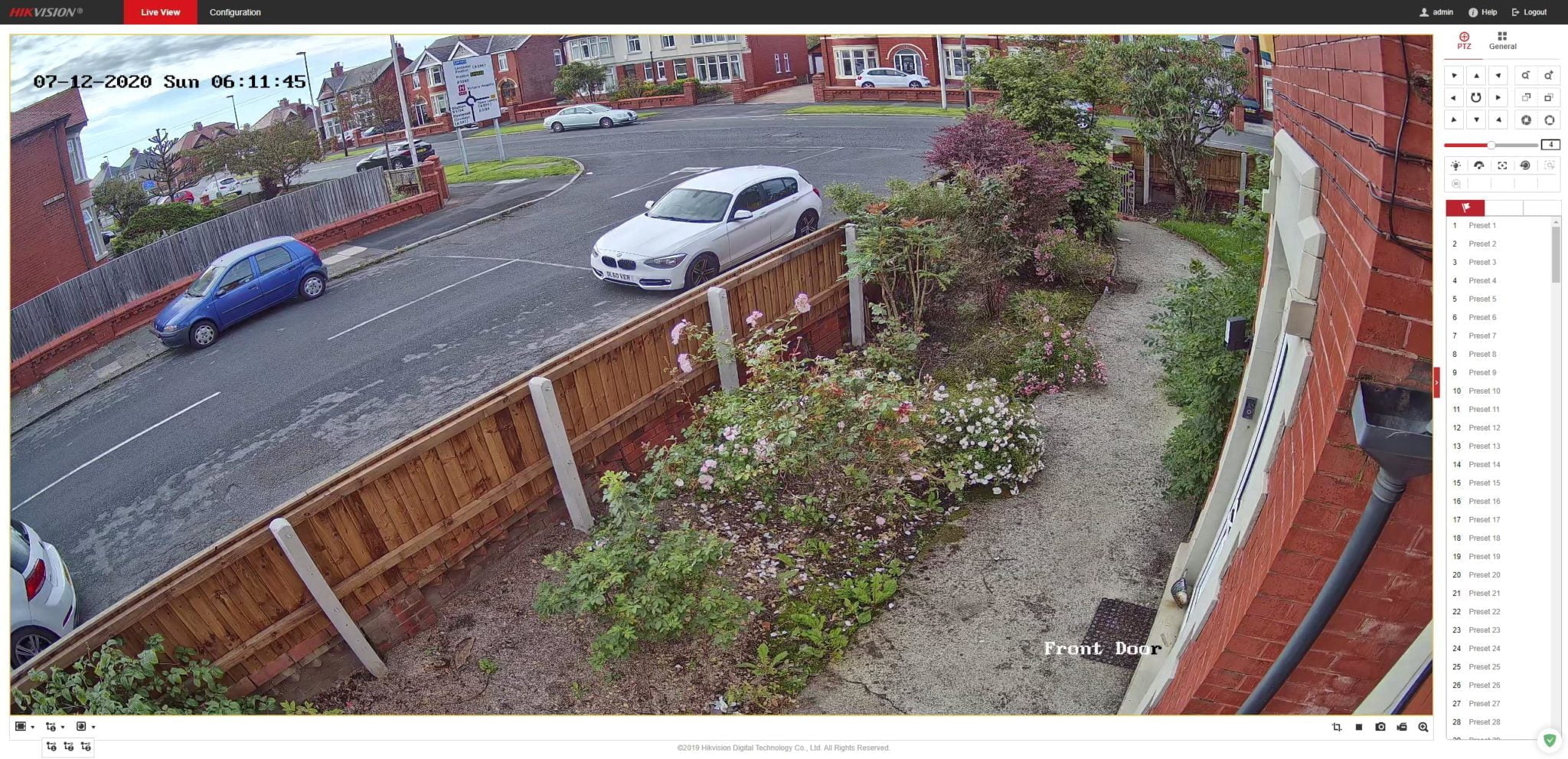 Logging into the web interface, you get most of the features you are probably familiar with from cameras such as this.
You can tweak the images settings to suit your needs, I experimented with a few options. I think I settled with it as default with WDR on.
Unlike cheap options, there are up to three different streams, and you can assign different qualities per stream, but only your main stream can go up to 3840×2160.
With the resolution being so high, you will likely want to have the encoding set to at least H.265. There is also a H.265+ option which is even more compressed, with this enabled you lose most of the smart features such as face capture, counting and video settings. So I am not sure if it is worth it really. I have also found it doesn't seem to work well with BlueIris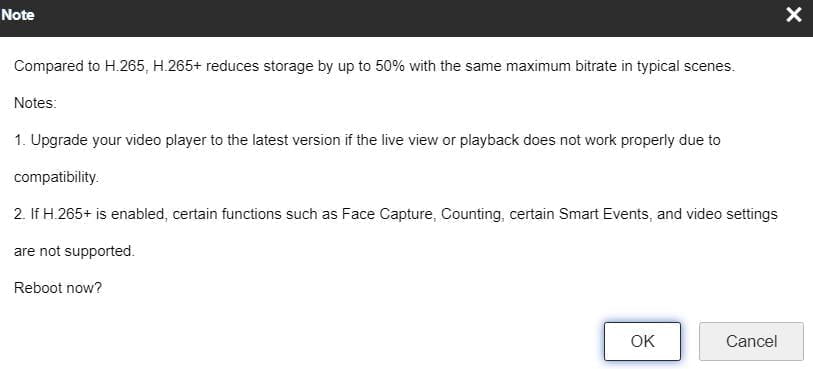 It is the events where most of the interesting settings are. BlueIris can't make the most of these, but if you have a microSD installed they will work, alternatively, you can use them with email and FTP.
All the smart features should work natively with Hikvision Network Video Recorders (NVR). They are reasonably well priced, and it is something I am tempted to buy over my custom BlueIris system.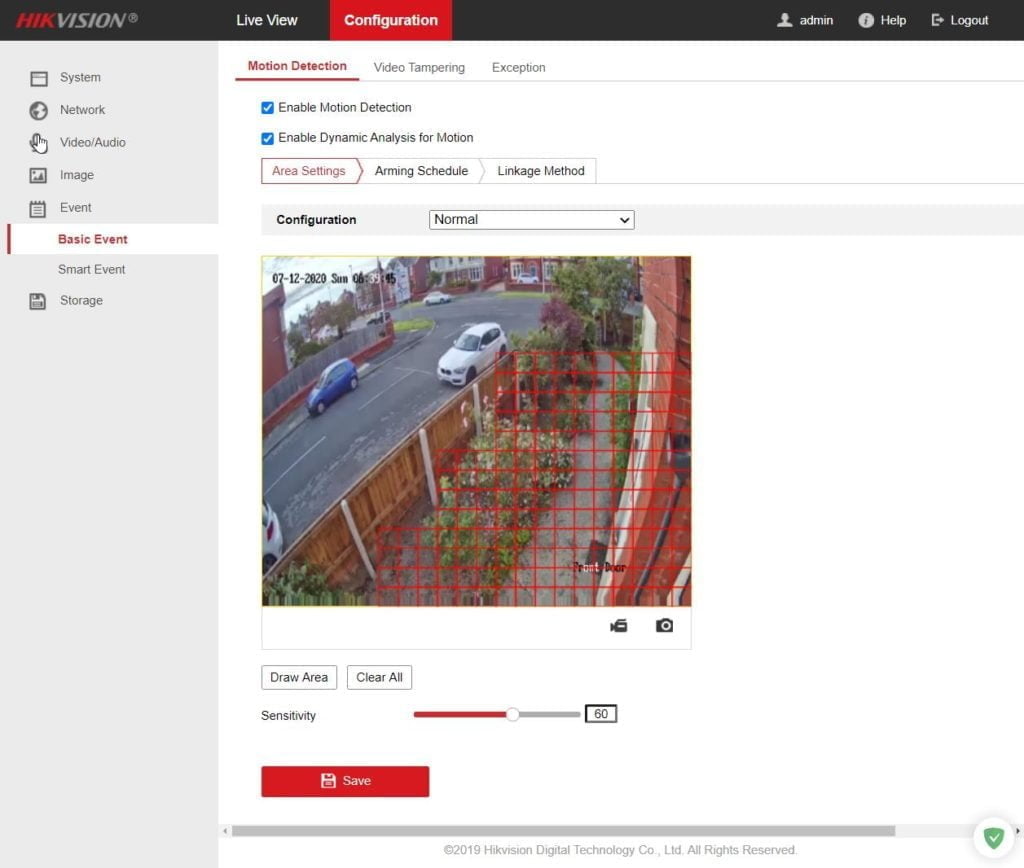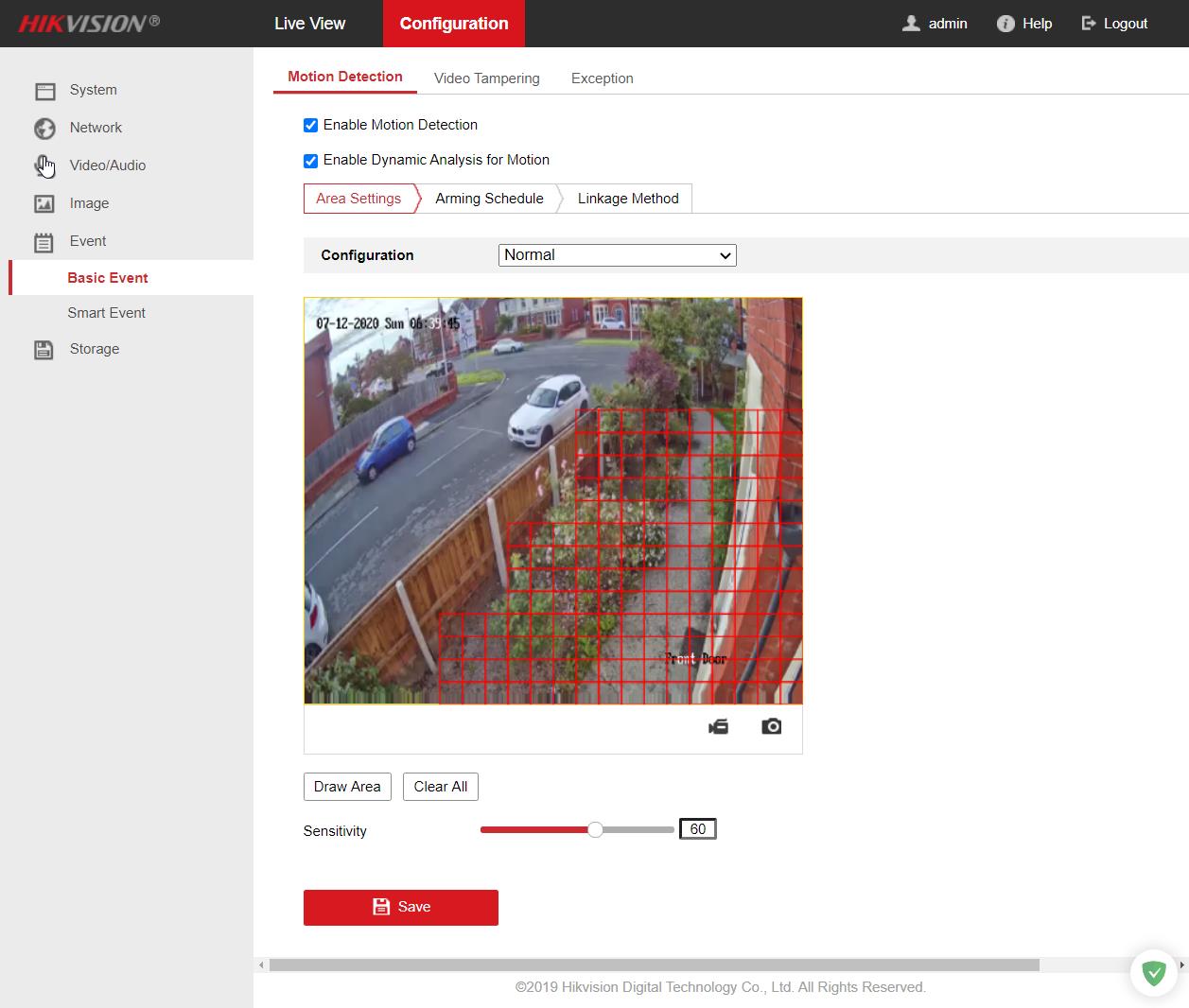 Things like motion detection have advanced analysis for dynamic motion, to improve accuracy.
Then under smart detection, you have options for scene change detection, intrusion detection, line crossing detection and region exiting detection. With all of these, you can then add in human or vehicle detection.
Due to the nature of the outside world, these AI features have been very useful for me recently. Wind, raid, and the bushes in my garden love to set of the motion detection. With the new human detection features, this is significantly reduced, and why I use Sentry AI on BlueIris.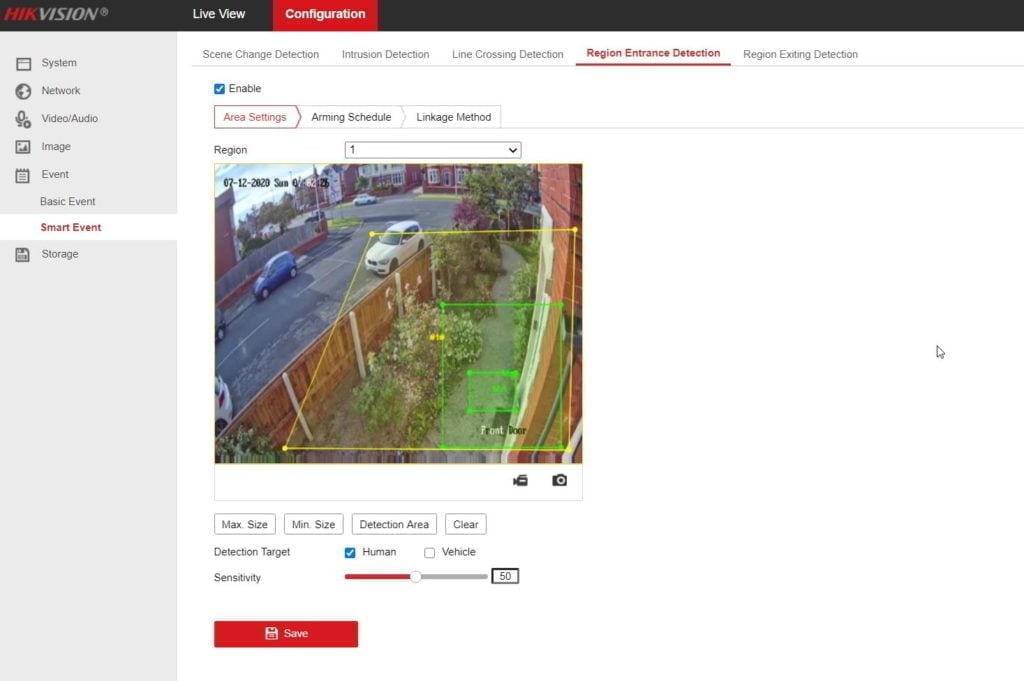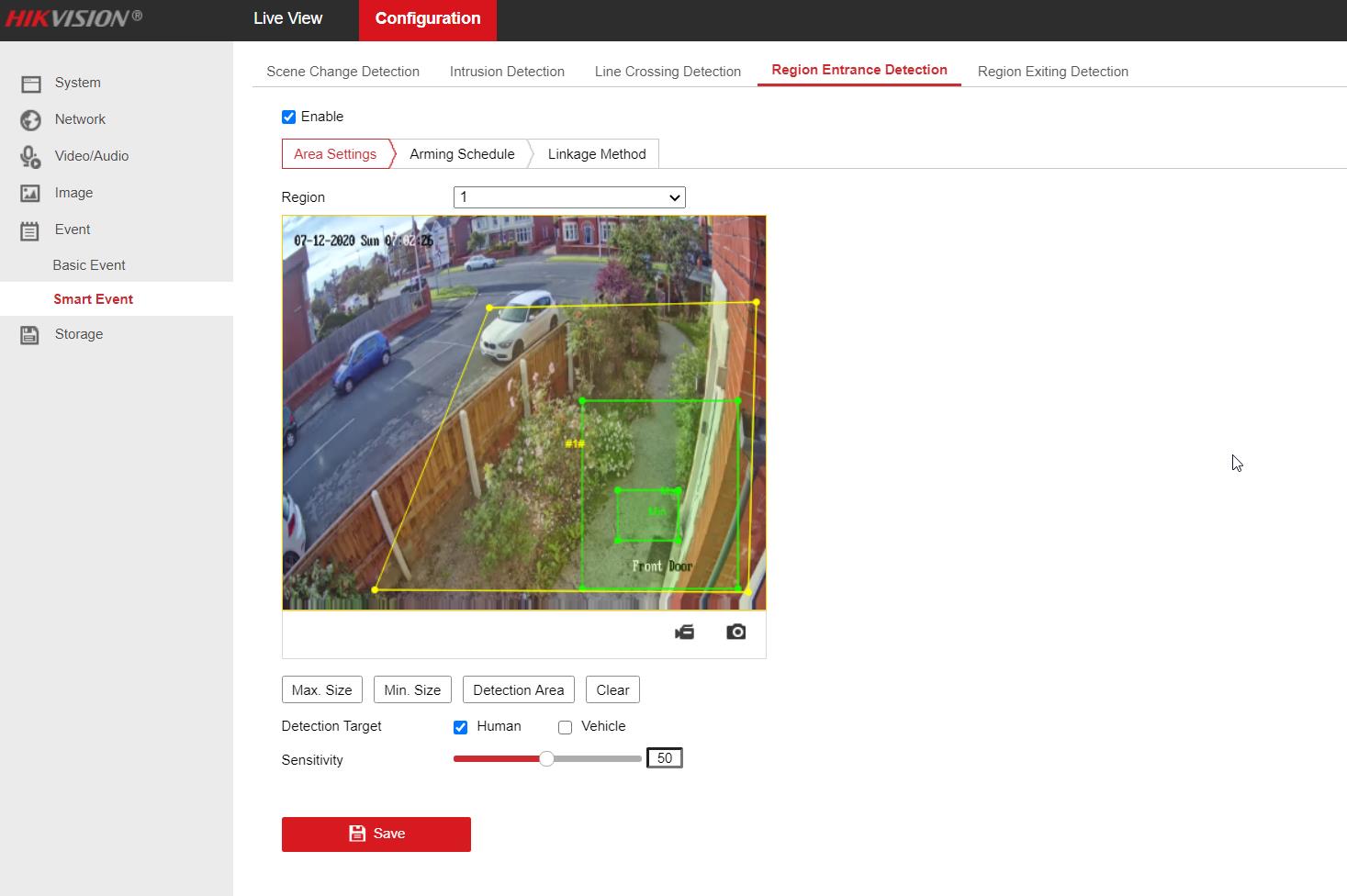 Day time and night time performance
As I have quite a wide-angle lens, the fine details are not as good as some of the narrow lenses, but this allows me to capture anything getting close to my front gate and the front door. The image is good enough to just about get clear car plate numbers, and I can just about make out the writing on the road sign over the road. It is also quite easy to distinguish cars and their colour that drive down the main road.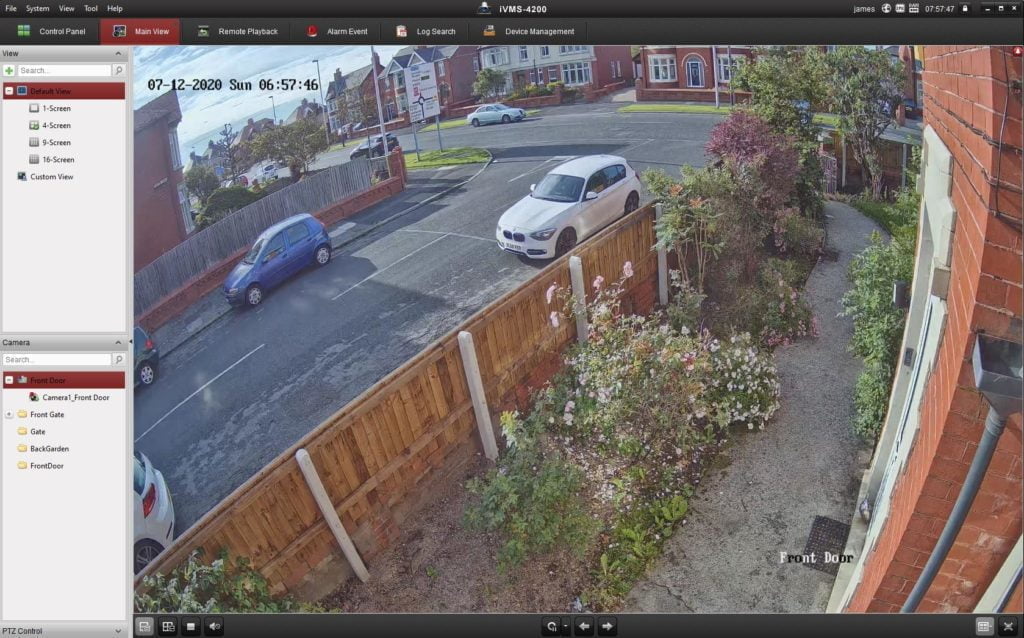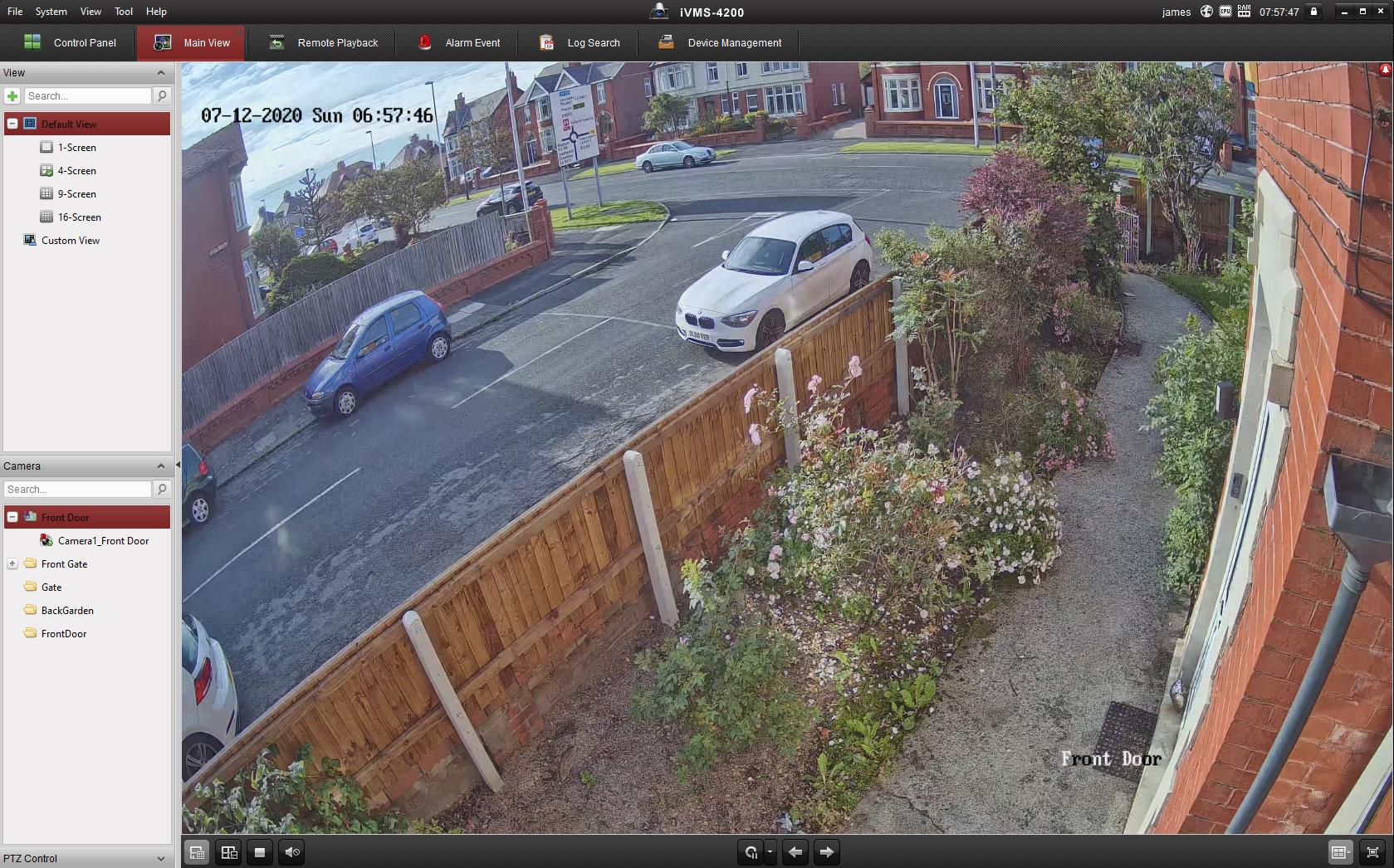 While you do lose some detail at night time, it is above and beyond any other camera I have used. With the colour recording, it is easy to identify people walking down my path.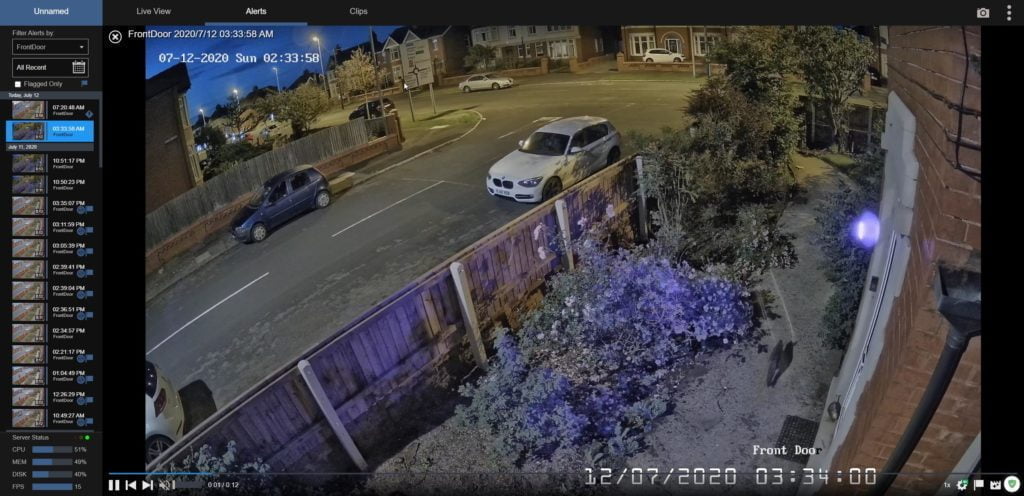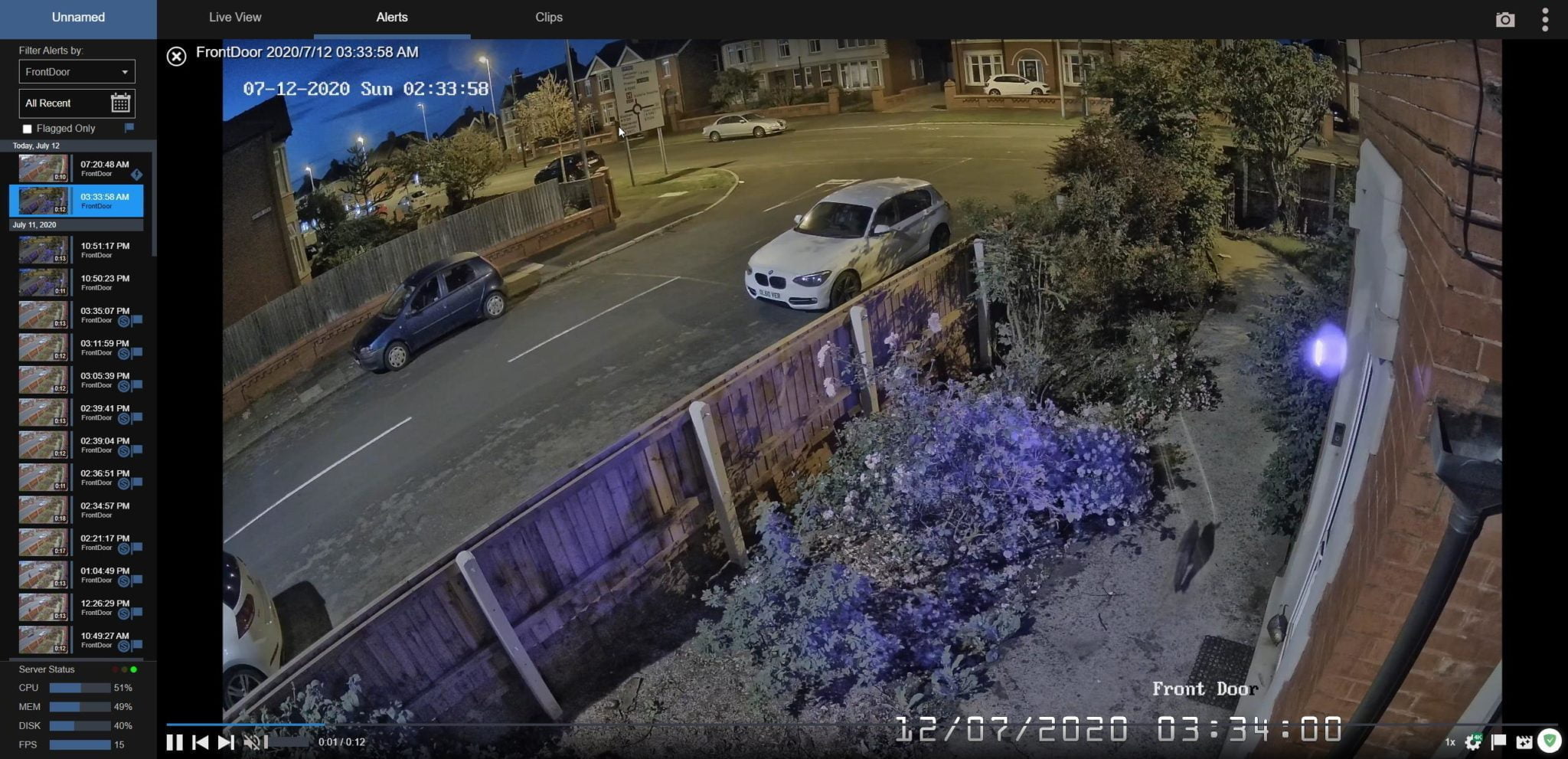 Price and competition
You can pick this up for around £170 on eBay, so not exactly cheap. However, I don't feel like it is a huge jump in price from the consumer-orientated options.
The H.VIEW HV-500G2V5 is £110 but regularly drops down to £90, the software on the camera is a bit glitchy, and it is only 5MP, but it has been excellent for the price.
The ANNKE C800 4K/8MP lacks colour night vision but is 8MP. It has dropped in price since I reviewed it, so much better value, I don't think the 8MP/4K performance to be worth it over the benefits the colour H.VIEW has.
The ColorVu DS-2CD2347G1-LU is a touch cheaper on eBay, it is only 4MP, and I don't think it has the Acusense technology, but it will offer superior low light performance thanks to the built-in IR led.
The older 4MP Hikvision DS-2CD2346G1-I (generation 1) is also a touch cheaper
Overall
This was likely overkill for my needs, but it is superb, outclassing any other camera I have installed previously.
It goes without saying, but a wired camera offers orders of magnitude better performance than wireless options such as the EufyCam or many Ezviz options. A system built on this camera would also be cheaper than the top of the range Arlo Ultra. However, installation a system such as this and setting it up is a massive inconvenience and beyond what many people are willing to do. I think it is well worth it, but I can appreciate why people don't.
There are cheaper options in from the G1 series, and ColorVu offers improve low light levels, but for me this is a perfect option. If you shop around, the price difference isn't that much, and the quality you get is well worth it.