Following on from my comparison of the Hisilicon Kirin 820 with the Snapdragon 765G, Samsung and MediaTek chipsets lets see how the Chinese brand has improved their mid-range chipset over the past 3 years.
The Kirin 710 was launched back in 2018 and is identical to the Kirin 710F, just in a different package. Normally it is not worth comparing chipsets from two years prior, but in this case, due to the issues Huawei have faced with the US, both Huawei and Honor have continued to use the Kirin 710F on new phones allowing them to use Google Apps. The latest example of that was the Honor 9X which I reviewed in December and was a different spec to the Honor 9X launched in China.
The Kirin 810 launched back in, but the first phone to launch with it in the UK was the Honor 9X Pro back in February.
The first phone to feature the latest Hisilicon Kirin 820 is the new Honor 30S which was announced in China a couple of days ago. There is no word on a UK launch, and the Honor 20S never made it over here, so it is hard to say if or when it will arrive.
Huawei/Honor appears to have accepted that Google will not be part of their phones in the long term, possibly permanently, and they have therefore replaced Google services with Huawei Mobile Services. This therefore has opened the door for us to start getting the latest hardware from the brands, and recently that included the flagship Huawei P40 series. So we should see Kirin 820 based phones sometime soon.
Manufacturing Process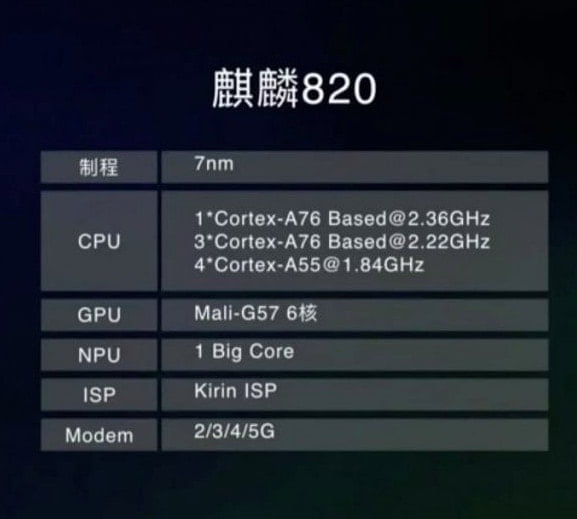 At first glance, both Kirin 820 and Kirin 810 are manufactured on TSMC 7nm process. But I am expecting that Kirin 820 might be using 7nm TSMC N7P process whereas Kirin 810 has an N7 process. If my understanding is accurate, then Kirin 820 will be slightly more power-efficient than Kirin 810.
The Kirin 710 was made on the 12nm fabrication process, and only MediaTek use this now with their Helio G90T.
CPU
The CPU specification has arguably seen the biggest bump in spec over the years.
The Kirin 820 has a core configuration of 1+3+4. There is a Single-Arm Cortex-A76 core clocked at 2.36GHz and 3 Arm Cortex-A76 cores operating at 2.22GHz. The remaining four efficiency cores are Cortex-A55 IP design based on a 1.84GHz operating frequency. The big thing here is that they are using four A76 cores which matching up with some flagship chipsets from last year. Huawei has claimed that Kirin 820 CPU performance is 27% higher than Kirin 810.
Then Kirin 810 has a 2+6 CPU core configuration. It has 2 Arm Cortex-A76 cores clocked at 2.27GHz and 6 Cortex-A55 cores clocked at 1.88GHz.
Then the Kirin 710 uses a 4×4 layout too, but it has much less powerful Cortex-A73 cores running at 2.2 GHz then four Cortex-A53 running at 1.7 GHz.
GPU
The Kirin 820 comes with Arm Mali G-57 MP6 GPU. Along with this GPU, Huawei has added Software based features like GPU Turbo and Kirin Gaming 2.0.
On the other side, Kirin 810 has Arm Mali G-52 MP6 GPU.
Both the GPUs are Hexa-Core, but Mali G-57 is newer and powerful than Mali G-52.
Again, the Kirin 710 falls way behind with a Mali-G51 and just four cores.
Connectivity
One notable upgrade is the connectivity options of the Kirin 820. This now includes the same 5G modem used in Kirin 990 5G flagship SoC. It supports both SA-NSA 5G Mode and Multi-Mode 5G networks. On the other hand, Kirin 810 has support for Cat 12 and Cat 13 LTE modem for up to 600Mbps download speed and 150Mbps upload speed. Similarly, the Kirin 710 is 4G/LTE only.
AnTuTu Benchmark Scores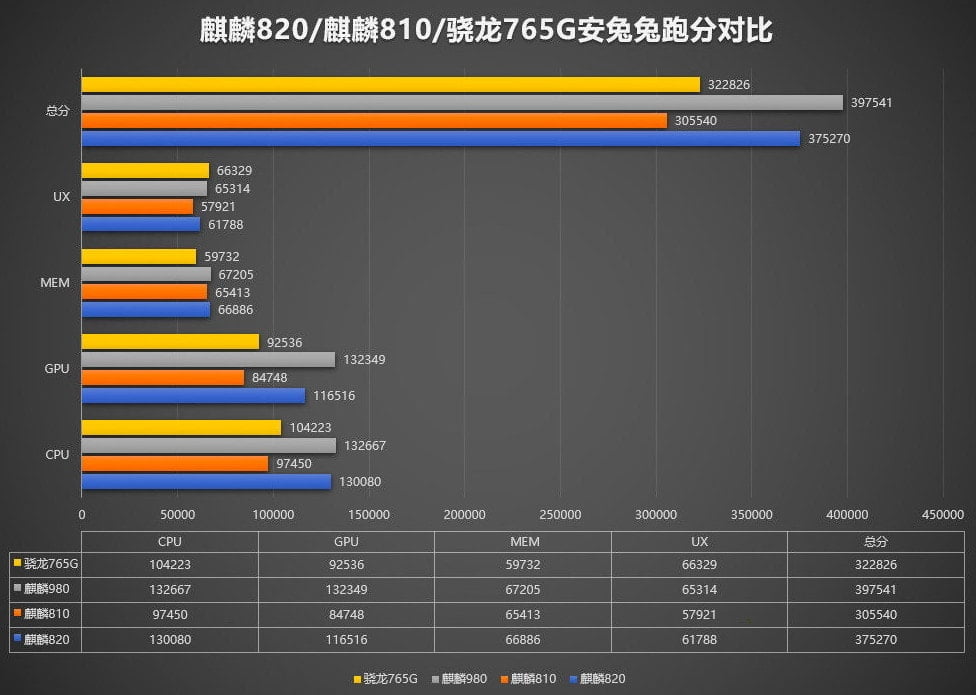 It is claimed the Kirin 820 scored:
Total – 375270
CPU – 130080
GPU – 116516
Memory – 66886
UX – 61788
On the Kirin 810 the scores were claimed to be:
Total – 305540
CPU – 97450
GPU – 84748
Memory – 65413
UX – 57921
Then when I reviewed the Honor 9X using Antutu 8, which I assume is the same version as above, I managed:
Total – 172710
CPU – 64742
GPU – 21250
Memory – 50747
UX – 35971
This, therefore, represents a 22% uplift in performance moving from the Kirin 810 to the 820, and a massive 117% uplift from the Kirin 710.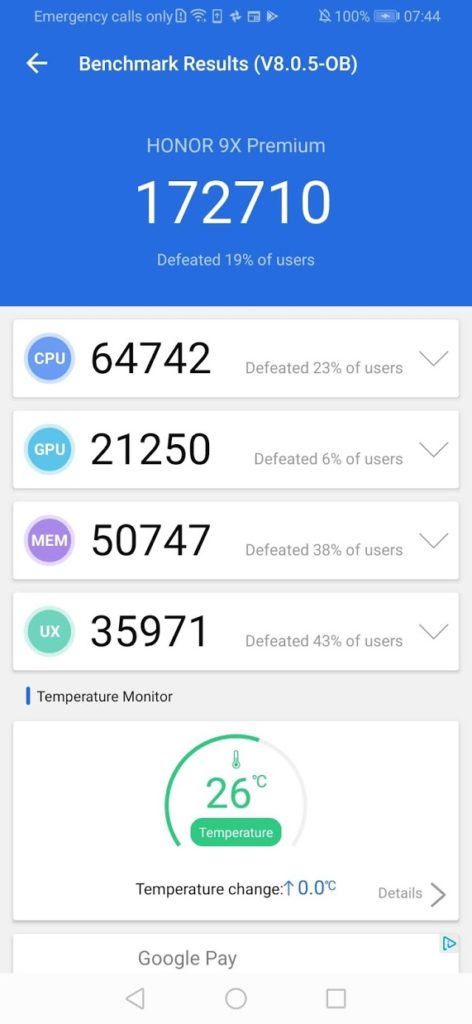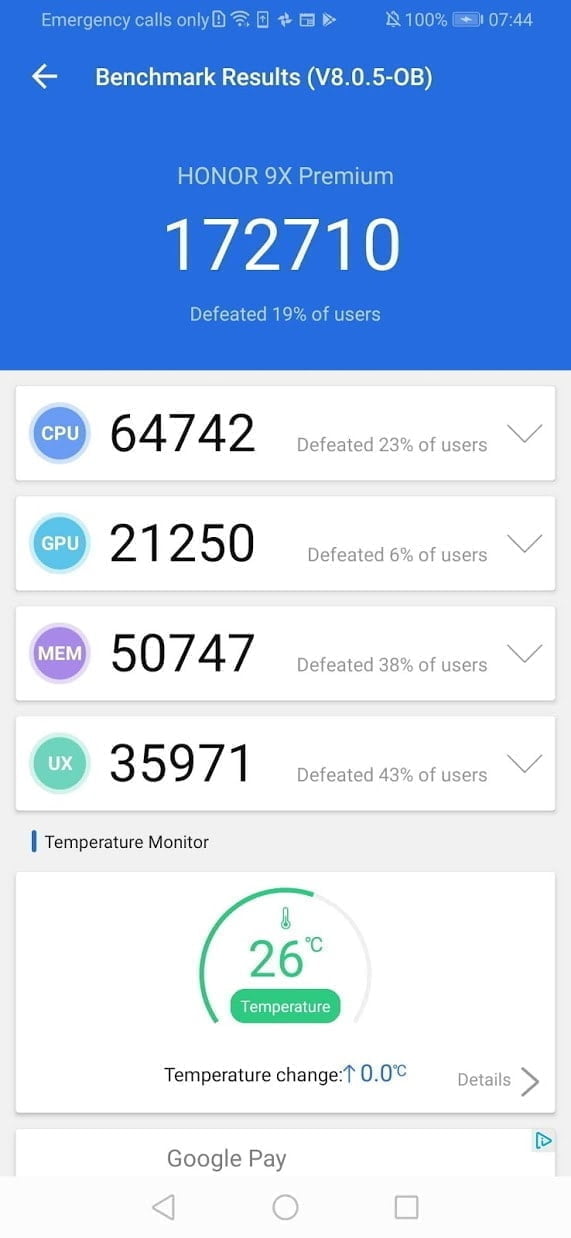 Geekbench Benchmark Scores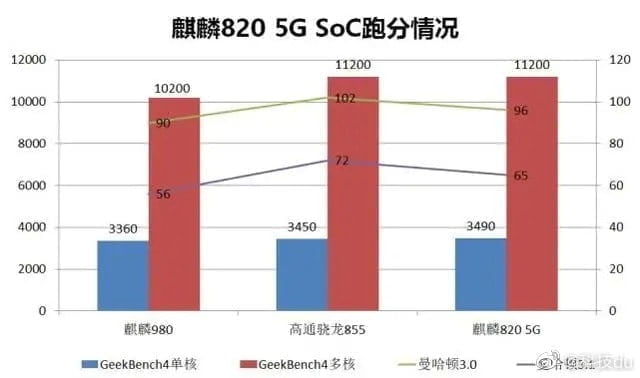 In Geekbench Benchmark 4, Kirin 820 is claimed to achieve a score of 3490 in Single-Core and 11200 in Multi-Core.
The Kirin 810 Geekbench Score is 2746 in Single-Core and 7700 in Multi-Core
The Kirin 710 managed a score of 1601 and 5457.
If the Kirin 820 numbers are accurate, it means it manages a score 27% and 45% higher than the Kirin 810 for single and multi-core respectively. This then jumps to 118% and 105%n when you compare it to the older Kirin 810.
Ai Benchmarks


I am not a huge fan of AI Benchmarks due to their wildly inconsistent results between manufacturers, but in this case, comparing Kirin chipsets, it shows how much focus Huawei are putting on their AI.
The Huawei P Smart, Honor 8X and Honor 10 Lite all with the Kirin 710, all scored about the same – 3858.
Then the Honor 20S with the HiSilicon Kirin 810, which is a mid-range phone outperformed the flagship Snapdragon 855 and 865 with a score of 35130 representing an 810% uplift in performance since the Kirin 710
The Honor 30s with the HiSilicon Kirin 820 ups the ante and achieves 60843 which is 73% higher than the Kirin 810 and a ridiculous 1477% higher than the Kirin 710.
How these results translate to real-life AI performance will likely be a different matter, but it is impressive, nonetheless.
Overall
The Hisilicon Kirin 820 looks like an extremely impressive upper mid-range chipset, in my previous comparison, it looks better than the popular Snapdragon 765G, the MediaTek Dimensity 800 and the Samsung Exynos 980.
The major issue will be the availability of phones with this chipset in the UK and EU, as well as their lack of Google Mobile Services. As Huawei lures more developers into the App Gallery I think this will become less of an issue as the year progresses and in a year or so I wouldn't be surprised if we see some form of parity in the apps available.